A photo enlarger application is ideal if you intend to expand the dimensions of your photos. There are many reasons why you need to enlarge a photo. For instance, you wish to print a photo but only have a small size or low resolution that would result in a pixelated output. A powerful photo enlarging tool can get your photos larger without losing quality. This article lists a top list below.

Best Photo Enlargers
Part 1: Top 4 Photo Enlargers Online
Top 1: Apeaksoft Free Image Upscaler
Online tools are convenient and portable to perform various tasks including enlarging photos. However, most of them have some kind of downsides, like file size limits, watermarks, etc. Apeaksoft Free Image Upscaler, on the other hand, allows you to do the job with no restriction. More importantly, the embedded AI technology protects the photo quality as much as possible.
PROS

Completely free to use.
Enlarge photos online with no quality loss.
Won't add watermarks to your photos.
Offer presets to simplify the workflow.
CONS

It cannot enlarge multiple photos at the same time.
How to Enlarge a Photo Online for Free
Step 1Run a web browser when you want to increase a photo's dimensions, and access https://www.apeaksoft.com/image-upscaler/ directly.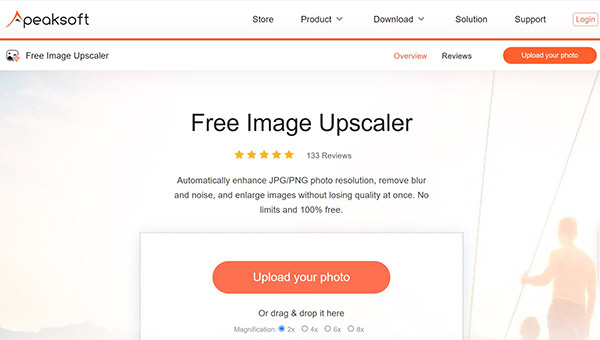 Step 2Click the Upload your photo button and open the small photo from your computer or mobile device. Or locate the photo in a file explorer, and drag and drop it onto the webpage. It supports JPG and PNG.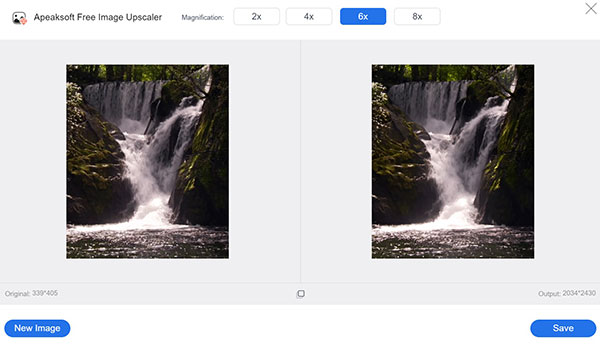 Tip : The app does not have a limitation on file size, but it takes a while to upload a large image.
Step 3After the photo uploads, you will be presented with the editor page. There are several presets on the top of the page, and you can select an appropriate one according to your need. The Output pane displays the effect.
Step 4When you are satisfied, click the Save button and download the enlarged photo to your hard drive.
Top 2: ImgLarger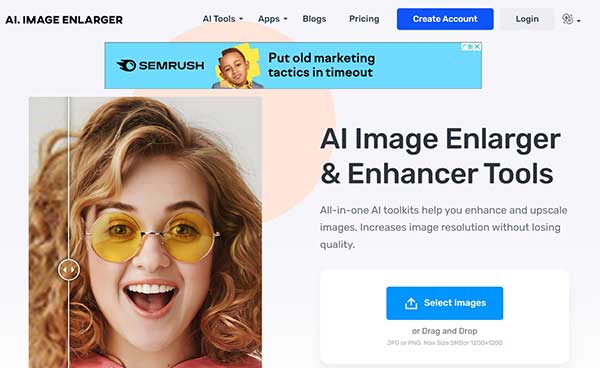 ImgLarger, also known as AI Image Enlarger, is a popular image expander online. It provides a free plan and a few paid plans. If you do not mind the limit, just upload your photos, and enlarge the dimensions directly. Of course, you can unlock the limitations by sign-up a paid plan.
PROS

Enlarge photo size online.
Support most JPG and PNG images.
Upscale photo using AI toolkits.
Email the enlarged photos for downloading later.
CONS

The max size is 5MB for the free plan.
The online customer support is poor.
Top 3: Let's Enhance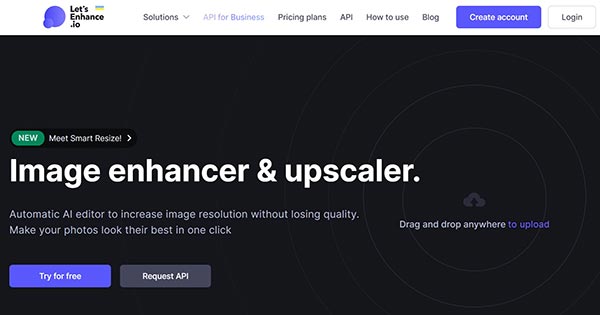 Let's Enhance is another photo magnifier online. Once you log in to your account and upload a small photo, it will enlarge it using the built-in AI technology. There are no custom options on the webpage, so beginners won't get lost. Moreover, the web app promises to delete your photos after processing.
PROS

Enlarge photos without quality loss.
Work online and not require installation.
Build in AI technology.
Support popular image formats.
CONS

You have to sign up for an account.
The free version is pretty basic.
Top 4: Bigjpg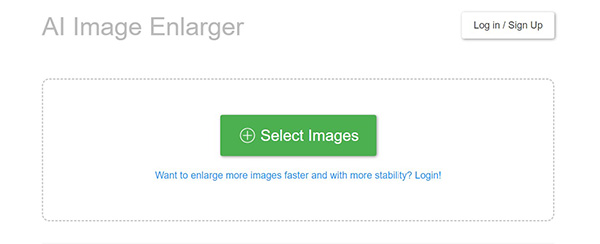 Although this app calls Bigjpg, it can enlarge other image formats too, such as GIF, PNG, BMP, etc. In addition to the website, it also provides an application for Windows, Mac, iOS, and Android respectively. Moreover, it offers bonus features, like noise reduction. This app is free to use online.
PROS

Enlarge photo sizes online for free.
Keep photo quality.
Reduce noise while enlarging photos.
Batch process multiple photos at one time.
CONS

The interface looks a bit outdated.
The maximum file size is 50MB, but you have to sign up for an account.
Part 2: 4 Best Photo Enlarger Software
Top 1: GIMP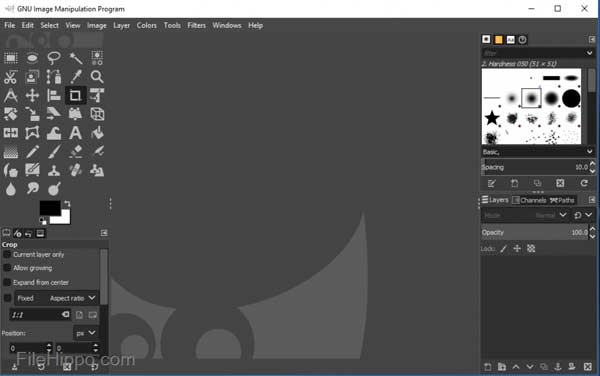 GIMP is an open-source photo enlarger and photo editor. Although it is free to use, the features are as powerful as professional software. Similar to Photoshop, this free image enlarger can be expanded with third-party plugins. Bear in mind that some plugins are not free.
PROS

Enlarge photos for free.
Come with an intuitive interface.
Provide essential photo editing features.
Support almost all image formats.
CONS

The learning curve is not friendly to beginners.
It does not offer in-depth editing capacities.
Top 2: Adobe Photoshop CC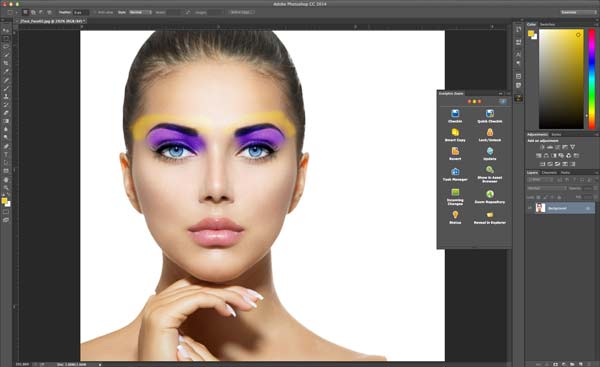 Photoshop is professional photo editing software supported by Adobe. It includes a wide range of photo editing features and can meet your need to make an image high resolution. It supports plentiful input and output image formats including RAW files.
PROS

Enlarge photo size by pixel or percentage.
Offer unparalleled photo editing features.
Available to edit animated images.
Co-work with a team with the cloud storage.
CONS

It is very expensive.
It is not a good choice for beginners.
Top 3: Enlarger Pro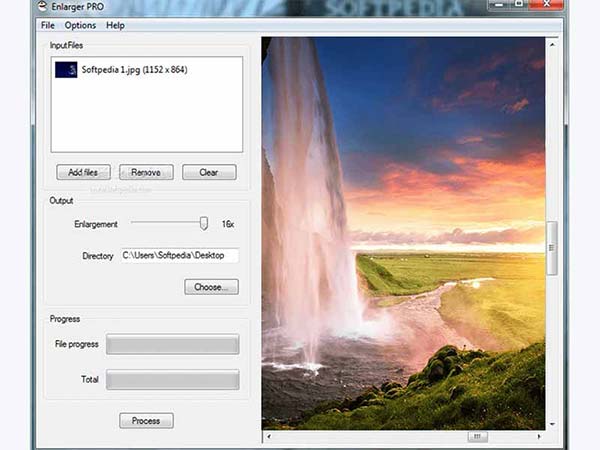 Enlarger Pro is photo enlarging software for PCs. It is compatible with image files in popular formats. Additionally, the interface is straightforward and easy to navigate. You can add pictures to the workspace by dragging and dropping. Plus, it is time-saving since it can enlarge photos simultaneously.
PROS

Enlarge photos up to 16x.
Support popular image formats.
Batch enlarge photos with the multi-thread technology.
Let you preview the output image.
CONS

It is only available for Windows.
It lacks photo editing features.
Top 4: PhotoZoom Pro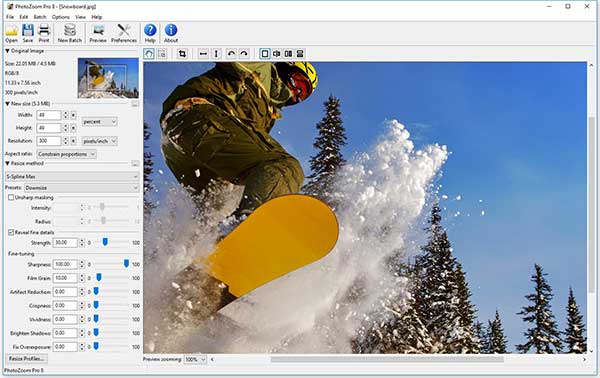 PhotoZoom Pro is another image enlargement application for increasing photo dimensions. It can work as standalone software or a plugin used with Adobe Photoshop and Corel Paint Shop Pro. The latest version is PhotoZoom Pro 8, which costs $169.
PROS

Enlarge photos on Windows and Mac.
Retouch images while enlarging.
Offer excellent output quality.
Preview the result in real-time.
CONS

The features are limited compared to the price.
It takes up a lot of resources.
Part 3: FAQs about Photo Enlarger
Question 1. What is the difference between photo enlargement and enhancement?
Photo enlargement means increasing the width and/or height. Photo enhancement is more complicated and involves applying effects, and filters, fine-tuning color, contrast, light, and many more.
Question 2. Can I enlarge a photo without pixelation?
Yes, a part of photo enlarging software can enlarge images and fill in the missing pixels using an advanced algorithm, such as Photoshop, Apeaksoft Free Image Upscaler, and more.
Question 3. Why does my photo look blurry after enlarging?
If you simply enlarge a photo, the details will be extracted from the original image and look fuzzy. There are not enough details for the image to be crisp at the larger size. Therefore, you need a dedicated photo enlarger to do the job.
Conclusion
Now, you should master at least the top 8 best photo enlargers to increase image dimensions on a desktop or online. Some of them are free of charge, like GIMP. Others require a payment or subscription. If you do not like software, Apeaksoft Free Image Upscaler is the best option to get photo enlargement online using AI technology. More questions? Please feel free to contact us by leaving your message below this post and we will reply to it as soon as possible.