Bigjpg claims to employ the latest Deep Convolutional Neural Networks for enlarging the image, and there will be no quality loss. But you might be overwhelmed by such advanced and professional terms. Hence, to test whether Bigjpg is worth a try and suitable for image enlargement, here comes the latest Bigjpg review, from which you can get more about Bigjpg features, advantages, disadvantages, and everything you want to know. Moreover, you can learn about an alternative to Bigjpg and have more choices when enlarging your images.

Bigjpg Review
Part 1: Bigjpg Review from Four Aspects
About Bigjpg
Bigjpg is an AI Image Enlarger supporting both online and offline. You can use its service for free on the official website and download Bigjpg apk on iOS/Android. The tool is also compatible with Windows and Mac. Professions can employ the API on their website after logging in. Whether it is the desktop versions, apps, or the online website of Bigjpg, the enlargement, and AI services are free with certain limits. Your enlarged images will not look fuzzy or blurry since the tool removes blur and noise while enlarging. However, the free accounts can upload images at most 5MB, and the monthly files uploaded should be less than 500. As for the enlargement results, the official said that the tool works best for anime images and illustrations. Below are more features.

Key Features:
Keep the original color of the images during enlargement.
Offer two upscaling options for images on the basic version.
Reduce noise with customizable options for free.
View your enlarging history after signing up.
Enlarge images in batch mode in mobile apps on iOS/Android.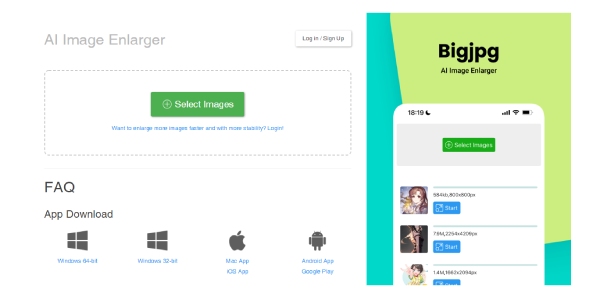 Pros:

Ads are free for online and offline apps.
No quality loss but enhancement while enlarging.
Simple design with a user-friendly interface.
Compatible with all platforms and devices.
Support JPEG, JPG, PNG, TIFF, and more.
Cons:

You can upscale the image to 4× at most for free.
There are no adjustment tools.
Enlargement for scenery pictures is fine.
Bigjpg Pricing
The free version of Bigjpg can fulfill most users' requirements. You can upgrade your account if you want more options when upscaling the images. The monthly payment for a subscription is between $6 and $22. The Premium plan can even upscale your image to 4K.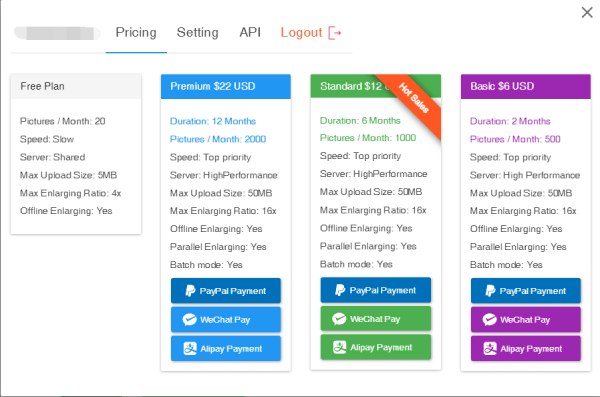 Sum
With strong compatibility and reasonable pricing, Bigjpg is a competitive and helpful tool for image enlargement. You can trust its upscaling quality and use it for your piles of anime images or photos. Moreover, the free versions on the website, desktops (Windows/Mac), and mobile are already enough for most users.
Part 2: Best Online Alternative to Bigjpg [Free]
5MB is too small for uploading images. If you are reluctant to subscribe to Bigjpg and upgrade your account, finding an alternative is also a great choice. Free Image Upscaler is a free alternative to Bigjpg online. As an online web-based platform, this upscaler also uses AI technology to enlarge your images and keep the original image quality. Users can enlarge their photos to 8× at most for free and upscale the images up to 3000×3000 pixels. This software allowed image is 10MB, bigger than Bigjpg's free version.

Key Features:
Preview the result after image enlargement.
Drag and drop the image for upscaling and enlargement.
Remove bad factors that will influence the image quality.
Restore your old pictures to HD online for free.
How to use the Bigjpg alternative online
Step 1 Choose a magnification option for your image upscaling once you are on the official website of Apeaksoft Free Image Upscaler. Then, click the Upload your photo button to select an image from your device.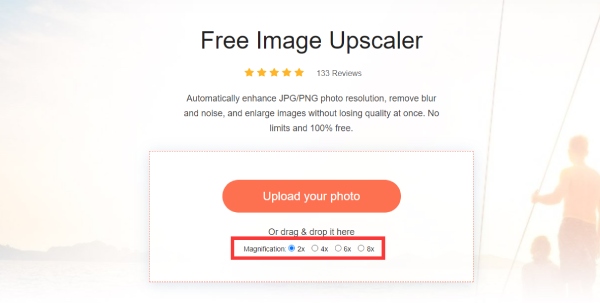 Step 2 The website upscales your photo during the uploading process. After it finishes, you can preview the source and upscaled images. To download this image, click the Save button below and select a folder in the pop-up to store it.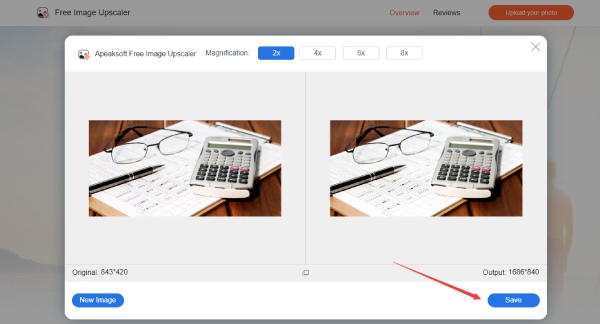 Sum:
Although the biggest magnification option is 8×, this image optimizer helps you enlarge images of standard formats without losing quality. Most importantly, it is totally free, and you can access it on any device. So, it can be an excellent backup when you reach the limit on Bigjpg.
Part 3: FAQs about Bigjpg
How to use Bigjpg to upscale an image online?
Click the Select Images button on Bigjpg's official website to upload an image. The image should be less than 5MB. After uploading, click the Start button, choose an upscaling option and noise reduction, and click the OK button. Then, click the Download button to save the upscaled image.
Is Bigjpg safe for upscaling images?
Yes, it is. Bigjpg only keeps your uploaded images and upscaled ones for 15 days. After that, they will remove these images. So, there will be no file-leaking issues.
Can I enlarge WEBP images on Bigjpg?
Although there is no official document of Bigjpg's supported image formats, it does support uploading and upscaling WEBP images after testing.
Conclusion
From the detailed Bigjpg review above, you can see that the enlarger is an excellent solution for image enlargement, considering its free service and strong compatibility with all devices. Meanwhile, you will not need any tutorial on this website for image upscaling for its simplicity. Besides, if you reach the uploading file limit on Bigjpg, try the alternative – Apeaksoft Free Image Upscaler – for your images.