Resolution is essential to improve picture quality. However, it does not mean that you always need the highest photo resolution. The higher the photo resolution, the larger the file size. When it comes to Android phones, the photo resolution is usually determined by the camera technology. Some high-end smartphones, for example, can shoot photos with ultra-high resolution. The downside is that you cannot upload these photos to social media due to the large file size. This guide shows you how to change the resolution of a picture on Android devices.

Change Resolution of a Picture on Android
Part 1: How to Change Photo Resolution on Android
There are two ways to change photo resolution on Android offline, before shooting and after shooting. The built-in camera app includes the such ability. Moreover, third-party apps can help you to change the resolution of an existing image on mobile.
Way 1: How to Change Photo Resolution with Camera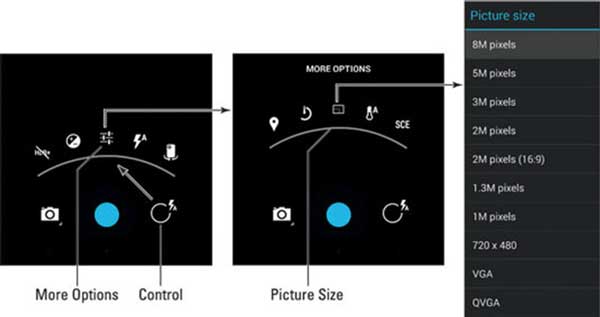 Step 1 Run your Camera app from the app drawer when changing photo resolution on Android.
Step 2 Tap the Control button, choose the More Options icon, and press the Picture Resize option.
Step 3 Here you will be presented with a list of resolutions available, such as 720 x 480, 1M pixels, etc. The QVGA is the lowest resolution.
Note: The design and icons of the Camera app may be varied on Android phones from different manufacturers, but the basic workflow is similar. You can read the description of your smartphone to find the options or settings screen in the built-in camera app.
Way 2: How to Change Photo Resolution by Image Resizer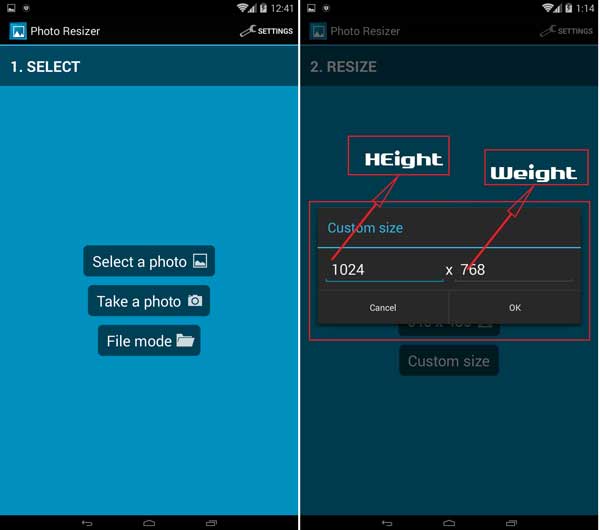 Step 1 Open the photo resolution changer app on your Android phone. You can download Image Resizer from Play Store for free.
Step 2 Tap Select a photo to access your photo gallery, and select the photo that you want to change. Or you can take a new photo by hitting Take a photo. If your image is saved in a specific folder, tap the File Mode option, and open it from your file manager directly.
Step 3 Next, you will see several resolutions available. If you want to set it manually, tap Custom size, enter the values in the boxes, and tap OK.
Step 4 Then the new image will be saved to your internal storage or external SD card.
Part 2: How to Change Resolution of a Photo on Android Online
Another way to change picture resolution on Android devices is through web-based apps. Apeaksoft Free Image Upscaler, for example, gives you a chance to enhance image resolution without installing any apps on your memory. More importantly, it is completely free to use. The built-in AI technology protects your image quality automatically. Here are the steps below.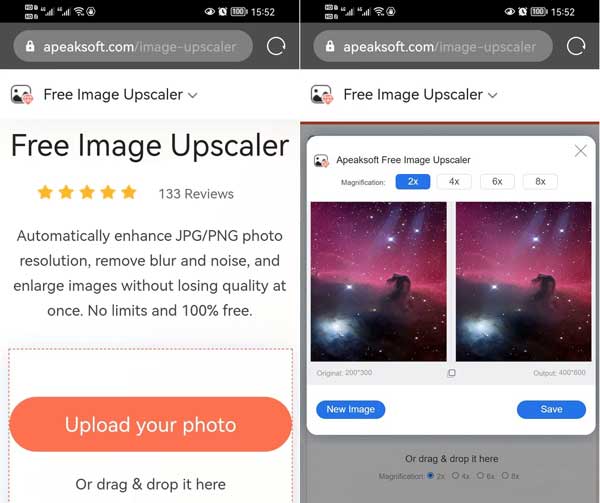 Step 1Visit https://www.apeaksoft.com/image-upscaler/ in your browser. It is supported by most web browsers, like Google Chrome, Firefox, etc.
Step 2 Tap the Upload your photo button, and upload the target image from your internal or external memory.
Step 3 After image uploading, choose a proper resolution at the top of the dialog, such as 2x, 4x, 6x, or 8x.
Step 4 View the effect in the Output pane. Tap the Save button if you are satisfied. Then you can choose a specific location to save the image on your Android phone.
Note: The online photo resolution changer allows you to upload a picture in JPG or PNG format. It does have a file size limit, but it may take a while if your picture is very large. The required time is also determined by your internet connection speed.
Part 3: FAQs about Changing Resolution of a Picture on Android
Can you fix a low-resolution photo on Android?
Yes, you can improve image resolution on Android devices when taking photos with the built-in Camera app or third-party camera apps. Plus, some third-party photo-enhancing apps can meet your need too.
How to change the resolution of a picture on the Samsung S21?
The preinstalled Gallery app on Samsung Galaxy S21 allows you to change image resolution. You can open the desired photo in the Gallery app, tap the Edit icon to access the photo editor, and get the proper resolution with the Resize feature.
Does boosting image resolution cause blur?
When you increase the resolution of an image, the enlarged image will appear blurry. That is because unnecessary details have been extracted from the original image. Therefore, you need a powerful tool to fix the blurry picture.
Conclusion
This guide told you three ways to change the resolution of a picture on Android devices. The built-in Camera app allows you to decide the photo resolution before pressing the Record button. If you have taken a photo with a lower resolution, you have to improve it with a third-party app. Apeaksoft Free Image Upscaler is another way to enhance your image resolution on Android devices online. More questions about this topic? Please feel free to leave a message below this post.