Why my photos look bad on Instagram? Does Instagram compress photos? According to the social media, it uses massive compression algorithms in all uploaded pictures. That reduces the photo file size and downscale the quality at the same time. With millions of image photos each day, huge amount of new data is uploading to Instagram server. Photo compression is able to reduce server load and improve the user experience. In order to protect the quality, you can compress photos according to Instagram guideline.

Compress Images for Instagram
Part 1: The Easiest Way to Compress Pictures for Instagram
According to our research, if you upload picture with small file size, Instagram won't compress it. In another, word, you'd better use a proper tool to compress photos for Instagram before uploading. That is why we recommend Apeaksoft Free Image Compressor.
Key Features of the Best Photo Compressor for Instagram
1. Compress JPG, PNG, and GIF from MB to KB online.
2. Totally free of charge without signup, watermark or other limits.
3. Batch process up to 40 images per time.
4. Keep the best quality as much as possible while compressing.
How to Compress Pictures for Instagram without Quality Loss
Step 1 Visit https://www.apeaksoft.com/free-online-image-compressor/ in a browser before you upload pictures to Instagram.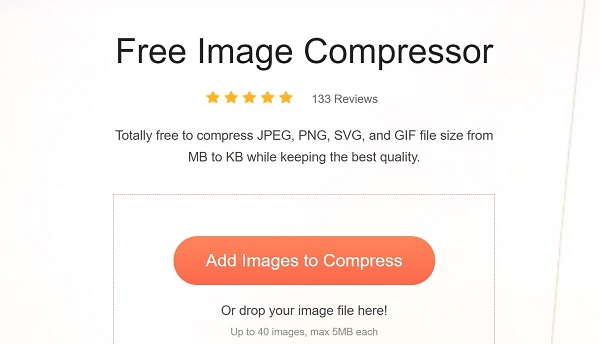 Step 2 Click the Add Images to Compress button to trigger the open-file dialog. Find and select the target pictures and click Open. Or drag and drop the images into the home page to upload.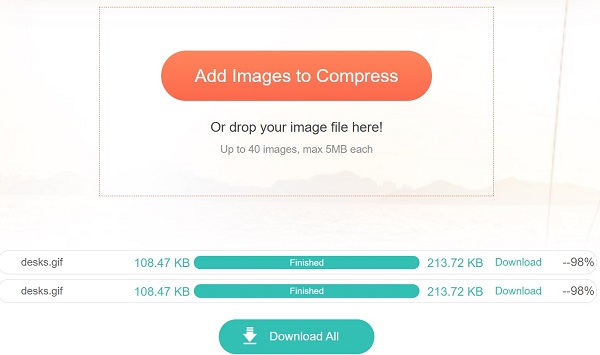 Step 3 After uploading the web app will begin compressing them immediately. When it is done, click the Download button to save each of them or hit Download All to get all of them.
Part 2: How to Upload Images to Instagram without Compression
As mentioned previously, Instagram compress your photos if you do not follow the guideline. When you upload a photo with resolution between 320 and 1080p, no resizing will take place. To avoid image compression on Instagram, follow the tips below:
1. Resize your photo with a width between 320 and 1080p, height between 566 and 1350p, yielding an aspect ratio between 1.91:1 and 4:5.
2. If you intend to share a photo with very low or high resolution, you'd better enlarge it; otherwise Instagram will do it. Any image with high resolution will be downscaled by Instagram too. You also need to crop a picture to the proper aspect ratio.
3. Moreover, the photo compression on Instagram also depends on the format you are using. The recommended image format is JPG or JPEG. If you upload an image in PNG, BMP or anything other than JPG, Instagram will convert it and some of the quality will be lost.
4. Instagram is mainly a mobile social media app, although it allows you to access on computer too. When you upload images from desktop, such as with the developer tools method, can sometimes see a reduction in image quality. In another word, you'd better to post photos on Instagram on mobile devices.
5. In addition to resize photos to meet Instagram's guideline, you can also compress it with online app or Photoshop. That is another way to avoid Instagram over-compress your photos and damage the quality. If you already have Photoshop on your desktop, the Save for Web feature can help you to adjust the image file size manually by percentage.
Part 3: FAQs about Instagram Compression
How do I reduce the size of a video for Instagram?
Instagram allows you to upload a video up to 4GB from 3 to 60 seconds. If your video is very large, you can reduce the video size on computer or mobile device with a video size reduce application. We suggest you to do it on computer due to the performance and large screen.
Why is my photo blurry on Instagram?
The photo guideline of Instagram is width between 320 and 1080p, height between 566 and 1350p. If your photo is smaller than 320, Instagram will enlarge it. That is why your photo blurry. The solution is simple, resizing your photo with a powerful photo editor.
Can I upload high quality photos to Instagram?
Instagram supports photo post with the resolution between 320 to 1080p. If you upload a picture with a higher resolution, the social platform will compress it automatically. Of course, the cost is quality loss.
Conclusion
Now, you should understand how to avoid image compression on Instagram. Generally speaking, the social media compress every photo when uploading. However, the result becomes very different if you follow our guide and compress photos using Apeaksoft Free Image Compressor. It is not only easy to use, but also able to compress photos without interrupting the quality. If you have other questions, please write them down below this post.