Although high quality photos are appealing, the large file size is a big problem. It will slow down your website or social media page, use a lot of traffic and take up tons of storage space. Plus, many sites limit the size of profile and picture posts to keep the performance. Fortunately, there are many ways to decrease image file size on both computer and mobile devices. This is a concrete guide of the easiest methods of decreasing image size in KB.

Decrease Photo Size
Part 1: How to Decrease Image Size Online
Generally speaking, there are two approaches to decrease image size, reduce pixels and downscale resolution. You may wonder if you can make a photo size smaller without quality loss. The answer is Apeaksoft Free Image Compressor.
As its name indicated, it decreases image size by compressing. It won't change the photo dimensions or pixels. More importantly, it completely works online without asking you to install any software. Plus, it won't add watermark to your photos. If you are ready, let's start decreasing photo size.
Step 1 Open a web browser and visit https://www.apeaksoft.com/free-online-image-compressor/ to open the home page directly.
Step 2 Click the Add Images to Compress button to upload the photos that you want to compress. The web app supports JPG, PNG, GIF and SVG. You can upload up to 40 photos per time. The maximum file size is 5MB.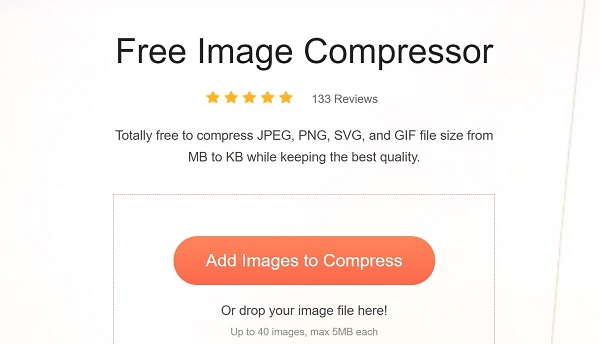 Step 3 After photo uploading, the web app will begin decreasing photo size online immediately. When it is done, you can download each photo by hitting the Download button or get all of them by clicking Download All.
Part 2: How to Decrease Photo Size in Photoshop
Photoshop is a professional photo editor including a wide range of features. If you already have it on your desktop, it is a good way to decrease photo size.
Step 1 Open the photo that you want edit in Photoshop. It can only process one picture per time.
Step 2 Edit the photo as you wish. To decrease the photo size by resizing, go to the Image menu from the top ribbon and choose Image Resize option.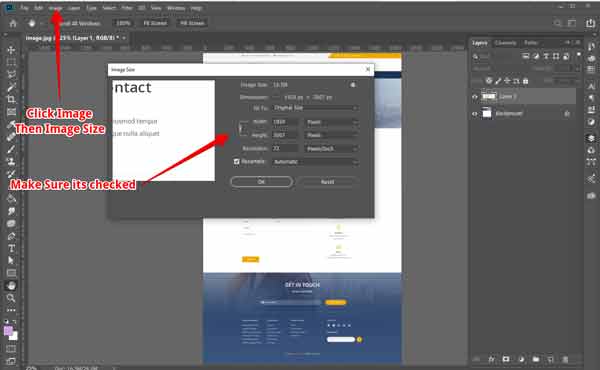 Step 3 Make sure to lock the aspect ratio and then decrease Width or Height and the other dimension will change accordingly. Check Resample and select Automatic from the drop-down list. Click OK to confirm it.
Step 4 When photo editing is done, go to the File menu, select Export and choose Save for Web. Pull down the format option and choose a proper image format.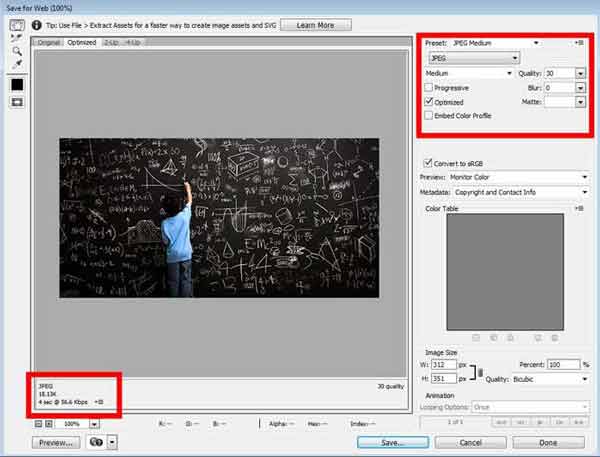 Step 5 Downscale the value in the Quality field and check the photo size at bottom left side. You can monitor the quality in the preview pane. Click the Save button until you are satisfied. Then follow the instructions to set the filename, destination folder and export the smaller photo.
Part 3: How to Decrease Picture Size on Mobile
How to Decrease Picture Size on Android
For mobile-first, a photo compressor app is the easiest way to decrease photo size on Android. Photo Compress 2.0, for instance, is an ad-free app to help you resize and compress a photo. Plus, it is free to use on most handsets running Android 3.2 and up.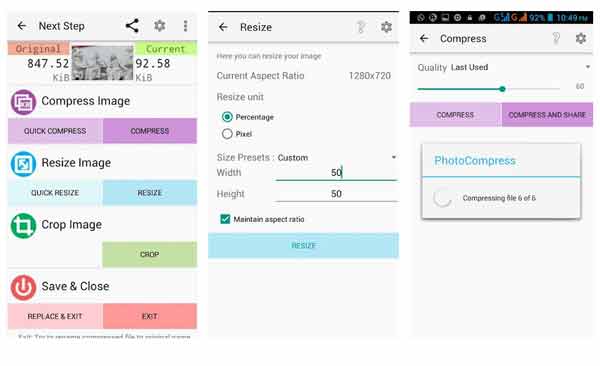 Step 1 Firstly, run the app from your app tray, and open a photo from Gallery or Camera.
Step 2 Tap COMPRESS under the Compress Image section. It will display the photo compress screen.
Step 3 Move the Quality slider to left and the photo size will become smaller. Once you are satisfied, tap COMPRESS to confirm it. If you want to post the smaller photo to social media directly, tap COMPRESS AND SHARE instead.
Step 4 To decrease the photo size by resizing, tap RESIZE under the Resize Image section. Then resize the photo by percentage or pixel easily.
How to Decrease Photo Size on iPhone
When it comes to iPhone users, the good news is that you can decrease a picture size without extra app. When you send a picture via email, you can decide the file size. That is the easiest way to decrease image file size on iPhone.
Step 1 Go to the Photos app from your home screen, find and open the large photo. Here you can select one photo or several photos.
Step 2 Tap the Share icon and choose the Mail option on the bar. That will open the new mail screen.
Step 3 Type in your email address or any email accessible in the To box, and enter the subject. When prompted, you can choose a photo size, like Small, Medium or Large. The Actual Size shows the photo's original size.
Step 4 Tap the Send button at upper right side to send the photo to yourself. Wait for a few seconds and then visit your email on iPhone and download the smaller photo to your memory.
Part 4: FAQs about Decreasing Image Size
Can I reduce a photo size from MB to KB?
Yes, if you have an efficient photo compressor, you can reduce a photo size as much as possible on your computer or mobile device. Click here to learn more how-to details.
Is it possible to reduce a photo size without losing quality?
As mentioned previously, there are two ways to reduce a picture size. If you do not want to reduce resolution, you have to resize the picture. Of course, a powerful tool can reduce photo resolution without ruining the quality.
Why I cannot email my photos?
If your photos are larger than the email size limit, the new mail will fail. Gmail, for example, allows you to send a mail less than 25MB.
Conclusion
Now, you should understand how to decrease photo size on Windows, Mac, online, iPhone and Android devices. Photoshop is available to both PC and Mac. Apeaksoft Free Image Compressor is totally free to use and able to batch compress photos online. You can pick the appropriate tool and follow our guide to get what you want. Still have other questions? Please leave your message below this post.