Cloud service offers a simple and automatic way to save all types of valuable data on your device. Nowadays, more and more users choose to back up photos through a cloud service like iCloud, Google Photos and Amazon Photos.
Does Amazon Photos compress? While selecting a cloud service for photos backup or storing, you may wonder if these photos uploaded to Amazon Photos are compressed or preserved full resolution?

Does Amazon Photos Compress Photos
This post will guide you to know more about the Amazon Photos, and figure out if Amazon Photos compressed uploaded photos or store in original file format and size.
Part 1. Does Amazon Photos Compress Photos
Amazon Photos is one kind of cloud service that mainly used for backing up or storing photos. It provides Prime members with the unlimited, full-resolution photo storage, and 5GB video storage.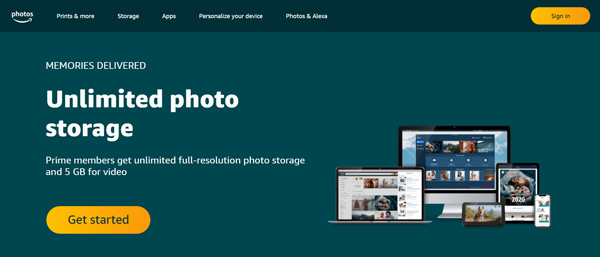 Compared with iCloud, Google Photos, and other pictures saving services, the biggest advantage of Amazon Photos is that, it allows you to upload and sync unlimited pictures. Moreover, If you are the Amazon Prime member, your photos can be backed up automatically. For other users, you can get 5 GB storage to store photos and videos for free.
Now we back to the question, does Amazon Photos compress?
If you are an Amazon Prime member, you won't be bothered by this question. You can get unlimited and full resolution photo storage. So the question turns to, if Amazon Photos will compress image quality when you don't have the Amazon Prime. Through our test, Amazon Photos won't apply any compression whatsoever to the photos you upload, whether you are using Amazon Prime photo, or not.
Part 2. How to Compress Photos for Amazon
If you are not an Amazon Prime member and don't want to pay for more storage on Amazon Photos, you can choose to compress some large pictures by yourself and then upload them to Amazon Photos for backup. To do that, you can rely on the popular photo compressing tool, Free Image Compressor.
It highly supports many frequently-used image files including JPEG, PNG, SVG, and GIF. It has the capability to quickly compress multiple photos while maintain the original image quality. This Amazon photos compressor is designed with the advanced lossless algorithm technology. With its help, this compressor tool can effectively identify textures, patterns and colors on photos, remove unnecessary contents, and then compress photos for you automatically.
Step 1On your web browser like Google Chrome, Safari, IE, Yahoo, or Firefox, go to this Free Image Compressor site. Then click Add Image to Compress to upload your photos. You are allowed to optimize over image files at a time.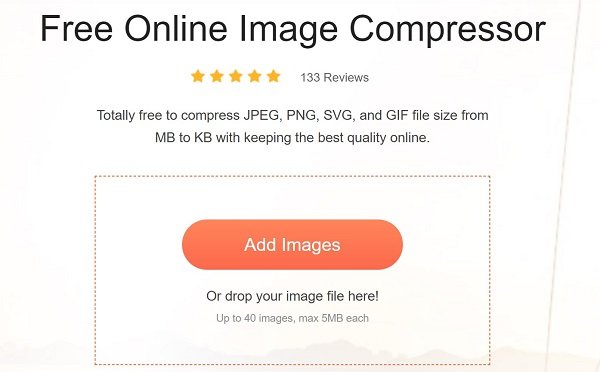 Step 2This free image compressor is equipped with an auto-compress feature. So it will automatically compress photos after uploading. It is able to balance the right image compression rate and quality. After you add your photos to it, you can simply click the Download All button to save these compressed images on your computer.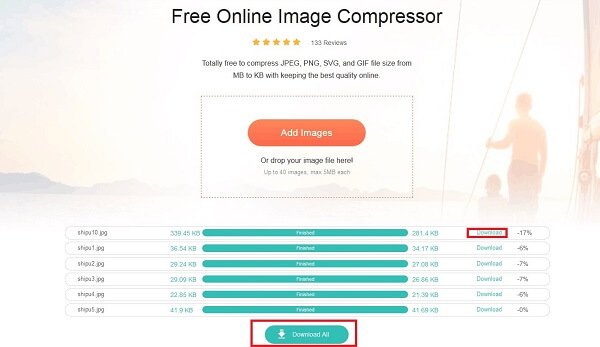 Before storing photos to Amazon Photos, you can use this free image compressor to help you reduce photo size without losing quality.
Part 3. FAQs of Amazon Image Compression
Question 1. Does Amazon Photos save full-resolution?
Yes. Amazon Photos allows Prime members to store unlimited and full-resolution photos. If you are not a Prime user, you can still get 5 GB free storage to save pictures with original file quality.
Question 2. What happens to my photos if I leave Amazon Prime?
When you cancel your Amazon Prime membership, you will still have 5 GB free storage that combined photos and videos, just like all other Amazon customers.
Question 3. What's the difference between Amazon Drive and Amazon Photos?
Amazon Drive is mainly used to store music, Word documents, PDF files, and more. It works much like an asset management platform. Amazon Photos is designed for saving various pictures on your devices.
Question 4. How to stop photos from syncing to Amazon Photos?
You can go to Settings, locate the Auto-Save option and turn it off. By doing so, you can stop photos automatically syncing to your Amazon Photos account. You need to manually enable this Auto-Save feature in Settings at any time to make sure all your pictures are automatically backed up.
Conclusion
Does Amazon Photos compress? You can get a clear answer from this post. Hope you can learn more useful information about the Amazon image downsizing and Amazon Photos after reading this page.