Today, it is easier to back up and transfer photos via cloud storage services. In order to save storage space and bandwidth traffic, these services might compress media files, especially large photos and videos. That can be a disaster if the quality of important photos is ruined. This article, you will find out if Dropbox also compress photos during uploading affecting your image quality.
Does Dropbox Compress Photos
Part 1: Does Dropbox Compress Photos?
According to Dropbox, it does not compress photos. The photo files are synced exactly as they are. It might not have been the case a few years ago, but not it does not seem to compress your photos.
In order to get the real answer, we make a research in our lab. Firstly, we uploaded a 100MB TIFF photo to Dropbox in a desktop browser. Then downloaded the photo to computer. Next, we compared the downloaded photo size with the original. Both were exact matches down to 100MB. We also check for JPG and RAW photo files. The result is the same.
Next, we also used Dropbox app to back up photos and downloaded to internal memory. The photo file size did not change too.
The conclusion is that unlike other cloud services Dropbox does not compress photo in either browser or mobile app. So, it can be used to share HD photos without worrying about the loss of quality.
Dropbox File Size Limit
There is no file size limit if you upload photos to Dropbox from the desktop client or mobile app. The story is a bit different for website. If you prefer to back up photos to Dropbox from a desktop browser, remember that the maximum file size is 10GB per file.
Part 2: Easiest Way to Compress Photos for Dropbox
As a cloud service, Dropbox gives each account 2GB free storage. If it is not enough for you, it costs $9.99 per month for 1TB and $19.99 per month for 2TB. In another word, the more storage, the higher the price. To store more photos in certain space, the best way is to compression. Apeaksoft Free Image Compressor is the easiest way to compress photos for Dropbox. It works online and is totally free to use. You can compress JPG, PNG, SVG and animated GIF photos from MB to KB in one click. It allows you to compress up to 40 photos at one time. More importantly, the web app utilizes advanced technology to protect your photo quality while compressing.
Step 1 Open a browser before uploading photos to Dropbox and visit https://www.apeaksoft.com/free-online-image-compressor/. It will open the photo compressor directly.
Step 2 Click the Add Image to Compress button to trigger the open-file dialog. Find the target photos, select them and click Open button to upload them. The maximum file size is 5MB each.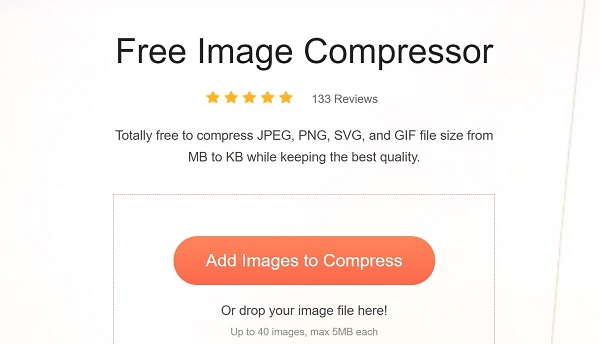 Step 3 Once the photo uploading is done, the web app will initiate compressing photos for Dropbox. When it finished, you will be presented the compressed file size. Now, you can click the Download button to get each photo or hit Download All button to save all smaller photos as an archive file.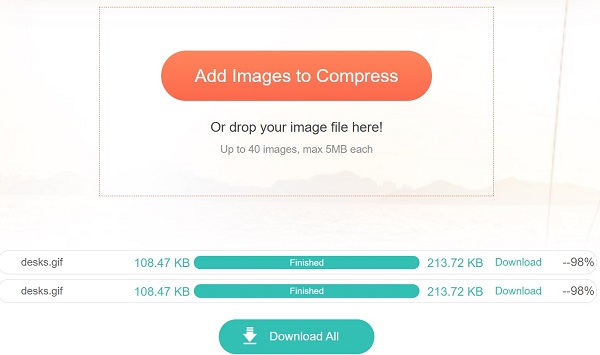 Now, access your Dropbox account and back up the smaller photos.
Note :According to our research, it just takes a few seconds to upload and compress dozens of photos. However, the real process is determined by your internet connection.
People Also Ask:
Part 3: FAQs about Dropbox Compress Photos
Do videos lose quality when uploaded to Dropbox?
No, we do not see the quality or video file size change when uploading to Dropbox. In the past, Dropbox did serve the preview in the most appropriate quality depending on your internet quality at the time of request. Now, it won't compress your videos or interrupt the quality.
Can you resize photos on Dropbox?
Dropbox is a photo storage but not photo editor. It does not provide the capacity to resize your photos, but if you view them on your smartphone or the website you may see a preview of the file that is in lower resolution. However, if you share the photos or download them, you can access to the full resolution image.
Does Dropbox save high resolution photos?
Dropbox is able to save high resolution photos if your account has enough space. Therefore, you can back up as high quality photos as possible to Dropbox.
Conclusion
Now, you should get the answer for whether Dropbox compress your photos when uploading. It is able to save 2GB photos from computer and mobile device for free. Plus, you can subscribe more storage to back up more files. To save your storage capacity and data traffic, you'd better compress your photos with Apeaksoft Free Image Compressor before uploading to Dropbox. If you encounter other problems when using Dropbox, please feel free to leave a message below this post.