Don't want Facebook image compression ruin your uploaded pictures?
You may notice that, after you post an image file to Facebook, the uploaded picture may easily turn to blurry. It is because the image compression function on Facebook will reduce the file size of your uploaded photos to save space on its servers. That will affect the overall quality of your image file.

Facebook image compression
This post will talk about the Facebook image compression, explaining how Facebook compress photos and how to compress image for Facebook uploading.
Part 1. Facebook Image Compression
Facebook is a great platform for sharing various information including photos with family, friends and colleagues. However, the uploaded images on Facebook are usually compressed. Why does Facebook compress photos?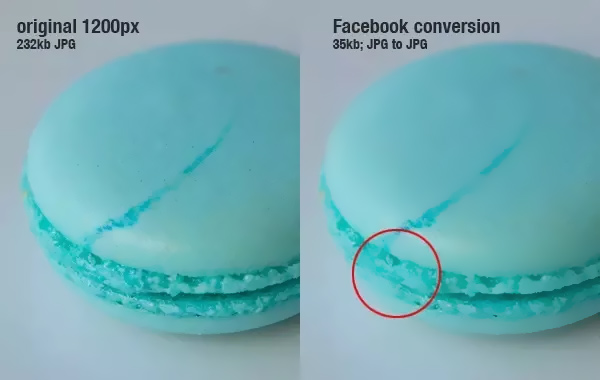 In fact, to improve the web page loading time, and shrink the storage space cost on its serves, Facebook will compress all images that uploaded to its platform. The Facebook image compression is done automatically. It will cause your image blurry and subjected to a default compression.
You should know the recommended Facebook image size. Facebook supports 720px, 960px, and 2048px on image length. The width and height of the photo should have their dimensions changed automatically. When you upload or share a photo on Facebook, you should use a recommended image size. Or your photo will be compressed and turned to a visually poorer image file.
Part 2. How to Compress Image for Facebook
If you want to disable and stop the Facebook image compression, you can choose to compress image for Facebook recommended image size. To do so, you can rely on the online Facebook image compressing tool, Free Image Compressor.
It is specially designed to compress various image files while keeping the source quality. It supports many popular image formats, such as JPEG, PNG, SVG, and GIF. It is able to optimize your photos to reduce the Facebook image compression. You can follow the steps below to compress photo for Facebook.
Step 1You can use this Facebook image compressing tool on any frequently-used web browser like Chrome, Safari, IE, Yahoo, or Firefox. You can directly use it to compress image for Facebook online without account sign in or sign up.
Step 2When you get to the site, click on Add Image to Compress to browse and upload your pictures for compressing. It enables you to compress over 40 images in batch.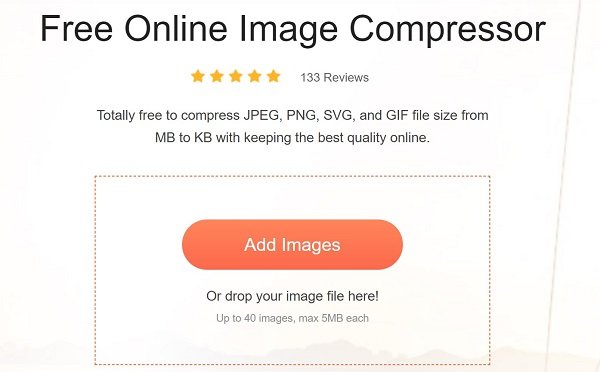 Step 3This free online image compressor is designed with an auto-compress feature and the advanced lossless algorithm technology. It can quickly identify textures, patterns and colors, remove unnecessary data, and then compress image automatically. It will directly compress images for Facebook after uploading. You can click Download All button to save them on your computer.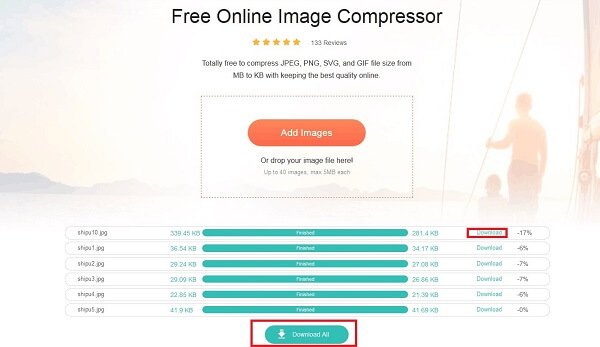 Compared with other online image compressing tools, it has the capability to balance the compression rate and image quality. By doing so, it can reduce photo size without losing much quality. More importantly, it won't add any watermark to your compressed photos.
Part 3. FAQs of Facebook Image Compression
Question 1. What image format is best for Facebook?
If you want to upload a photo to Facebook while maintain its best result, you should ensure your photo is in JPG format, with the RGB color, and less than 15 MB. You should know that, now Facebook allows you to upload images with high resolution and quality. Besides, Facebook supports other image formats like BMP, PNG, GIF, and TIFF.
Question 2. Can I post a PDF on Facebook?
Yes. Facebook supports the PDF uploading. It enables you to attach and upload PDF files for posting. But you are only allowed to post PDF files under certain circumstances like Group. You can't share PDF on your personal profile page. To post a PDF on Facebook, you can go to Group page, click the More, choose Add File and then select the specific PDF document you want to share. Learn how to compress PDF here.
Question 3. How do I make a picture smaller for Facebook?
You can make a picture smaller directly on Facebook. When you upload a picture to Facebook, it will show a thumbnail of the image for you. You can move your mouse over the thumbnail to arise a paintbrush icon with the Edit Photo caption. You can click on it and then use the slider to make the picture smaller.
Conclusion
We have mainly talked about the Facebook compression in this post. You can learn some image size recommendation for Facebook uploading. Moreover, a free online tool are introduced to help you compress image for Facebook.