Animated GIF images are popular and everywhere on the internet. You can find them in Facebook, WhatsApp, Instagram, Twitter, and more social media channels and websites. It is said that a picture is worth a thousand words. Thus, a GIF image must be worth thousands of words since it stores a series of pictures. The downside to GIFs is that the file size can get very large. That makes difficult to send or upload GIF images. This article rounds up some of the best GIF compressors on desktop and online.

GIF Compressor
Part 1: Top 8 GIF Compressors Online
Top 1: Apeaksoft Free Image Compressor
Is it possible to compress GIF images without damaging quality? The answer is yes but difficult. Apeaksoft Free Image Compressor is one of the GIF optimizers online that won't ruin your image quality.
PROS

Optimize GIF online for free.
No registration requirement or watermark.
Compress MB GIF to KB.
Available to all web browsers.
Batch downsize multiple GIFs.
CONS

There is no custom option.
How to Compress a GIF Online for Free
Step 1Visit https://www.apeaksoft.com/free-online-image-compressor/ in a browser when you need to compress GIF images.
Step 2Click the Add Image to Compress button and upload the GIFs from your computer. You can also drag and drop the GIF images into the web page to add them.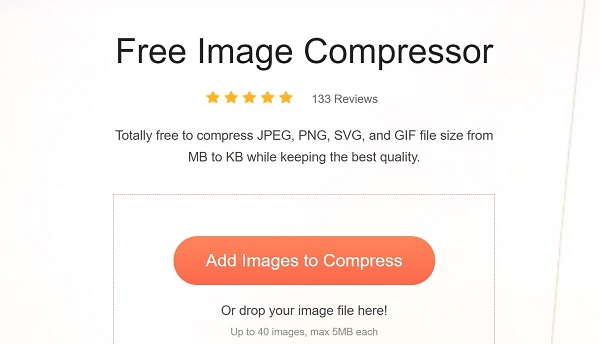 Step 3After uploading, the online GIF compressor will work automatically. Then all you need to do is to click the Download or Download All button.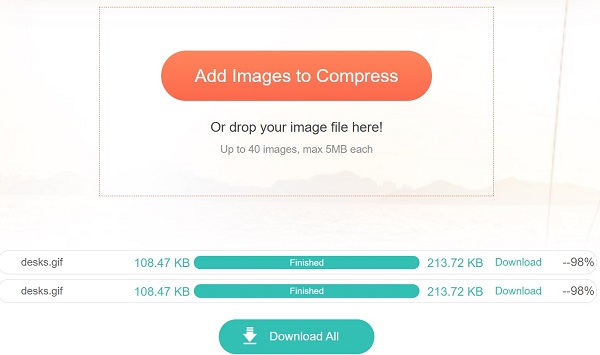 Top 2: GIFCompressor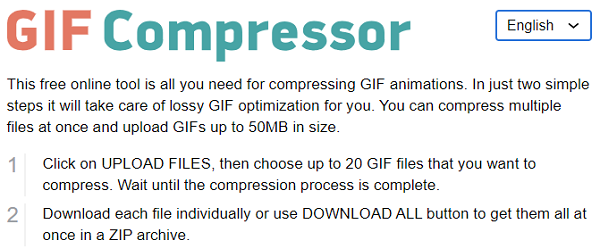 GIFCompressor is one of the best GIF downsizers without any payment. You cannot find any option related to payment or registration on the web page. Moreover, it allows you to convert GIF to other formats, like PNG or MP4.
PROS

Compress animated GIFs.
Compress up to 20 GIF files per time.
Download all GIFs in ZIP archive.
Completely free of charge.
Easy to use for beginners.
CONS

It can only process GIF files up to 50MB.
It lacks GIF editing features.
There are ads on the page, so you must be carefully.
Top 3: iLovIMG GIF Compressor

As its name indicated, iLovIMG GIF Compressor lets you love the GIF compressing. It allows you to upload GIF images from several sources and downsize online. Although the free account just helps you compress animated images a little, the output quality is good.
PROS

Add GIF from computer or cloud.
Optimize GIF with the best quality.
One-click condensing GIFs.
No limit on file size.
CONS

The compression is not very efficient.
To remove ads, you have to purchase a plan.
The free account only allows you to process limited GIFs.
Top 4: Zamzar GIF Compressor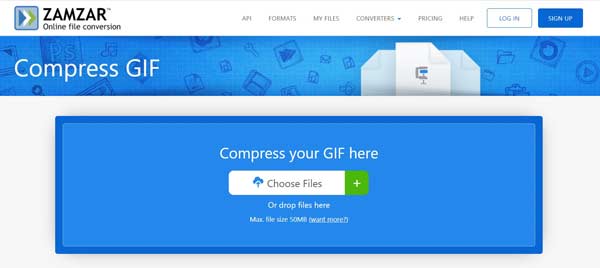 Zamzar is a file converting platform. Many people use it to convert multimedia files to other format online. It also includes a GIF compressor. There are two editions. The free one allows you to optimize up to 5 GIF files and each is less than 50MB. Of course, you can purchase a plan to remove the file size limit.
PROS

Optimize GIF images online.
Won't add watermark to your images.
Safe to use and delete GIF after downloading.
Send compressed GIFs to your email.
CONS

There is file size limit in free edition.
It can only compress GIF images from your hard drive.
Top 5: Compress Online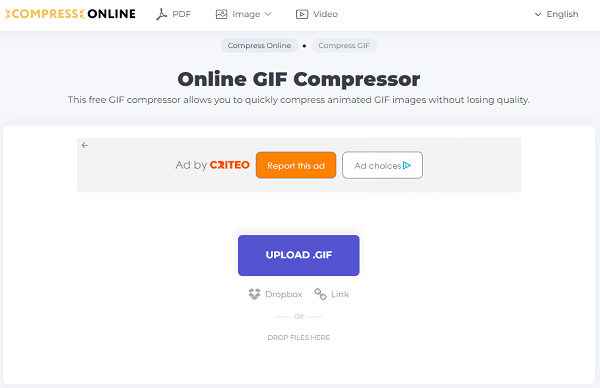 Compress Online is another convenient and user-friendly GIF compressor tool that you can access directly through your web browser. You can upload GIF for compressing from hard drive, Dropbox or a link.
PROS

Reduce GIF file size online for free with no registration required.
Available to diversity of languages.
Enable you to decide the compression level.
Provide onscreen instructions.
No watermark on the optimized GIFs.
CONS

It cannot change aspect ratio or other options.
The output quality is not very good for high compression.
Top 6: EZGIF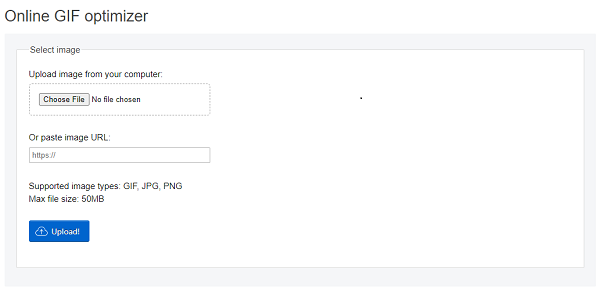 If you prefer to GIF images, EZGIF is a utility that you should not miss. Although it is a web tool, this GIF maker provides a wide range of features including GIF optimize, edit, convert, repair and more. Moreover, all these features are free to use by viewing ads on the web page.
PROS

Enable you to reduce GIF file size online for free.
You can upload the GIF file from local drive or paste the URL of the GIF.
Provide several optimization methods for you to choose from.
Let you decide the compression level.
CONS

Too many ads on the webpage affect the user experience.
There is a size limit of the file you can upload: 50MB
Top 7: FreeConvert GIF Compressor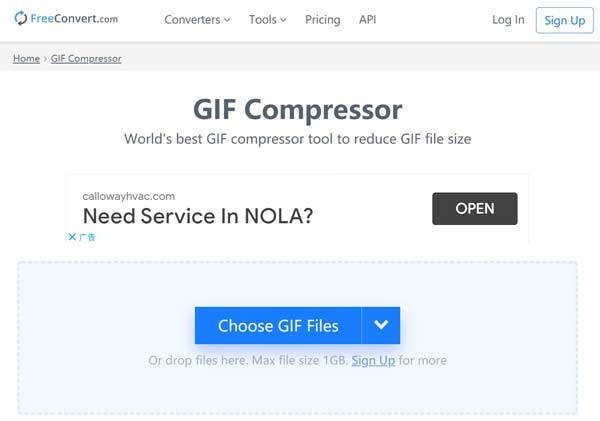 FreeConvert is both a GIF condenser and GIF converter online. You can upload several GIF files from your computer, Google Drive, Dropbox or URL, and then compress them online for free or using a subscription.
PROS

Compress both local and online GIFs.
Process up to 1GB images per time for free.
Offer plentiful plans for various needs.
Include custom options.
CONS

It takes a while to compress GIF if the image is large.
It only supports lossy compression.
Top 8: YouCompress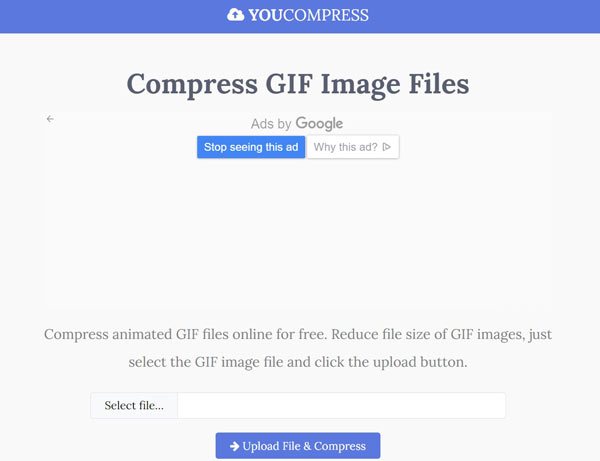 YouCompress is a file compressor online. It supports an array of file formats including GIF. More importantly, it won't turn your animated GIFs to still pictures when compressing. The concise interface makes it a good choice for beginners.
PROS

Upload a GIF from computer for compressing.
Compress image automatically after uploading.
Tell you the file size of the final GIF.
Allow you to delete your GIF files from server.
CONS

It does not provide custom options for compressing GIFs.
It requires a good network.
Part 2: Top 6 GIF Compressor Software
Top 1: PhotoScape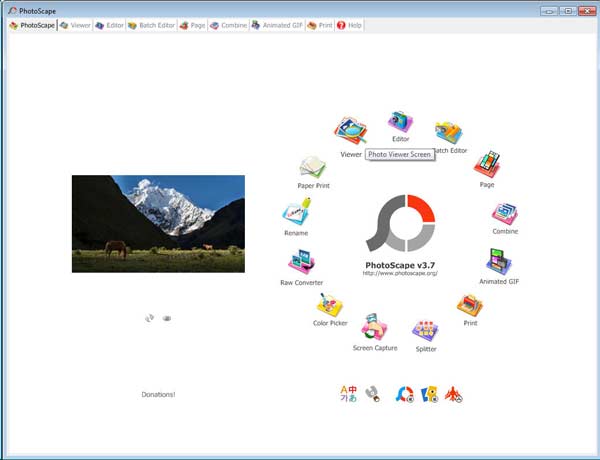 PhotoScape is a right way to compress GIF images, view, manage and edit your pictures. Obviously, it is an all-in-one solution for images. If you have to compress or edit GIF files regularly, it is a good choice. More importantly, PhotoScape is freeware and everyone can use it without payment.
PROS

Include a wide range of bonus tools.
Optimize GIF images quickly.
Batch process several GIFs together.
Free to use and no extra payment.
CONS

It is too difficult to learn for beginners.
It lacks video tutorial and technical support.
Top 2: GIF Optimizer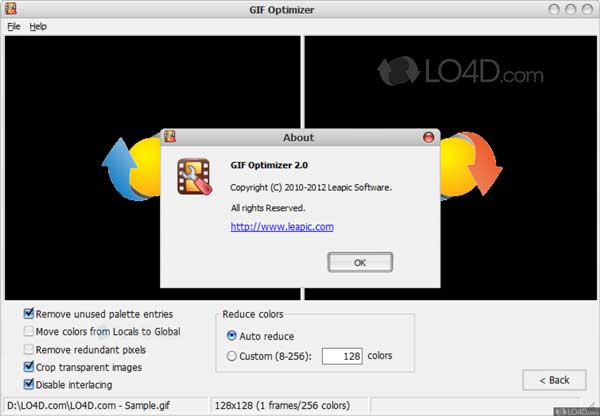 GIF Optimizer is a popular tool among social media users, partly because of the popularity of animated images on Facebook, Instagram and more. This GIF compressor can meet your basic need involved with GIF optimization. The clear interface makes it a good choice for average people.
PROS

Compress GIF with various methods.
Compare the original GIF and result.
Free to download from official website.
Customize or reduce image colors.
CONS

There is no GIF editor or bonus feature.
The features might be too simple for advanced users.
Top 3: RIOT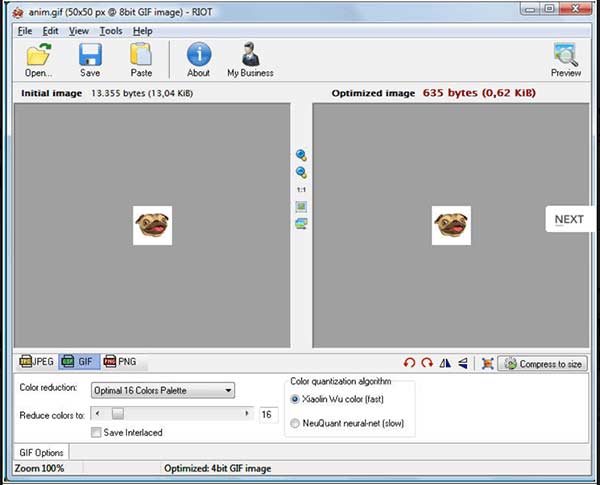 RIOT, stands for Radical Image Optimization Tool, is a free GIF and image optimizer. In addition to GIF, it also supports JPEG and PNG compression. When it comes to GIF compressing, you can get several options. Moreover, it provides basic editing functionalities. Plus, it will save all settings and you can undo anytime.
PROS

Compress a GIF image easily.
Offer basic custom options.
Rotate and zoom in or out GIF.
Preview the condensed GIF image.
CONS

It can only process one GIF per time.
It is only available to Windows.
Top 4: GIFMicro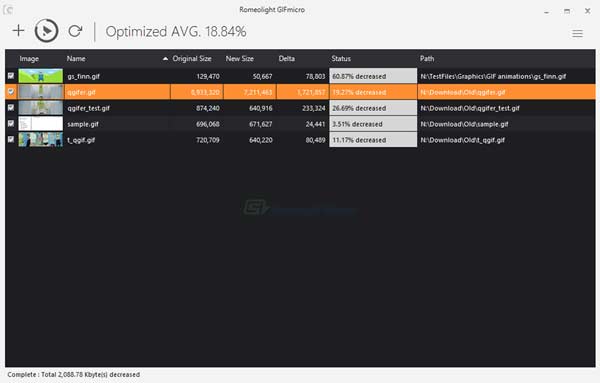 GIFMicro is a dedicated GIF optimizer. Unlike other GIF compressor, it is able to handle dozens of animated images at one time. Besides, you can learn the information such as original size, new size, how much compress and where the new image saved. Since it is built in multi-thread technology, the GIF compression is efficient.
PROS

Equip a user-friendly interface.
Batch compress multiple GIF images.
Tell you the information after compressing.
Easy to learn and not require technical skills.
CONS

It does not provide any GIF editing features.
You cannot preview GIF when optimizing.
Top 5: Light Image Resizer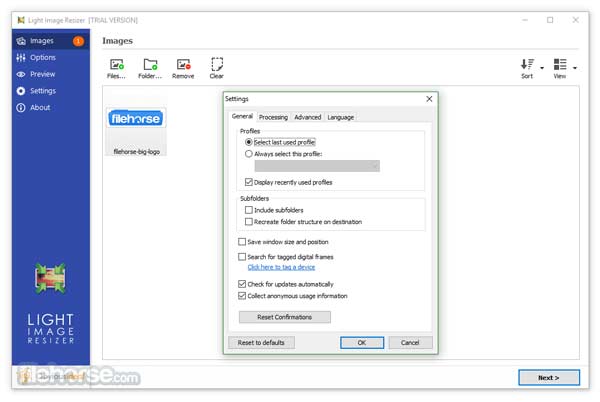 Light Image Resizer is a useful GIF condenser that gives you the ability to compact images into smaller size for Discord and other social media. It is also a good option for space conservation purposes. This software lets you quickly reduce image file size to accommodate the visual and space allocation needs of users.
PROS

Freeware and easy to use on PC.
Reduce GIF file size in bulk.
Keep the original image when compressing.
Share compressed GIF images to social media directly.
CONS

It is only available to Windows 8/7/XP/Vista.
It might crash if you process too many large GIF files.
Top 6: Moo0 Image Sizer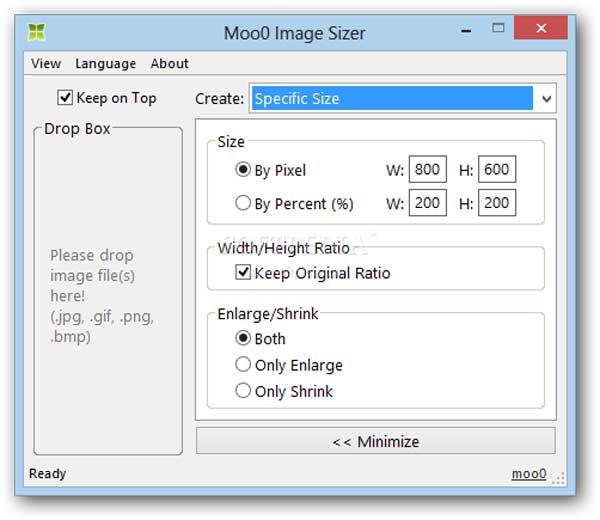 If you are looking for a lightweight GIF compressor, Moo0 Image Sizer is a proper option. It allows you to resize GIF images in a snap. All you need to do is adding the GIF files into the software. Of course, you can customize the options, like select size, pixel or percentage.
PROS

Available in multiple languages.
Pretty easy to use and learn.
Convert GIF format and optimize file size.
Free to use without any limit.
CONS

Mac users cannot use this GIF optimizer.
It has not been updated for years.
Part 3: FAQs about GIF Compressor
Is online GIF compressor safe?
It is difficult to answer. The online GIF compressor apps we shared above are safe. They promise to delete GIF images after compressing. You'd better not upload private GIF online in order to protect your privacy and information. If the GIF is copyright protected, you'd better get the permission before editing.
Can I compress a GIF in Photoshop?
Photoshop is able to open GIF, edit each frame, and export the animated image. However, it is designed for still images and does not have any feature of GIF compressing. Thus, we suggest you pick up a GIF compressor from the top 14 recommendations above to compress your GIF files. Click here to learn how to compress images in Photoshop.
What size should a GIF be?
Although GIF is a type of highly compressed image, it stores several frames. Therefore, the file size of a GIF might be 1MB to several GB. That is why you need a GIF compressor in order to remove useless pixels.
What are the benefits of using a GIF compressor?
Compressing GIF images offers various benefits, such as reducing files size for faster loading times, minimizing bandwidth usage when sharing or uploading GIFs online, and optimizing storage space on devices or servers. It also allows for smoother playback on websites or applications and improves overall user experience.
Can I control the level of compression when using a GIF compressor?
Yes, you just need to choose appropriate GIF compressors. There are some online or desktop GIF compressors we recommended above, like Compress Online, EZGIF, FreeConvert GIF Compressor, GIF Optimizer, RIOT, etc., allowing you to control the compression level and offer custom options when you upload your GIF images for compression. You can give them a try and pick up the one suits you best.
Conclusion
After reading our review, you have got top 14 GIF compressors on desktop and online. Most tools we shared above are free to use and do not ask any payment. Some of them work with limitations. Others offer full version for free, such as Apeaksoft Free Online Image Compressor. Now, you can pick the appropriate one based on your needs. If you have other GIF compressors to recommend, or you have any questions for us, please leave a comment below.