As social media penetrating, GIF becomes a popular file format. Although it is an image format, GIF is able to store animated contents. In another word, a GIF file is not a still image but several frames or pictures. When it comes to GIF resizer, it means two aspects, change GIF file size or crop GIF. Such tool is indispensable before uploading your GIF to social media or the internet. That is why you should read our review, learning the best GIF resizers.

GIF Resizer
Part 1: Top 7 GIF Resizers Online
Top 1: Apeaksoft Free Image Compressor
Today, there are a number of web-based apps to help you perform a variety of tasks. Apeaksoft Free Image Compressor is one of the best free animated GIF resizers online. It enables you to shrink GIF file size without installing any software.
PROS

Resize GIF file size online.
Free of charge without signup.
Process up to 40 images per time.
Available to all browsers.
CONS

The maximum file size is 5MB.
How to Resize GIF File Size Online for Free
Step 1Visit https://www.apeaksoft.com/free-online-image-compressor/ when you need to resize GIF.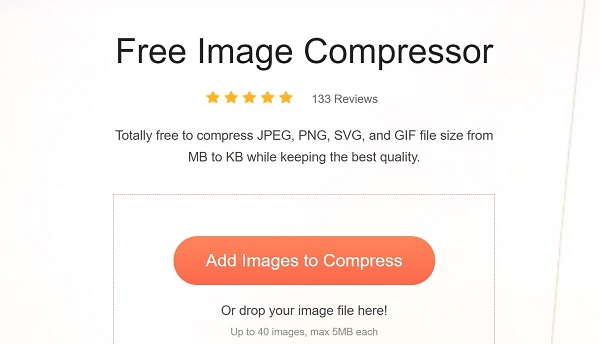 Step 2Click the Add Images to Compress button and upload the GIF images that you want to change. Alternatively, drag and drop the GIF files into the webpage to upload them.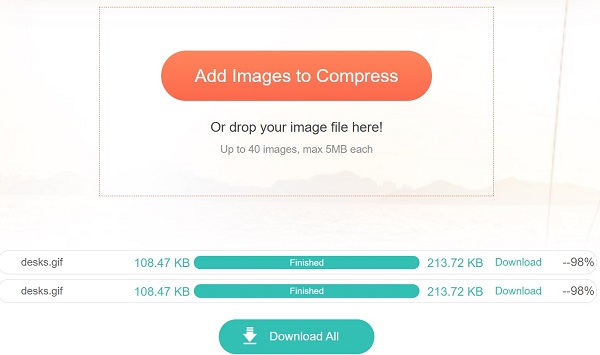 Step 3After uploading, the web app will work automatically. When prompted, click the Download button to get the smaller GIF files.
Top 2: EZGIF
EZGIF is an online GIF editor. It is free of charge and does not require you to sign up with personal information. It includes a GIF resizer as well as a GIF cropping tool. Besides, there diverse features. Although it is a web-based app, this GIF resizer is as powerful as some desktop software.
PROS

Resize animated GIF online.
Edit a GIF from computer or URL.
Crop, rotate and edit GIFs.
No ads, watermark, or other limit.
CONS

It can only resize one GIF image per time.
It takes a while to upload the GIF image.
Top 3: GIFGIFS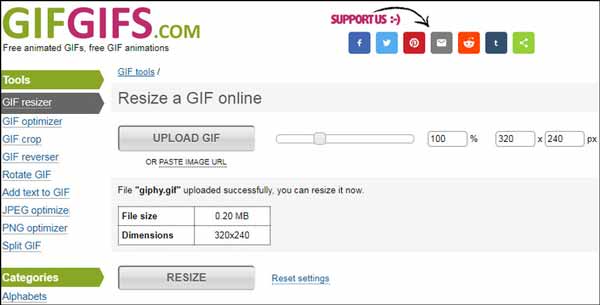 GIFGIFS is another GIF resizer freeware online. It includes several tools, like GIF resizer, GIF optimizer, GIF crop, and more. It can meet your need by adjusting the file size as well as cropping image. It promises to delete your images after editing. Plus, it is able to edit online GIF file.
PROS

Edit GIF file online for free.
Keep GIF animation when editing.
Free to use by watching ads.
Support GIF, PNG, and JPG.
CONS

It is only available in two languages.
Some users reported that it cannot upload large GIFs.
Top 4: Kapwing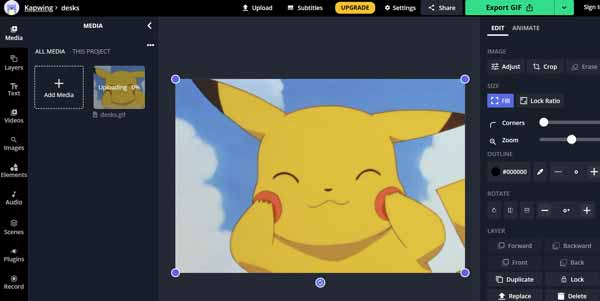 Kapwing is an online video editor app and a GIF resizer. It allows you to upload a GIF file from computer, crop the unwanted area, and export or share the image. During the process, you can monitor the effect in real time with the built-in preview panel.
PROS

Include a variety of image editing tools.
Support both video and image formats.
Share GIF to social media directly.
Keep the animation in GIF.
CONS

It will add watermark to your GIF.
This GIF resizer is slow and requires a good network.
Top 5: FlexClip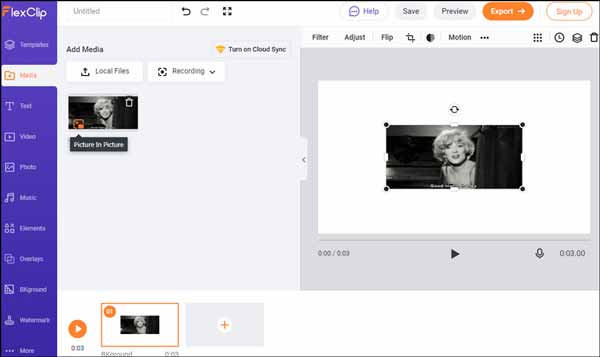 If you need a versatile GIF resizer, FlexClip is a great option. It allows you to compress a GIF, add text effects, convert file format and more. It is popular among small business to make creative. In addition, there are a lot of templates and ideas to help you make GIFs online.
PROS

Offer many templates.
Provide a free version and plans.
Support a wide range of GIF images.
Work online and not require installation.
CONS

The free edition lacks advanced features.
You need to registry an account with your email.
Top 6: RedKetchup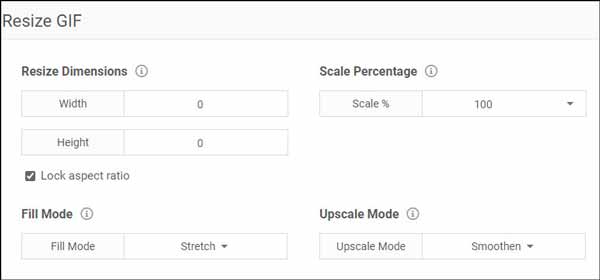 RedKetchup is a free GIF resizer tool online. This website lets users to resize an image including animated GIF, crop GIF, make GIF and more. After uploading a GIF, you can see a preview on the main page. During editing and resizing, you can monitor the effect in the preview.
PROS

Resize a GIF online for free.
Do not need account or signup.
Process a GIF from Twitter URL.
Change aspect of GIF or video.
CONS

You have to crop each frame in the GIF.
It does not have online storage.
Top 7: iLoveIMG

If you are looking for a great bulk GIF resizer online, iLoveIMG can meet your need. Once you open the web page, you can upload several GIF images from computer, Google Drive or Dropbox. Then you can resize it by pixels or by percentage. The preview panel tells you the effect in real time.
PROS

Resize and crop GIF online.
Offer a plenty of GIF editing tools.
Exchange free features with viewing ads.
Shrink GIF by two ways.
CONS

The only way to remove ads is to pay a plan.
It only supports lossy GIF resizing.
Part 2: Top 5 GIF Resizers on PC/Mac
Top 1: Apeaksoft Video Converter Ultimate
Another way to resize GIF is to modify the image size, also called crop. Apeaksoft Video Converter Ultimate is great choice to resize GIF by cropping images. Plus, it is able to protect the image quality while resizing.
PROS

Resize GIF images easily.
Enhance image quality automatically.
Edit animated GIFs in batch.
Support batch converting.
CONS

After the free-trial, you need to pay a license.
How to Resize GIF by Cropping Image
Step 1Import GIFs
Launch the batch GIF resizer once you install it on your PC. There is another version for Mac. Go to the Add Files menu and choose Add Files or Add Folder to open the GIF images that you want to resize.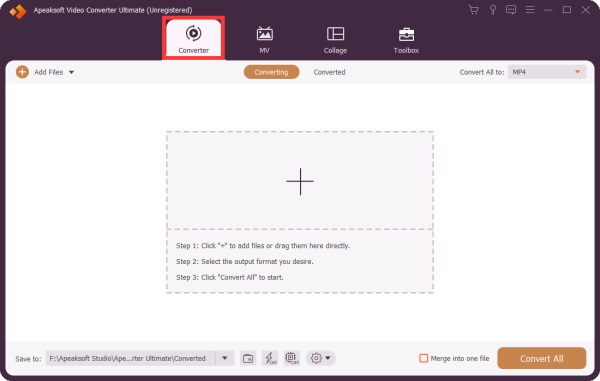 Step 2Resize GIF
Click the Edit icon under the first title to open the video editor window, and go to the Rotate & Crop tab. Then set the Crop Area to resize the GIF. Check the effect in the preview panel and click OK once you are satisfied. Then resize other GIFs.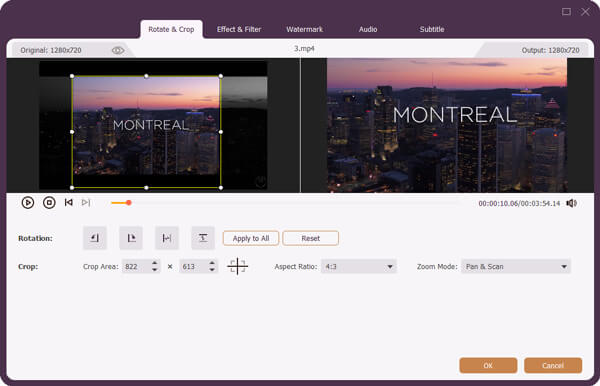 Step 3Export resized GIFs
As long as GIF resizing is done, select a specific folder in the Save to field. Click the Convert All button to export the GIFs. You can also convert the GIF images to other format with the Convert All to option.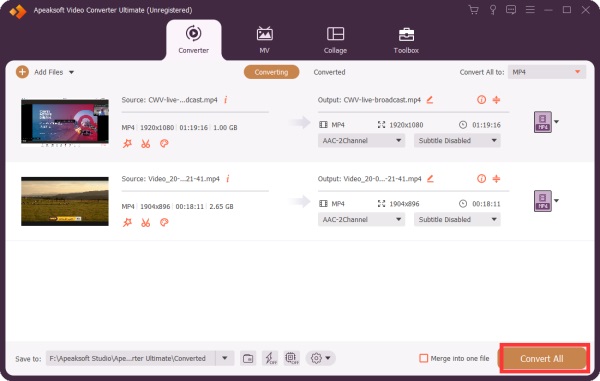 Top 2: GIMP
GIMP is an open-source photo editor that has the capacity to resize animated GIFs. Although it is free to use, there are lots of features related to photo editing. In fact, many professionals use this free GIF resizer to retouch photos and images. There are a developer team and forum for beginners to learn GIMP quickly.
PROS

Open source and free of charge.
Have abundance of tools and features.
Open and resize animated GIF.
Support a variety of plugins.
CONS

It cannot batch process GIFs.
It may freeze at times.
Top 3: Photoshop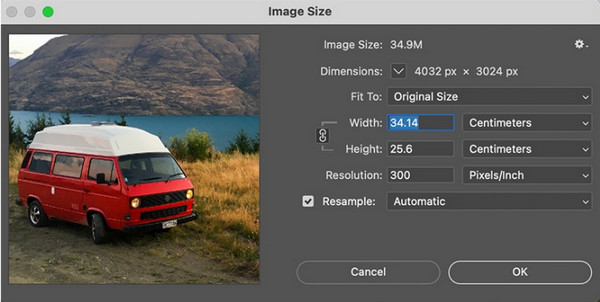 Adobe Photoshop is the standard software in digital photo industry. In addition to still images, it is able to open a GIF image and display each frame as a picture. So that you can resize and crop GIF. Plus, you can use GIF resizer and other plugins to expand the software.
PROS

Compatible with a wide range of file formats.
Include incredible range of features.
Save photos to cloud server.
Access and edit GIF crossing platforms.
CONS

It is pricy and does not provide life-time payment.
It takes a long time to learn.
Top 4: Photoscape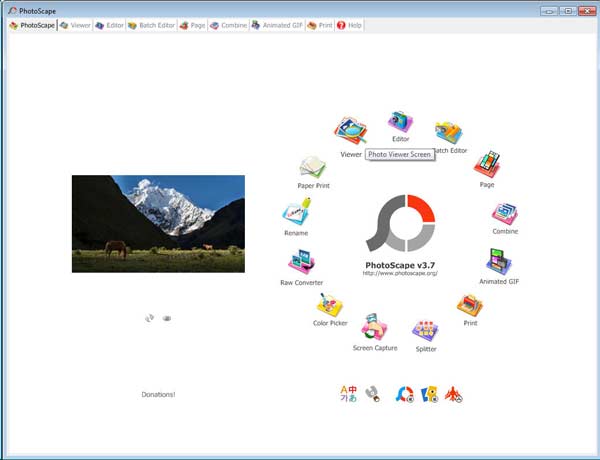 Overall, Photoscape is easy to use as a GIF resizer. It does not require studying hours to figure out. The options for editing are more limited than Photoshop, but it gets the job done. Some of the key tools include animated GIF edit, viewing, and making. It is available to two default languages, English and Korean.
PROS

User friendly and easy to learn.
Edit and resize GIFs in bulk.
Include some fun filters and overlays.
Make GIF images from videos or pictures.
CONS

The design is old-fashion.
It lacks some features that the competitors have.
Top 5: Gifted Motion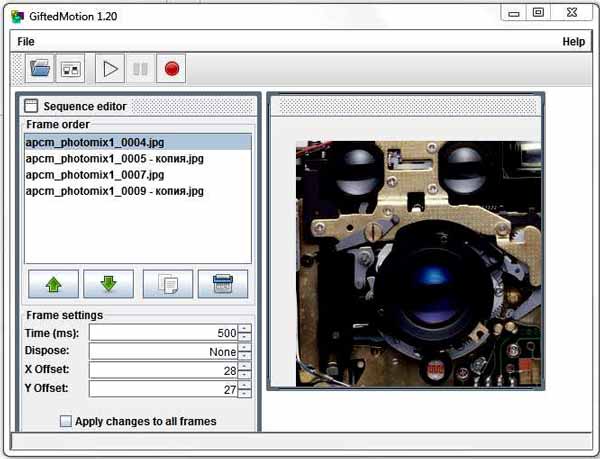 GiftedMotion is a lightweight GIF resizer and GIF maker. With a flexible interface, both beginners and advanced users can get what they want. The setup and installation process are not complicated. You can select a few still photos to make a GIF image, arrange them in the desired order, and adjust the display time for each frame.
PROS

Lightweight and do not take much space.
Make a GIF from still pictures.
Support a variety of image formats.
Batch resize GIFs quickly.
CONS

The interface still needs improvement.
It spends time to process big size GIFs.
Part 3: FAQs about GIF Resizer
Can you shorten a GIF?
It means two things to shorten a GIF. Firstly, you can remove unwanted frames and images from a GIF to make it short. Another way to shorten a GIF is to decrease the display time of each frame in the animated image. No matter, you need a GIF editor to shorten a GIF on desktop or online, such as Online GIF Tools, EZGIF, and more.
How do I create a signature GIF?
There are two main ways to do create a signature GIF. You can create your own GIF using a site like Giphy and then upload it to an online signature maker. Or you can quickly and easily create a GIF in an online signature maker with pictures on your hard drive or online. WiseStamp, for example, is an animated GIF signature maker.
How large an animated GIF file?
As mentioned above, GIF files tend to run large. Although it is an image format, GIF is more like video file. A GIF can be ten times the file size of a still image. If you want good looking GIFs that can be shared around the web, this presents a problem. If you're using high-speed broadband, you won't encounter any problem loading a 10 MB GIF embedded in a webpage.
Conclusion
Now, you should learn top 12 GIF resizer applications for Windows, Mac OS X and Linux. Some of the GIF resizers work online to help you modify the file size of animated images, such as Apeaksoft Free Image Compressor. Others provide more features on desktop, like Apeaksoft Video Converter Ultimate. If you have other questions involved, please feel free to leave a message below this post and we will reply on quickly.