Are you facing the situation that your captured pictures are a little blurry?
When you view a valuable or essential picture on your smartphone or computer and find it blurred, you surely want to fix it. Thankfully, plenty of image blurry removing and AI image sharpening tools are offered on the market.

How to Fix a Blurry Picture
This post covers three effective solutions to fix blurry pictures. Three great image editors are recommended for you to make pictures less or even not blurry.
Part 1. How to Fix a Blurry Picture Online and Free
You may feel the challenge of fixing a blurry picture cause a lot of the image information (pixel data) is missing. To easily fix low-resolution photos and remove blur, you can first try using some online photo enhancer tools, especially when you don't want to download third-party software on your device.
We strongly recommend the easy-to-use Free Image Upscaler to make pictures less blurry. It is specially designed to sharpen the blur part of your photo, increase image resolution, remove blur and noise, enlarge picture size, and more. Its advanced AI image sharpening technology can automatically make a picture less or less blurry.
Step 1To fix a blurry picture online, navigate to this Free Image Upscaler official website on your browser. It is compatible with all web browsers, including Safari, Chrome, IE, Edge, Firefox, Yahoo, Bing, and others.
Step 2When you get to the Free Image Upscaler page, you can click the Upload your photo button to choose and upload your blurry picture. You are allowed to fix blurry pictures in JPG, PNG, BMP, TIF, or TIFF.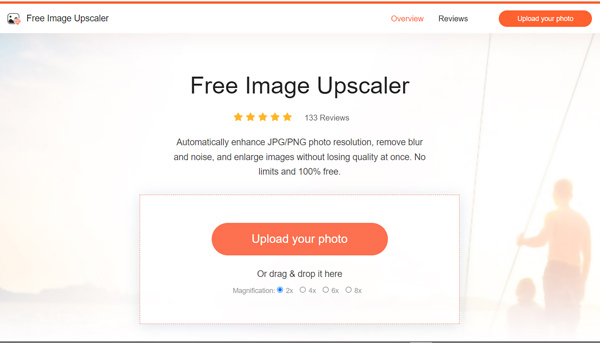 Step 3After uploading your picture, this image sharpening and enhancing software will automatically fix the blurred space, remove background noise, upgrade image resolution, and improve its quality. It displays the original and output images for you to compare. During this step, you can select the Magnification option based on your need.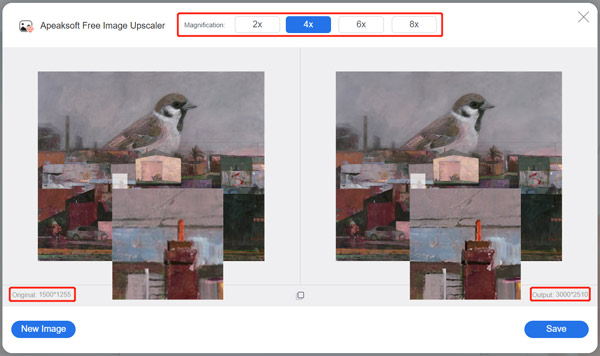 Step 4If the blurry picture is fixed and you are satisfied with the result, you can click the Save button to save the photo to your device. As a free online blurry picture fixer, it won't insert any watermark to your output file. Moreover, you won't see any ads while fixing a blurry picture.
Part 2. How to Fix Blurry Pictures on Android Phones and iPhone
If you want to directly fix a blurry picture on your Android phone, iPhone, or iPad after capturing, you need to find a suitable unblur picture app. Adobe Lightroom is a multipurpose image and video editor app that allows you to capture and edit images. You can free install the Lightroom Photo & Video Editor app from Google Play Store on an Android phone and App Store on an iOS device. Here we take an example of how to fix a blurry picture on Android.
Step 1Install Lightroom Photo & Video Editor from the Google Play Store on your Android phone and open it. If you have an Adobe subscription for its desktop software, you can use the full features of the mobile app.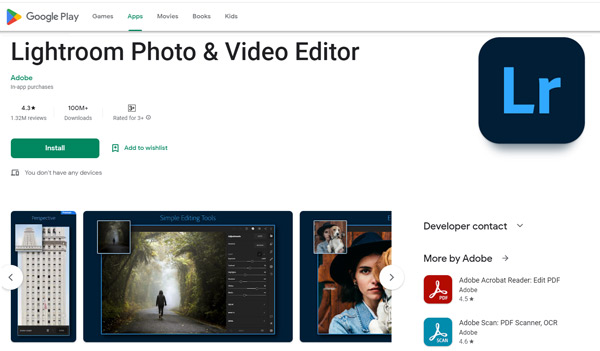 Step 2Tap the Add Photos icon at the bottom of the screen to add your blurry picture. Here you need to give the app authority to access photos on your Android device. When you locate the picture you want to make it less blurry, you can tap on it and tap Add.
Step 3Tap on the Detail panel on the bottom screen. You can see various editing options like Sharpening, Radius, Detail, and Masking. You can drag the Sharpening bar to the right to fix a blurry picture. It helps to make the small details of your picture more defined. Also, you can customize the Radius and Detail to make an image less blurry.
Step 4Tap on Effects, and you can use its Clarity feature to make a picture less blurry. The Adobe Lightroom mobile app also carries many other editing features. You can use them to make technical adjustments to your photo. For instance, you can apply the HDR preset in the Presets panel to fix low-resolution photos. You can also go to Optics to remove chromatic aberration.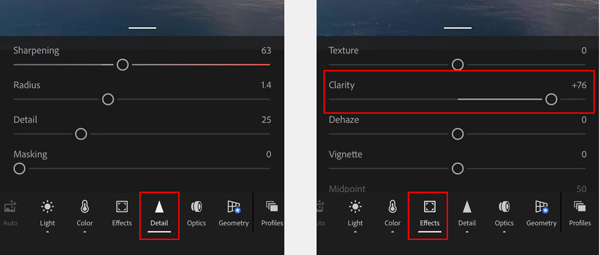 Step 5After you fix the blurry picture, you can tap on the top Share button and choose a suitable way to export or share it.
Part 3. How to Make a Picture Less Blurry Using Adobe Photoshop
When you want to edit pictures, Adobe Photoshop may be the first image editor that comes to your mind. As one of the most powerful images editing tools, Photoshop can help you fix a picture and make it less blurry. You can follow the steps below to sharpen your picture using Photoshop.
Step 1Launch Photoshop on your computer and import your blurry photo to it. If you don't get this Adobe product installed on your device, you should free install it from the official Adobe site. You can free use it to fix blurry pictures for seven days.
Step 2Click on the top Filter menu, select the Sharpen option from its dropdown, and then go to Smart Sharpen.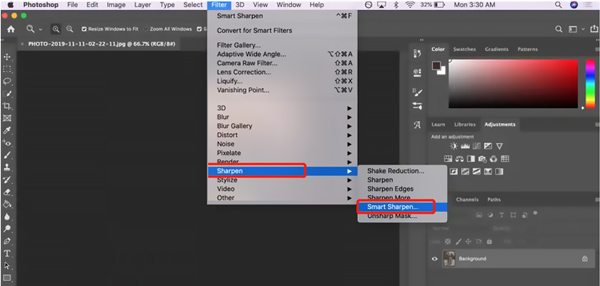 Step 3In the pop-up Smart Sharpen window, you are allowed to remove lens and motion blur, reduce noise, and adjust other options to fix the blurry picture. Click the OK button to save your changes and close the window.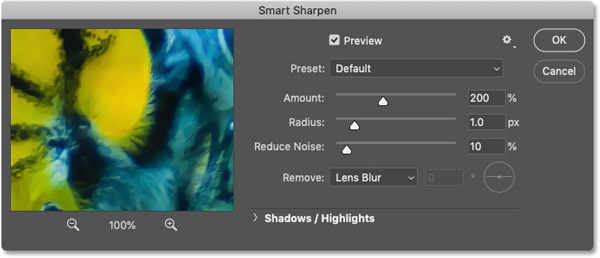 Step 4Click the File menu and choose the Export option from its drop-down list to save your edited picture.
Related to:
Part 4. FAQs of How to Fix Blurry Pictures
Question 1. How can I free sharpen a blurry picture on my iPhone?
iOS comes with some basic image editing features in the Photos app. When you want to sharpen a blurry picture, besides using some third-party apps, you can also use the built-in image editor. You can go to the Photos app, open your blurry picture, tap on Edit in the top-right corner, and then move the Sharpness bar to sharpen it according to your need.
Question 2. Can Google Photos fix a blurry picture on Android?
Yes. The Google Photos app is equipped with a Sharpen tool to help you make a picture less blurry. You can tap Edit at the bottom screen, swipe left in the bottom bar to choose Adjust, and then swipe left these Adjust tools to find the Sharpen feature.
Question 3. Can I fix corrupted photos?
Corrupted photos may due to different reasons. When you get a corrupted picture, you should try using some viewer tools to open it. You can also try opening it in Photoshop. You can choose to save it with another file size or in another format on your device if you can open it.
Conclusion
This post has mainly talked about how to fix a blurry picture. You can learn three different ways to make a picture less blurry online free, on an Android phone, iPhone, or on your computer. You can pick your preferred image editor to rescue your low-resolution or blurry photos.