You might have encountered such a situation when your old phone's camera is not high-definition enough and the pictures you took are quite blurry and grainy. This will no longer be trouble after learning how to restore low-resolution photos. Once you've mastered this skill, those plain unusable pictures will get their second life, and you can finally relish cheerful moments in a certain old picture or make a photo collage with repaired pictures. Check the steps below and learn how to fix low-resolution photos in an instant.

How to Fix Low Resolution Photo
Part 1: How to Restore Low-Resolution Photos for Free
Everyone loves freebies. But where to find the best free tool that can really enhance low pixels pictures? Here comes the Apeaksoft Free Image Upscaler. A real practical and efficient image optimizer that requires no complex operation to know how to fix low-resolution photos. A good-quality picture does not only depend on high resolution. The pixel density and image size also matter. The best thing about the Free Image Upscaler is that it uses an AI algorithm to guess and fill the missing pixels. In this way, your low-resolution photos will be repaired and look better.

Recommendation
Optimize your photo quality in a minute.
Add missing pixels to make the photos sharper.
Increase your photo resolution and reserve quality.
Reduce blur and noise in a picture without size limitations.
How to Restore Low-Resolution Photos with Free Image Upscaler
Step 1Go to the Free Image Upscaler website on any of your browsers. Drag and drop the photo you want to enhance to the center of the webpage. Or click the Upload Your Photo button to import an image.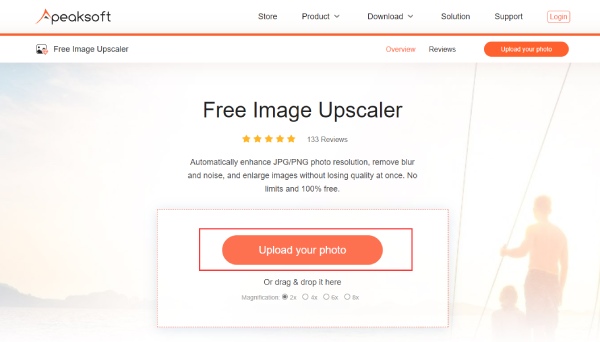 Step 2After the loading finishes, your original picture and the repaired one will show up in the pop-up window. You can enhance more by clicking the magnification options above the picture and adjusting the enhancement to 4X, 6X, or more.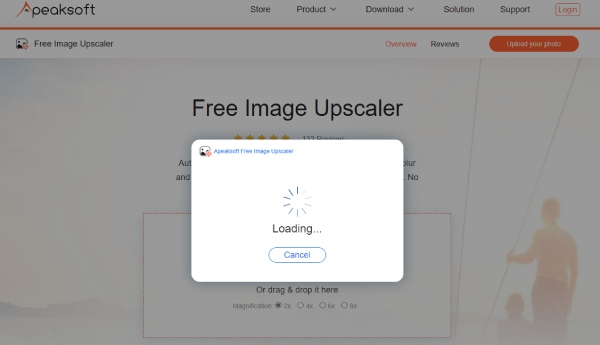 Step 3Once you are satisfied with the result. You may click the Save button below to download your picture. The fixed picture will be saved in your default browser folder.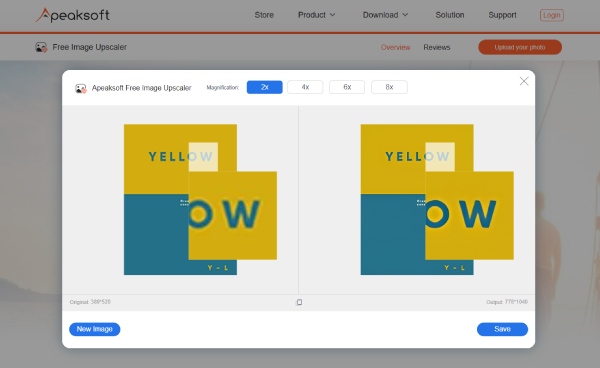 Part 2: How to Fix Low-Resolution Photos Professionally
Photoshop is the best choice for you to enhance low-pixel pictures without any quality loss on computers. In this program, you will explore many ways how to fix low-resolution photos.
In this chapter, you will learn the most common one to upscale your low-resolution picture without adjusting pixel dimensions. Moreover, if you think the repaired pictures are too big to store, just let Photoshop compress your picture and preserve the enhanced quality.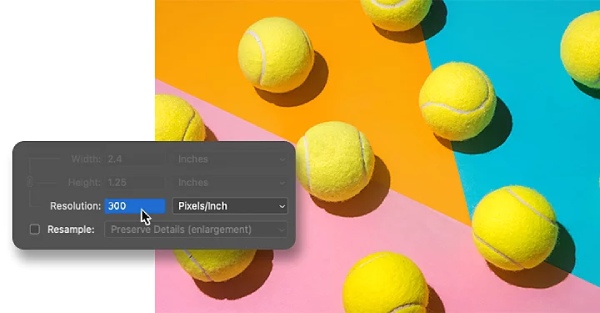 How to Fix Low-Resolution Photos with Photoshop
Step 1Firstly, launch Photoshop on your computer, and import your picture. You can directly drag and drop the picture on the Photoshop interface.
Step 2On the menu bar, click Image and then Image Size. Let the picture size stay the same as the original one. You need to click Resample to deselect.
Step 3Enter a desirable resolution for your old picture, and Photoshop will handle the matching size and others for you.
Step 4Click File and Export As to save your repaired pictures in JPG, PNG, or any other formats. You may also click Save to save this project.
Note: you may also go to Filter > Sharpen > Unsharp Mask to apply the filter and enhance your image quality after adjusting the resolution.
Part 3: FAQs about How to Fix Low-Resolution Photos
Question 1. How to fix low-resolution photos on mobile phones?
The PicsArt is also a professional tool designed for phone users to edit pictures. And the tool is accessible on both iOS and Android. You can adjust the resolution with the Resize tool in this program. Simply tap Tools and Resize, a floating window pops up and you can change the resolution.
Question 2. Why is my photo low-resolution?
Many factors can cause a photo to be low-resolution and looks blurry. Such as improper enlargement of a picture, low-definition camera shots, the camera not being well focused on the subject, etc. But some of these blurry pictures can be fixed afterward and you can enhance low-pixel pictures with the proper tools above.
Question 3. How many pixels is high resolution?
The resolution is defined by how many pixels per inch. Normally, a low-resolution picture has few pixels can is suitable for web browsing since it is often lightweight. For a high-resolution picture, it must at least have 300 pixels per inch. This resolution is especially good for printing.
Conclusion
The best method to get a high-resolution picture is to do a good job at the very beginning when taking the picture. But since you are not all professional photographers, the solutions mentioned above are also highly recommended to enhance low-pixel pictures. You will surely master the skill of how to fix low-resolution photos with the step-by-step guide.