There are many reasons that you need to resize a GIF. Before uploading to social media, such as Instagram, you have to resize both GIF size and dimension accordingly. Sometimes, you just want to use a part of the GIF while remove other parts. The only way is crop and resize the animated image. Generally speaking, a GIF image is very large. You have to reduce the file size in order to send the image quickly. This guide will show you how-to.

How to Resize a GIF
Part 1: How to Resize a GIF by Compressing
As mentioned previously, resizing a GIF has two meanings, resize GIF file size, or crop GIF. Apeaksoft Free Image Compressor is the best way to resize GIF file size online for free. Plus, it supports batch processing.
How to Resize Animated GIF Files Online
Step 1Open a browser, copy and paste https://www.apeaksoft.com/free-online-image-compressor/ into the address bar, and hit Enter key.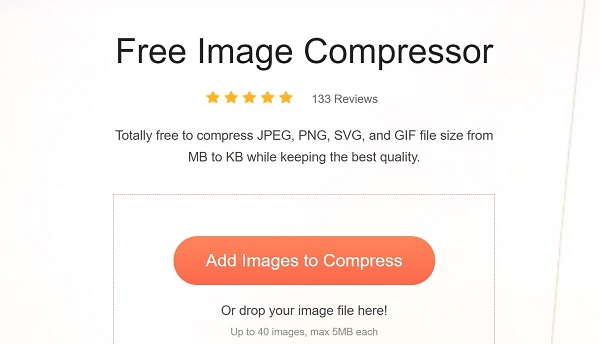 Step 2Click the Add Images to Compress button, find the large GIF files, and upload them.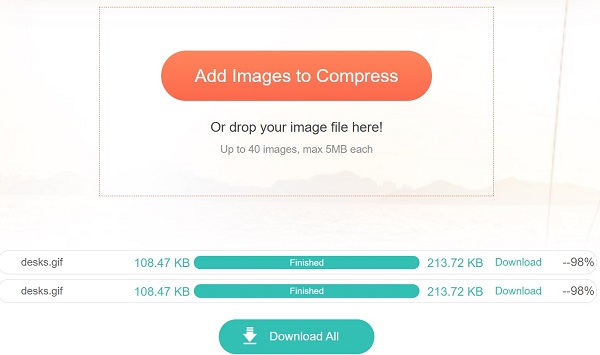 Step 3After uploading, the online GIF resizer will work automatically. When it is done, click the Download button to get the smaller GIFs.
Note: This way only reduces the GIF file size but won't modify the dimensions.
Part 2: How to Resize a GIF by Cropping
Another way to resize a GIF is to crop the animated image and adjust the dimensions. Apeaksoft Video Converter Ultimate is the right GIF resizer that you need.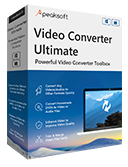 4,000,000+ Downloads
Resize and crop an animated GIF.
Support a wide range of GIF editing features.
Make GIFs from videos and images.
Support a wide range of image formats.
How to Resize and Crop a GIF Image
Step 1Open a GIF
Launch the best GIF resizer once you install it on your PC. There is another version for Mac. Go to the Add Files menu at upper left side and choose Add Files or Add Folder to import a GIF or GIFs that you want resize and crop.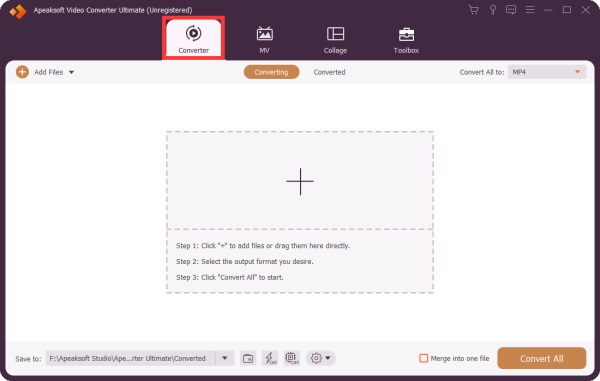 Step 2Resize GIF
After GIF loading, click the Edit button under the title with a magic-bar icon. That will open the GIF image in the video editor window. Head to the Rotate & Crop tab and locate the Crop section. Now, you can set the Crop Area or crop the GIF by dragging the control bar. The preview panel will display the effect. Click OK once you are satisfied.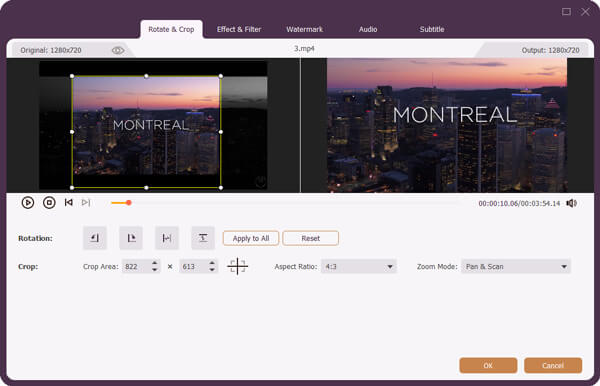 Step 3Export resized GIF
Click the Folder button at the bottom of the main interface and select a specific folder in the Save to box. At last, click on the Convert All button to export the GIF image.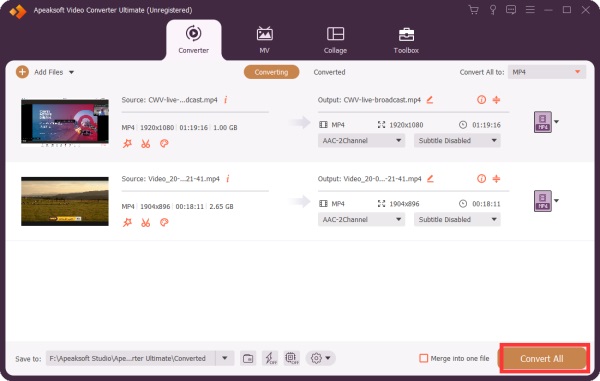 Part 3: More Ways to Resize GIF
Way 1: How to Resize a GIF in GIMP
GIMP is an open-source photo editor. In addition to still images, it also supports animated GIF editing including GIF resize. It is able to open a GIF in frame, but you can edit all frames in batch.
Step 1Run the free GIF resizer. If you do not have the software, you can download it from the official website for free.
Step 2Open a GIF as normal images. Then each frame will be displayed as a layer. Bear in mind that because of the amount of layers, it is a very CPU-intensive process.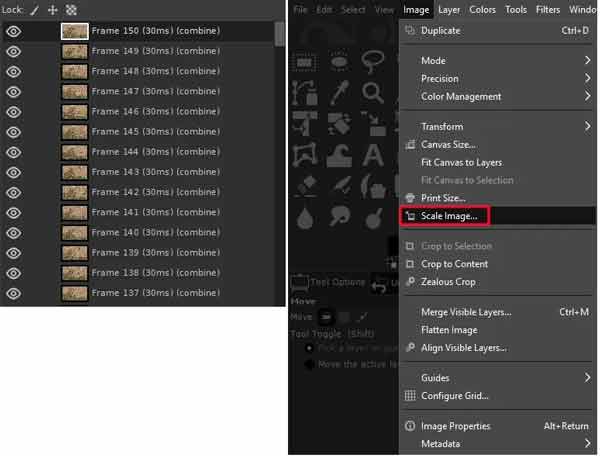 Step 3To resize the GIF, go to the Image menu on the top ribbon and choose Scale Image. Now, you can manually input what size you'd like in the terms of numeric value.
Step 4Click OK on the popup dialog and confirm the change. Then save the GIF as a new animated image.
Way 2: How to Resize a GIF in Photoshop
Photoshop is a professional photo editor. It has the capacity to resize both still image and animated GIF. If you already have the photo editor on your desktop, it is a good way to resize a GIF. However, it is only able to process one GIF per time.
Step 1Go to the File menu, select Import and choose Video Framers to Layers. Browse the folder that stores the target GIF, and click Load.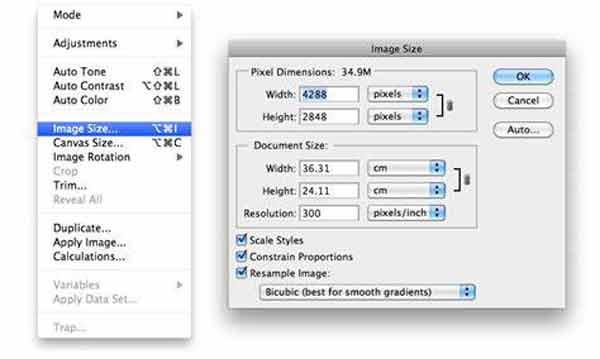 Step 2Then the Import Video To Layers dialog will pop up. Select From Beginning To End and click OK. The animation will be loaded.
Step 3Go to the Image menu and choose Image Size or Canvas Size. Then resize GIF to the desired size. If you want to crop the GIF, you have to do it on each frame.
Step 4Confirm the change. Next, go to the File menu and choose Save for Web & Devices. Select GIF as the output format and click the Save button. Choose an output folder and save the GIF.
Related: How to Compress Images in Photoshop
Way 3: How to Resize a GIF on EZGIF
Sometimes, it is not convenient to install GIF resizer software. EZGIF is an alternative solution. As a web-based app, it enables you to resize an animated GIF online for free. The cost is quality loss.
Step 1Make sure that your computer is connected to a good internet connection. Then visit https://ezgif.com/resize to open the online GIF resizer in a browser.
Step 2Click the Browse button, find the target GIF on your computer, and open it. You can either open an online GIF by entering the URL in the paste image URL field. The maximum file size is 35MB.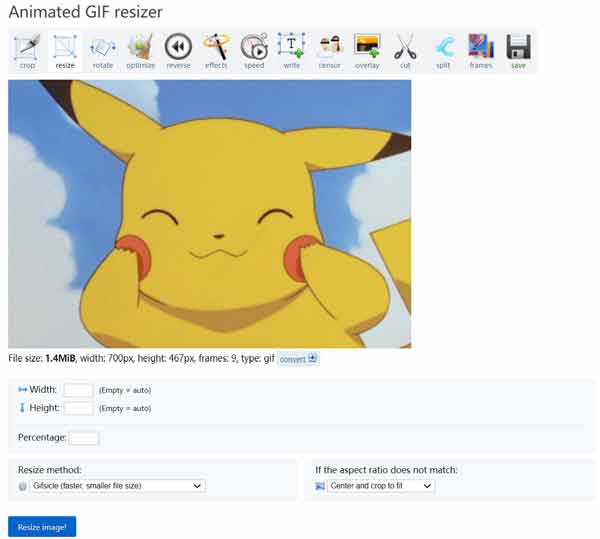 Step 3Hit the Upload button to begin uploading the GIF to the website. It promises to delete the image after editing.
Step 4Now, you will see the GIF animation on the preview pane. Here you can either reset the Width and Height or resize GIF by Percentage.
Step 5Click the Resize image button to initiate resizing GIF online. It may take a while and you must be patient.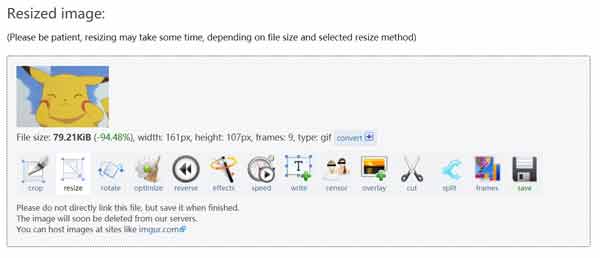 Step 6Finally, click the save button to download the GIF to your computer.
Part 4: FAQs about How to Resize GIF
Can I make a GIF bigger?
A GIF resizer is able to make a GIF bigger or smaller. If your GIF is a still image, MS Paint and Mac Preview can meet your need.
How big is a GIF?
Choose GIF as the output type and select a size and resolution for the animation. Generally, animated GIFs are about 100 by 100 pixels or less. Most things that go on the web should be at 72 pixels per inch.
How to cut a GIF?
You have two ways to cut a GIF. Do the job offline with a GIF cutter software or cut a GIF online with a web app.
Conclusion
Now, you should understand how to resize a GIF on your desktop or online. To change the GIF file size, you can try Apeaksoft Free Image Compressor. It is not only free, but also working online. Apeaksoft Video Converter Ultimate lets you resize and crop a GIF. More questions? Please write down your message below.