It's quite a common need to optimize images for web.
Why is it necessary to reduce photo file size? Because all image files that display on the web need to be loaded and downloaded by the user's browser before they can be viewed. A large image file will take longer time to download, and take up more bandwidth. Also, it will cost more storage space on device after saving. So, you need an image optimizer to keep your pictures small.

Image Optimizer
This post makes a list of 7 best image optimizer freeware programs for computer and mobile phone. You can easily find a right free image optimizer to compress images, make your site faster, improve bounce rate, and boost SEO.
Part 1. Top 3 Online Image Optimizer Freeware Programs
When you want to optimize images for web and search for an image optimizer, you can get many free online photo compressing tools from the searching results. So here at the first part, we like to introduce you with 3 best online image optimizers.
Free Online Image Compressor
Free Online Image Compressor is an easy-to-use image optimizer that can help you reduce the image file size with ease. This image optimizer freeware has the capability to optimize pictures in any frequently-used image format, such as JPEG, PNG, SVG, and GIF. Better than other online image compressors, it is designed with the advanced lossless algorithm that can easily identify textures, patterns and colors, remove unnecessary data to optimize images for web while keeping the original quality.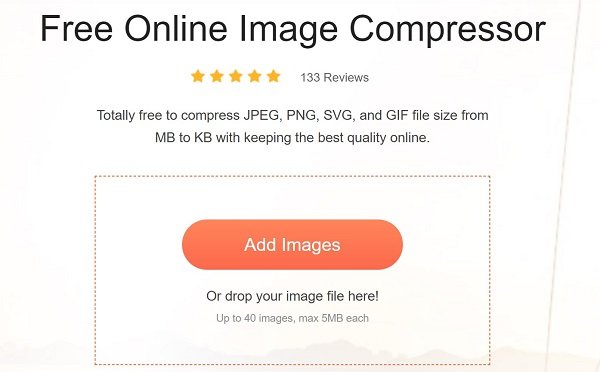 This free image optimizer is able to optimize up to 40 image files in batch. It allows you to compress pictures and reduce image file size from MB to KB while keeping the high quality. After the image optimizing, you can see clearly about the source and output file size. It requires no program downloading. You can use it on any popular web browser like Chrome, Safari, IE, Firefox or Yahoo.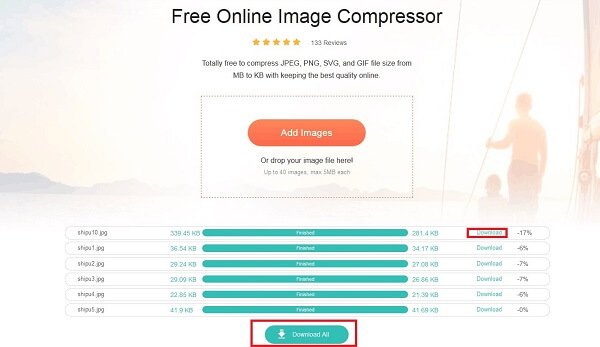 Free Online Image Compressor carries an auto-optimize feature. Just upload your image files, and then it will automatically compress images for you. It will help you decide the specific compression rate that can extremely reduce photo file size and keep quality. This online image optimizer is totally free. Moreover, you won't see any ads during the photo optimizing process. Also, you don't need to sign up or sign in any account.
Kraken.io Free Online Image Optimizer
Kraken.io Free Online Image Optimizer is a very popular online image compressing and optimizing tool. It supports pictures in JPEG/PNG, and animated GIF files. Besides the images on your computer, Kraken.io also allows you to import files from Dropbox, Google Drive or Box. The free Kraken.io version enables you to optimize images up to 32 MB each in size and up to a total 100MB of pictures.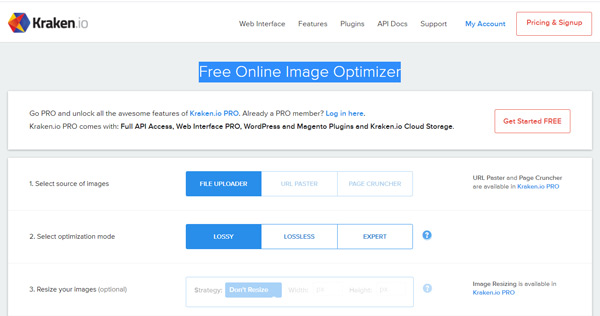 You need to sign up a Kraken.io with your email and then sign in it to use the Free Online Image Optimizer. Kraken.io also offers a Pro version that comes with more advanced features. The Pro version is designed with the abilities to input multiple images, resize images, and unlimited image size uploads and more.
JPEG Optimizer
JPEG Optimizer is a free image optimizer tool for compressing digital photos and image files for displaying on web in forums or blogs. Also, it can be used to resize pictures sending by email. It only supports JPEG files. Different with the first 2 image optimizer tools, JPEG Optimizer allows you to select your own optimization level between 0-99.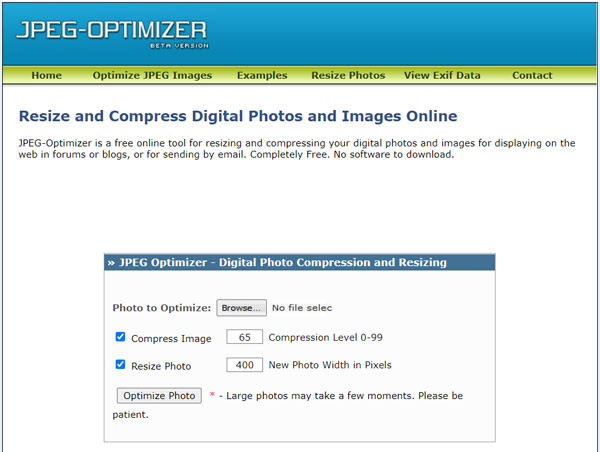 Through setting the image optimization level, you can easily control the quality of your optimized JPEG files. The default compression level of this JPEG Optimizer is 65. You should know that; a lower compression level will output a smaller file size. At the same time, the image quality will be lower. To optimize images for web, you are also allowed to resize photo and custom photo width in pixels.
Part 2. Default Image Optimizer for Windows 10/8/7 PC and Mac
Both Windows 10/8/7 and macOS have a built-in picture viewer. You can use them to open your images files. Moreover, they can help you reduce the photo file sizes and optimize images.
Microsoft Paint - Image optimizer for Windows PC
Microsoft Paint is one part of the Windows system that can help you compress images for website. As a raster graphics editor, Paint can open various image files in JPEG, GIF, PNG, Windows bitmap (BMP), and TIFF formats. It is mainly designed to draw, colour and edit pictures. For the photo editing, it allows you to resize image files with ease.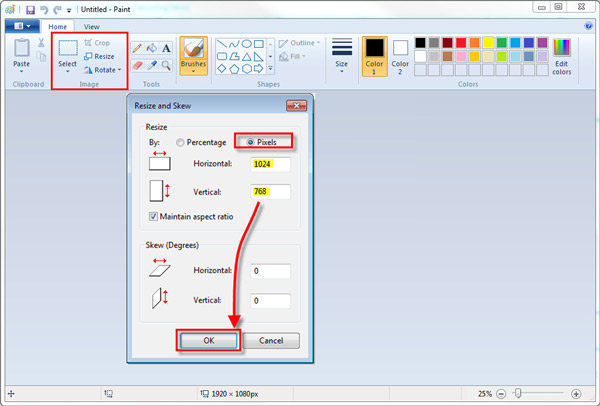 To optimize a picture with Paint, you should open Paint first. Then you can directly drag and drop your photo onto it for adding. Locate the Edit options and select the Resize feature. After that, you can handily optimize the picture by Percentage and Pixels. After editing, you need to click File and choose Save As to save the optimized image file on your computer.
Preview - Image optimizer for Mac
Preview is the default image and PDF viewer of the macOS system. In addition to viewing and printing various digital images and PDF files, Preview also carries some basic editing features. It can help you adjust file size of your images. Preview can support a large set of image formats including JPEG, PNG, PSD, and TIFF.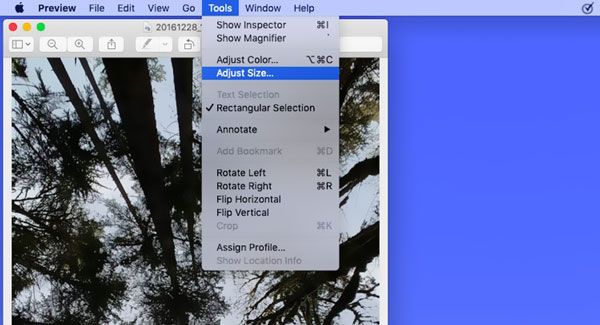 When you open a picture with Preview and want to resize its file size, you can choose Tools on the top menu bar and then select the Adjust Size option. Now you can freely adjust width, height and resolution to optimize this image file. Similar to the photo resizing in Paint, you need to click File and then Save As to create a new copy of the optimized picture.
Part 3. Free Image Optimizer Apps for iPhone, iPad and Android Phone
If you want to shrink photo file size directly on your portable iOS or Android device to save space, you can easily find a good image optimizer app from App Store or Google Play Store. This part recommends 2 great image optimizer apps for you.
Free image optimizer app for iPhone and iPad
Resize Photos is a popular image optimizer app for iOS devices. It is able to resize images in JPG, PNG, HEIC, and more. As an image optimizer, it offers preset dimension values for you to choose from. Moreover, it is designed with a batch resize feature for you to compress multiple pictures at a time. Resize Photos can optimize photos through resizing the image resolution. You can free install it from App Store.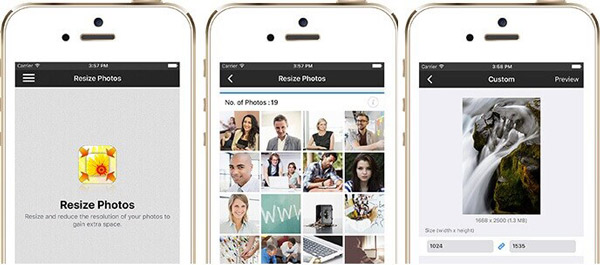 Free image optimizer app for Android phone
Pixlr Express is one of the most popular photo editing apps for Android users. As an all-featured image editor, Pixlr Express enables you to capture pictures and edit with over 2 million combinations of free effects, overlays, and filters. It has the capability to crop and resize photos for the image optimization. You can free install this Pixlr Free Photo Editor from Google Play Store.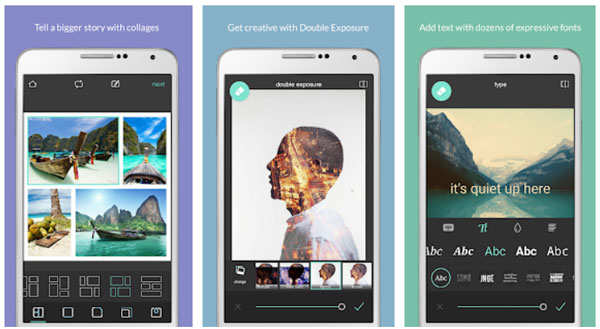 Part 4. FAQs of Image Optimizer
Question 1. What is image optimization in SEO?
Optimizing images and keeping images small is very important for website performance. The website performance is crucial for SEO. A quick picture loading can help to keep users engaged and active. Google prioritizes sites that load quickly, users are more likely to bounce and less likely, and if images and a web page take a long time to load.
Question 2. How to optimize image files using Adobe Photoshop?
Adobe Photoshop is a powerful image editor which carries many useful editing features. You can use it to resize and crop picture, or custom the output image format, compress file size, adjust quality, adjust the photo compressing. To optimize images in Photoshop, you can use its Save for Web feature. You can access it by clicking File, Export, and then Save for Web.
Question 3. Can I crop photo to reduce file size?
Yes. You can reduce the file size of your picture by cropping it. There are a lot of image editors including many free online image croppers offered on the internet that can help you crop photo easily.
Conclusion
This post lists 7 free image optimizers for you to optimize pictures. You can pick your preferred one to reduce photo file size for web loading, sharing or storage space saving. But you should pay attention to the optimized image quality. Don't lose too much quality to make your images small.