When you want to speed up website, you may easily turn to the image optimization. To improve your website's performance, one of the best things you can do is optimize image and reduce image file size.
Imagify is one of the popular WordPress image optimization plugins that can compress and resize image file with ease. So when you choose to shrink image size, you can rely on Imagify.

Imagify Review
This post will give you a detailed review of Imagify. You can learn main features of Imagify. Moreover, we introduce you with 3 great Imagify alternatives. You can compare their functions and then select your preferred one to optimize your images easily.
Part 1. Full Review of Imagify
Imagify is an online image compressor tool that mainly used for image optimization. It can shrink image size without compromising on the quality. This image optimization plugin offers three different levels of automatic image compression and automatic image resizing. Imagify can easily optimize images and speed up the loading time. It is only compatible with WordPress for now. But yo u can use API to connect it with other CMS platforms.
Key Imagify features - Pros
Imagify supports all frequently-used image formats. It can easily compress various images, even including the PDF and WEBP files.
Imagify can automatically make image smaller in desires height and width or percentage. It can easily shrink image to a suitable file size while keeping the original quality.
Imagify offers 3 different levels to compress images, Normal, Aggressive, and Ultra. Even you are using the Imagify free version, you can use these 3 levels to compress your image to a desired size.
Imagify allows you to store your original full-sized images in a secure backup. You can restore then back at any time.
Imagify is designed with Automatic Image Resizing and Bulk Optimization features.
Disadvantages of Imagify - Cons
Imagify is not a totally free image optimization plugin. The free version has some limits. For instance, you are only allowed to optimize for 25MB of images every month.
You can free compress an image less than 2MB. If you want to break the max size limit for per image, you need to upgrade to the premium version.
Imagify is not designed for beginners. Many users don't know how to use Imagify to optimize images, even don't know how to install the plugin.
Imagify requires your email to create a free account and then use its image optimization function.
Part 2. Top 3 Imagify Alternatives
If you only want to compress images and reduce file sizes, not for SEO or website performance, Imagify is not a good option for you. In fact, there are a large number of image compressor and optimizer tools offered on the market that can help you shrink image file size while keeping a high quality. Here in this part, we like to recommend 3 great Imagify alternatives for you.
Free Image Compressor
Free Image Compressor is a popular and easy-to-use online picture compressing tool. As the alternative to Imagify, it can help you optimize various images and shrink image sizes without much quality loss. It is in deed an excellent photo shrinker.
Similar to Imagify, it supports all commonly-used image formats including JPEG, PNG, SVG, and GIF. You can directly use it on any web browser like Chrome, Safari, IE, and Firefox to compress picture to a smaller file size. It is designed with the advanced lossless algorithm technology that can effectively identify textures, patterns and colors, and remove unnecessary data. Compared with Imagify, it can give you a better image optimization result.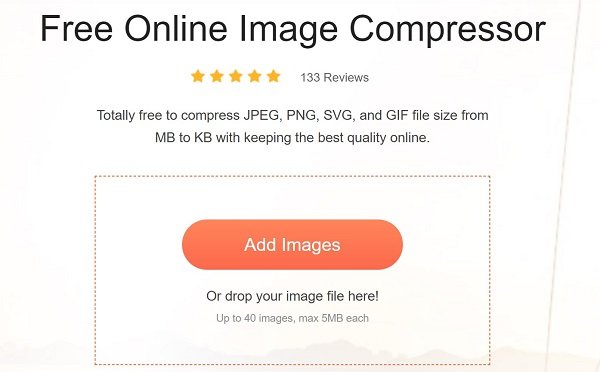 This Imagify alternative allows you to optimize up to 40 images in batch. Better than Imagify, it is totally free and 100% secure. It requires no account sign in or sign up. You can easily reduce image file size without any watermark. Moreover, you won't see any ads while compressing images.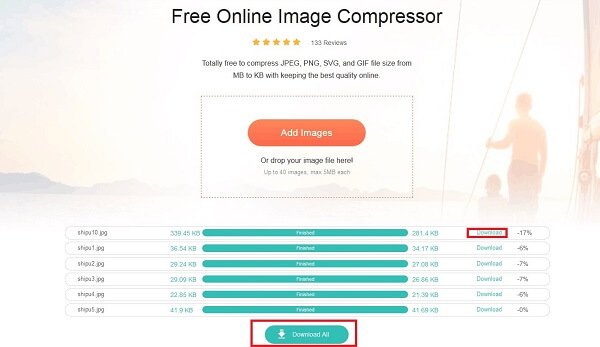 This free online image compressor is also equipped with an auto-compress function. You can upload your images and then download the compressed files with ease. This Imagify alternative will automatically balance the compression rate and image quality for you.
Adobe Spark
Adobe Spark is another free online image shrinker that can work as an Imagify alternative. It is powered by Adobe Photoshop and can optimize pictures in most image formats. This Imagify alternative tool enables you to resize picture and dimensions to shrink image size. It offers some specific resizing options for Instagram, Facebook, Twitter, YouTube, Snapchat, and Custom. Different with Imagify, you need to manually optimize images.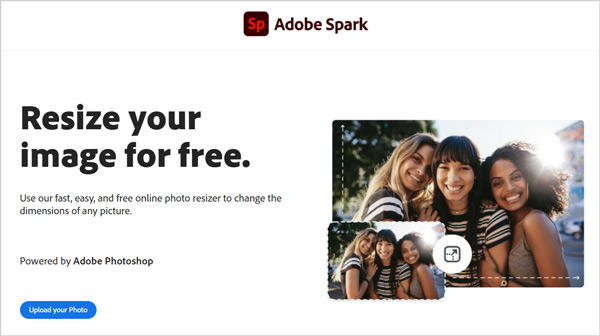 Adobe Spark allows you to use its image compression feature on any browser. But you are required an Adobe account to save the optimized image file. If you prefer to optimize images manually, not the auto-optimize way of Imagify, you can give the Adobe Spark a try.
JPEG Optimizer
JPEG Optimizer is a free image optimization tool that mainly designed for compressing digital photos and image files for better displaying on web. It offers the image optimization level between 0-99 for you to choose from. One thing you should know is that, this Imagify alternative is only work with JPEG files.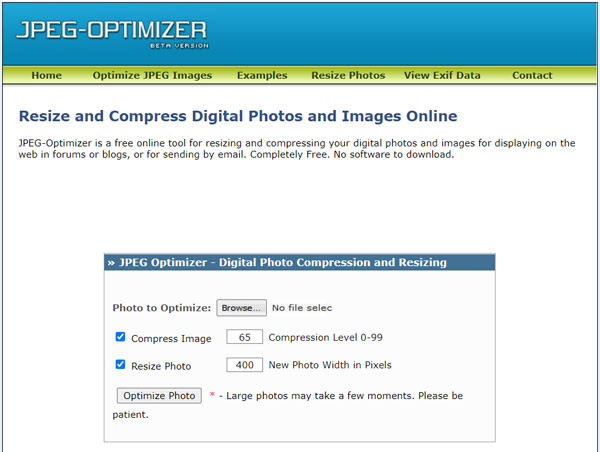 The default compression level of JPEG Optimizer is 65. You can adjust it to control the image compression. To speed up the image loading on web, you can resize photo and custom photo width in pixels.
Part 3. FAQs of Imagify and Image Optimization
Question 1. What is image optimization?
Image optimization is one kind of SEO strategy that can help you improve the website performance. You need to optimize image and shrink image file size while maintain a high quality to get a faster loading speed. That quite necessary for users to keep engaged and active. Also, Google prioritizes sites that load quickly.
Question 2. Can I optimize images in Adobe Photoshop?
Yes. Adobe Photoshop offers many features for you to optimize and compress images. You can manually adjust image effects, enhance quality, and then export it as a smaller file.
Question 3. Can I free reduce image file size on Mac?
Yes. You can use Preview to open your image file on Mac, choose Tools, and then click Adjust Size option to resize file size and make it smaller.
Conclusion
This post gives you a detailed Imagify review. You can know main features of Imagify, its pros and cons. What's more, we share 3 great Imagify alternatives for you to choose from. When you need to optimize images and shrink file sizes, you can choose any one from them.