It is quite a common need to compress JPG files. Are you looking for an image editor, especially a free JPG file compressor to reduce the JPG image size?

JPG File Compressor
There are a large number of JPG file compressor tools offered on the market that can help you shrink the image file size. However, many of them will sacrifice image quality to reduce file size. Surely you want to compress JPG images while maintain the original good quality. Considering that, this post shares 5 free JPG file compressors for you to choose from.
Part 1. Top 3 Free Online JPG File Compressors
When you search for a JPG file compressor or image compressor JPG on the internet, you can see many searching results are linked to online image compressing tools. Here at the first part, we like to introduce you with 3 great online JPG file compressors to reduce image file size.
Free Image Compressor
Free Image Compressor is an easy-to-use online image compressing tool which can help you reduce image files in any commonly-used formats including JPG, JPEG, PNG, SVG, and GIF. As a free JPG file compressor, it is designed with an auto-compress feature and an advanced lossless algorithm technology. Compared with other online image compression tools, it can better identify textures, patterns and colors, erase unnecessary data, and compress JPG files for you.
It can quickly identify textures, patterns and colors, remove unnecessary data, and then compress image automatically.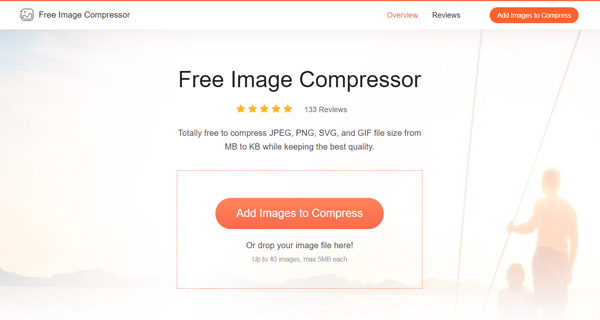 This JPG file compressor is totally free, no ads and 100% secure. It requires no account sign in or sign up. Moreover, it won't add any watermark to your edited image. It allows you to compress multiple photos at a time. As it mentioned above, this free online image compressor can balance the compression rate and image quality and automatically reduce image size.
TinyJPG
TinyJPG is a famous online image editor which offers smart JPEG, PNG and WEBP compression services. It also has a TinyPNG tool for you to deal with various PNG files editing. TinyJPG uses smart lossy compression techniques to reduces the file size of your JPEG images. Your uploaded JPG files are analyzed to apply the best possible JPG encoding.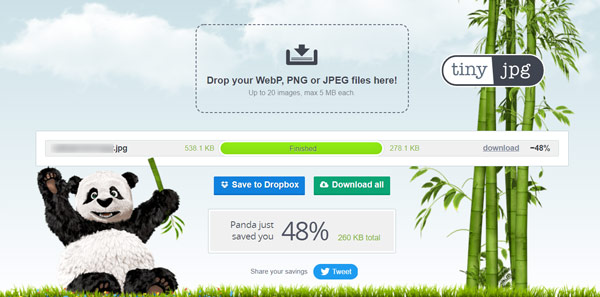 TinyJPG will automatically compress image for you as soon as it is uploaded. You can see clearly about the source file size, output size, and specific compression rate. You won't see any image quality loss after the JPG file compression. This free online JPG file compressor won't add watermark to the compressed image. You can choose to save it on your computer, store or Dropbox, or share through Twitter.
CloudConvert
CloudConvert is an all-featured online image editor that carries great image converting, compressing, shooting and other tools. It has a Compress and Optimize JPG page for you to directly compress image files online. This JPG file compressor claims that it can reduce the image size up to 150% while retaining good quality. It allows you to compress photos from computer, Google Drive, Dropbox, OneDrive, and by URL.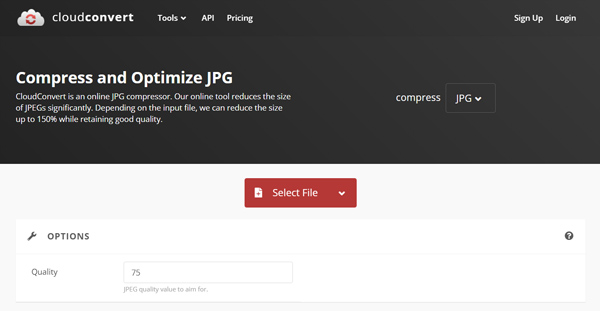 It can work as an online image compressor and converter to compress PNG to JPG, or compress JPG image to PNG. After compressing, you can preview the output effect, and then download it on your computer.
Part 2. Official JPG File Compressor for Windows 11/10/8/7 PC
Microsoft Paint is preinstalled in Windows system and can work as a JPG file compressor. It is original designed for raster graphics editing. It supports many image formats like JPEG, GIF, PNG, BMP, and TIFF. Microsoft Paint has a resize image feature for you to free compress your JPG images. After you open a JPG file in Paint, locate the Edit options and then choose the Resize feature. You can use it to manually compress JPG files with ease.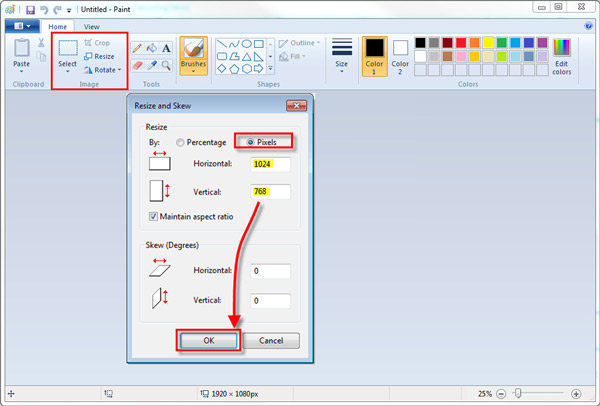 Part 3. Default JPG File Compressor for Mac
Preview is the default image viewer for Mac users. It enables you to open various image files in JPEG, PNG, PSD, and TIFF formats. It also has some editing features including the JPG file resizing. You can easily find the Adjust Size option under the Tools menu. After that, you can freely adjust the image width, height and resolution to compress JPG file and reduce its file size.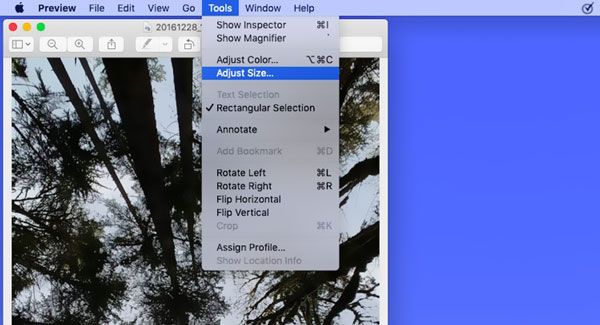 Part 4. FAQs of JPG File Compressor
Question 1. Can I compress JPG from MB to KB?
Yes. All the recommended JPG file compressor tools above can help you shrink the JPG file size from MB to KB. You can select any one from them to compress your photos.
Question 2. How can I compress JPG files using Adobe Photoshop?
If you have Adobe Photoshop installed, you can rely on it to edit your images. Just open your JPG file on Photoshop, and then use its Save for Web feature to compress image using Photoshop based on your need. Moreover, you can choose to lower resolution, or crop image to reduce image file size.
Question 3. Does cropping photo reduce file size?
Yes. After you crop a photo, the cropped content will be deleted. Therefore, when you want to reduce file size without any image quality loss, you can choose to crop image and remove some unnecessary part. In addition, using image optimizer is also a good way.
Conclusion
Here in this post, we have listed 5 free JPG file compressor tools for you to choose from. You can get the main features of each image compressor, and then select your preferred one to edit your image files.