"I just downloaded some images in Google Chrome, but my computer cannot open them since they are saved in jpg-large, how to convert jpg-large to JPG or PNG?" As a rare file extension, jpg-large cannot be decoded by most operating systems and mobile devices. Moreover, it is not as simple to convert it to JPG or PNG as standard image formats. This article will talk about jpg-large files and how to open them.

JPG-Large to JPG PNG
Part 1: What Is JPG Large
As mentioned previously, the JPG-Large is a file extension created by Google Chrome when you download a large image from some social platforms, like Twitter, Facebook, etc. In fact, JPG-Large files are just enlarged versions of JPG images.
When a user uploaded a large image to Twitter, the platform turns it into a JPG-Large file in order to resize the image automatically. Then you browse the image in your Chrome browser, right-click it, and open it in a new tab. The address bar will display the URL of the image ending with .jpg: large. If you download the image now, Chrome will save it with the .jpg-large extension.
Similar to normal JPG images, a JPG-Large file contains a picture in JPEG bitmap format. The biggest difference is the file extension. However, that brings a big problem when opening a JPG-Large image on Windows, Mac, iPhone, or Android devices since the built-in photo viewer cannot read the file extension. Alternatively, you have two choices to view a JPG-Large file, open it in Google Chrome or convert JPG-Large to JPG or PNG.
Part 2: How to Convert JPG Large to JPG or PNG
Some websites suggest changing the jpg-large extension to jpg directly. According to our research, that is available to a part of JPG-Large files, but others may be damaged in this way. The best solution is converting JPG-Large to JPG or PNG with an online app. Considering online tools are not stable, we share three ways to convert JPG-Large to JPG or PNG online.
Way 1: How to Turn JPG-Large to PNG with Converthelper
Converthelper is a free JPG-Large to PNG converter online. It allows you to upload a JPG-Large file and convert it to a PNG image in your browser without sign-up or other limits.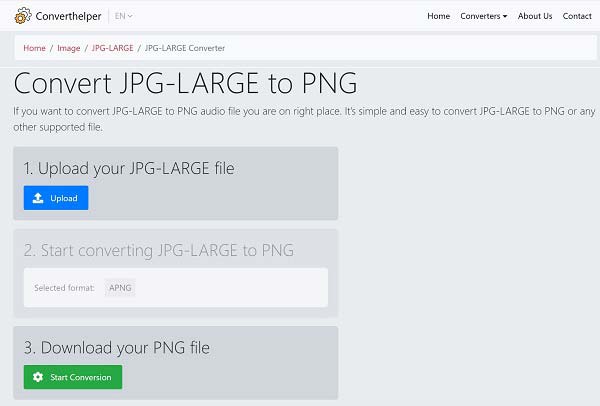 Step 1 Visit https://www.converthelper.net/jpg-large-to-png to open the converter in a browser.
Step 2Click the Upload button, and open a JPG-Large file from your hard disk. Hit and expand the Selected format list and choose PNG in the Image section.
Step 3Hit the Start Conversion button and wait for the process to finish. Then download the PNG image to your computer.
Way 2: How to Convert JPG-Large to JPG by AnyConv
AnyConv is an online JPG-Large to JPG converter. Of course, you can turn a JPG-Large file into PNG or other popular image formats too. It does not include custom options and is suitable for beginners.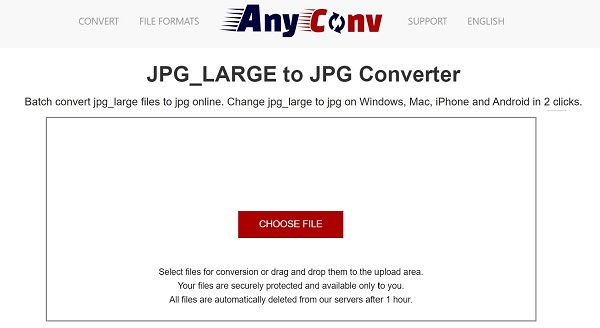 Step 1Access https://anyconv.com/jpg_large-to-jpg-converter/ in any browser. Press the CHOOSE FILE button to upload your JPG-Large file. It supports batch converting too.
Step 2Pull down the list and choose JPG, PNG, or any proper image format. Click the CONVERT button to initiate converting.
Step 3 When it is done, save the image to your machine. Now, you can open or edit the image as usual.
Way 3: How to Change JPG-Large to JPG Using Miconv
Miconv is a new JPG-Large to JPG converter online. It does not have a file size limit, but it may take a while to upload a large image file. This app is free of charge and completely works online.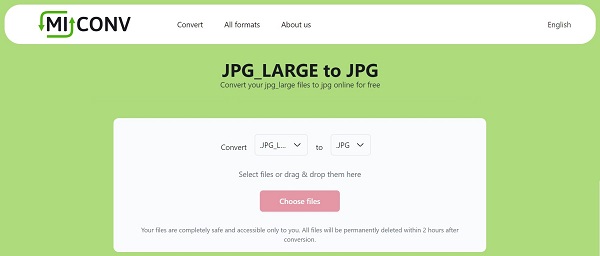 Step 1Put https://miconv.com/convert-jpg_large-to-jpg/ into the address bar of your browser, and press the Enter key on your keyboard.
Step 2Make sure to select JPG-Large from the first box and the proper image format from the second box.
Step 3 Press the Choose files button and upload the JPG-Large file or files. Click on the Convert button to start turning JPG-Large to JPG or PNG. Finally, download the result.
Recommend: Best JPG Retouching Online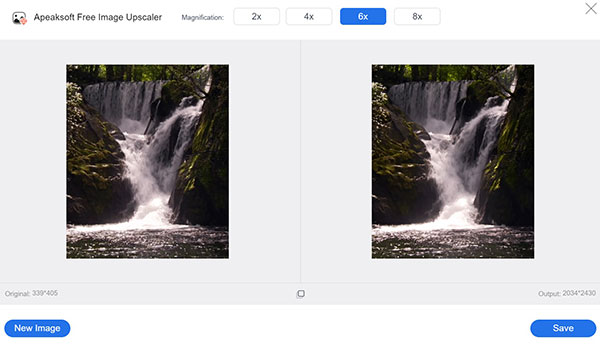 No matter you intend to upload an image to social media or edit it later, good quality is the most important. From this point, we recommend Apeaksoft Free Image Upscaler. Unlike other online apps, this image retouching tool is 100% free without any restrictions.

Apeaksoft Free Image Upscaler – Best Image Upscaler
Enhance image quality online for free.
Fix blurry images and remove noise using AI technology.
Retouch images without quality loss.
Won't add a watermark or logo to your images.
Delete your images from the server once upscale is done.
Part 3: FAQs about JPG Large to JPG or PNG
Can I open a JPG-Large file on my computer?
Locate the JPG-Large file on your computer in a file explorer, and double-click it. Generally speaking, the operating system will launch it with the corresponding application. If you get an error alert, open the image file with the Chrome browser directly.
Is JPG-Large the same as JPEG?
Although JPG-Large files are normal JPEG files, they use a different file extension. Twitter appends the large attribute to the image URL, leading it to end with jpg: large. Fortunately, you can convert JPG-Large files to normal JPEG images easily.
How to reduce the file size of a JPG-Large image?
As its name indicated, a JPG-Large file is a JPG image with a large file size. It takes up a lot of space in your storage. The best way to reduce the size of a JPG-Large file includes two steps. Firstly, convert the JPG-Large files to JPG or PNG format. Then you can reduce the image size with a proper tool, like Adobe Photoshop.
Conclusion
This article has told you what is the JPG-Large file, and how to convert your JPG-Large files to standard JPG or PNG images. When you download large images from Facebook or Twitter, chances are that your files end with jpg-large. Don't worry, and you can convert them to normal images using a proper tool. More questions about this topic? Please write them down below.