Today, taking photos is easier than ever before due to the progress of portable devices, such as smartphones. However, that brings a new demand, photo editing. Before you upload your photos to social media, you have to resize and retouch them to meet the rules and increase engagement. When using your photos in documents, you still need to edit them first. Therefore, this article identifies and shares a top list of best photo editors for various devices.

Photo Editor
Part 1: Top 5 Photo Editors Online
Top 1: Apeaksoft Free Image Upscaler
Apeaksoft Free Image Upscaler is one of the best free photo editors online. With it, everyone can enhance their photos without installing any software. That makes it the best option when it is not convenient to have a desktop photo editor.
PROS

Free to use.
Enhance photo quality easily.
Support popular photo formats.
Available to major web browsers.
CONS

It requires a good internet connection.
How to Edit Photo Quality Online
Step 1 Visit https://www.apeaksoft.com/image-upscaler/ in a browser to open the online photo editor directly.
Step 2Click the Upload your photo button, and open the photo that you want to edit. Then you will be presented with the editor page.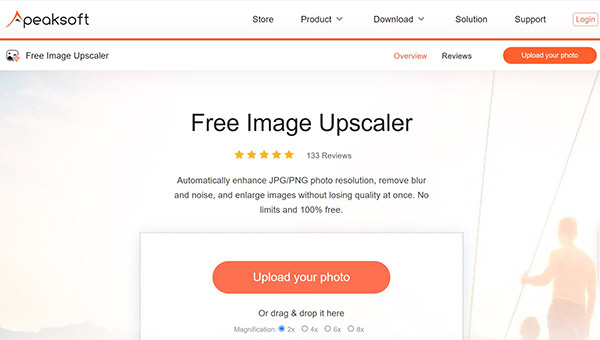 Step 3Select a proper preset on the top of the page, such as 2x, 4x, 6x, or 8x. You can preview the effect in the Output pane. Once you are satisfied, click the Save button to download the edited photo.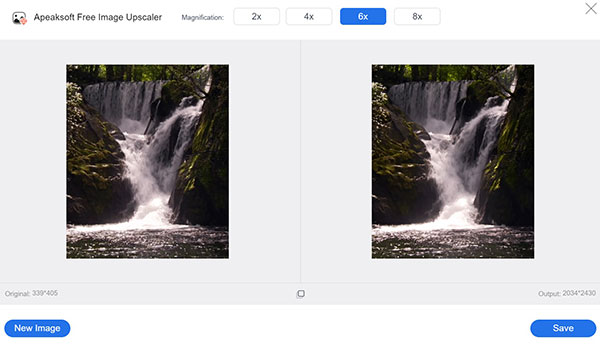 Top 2: Pixlr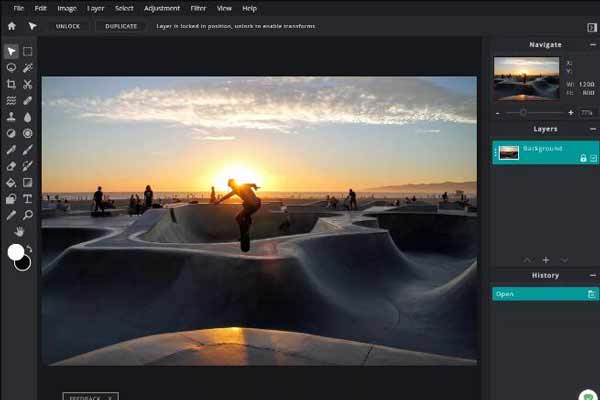 Pixlr is a long-standing photo editor online. Now, it is free to all users, from individuals to enterprises. Although it is an online app, the interface is well-designed and similar to professional photo editing software. There is a desktop program too.
PROS

Free and safe to use.
Include a variety of photo editing tools.
Edit photos with layers and masks.
Open photos from your computer, cloud services, or URLs.
CONS

It requires the Adobe Flash plugin for your browser.
The pop-up ads in the interface are distracted.
Top 3: Fotor
Fotor is a comprehensive photo editor online. The basic features are free to use, but users have to pay for advanced functionalities and items. Many designers and photographers access the online app to retouch their photos on Windows, macOS, Linux, and more.
PROS

Include fantastic effects and elements.
Offer cloud-based storage.
Provide templates and themes to make designs with photos.
Support publishing photos on social media.
CONS

The free editing functions are limited.
It requires login when editing photos online.
Top 4: Photopea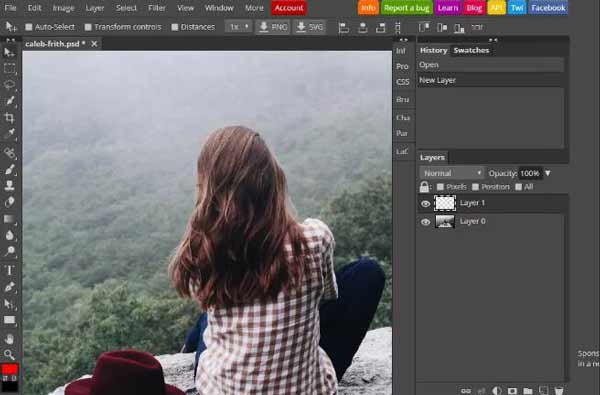 Photopea is a web-based photo editor and graphic design software. It allows users to exchange free features by viewing ads. Besides, there is also a premium version with advanced features. Far more than photo editing, you can also do creativity using this tool on both computers and smartphones.
PROS

Offer a free version.
Access from browsers, mobile devices, or computers.
Open multiple file types.
Integrate a user-friendly interface.
CONS

It is slower to load than other online photo editors.
There are annoying ads in the free version.
Top 5: piZap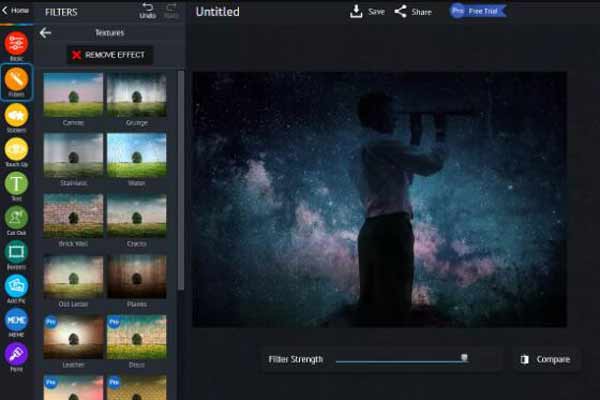 piZap is a silly photo editor online. It allows you to load photos from various sources, and decorate them with filters, stickers, or text online. The excellent sharing feature makes it a good choice for retouching photos for sharing on social media.
PROS

Come with a clear and accessible interface.
Include lots of fun filters and options.
Make invitations, photo collages, and more.
Available to web browsers, desktops, and mobile devices.
CONS

The premium accounts are expensive.
The features are too simple to make serious photo editing.
Part 2: Top 5 Photo Editors on PCs
Top 1: Adobe Photoshop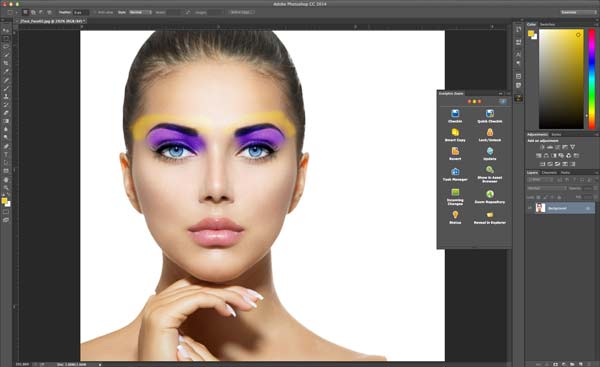 As one of the most professional photo editing software, Adobe Photoshop is widely used around the world. Many photographers and studios retouch their photos using this AI photo editor. Since the rise of working remotely, this program becomes more popular due to cloud storage.
PROS

Include plenty of photo editing tools.
Correct and manipulate photos.
Support a wide range of input and output formats.
Integrate stock library.
CONS

The interface looks overwhelming to beginners.
The price is pretty expensive for average people.
Top 2: GIMP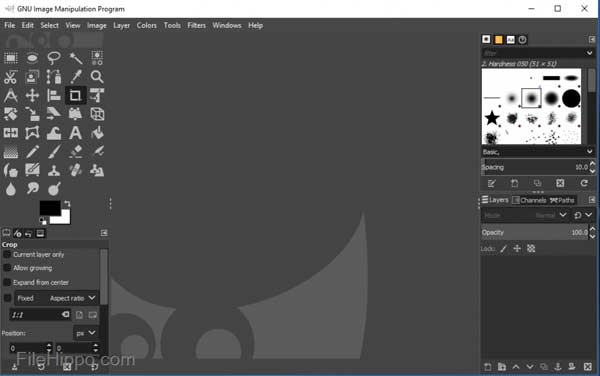 GIMP is an open-source photo editor for Windows, macOS, and Linux. It means that everyone can download this program and retouch photos for free. It was launched in 1996 and is still under active development. It includes both basic and advanced features so some people use GIMP as the alternative to Photoshop.
PROS

Support lots of image formats.
Enhance digital photos on layers.
Integrate a customizable interface.
Completely free to use.
CONS

The interface looks a bit outdated.
It cannot handle the CMYK color space used for printing images.
Top 3: Skylum Luminar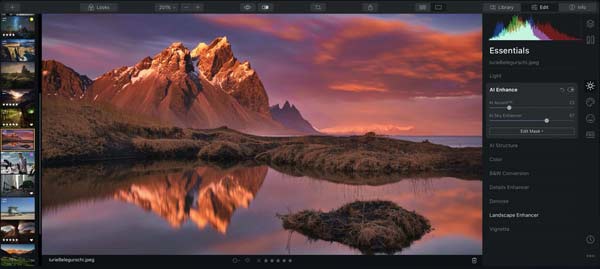 Luminar is another professional photo editor and is popular among users who do not like the subscription-based model of Photoshop. The latest version is Luminar 4. The AI technology built into the photo editing software is amazing and enables users to edit pictures quickly.
PROS

Come with a streamlined interface.
Integrate AI for making an image nice easily.
Support external plugins.
Update and add new features regularly.
CONS

It eats up processing power very much.
Some features are not great, like library functions.
It lacks mobile support.
Top 4: CyberLink PhotoDirector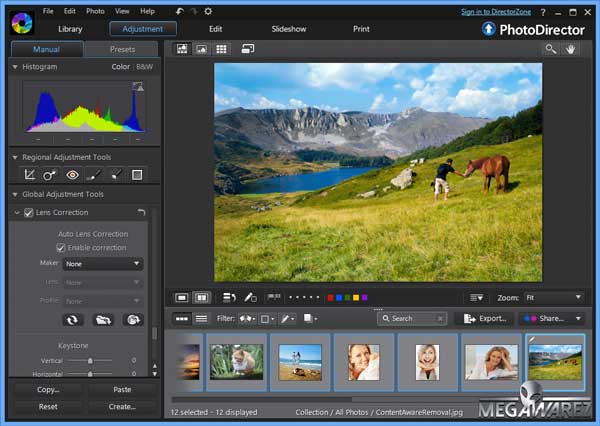 CyberLink PhotoDirector is another photo editor to retouch your photos like professionals. As a powerful program, it includes a lot of useful features, such as color tools, animated effects, object selection, and more. The RAW support makes PhotoDirector a great choice for photographers. If you have a high-end PC, it is a nice choice to retouch photos.
PROS

Include powerful and fun special effects.
Edit photos on layers for advanced users.
Recognize faces with AI technology.
Make slideshows with photos and music.
CONS

It lacks extensive presets.
The lens profiles are limited.
Top 5: Paint.NET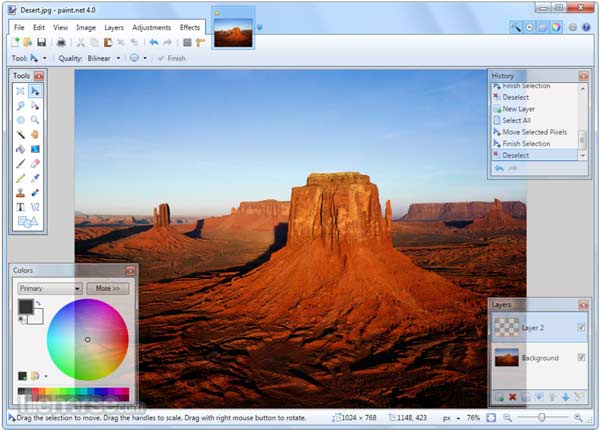 Paint.NET is another free photo editor for Windows. Many people use it as a replacement for MS Paint. As a raster photo editing program, it lets you retouch images on a pixel-by-pixel basis. The non-destructive editing can protect and even fix the photo quality. Moreover, you can expand the features with plugins.
PROS

Easy to use for beginners.
Include lots of features and plugins.
Come with excellent community support.
Edit photos with levels and curves.
CONS

The features are limited compared to professional software.
It can be slow and buggy at times.
Part 3: Top 5 Photo Editors on Mobile
Top 1: Snapseed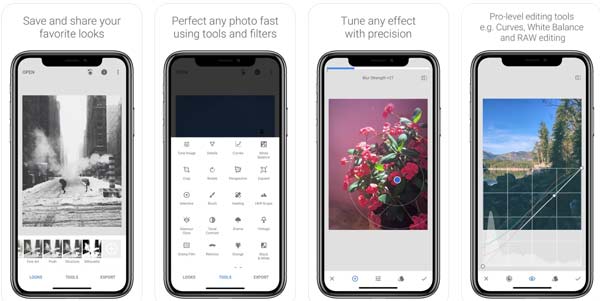 Snapseed is a photo editor supported by Google, but available to both iPhones and Android phones. It allows you to edit and finetune photos including brightness, saturation, contrast, curves, shadows, and much more on your mobile device. More importantly, this app is free of charge without any limitations.
PROS

Come with professional-level presets.
Support RAW and most image formats.
Edit photos with swipe sliders easily.
No annoying pop-ups or ads.
CONS

There is a slight learning process.
The photo-saving options are not very intuitive.
Top 2: PicsArt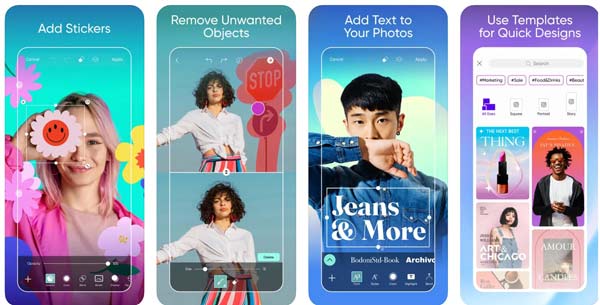 If you prefer to make fun with your photos, PicsArt is a nice photo editor for you. In addition to the mobile app, it also comes with an online version. With this photo editing app, anyone can create complex, multi-layered graphics for various purposes.
PROS

Include lots of photo tools and effects.
Share photos on social media directly.
Offer highly adjustable picture filters.
Batch process multiple photos at one time.
CONS

There are ads in the interface of the free version.
The output quality is not very good.
Top 3: VSCO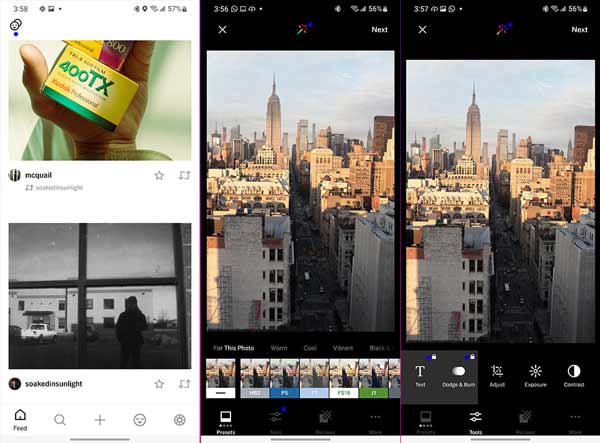 VSCO is a photo editor app popular among social media users. It is available to both iPhones and Android devices. It enables users to edit and share photos quickly without a computer. The built-in filters and effects can make photos stylized.
PROS

Adjust the exposure and color of photos easily.
Come with an attractive and simple interface.
Support social media, such as Facebook, Instagram, etc.
Let users share photos with the community directly.
CONS

The advanced filters and features are only unlocked with a premium upgrade.
It lacks the support of dark mode.
Top 4: Google Photos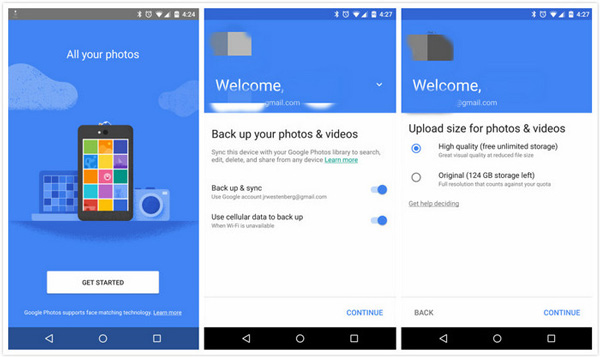 Google Photos is not only cloud storage for photo backup but also a nice photo editor. The embedded photo editing tool allows users to retouch photos easily. You can also create and share Google photo album as you like. Unlike other photo editing apps, it does not take much power from your handset.
PROS

Back up photos on iPhones and Android phones for free.
Edit images on mobile devices easily.
Provide 1 TB of free storage.
Include solid facial recognition capability.
CONS

It lacks advanced photo editing features.
Users cannot share photos on Instagram or Flickr.
Top 5: Adobe Lightroom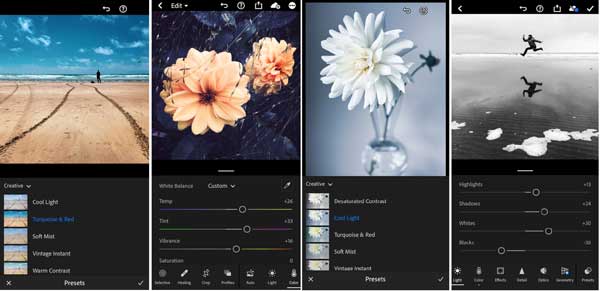 Lightroom is not the mobile version of Adobe Lightroom. This photo editor does not include all features of the desktop version, but users can enjoy the professional-level features on mobile devices for free if they do not need cloud storage.
PROS

Offer a wide range of photo presets and filters.
Recognize and retouch photos with AI.
Make preset filters according to your preference.
Take photos for editing later.
CONS

It does not include local printing or plugin support.
It may force you to upgrade to the subscription model.
Part 4: FAQs about Photo Editor
Is Photoshop still the best photo editor?
The consensus seems to be that Photoshop is still the best photo editing and photo manipulation tool available. However, it is not a good choice for average people and persons who do not have enough budget.
What is the easiest photo editor for beginners?
The built-in photo editors on Windows and macOS, MS Paint, and Photos are the easiest tools for beginners. They allow you to resize, edit, and retouch photos with the basic features.
Is it possible to edit photos without quality loss?
In the past, editing photos must lose some quality. Nowadays, as technology progress, we can retouch photos without losing quality to AI.
Conclusion
Now, you should learn at least the top 15 best photo editors for Windows, macOS, Linux, iOS, and Android. Some of them are completely free to use, and others require payment or a subscription to unlock the restrictions and access the full features. You can follow our review to find the proper tool for your device. If you have other recommendations, please leave your message below this post.