Today, it is easier to take photos than ever before due to digital devices. However, it is still a big problem to produce a perfect photo. Therefore, photo retouching becomes an essential skill. This term implies the act of improving the appearance of an image, such as dust or dirt on the camera lens, as well as the face in a portrait including skin, hair, and more. This guide tells you the easiest ways to do it on your computer and mobile device.

How to Fix Bad Quality Pictures
Part 1: The Ultimate Way to Retouch Photo Online
Apeaksoft Free Image Upscaler is one of the best AI photo retouching tools online. It can upscale photo quality and remove noise at the same time. The embedded AI technology simplifies the workflow. Therefore, beginners can get photo retouching without technical skills. More importantly, all features are free of charge with no restrictions. Here are the steps to do it quickly.
Step 1Visit https://www.apeaksoft.com/image-upscaler/ in a browser. Then click the Upload your photo button to open a photo from your computer. The online app supports JPG and PNG.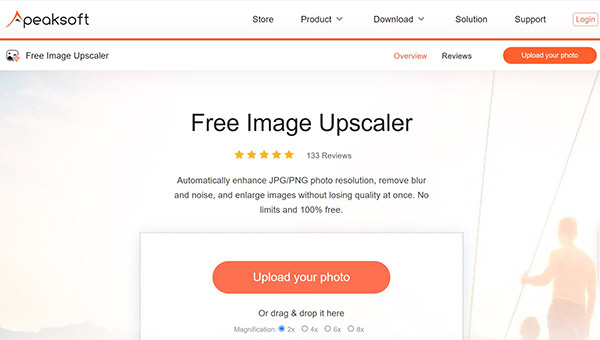 Step 2After photo uploading, you will be presented with the main window. Now, you can enhance the photo with presets, like 2x, 4x, 6x, and 8x.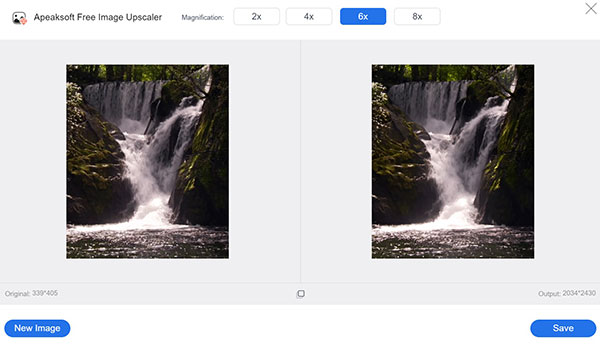 Step 3Preview the retouched photo in the Output pane. If you are satisfied, press the Save button and download the result to your hard drive.
Part 2: How to Retouch Portrait with Photoshop
Photoshop is a professional photo editor. It comes with a wide range of features for photo retouching, such as the Spot Healing Brush Tool. If you already have it on your desktop, it may be a good choice to do beauty retouching.
Step 1 AI skin retouching
Open a portrait in your Photoshop. Don't convert the photo format when retouching it. Locate the Layers pane on the right side, and make a copy of the background. You can do the retouching on the copy to protect the original photo. Select the copy layer.
Click and expand the Spot Healing Brush Tool, and choose the Healing Brush Tool. Keep pressing the Alt button on your keyboard, and click on a spot of skin. Do the same to other blemishes.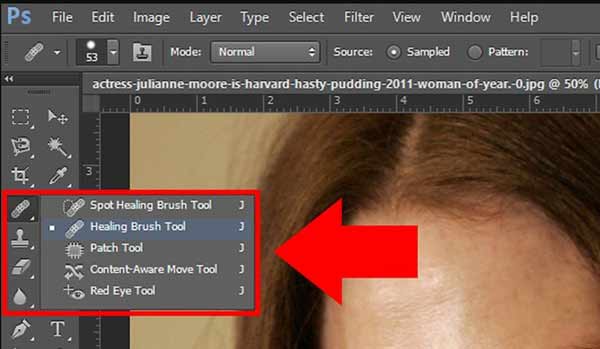 Step 2 Hair retouching
Create a new empty layer by hitting the Create a New Layer icon at the bottom.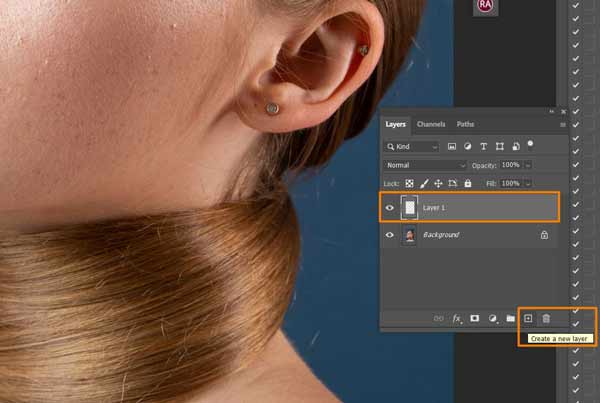 Select the Spot Healing Brush Tool on the left toolbox. Next, select Content-Aware from the Type box, and tick the Sample All Layers option. Select a hair and brush it over. Do the same to other fly-away hair that sticks out across the main direction of the hair.
To increase hair volume, choose the Clone Stamp Tool, and set the options under the top ribbon. Hold down the Alt button, select the source area, and click the target area. That will fill the voids in the hair.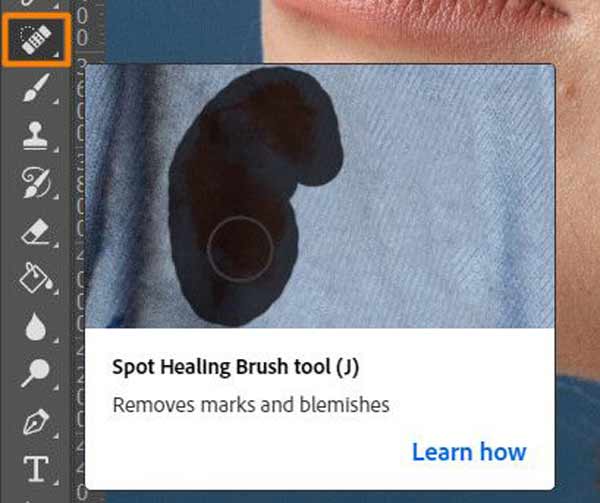 Step 3 Face color retouching
To balance skin color, select the Blur Tool from the left side, and paint over the skin. Make sure to bypass the prominent parts, such as eyes, teeth, etc.
Next, go to the Image menu on the top menu bar, choose Adjustments, and select Hue/Saturation. Play with red tones to make the skin tones natural. Then increase the Saturation option of the entire portrait.
The Sharpen Tool can help you enhance the prominent areas, like eyes, nose, hair, and more.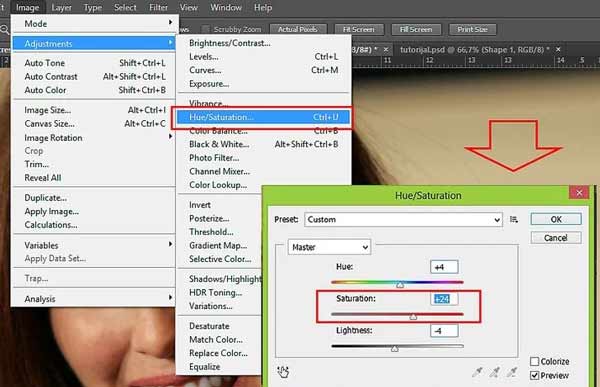 Step 4 Export retouched portrait
Finally, merge the layers, and save the portrait as a high-quality image. We suggest you back up all edits with a PSD file so that you can retouch it further.
Further Reading:
Part 3: How to Retouch Photos on iPhone/Android
How to Retouch Images on iPhone
The built-in Photos app on iPhone comes with a photo editor. It can adjust the exposure, brightness, contrast, and saturation of your portrait. However, it does not include any face retouching feature. Fortunately, there are photo retouching apps for iOS, such as Facetune.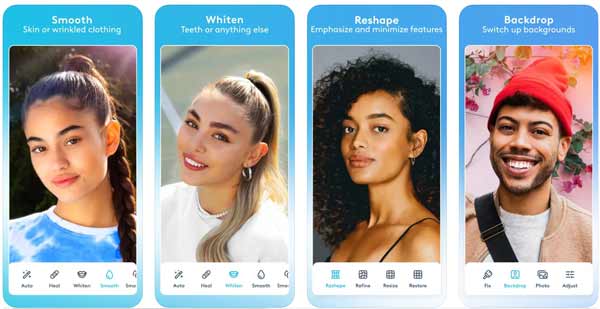 Step 1Run the app from your home screen once you install it from App Store.
Step 2Open an existing photo from your Camera Roll. It also allows you to take a photo with the embedded camera feature.
Step 3Then you will be presented with the photo retouching screen. At the bottom, there are different features available to smooth wrinkles, whiten teeth, sharpen the nose, remove blemishes, balance tones, fix hair, get rid of red eye, etc.
Step 4When you are done, tap the Share icon at the top right corner. Then you can save the retouched portrait to your memory or share it on social media directly.
Note : Although the app is free to download, a part of the features requires you to pay for unlocking.
How to Get Beauty Retouching on Android
Similar to iPhone, Android users have to download a third-party photo retouching app on their devices to refine their portraits. AirBrush, for example, is a nice choice.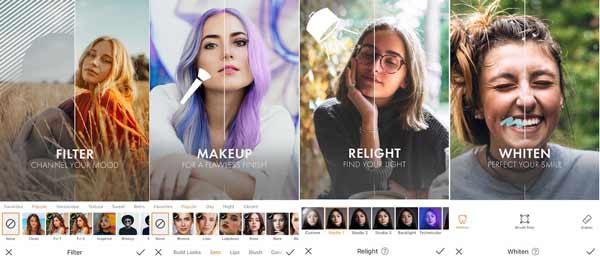 Step 1Start the portrait retouching app. It is free to download from Google Play Store.
Step 2Open a portrait from your gallery, and you will see the menu bar at the bottom.
Step 3Firstly, go to the Retouch tab. Now, you will get more tools. The Smooth tool, for instance, lets you smooth your skin with one tap. You can swipe left and right to try each feature on the Retouch screen.
Step 4To get beauty retouching, head to the Makeup tab from the bottom. Then select an area to refine, like lips, and press your favorite makeup.
Step 5As long as you get a perfect portrait, save the result to your phone or publish it to your social platform.
Note : AirBrush is free to download, but you have to view ads when retouching photos. Moreover, there are in-app purchases. If you want to get rid of annoying ads, you have to pay for them.
Part 4: FAQs about Photo Retouching
What is meant by photo retouching?
It means removing certain defects from an image. It can be a minor object, such as a spot on the camera sensor. It also means removing some physical defects on the skin of a model as seen commonly in fashion publications.
How much does retouching a photo cost?
The answer is determined by your choice. If you ask a professional service to retouch your photo, it may cost several dollars to hundreds. To retouch a portrait on your own, it is completely free.
Is it legal to retouch portraits?
It is legal to retouch your portraits without copyright protection. If your portraits belong to a company or publisher, you cannot modify them. You'd better not retouch others' portraits since it may be illegal.
Conclusion
This guide has demonstrated how to retouch photos and portraits on a computer or a mobile device. You do not need to give up an imperfect photo since our guide can help you resolve this problem quickly. The photo retouching apps allow you to make portraits without a computer. Apeaksoft Free Image Upscaler, on the other hand, is the easiest option to retouch photos online. If you have other questions about this topic, please feel free to leave your message below this post and we will reply to it quickly.