What is the best photo shrinker to compress and resize photos?
You can see many users are looking for a photo shrinker for Instagram, Facebook, and other social apps. You should know that, besides taking more storage space, large images will take longer time to onload, upload, share or send. And many sites have limits to the picture size, not just for SEO. In fact, it's quite simple to reduce image file size as long as you get a good photo shrinker.

Photo Shrinker
This post gives you a review of 5 best photo shrinker tools for Windows PC, Mac, and portable iOS/Android device. You can learn the key features of each image shrinker and then choose your preferred one to make photo smaller.
Part 1. Top 3 Free Photo Size Shrinker Online
To resize a picture and shrink file size, you can first try some free online photo shrinker. This part like to introduce you with 3 popular and easy-to-use image shrinkers to compress your photos while maintain high image quality.
Free Online Image Compressor
Free Online Image Compressor is a popular online photo compressing tool that can help you shrink image size without much quality loss. It supports all frequently-used image formats including JPEG, PNG, SVG, and GIF. This online photo size shrinker is compatible any web browser like Chrome, Safari, IE, and Firefox.
Better than other online photo shrinker apps, Free Online Image Compressor is designed with the advanced lossless algorithm technology that can effectively identify textures, patterns and colors, and remove unnecessary data. By doing so, it can extremely reduce photo file size while keeping a good image quality.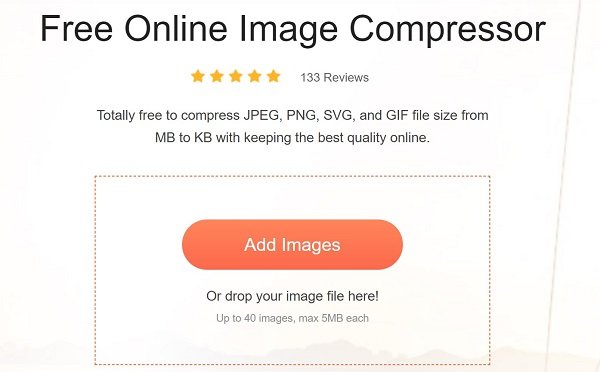 This free photo shrinker enables you to shrink up to 40 images in batch. It is able to reduce photo size from MB to KB with ease. As a free online image shrinker, it requires no program installing or account sign up/in. Moreover, you won't see any ads during the whole photo shrinking process.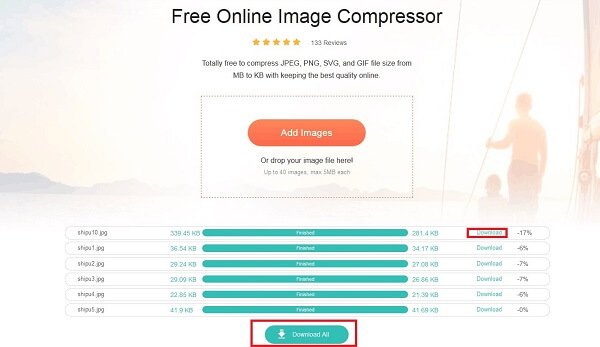 Free Online Image Compressor is equipped with an auto-compress function. Just add your image to it, and it will automatically shrink image file size for you. It can choose the best compression rate to shrink photo size and keep source image quality.
PicResize
PicResize can work as a powerful photo shrinker for you to easily crop, resize, and edit your pictures online and free. It allows you to compress pictures from local computer and through URL. It also carries the batch compressing feature to directly edit multiple images at a time. It is equipped with many useful image editing options for you to reduce photo size. For instance, you are allowed to crop image, change image file size, custom quality, choose special effect, select output format, set max file size, and more.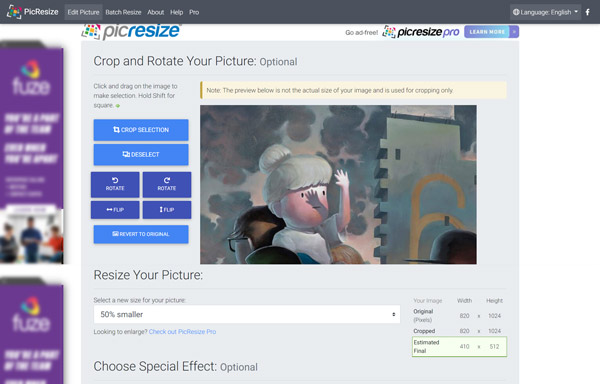 This free photo size shrinker has a preview feature for you to better compress picture and view its output effect. After the photo shrinking, you can see clearly about the source file size, new optimized file size, and changes of width and height. While using PicResize, you may see many ads.
Adobe Spark
Adobe Spark is a free online image shrinker powered by Adobe Photoshop. It is one kind of image resizing feature from Photoshop. It can compress most frequently-used image files. It can resize picture and dimensions to reduce file size. As an image shrinker tool, Adobe Spark presents some resizing options for Instagram, Facebook, Twitter, YouTube, Snapchat, and Custom. You can manually control the width and height of images.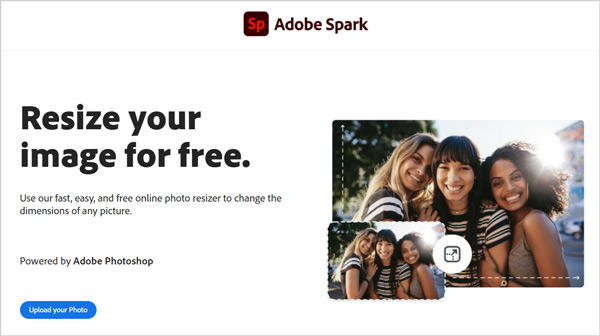 You can use Adobe Spark on any web browser. But after the photo shrinking, you need to sign in your Adobe account to download the optimized image file. You won't see any ads in its site.
Part 2. Free Image Shrinker Apps for iPhone, iPad and Android Phone
To reduce image file size to free up more storage on your iOS and Android device, you can use some photo shrinker app. You can easily install free image shrinker app from App Store and Google Play Store. Just search for photo shrinker, and you can get many useful recommendations. In case you don't know which one you should use; this part introduces you with 2 great photo shrinker apps.
Free photo shrinker app for iPhone and iPad
Image Size is a popular image shrinker app for iPhone and iPad users. It is specially designed for shrinking a photo to customized size. It enables you to change the image height and width while maintain the aspect ratio. This photo shrinker app supports all image files on your iOS device. You can use your fingers to resize image with ease. Also, you are allowed to directly enter the output file size. After image compressing, you can save or share it as your requirement.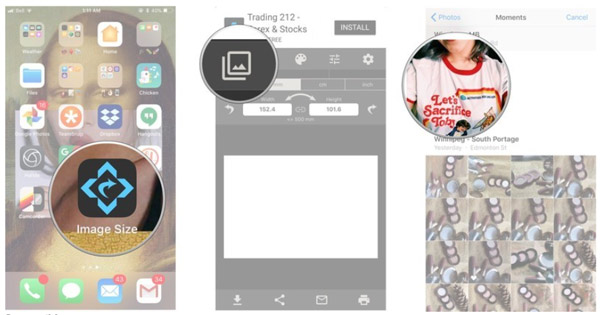 Free image shrinker app for Android phone
Photo Compress & Resize helps you quickly shrink image size or resolution on your Android phone like Samsung, HUAWEI, LG, SONY, and more. As a free image shrinker app, it can optimize photos with a perfect balance in quality and file size. It also carries the batch compress feature. All commonly-used image formats are supported.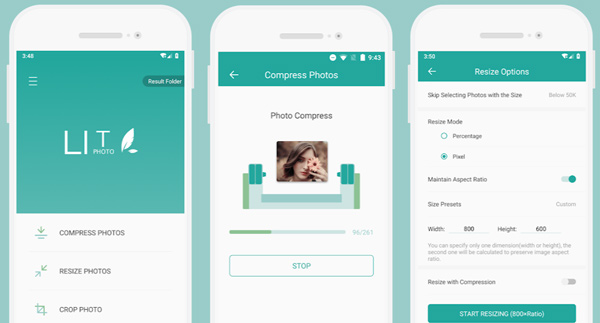 Photo Compress & Resize provides you with 3 main solutions to reduce photo file size. You can choose to crop image, compress photo, or resize photo. After the picture shrinking, you can handily share the compressed image file to social media like Instagram, Facebook, Flickr, Google+, KakaoTalk, and more.
Part 3. FAQs of Photo Shrinker
Question 1. How to free crop image on iPhone?
iOS is designed with many useful and commonly-used features including the image editing. When you open a picture in Photos app, you can tap the Edit option on the top right of your iPhone screen to do further editing. When you enter the main editing interface, you can tap the Crop icon in the lower right corner. Then you need to press and drag the corners and edges of the photo to crop it. After cropping, tap Done to save the changes.
Question 2. Can I shrink image file size in Adobe Photoshop?
Yes. Adobe Photoshop is equipped many image editing features. You can use it to crop photo, adjust image quality, and reduce image file size with ease. Learn more about how to compress images in Photoshop.
Question 3. What is the best photo shrinker for Instagram?
You can get 5 photo shrinker recommendations from this post. When you want to reduce picture size for Instagram, you can select one to optimize your images with ease.
Conclusion
If you want to crop or resize photos, either on a computer or a mobile phone, you can use the recommended photo shrinker apps above to compress images with ease. All these image shrinker tools are free. You can try them one by one until you get the one that suits your need most.
Do you have more questions about photo shrinker or how to reduce photo file size? You can drop them in the comments.