PNG, stands for Portable Network Graphics, is a popular image file format. It uses lossless compression to store visual data, so the image quality is pretty good. Now, it is considered as the successor of GIF. In addition, PNG is able to store transparency. That makes it increasingly popular. However, you need a PNG size reducer for sending or saving the images for web, email, social media and more. This article collects a top list below.

PNG Size Reducer
Part 1: Top 5 Free PNG Size Reducers
Top 1: Apeaksoft Free Image Compressor
Apeaksoft Free Image Compressor is an excellent PNG image file size reducer online. As its name said, it can do what you want without any payment, personal information and other limit.
PROS

Compress PNG file size online.
Totally free to use.
Batch compress up to 40 images per time.
Protect image quality while compressing.
CONS

It needs a good internet connection.
How to Compress PNG Image File Size for Free
Step 1Visit https://www.apeaksoft.com/free-online-image-compressor/ in a browser when you need to compress PNG file size online.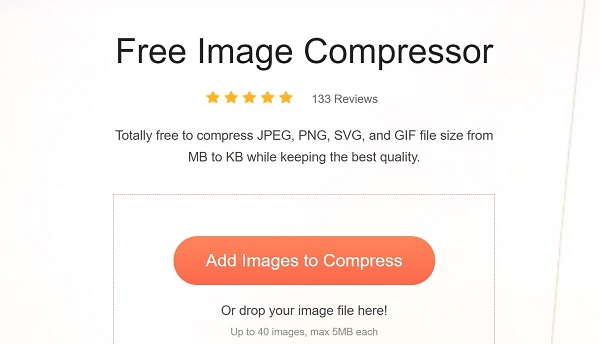 Step 2Click the Add Images to Compress and upload the PNG files from your computer. Or locate the PNG image folder in an Explorer window and drag and drop them into the webpage. That will upload your PNG files too. You can upload up to 40 images and the maximum size is 5MB each.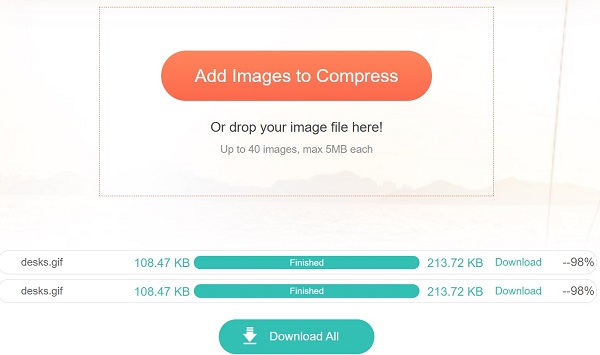 Step 3Once PNG uploading finishes, the web app will work automatically. When it is done, click the Download button to begin compressing PNG files.
Top 2: TinyPNG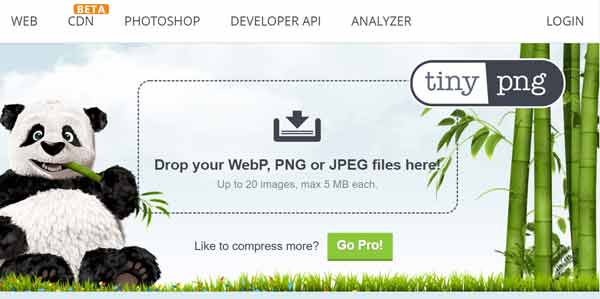 TinyPNG is a cloud-based PNG file size compressor online. It uses smart compression techniques to reduce the PNG file size. It works through selectively decreasing the number of colors in the image, but the look and photo quality won't change a lot.
PROS

Equip a strait forward web page.
Support PNG, JPEG and APNG format.
Offer plugin for photo editor software.
Compress up to 20 images in bulk.
CONS

It can only process images up to 5MB each for free.
It asks you to upgrade frequently when compressing PNG.
Top 3: PngOptimizer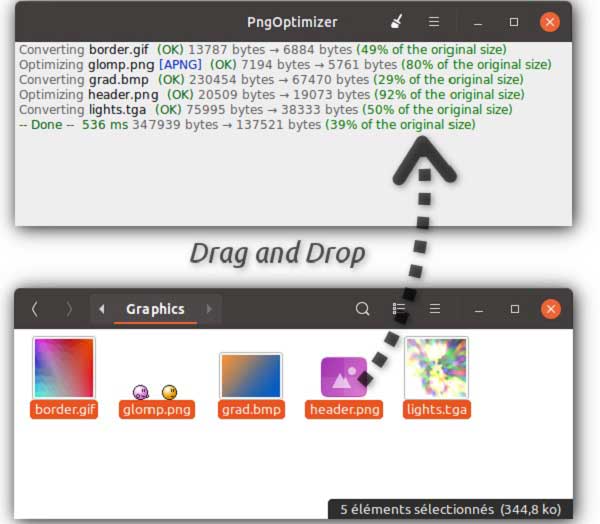 PngOptimizer is a PNG file size converter for Windows and Linux for advanced users. It is able to compress graphics in PNG format by removing extra data without impacting quality very much. Although it utilizes command lines to compress PNG, it is not very difficult to learn.
PROS

Optimize PNG images by removing useless data.
Reduce PNG image file size with commands.
Convert BMP, GIF and TGA to PNG.
Support animated PNG images.
CONS

It is not compatible with Mac.
The command lines may be not suitable to average people.
Top 4: ImageOptim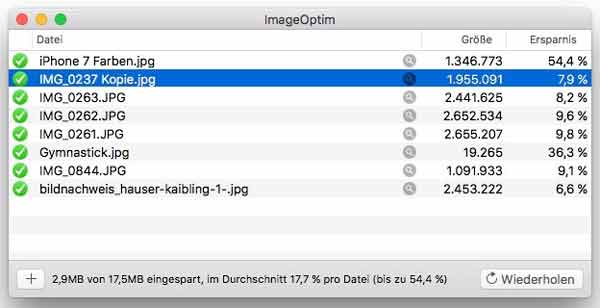 ImageOptim is an outstanding PNG size shrinker on Mac. It gives you a very intuitive platform to reduce the space the PNG images take and provide faster photo loading speed. In addition to PNG, it also supports JPG and GIF.
PROS

Reduce PNG file size without reducing the quality.
Save the hosting data space of PNG.
Support the drag-and-drop command.
Handle PNG, GIF and JPG images in bulk.
CONS

It cannot abort the PNG optimization process.
It is only available to Mac computers.
There are no bonus features at all.
Top 5: Caesium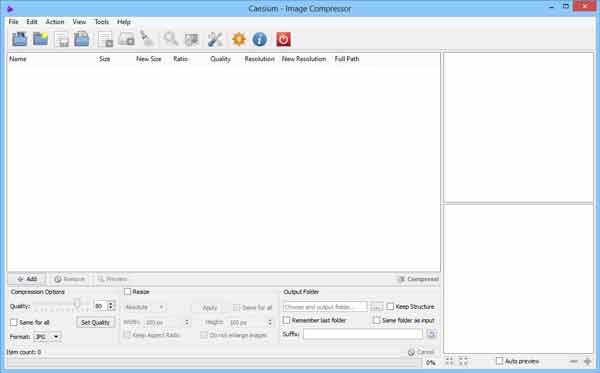 For cross-platform people, Caesium is a powerful PNG file size reducer. Now, it has become one of the most popular image optimization software among photographers, bloggers, social media users and more. It is also a good way to save space and store more pictures on Windows, Mac OS X and Linux.
PROS

Compress PNG images up to 90%.
Preserve the image format while compressing.
Support JPG, BMP, PNG, GIF, and WMF.
Bulk reduce PNG file size quickly.
CONS

It takes long time to compress PNG images.
The PNG compression rate is not stable.
Part 2: Top 3 Paid PNG Compressors
Top 1: Photoshop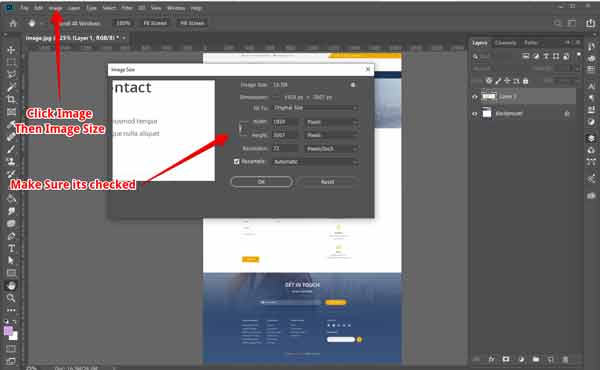 PROS

Compress a PNG with different ways.
Edit PNG after compressing.
Protect the image quality while editing.
Optimize PNG for web sharing.
CONS

It can only process one picture per time.
It is pricy and expansive.
The learning curve is not friendly to beginners.
Top 2: FastStone Photo Resizer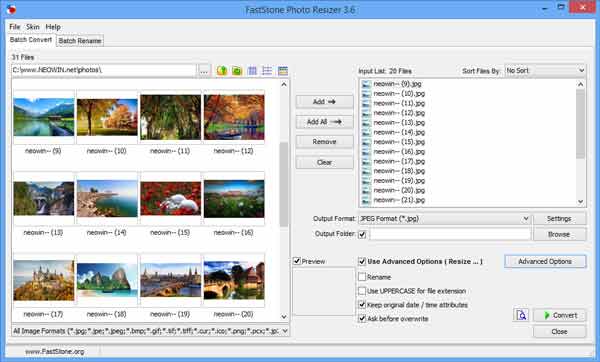 As a PNG compressor, FastStone Photo Resizer offers both a free version and a pro edition costs $19.95. Today, taking high quality photos is not difficult due to the excellent cameras in smartphones. This PNG reducer enables you to resize, compress, rename and convert pictures in batch mode.
PROS

Resize and compress PNG images in batch.
Compare the original image with the result.
Include advanced options for PNG resizing.
Rotate, crop and flip the images.
CONS

There are too many options for beginners.
The advanced features are only available to pro edition.
Top 3: PicPick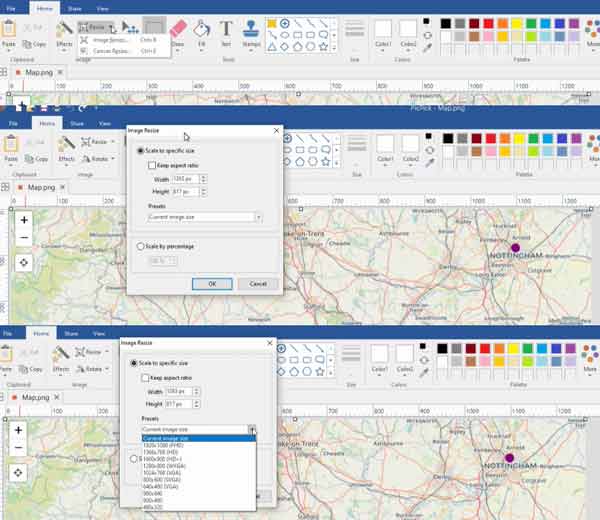 PicPick is one of the best photo editor and PNG file size reducer. Although there are places can improve, it is still a powerful tool. If you are looking for a lightweight image editor, it is a good pick. In addition, it is also a publish program with a wide array of functions.
PROS

Make PNG images from screenshot.
Include diverse graphic tools.
Resize PNG images to small file size.
Edit images on the canvas.
CONS

Some features are not working sometimes.
It is difficult to navigate although the interface looks similar to MS Word.
Part 3: FAQs about PNG Size Reducer
When to use PNG?
PNG files are often used to store graphics on websites and digital devices. Some operating systems save screenshots in the PNG format by default like macOS and Ubuntu. Another use for PNG is when portions of the image is transparent. Unlike JPG, PNG is able to store and keep the transparency in images.
Which is better JPEG or PNG?
The answer is depending on your purpose. PNG is better for crisp images with a low number of colors. JPG is better choice for a low-bandwidth image. Plus, PNG is able to store transparency.
Can you create a PNG image file?
By default, the screenshots made on Mac are saved as PNG image. Plus, most photo maker software is able to save images as PNG format, such as Photoshop, MS Paint and more.
Conclusion
Now, you should learn top 8 best PNG image file size reducers and converters for Windows, Mac and Linux. Some of them are free to use for full features, like Apeaksoft Free Image Compressor. Others require some kind of payment or have some limitations. You can pick the most appropriate tool to optimize your PNG images before sharing. If you have more problems, please feel free to leave a message below this post and we will reply on it as quickly as possible.