As one of the most popular social networks, Instagram allows you to post both images and video stories now. According to a recent survey, images are still the most posted content on Instagram. Gone are the days when social network users were limited to sharing photos only in the form of cropping squares. Today, you can post square photos and full-length images in either vertical or horizontal formats. This guide will show you how to resize a photo for Instagram and avoid being cropped or distorted.

Resize a Photo for Instagram
Part 1: What Is the Best Photo Size for Instagram
When Instagram was first released in 2012, users can only upload photos in a 1:1 aspect ratio. Now, you can post square photos, portraits, and horizontal images. The best photo sizes for Instagram include:
| | Ideal size | Aspect ratio | Display size |
| --- | --- | --- | --- |
| Profile photos | 320p by 320p | 1:1 | 110p by 110p |
| Square photos | 1080p by 1080p | 1:1 | 600p by 600p |
| Portraits | 1080p by 1350p | 4:5 | 480p by 600p |
| Horizontal photos | 1080p by 566p | 1.91:1 | 600p by 400p |
| Story image | 1080p by 1920p | 9:16 | |
As you can see, Instagram will compress your photos when uploading. If you upload a photo with a non-recommended size, Instagram will add a black border.
Part 2: How to Resize Photo for Instagram on iPhone/Android
As you can see, you cannot post photos on Instagram of any size. To prevent the social network from changing your photos, you'd better resize them following the rules. The good news is that you can get the perfect photo size for Instagram with the procedures below.
How to Resize a Photo for Instagram on iPhone
For iOS users, the built-in photo editor in the Photos app can resize a photo for Instagram quickly. It means that you do not need extra apps or hardware. Moreover, the aspect ratio presets can help you streamline the workflow.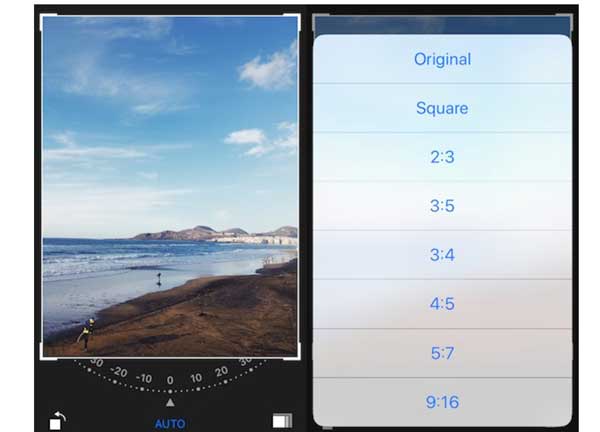 Step 1Take a photo for Instagram using the preinstalled Camera app or a third-party camera too. Then switch to the Photos app, and find the photo in your album.
Step 2Tap the photo, and press the Edit button. Then you will enter the photo editor screen.
Step 3Choose the Crop Tool icon at the bottom, and tap the Rectangular icon. Now, you will be prompted to choose an aspect ratio, such as 4:5, Square, and more according to Instagram.
Step 4When resizing the photo for Instagram finishes, tap the Done button at the bottom. The resized photo will be saved to your Photos app. Then you can post it on Instagram without compressing.
How to Resize an Image for Instagram on Android
It is a bit complicated to resize an image for Instagram on Android. First of all, the social network app does not provide any option to crop an image. Although most Android phones have a Photo Gallery, the app may be very different on the handsets of different manufacturers. Therefore, a good photo resizer app may be a good idea to get the right photo size. We use Photoshop Express as an example to show you how it works.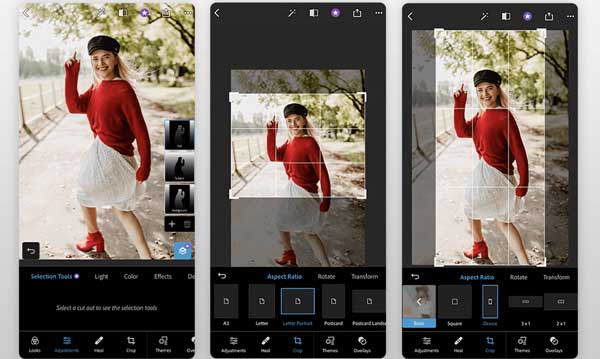 Step 1Run the photo editor app on your smartphone. You can download it from Play Store for free, but some features require a subscription.
Step 2Select the target image that you want to post on Instagram on the first screen, which displays all photos on your memory.
Step 3Tap Edit from the home screen, and choose the Crop icon at the bottom. Press the Aspect Ratio option and you will get the presets including Instagram, Instagram Stories, and more.
Step 4You can select a proper preset or resize the image for Instagram manually using the cropping box. Next, tap the Share icon, and save the image as a copy for sharing on Instagram.
Part 3: How to Resize Photo for Instagram Online
Apeaksoft Free Image Upscaler is an easy way to resize a picture for Instagram, such as upscaling and enlarging images. It is powered by AI technology, although it works in your browser. In another word, you can get the best photo quality without installing any software on your hard disk. More importantly, it is free of charge and won't ask you to pay for watermark removal. Of course, it does not have other limitations either.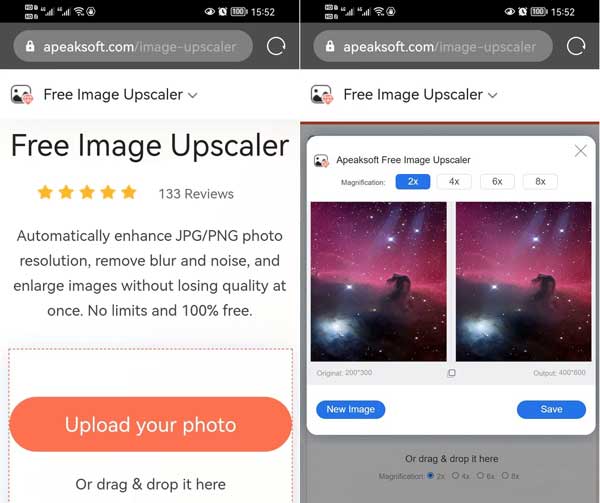 Step 1Visit https://www.apeaksoft.com/image-upscaler/ in your browser. It is compatible with most web browsers, like Chrome, Safari, Firefox, etc.
Step 2Click the Upload your photo button and upload the desired picture that you intend to share on Instagram. As long as the photo is uploaded, you will get the presets at the top of the editor page.
Step 3Select the proper one, and click the Save button to download the resized image for Instagram. Then you can share it on your smartphone or computer quickly.
Note: During the process, you can check the result in the Output pane on the right side in real time.
Bonus Tip: How to Post a Full-size Photo on Instagram
You may notice that when you post a photo on Instagram, which were shot on your smartphone, the social network crop it automatically. That is because your phone camera usually takes photos at 3:4, while Instagram supports 1:1. Can you share a photo on Instagram without resizing? The answer is yes, and you can follow the steps to post a full-size photo.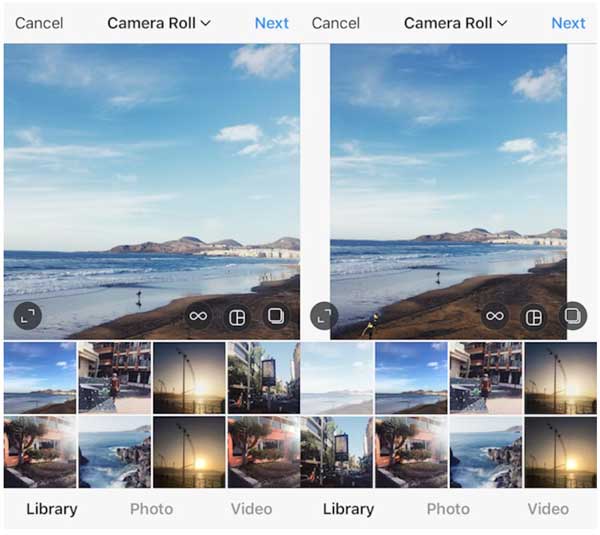 Step 1Open the Instasize app, and tap the Add icon at the bottom of the screen.
Step 2Next, choose the target photo from your memory. Then you will see the white borders around the photo, which are needed to post a full-size photo on Instagram without resizing. You can also change the color of the border.
Step 3At last, tap the Share icon, choose Instagram, and hit the Feed option. Now, go ahead and upload the post as usual.
Part 4: FAQs about Resizing Photos for Instagram
Question 1. Why does Instagram crop my photos?
Until now, Instagram only supports four aspect ratios. If you upload a photo with a different aspect ratio, Instagram will crop it. To avoid it, you can edit your photo before posting it on the social network app.
Question 2. Does Instagram compress my photos?
According to Instagram, it uses massive compression algorithms in all uploaded photos. That decreases the size of your pictures and downscales the quality while freeing up a lot of storage space for the server. If you do not want to get poor photos, you can reduce the file size before sharing.
Question 3. Can I post a full picture on Instagram without borders?
It is possible to post a full picture on Instagram without borders. All you need to do is to resize your pictures according to the recommended aspect ratio and photo size before uploading.
Conclusion
Now, you should understand how to resize a photo for Instagram on an iPhone or Android phone without losing quality. Both iPhone and Android users can use the built-in photo editor to get the proper photo size according to Instagram's rules. Of course, third-party photo editor apps are another choice. For people who do not want to install extra apps, Apeaksoft Free Image Upscaler is a good idea to produce high-quality photos for your social media. If you have other questions, please write them down below.