You should resize a photo for Facebook and Twitter to fit its upload dimensions. Generally, Facebook, Twitter, and other social apps have a built-in image editor for you to crop and edit the picture you like to upload, especially when you want to add a Facebook cover or profile picture. Besides, many photo resizers offered on the market can help you change the image size without losing quality.
This post tells the recommended photo sizes for uploading on Facebook and Twitter. Moreover, you can learn three helpful methods to resize your photos to get the best posting result and quality.

Resize Photos for Facebook
Part 1. Check the Best Image Sizes for Facebook and Twitter
There are some recommended photo posting sizes for social media platforms like Facebook and Twitter. You can take a quick look at the suggested image sizes and then resize your photos based on that.
Best image size for Facebook
The best photo size for Facebook is 1,200 × 630 pixels. From the official guideline for posts, Facebook encourages you to share images with 1,200 × 630 pixels. It will resize your posted image file to 500 pixels wide whether you are sharing landscape, portrait, or square photos.
The Facebook profile picture will be compressed and displayed at 176 × 176 pixels on your computer, 196 x 196 pixels on smartphones, and 36 x 36 pixels on most feature phones. Your uploaded photo will be cropped to a circle. Your Facebook cover photo should be 400 pixels wide and 150 pixels tall. You can use a PNG file to get a better result.

Recommended image size for Twitter
The ideal image size for Twitter in-stream photos is 1,600 × 900 pixels. You can also post a horizontal photo at 1,200 × 675 pixels. On your computer, Twitter allows you to upload a photo between a 2:1 and 1:1 ratio. When you post a picture on its mobile app, it will be displayed at a 16:9 ratio.
Part 2. How to Resize Photos for Facebook and Twitter
As mentioned above, many image editors can help you resize photos for uploading on Facebook, Twitter, and other social platforms. This part shares three different ways to adjust the photo size according to your need.
Online way to resize photos for Facebook and Twitter
Free Image Upscaler is a famous Facebook picture resizer online that can help you resize photos. It supports all commonly-used image formats like JPG and PNG. It can change a photo to a suitable image size you need, optimize it, enhance quality, upscale picture resolution, remove background noise and blur, and more.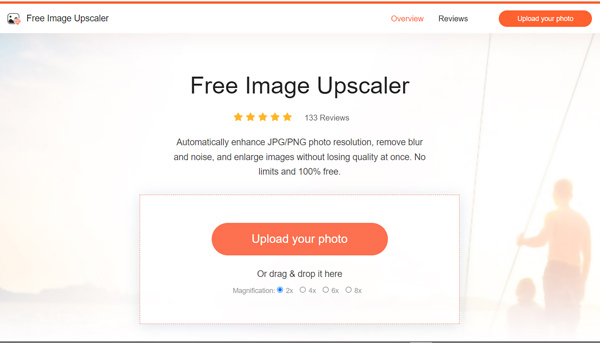 Whether you want to resize a photo for Facebook on your iPhone, Android phone, or computer, you can go to its official website on a browser and click the Upload your photo button to use it. Free Image Upscale is specially designed to share high-quality pictures on Facebook and Twitter.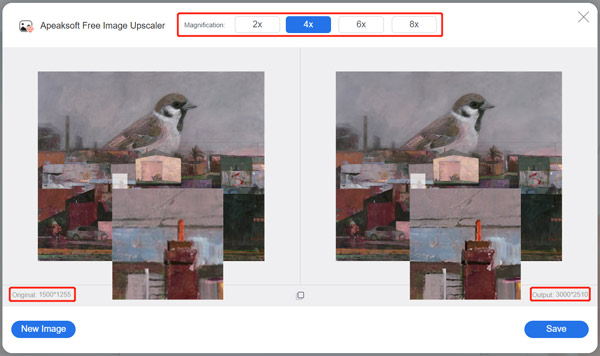 Resize a photo for Facebook or Twitter using Photoshop
Adobe Photoshop is no doubt the most famous image editor. It is designed with all the photo editing features you will need. You can use it to edit your image file and get the correct photo size for Facebook or Twitter posting. You can download Photoshop from the official website of Adobe and follow the steps below to resize your photo.
Step 1Open Photoshop and add the photo you like to resize. You can click the top Image menu and use its Image Size feature to resize a photo for Facebook.
Step 2You can freely change the image width and height in the pop-up Image Size window. You can adjust the unit of measurement for the pixel dimension to resize the photo. Photoshop also allows you to customize the photo resolution and resample.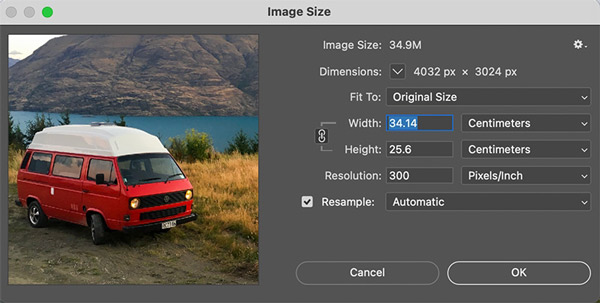 Resize photos for Facebook on your iPhone and Android phone
Step 1The Photos app on iOS and Android has many primary editing features. For instance, you can open a specific photo in Photos on your iPhone and use the Crop feature to resize it. Similarly, you can use the Google Photos app to resize a photo for Facebook or Twitter on an Android phone. You can turn to a third-party app if you prefer to resize a photo without cropping.
Step 2You can easily find many associated photo resizers from App Store and Google Play Store. You can try the popular Image Size app if you don't know which one you should use. After installing it on your iPhone or Android, you can open your photo and then freely adjust the Width and Height to resize it.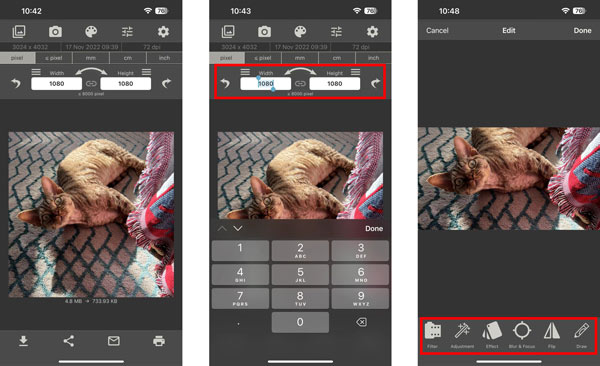 Part 3. FAQs on How to Resize Photos for Facebook
How to free resize a photo in Windows 11/10?
Besides the recommended Free Image Upscaler and Photoshop above, you can also rely on its built-in image viewer, Photos, to resize an image file in Windows 11/10 for free. When you open your photo in it, you can click the 3-dots icon to find the Resize function. What's more, you can use Paint to resize your pictures for free.
How do you free resize a photo on Mac?
You can open the photo you need to resize in the Preview app, click the top Tools menu, and then choose the Adjust Size option to display an Image Dimensions window. You can control the image width and height to resize it on your Mac.
Where to check my old Facebook profile picture?
When you want to view your past profile or cover photos on Facebook, you can tap Profile, choose Photos, Albums, and then go to Profile pictures or Cover photos.
Conclusion
This post shares 3 helpful ways to resize photos for Facebook and Twitter. You can learn the specific image size requirements and then resize your pictures. You can message us if you still have any questions.