Rising image resolution can be practically useful when it comes to repairing old photos or printing with better effects. You may have some relative blur pictures that are taken a long time ago, now AI technology can make images look better with higher resolution. Therefore, this article is going to bring you 4 simple ways how to improve image quality. After mastering this skill, you can print your picture clearly or fix any of the old photos by rising image resolution.

How to Increase Resolution of Image
Part 1: How to Increase Resolution of Image Online
No matter what devices you are using, online tools of rising image resolution are always the most convenient ones. You can convert low-resolution images to high-resolution online anytime and anywhere when you want to improve image quality. Using Apeaksoft Free Image Upscaler can easily and quickly help you obtain the results you want for your old pictures. By tweaking the pixels of your image, this free Upscaler can make your image clearer in higher resolution. While rising image resolution, you can get a 100 percent guarantee of no quality loss.

Recommendation
Increase the sharpness of images.
Improve image quality in seconds with AI.
Resize images up to 8X without quality loss.
Upload your photo without limitations.
Rising Image Resolution on Free Image Upscaler
Step 1The Free Image Upscaler is under the Free Tools section; you can access this tool on any of your browsers. Then, click the Upload Your Photo button in the middle of the webpage.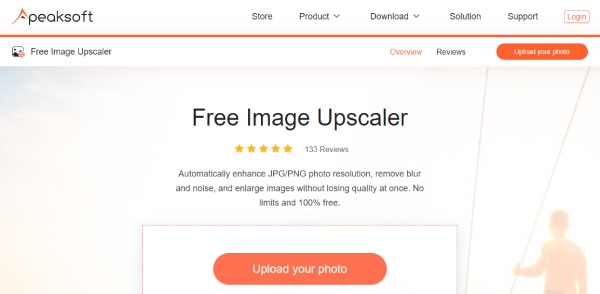 Step 2Before selecting photos, you can click the magnification options under that button to choose an upscaling factor. There are four options: 2X, 4X, 6X, and 8X. Then, your picture will start loading, the time depends on how big your image is.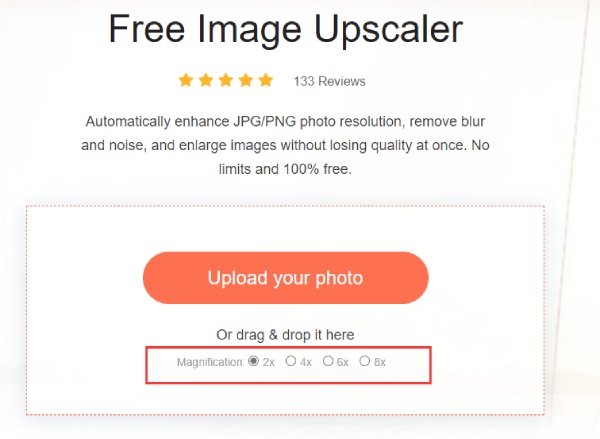 Step 3Next, your image will show up on the page. You will see the comparison of your uploaded picture and the upscaled picture. Meanwhile, the image resolution is also below the picture. Simply click the Save button and your browser will start downloading.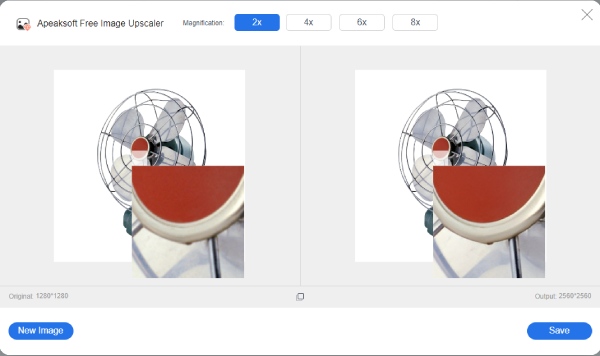 Part 2: How to Increase Resolution of Image Professionally [Mac/Windows]
To improve image quality professionally and precisely adjust the resolution, Adobe Photoshop ranks first compared to other products. In Adobe Photoshop, you can import your picture without quality loss, precisely modify a photo, and handle all the details that will affect the resolution. Furthermore, you will own great flexibility in rising image resolution and upscale your image based on pixels.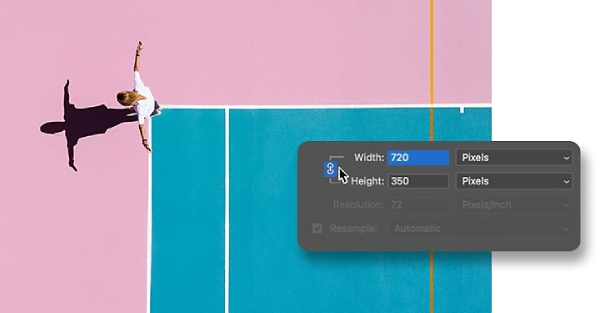 Step 1Launch Photoshop on your computer and import your image to it.
Step 2Click the Image button at the top, and then click the Image Size button.
Step 3In the pop-up window, enter values of width and height for higher resolution. Make sure the chain icon linking is not disabled.
Step 4Then, click the Resample button and choose an interpolation method from the dropdown option next to it.
Step 5Last, click the OK button to resample and improve image quality.
Part 3: How to Increase Resolution of Image on iOS/Android
Occasionally, most of you might eagerly want to know a workable method of rising image resolution on smartphones. Increasing image resolution can help you improve the clarity of zoomed photos or save pictures taken by the camera with low pixels. To save your precious time, this chapter has found two workable upscalers from App Store and Google Play Store. Also, the step-by-step can help you quickly learn how to increase resolution of images with these tools.
1. PicsArt
PicsArt is an advanced editing tool for both iOS and Android. The functions of this application include but are not limited to editing photos, and videos, applying filters, polishing pictures, etc. Rising image resolution can be so easy in this app with so many advanced features. Besides, you can do more things than just rising image resolution. For example, you can do simple editing on videos, make memes, create stickers, etc.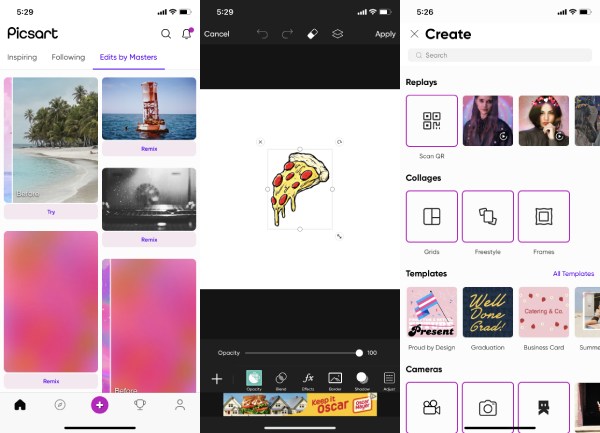 How to increase resolution of images in PicsArt
Step 1Install this app from App Store and open it on your iPhone.
Step 2Tap the Plus icon in the middle of the screen. Then choose a photo from your Album.
Step 3Next, tap the Tools button below, and then tap the Resize button.
Step 4A floating window will appear, and you can type the desired width and height values there.
Step 5Then, tap the OK button to confirm and tap the Next button above to save your upscaled photo.
2. Snapseed
Snapseed, developed by Google, is another excellent photo-editing app available for both iPhone and Android. You can work like a pro and improve image quality at ease with this editing tool. There are 29 tools and filters which you can use to fix a blurry photo. Among so many tools, the sharpening tool is the most crucial one that makes your blurry picture looks clearer.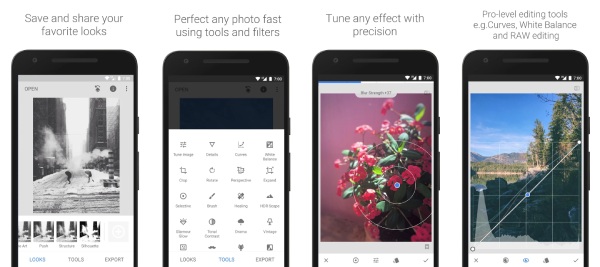 How to increase resolution of images in Snapseed
Step 1Open Snapseed on your phone. Then, tap anywhere on your screen to open a photo.
Step 2Select one blurry picture from your Album and tap the Tools button and the Details button.
Step 3Choose Sharpening and you can swipe right or left to increase or decrease the sharpness of the image.
Step 4Find an appropriate sharpness you prefer and tap the Tick icon to save your photo.
Part 4: FAQs about Rising Image Resolution
Question 1. Can I resize an image to rise image resolution?
This is a common practice of a newbie when it comes to rising image resolution. However, when you are resizing a photo, the application may subtract or add pixels generally and evenly. In this way, you will that the image's visual effect does not look good. If you want to make sure the quality does not drop, you need a professional tool like Photoshop to make the details high-resolution.
Question 2. What images work best for rising image resolution?
For most photo-upscaling applications, the high success rate belongs to images with sharp edges, contrasting colors, and clear textures. This kind of image is the easiest type to increase resolution.
Question 3. How to check the image resolution on iPhone?
You can always check the original resolution of your image before rising image resolution. Simply open Photo on your iPhone and select a photo. Then, tap the Information button with the letter i. You will see detailed info about this picture with its resolution, size, storage time, etc.
Conclusion
Whether you want to print a picture big or repair badly taken photos, the 4 methods mentioned above of how to increase resolution of images on different devices can surely meet your demands. You can refer to any of these methods with freedom or choose several of them for your various devices.