This tutorial will talk about how to sharpen a blurry image online. Image sharpening means correcting an array of image errors including camera shakiness, motion blur, lens noise, and more. Compared to GIMP and professional software, web-based apps are a portable way to effectively remove blur and enhance details without asking you to install anything on your disk. This article identifies the best online photo-sharpening apps and demonstrates the steps in detail.

Sharpen Blurry an Image Online
Part 1: The Easiest Way to Sharpen a Blurry Image Online
Although online apps are convenient, most of them have a variety of limitations, such as file size, watermarks, and more. Apeaksoft Free Image Upscaler, on the other hand, is the only one that allows you to sharpen a blurry image online without any limitations. First of all, it is completely free to use without sign-up or other payment. Moreover, it won't add watermarks to your photos. The built-in AI technology can keep enhance photo quality and remove noise automatically. Plus, the presets simplify the workflow. Here are the steps to sharpen images online using AI.
Step 1Access https://www.apeaksoft.com/image-upscaler/ in your browser to open the photo sharpening app directly. Click the Upload your photo button, and open the target image. Or drag and drop the photo onto the webpage.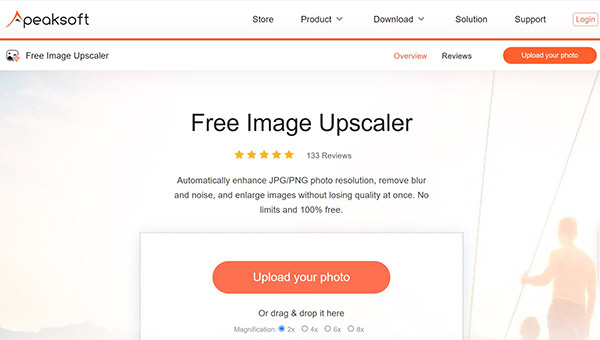 Step 2Once the photo loads, you will be taken to the main window. There are presets at the top of the window and you can select a proper one. The Output pane displays the effect in real-time.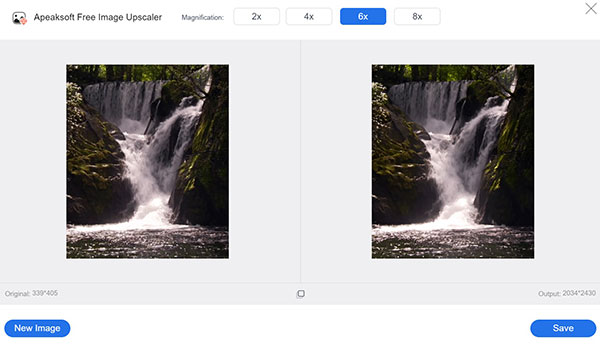 Step 3As long as you get the desired effect, click the Save button and download the sharpened photo to your hard drive.
Part 2: More Options to Sharpen a Blurry Image Online
Option 1: How to Sharpen an Image on vanceai.com
vanceai.com is an image sharpening app online. It helps turn your blurry images to clear photos with one click. It highlights the details with AI and enables you to get higher clarity. The free version allows you to upload an image up to 5MB. It allows you to sharpen an image online without login, but you have to sign up for your account when downloading it. Plus, there are paid plans to unlock the limitations.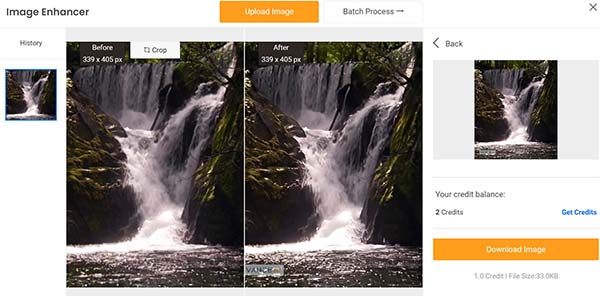 Step 1Enter https://vanceai.com/sharpen-ai/ into the address bar in your browser, and press the Enter key on your keyboard to open it.
Step 2Click the Upload Image button and upload a blurry image. It supports JPG and PNG.
Step 3Then select a sharpen mode, and set the parameters. Click the Start to Process button to sharpen the image online. Finally, click the Download Image button to get the sharpened image.
Option 2: How to Sharpen a Blurry Image by Lunapic
Lunapic is an all-in-one photo editor online. It includes a wide range of photo editing features, such as sharpening a blurry image online. Moreover, this online image sharpener app is free of charge. It does not have any payment option. The app does not have a file size limit, but it freezes when uploading a large image. Bear in mind that this app is slow and requires a good internet connection.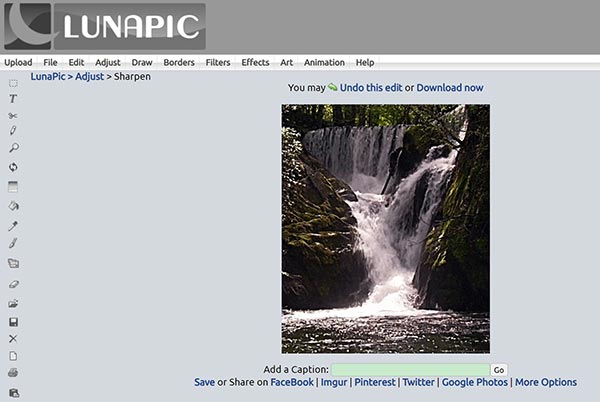 Step 1Run the online image sharpener within a web browser.
Step 2Click and expand the Adjust menu on the top menu bar, and choose the Sharpen option.
Step 3Hit the button and upload the blurry image from your computer. Then click the Apply button after uploading. Lunapic does not provide any custom options on this page.
Step 4When image sharpening is done, preview the result and download it by hitting the Download Now link. It also lets you share the sharpened image on social media, such as Facebook, Twitter, etc.
Option 3: How to Sharpen a Photo on raw.pics.io
Raw.pics.io is another way to sharpen a blurry image online for free. Unlike other web photo editors, this image sharpener supports a wide range of input formats including RAW files. However, it only supports two output formats, JPG and PNG. In addition to photo sharpening, it also allows you to adjust saturation, brightness, colors, and more. To get unlimited access, you can purchase a plan.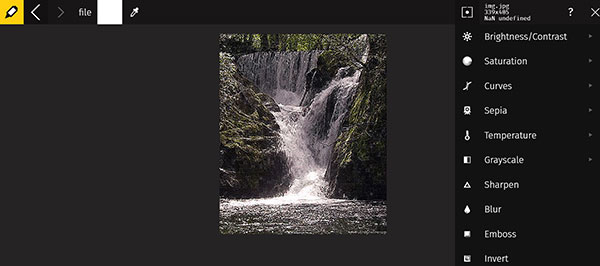 Step 1Visit https://raw.pics.io/ in your browser, and click the Start button to load the home page. Then press the Open files from computer button, and upload the blurry images. This app supports batch processing.
Step 2Next, click the Edit menu from the left sidebar, and you will get a menu bar on the right side. Scroll down to find the Sharpen option.
Step 3Click the Sharpen option and view the effect in the middle of the page. If you are not satisfied, press the Sharpen option again.
Step 4As long as you are done, click and expand the file menu and choose Save. Now, enter a filename, select the output format, and set the image quality. At last, click the OK button.
You May Also Need:
Part 3: FAQs about Sharpen Blurry Images Online
Question 1. How to sharpen an image in GIMP?
Open a blurry image in the open-source photo editor, click the Blur/Sharpen tool in the toolbar, and select Sharpen. That takes you into the Sharpen mode. Now, you can click on the portion of your image that you want to sharpen.
Question 2. Is it possible to de-pixelate an image?
With a proper image sharpener, you can de-pixelate the blurry photo efficiently. Vanceai.com, for example, can help you to fill in the missing details and remove pixelation online.
Question 3. Can I sharpen a JPG?
Yes, you can sharpen an image in JPG format with a proper tool. The output quality is determined by your tool.
Conclusion
This guide has demonstrated how to sharpen a blurry image online. Apeaksoft Free Image Upscaler is the best choice for beginners and people who have a limited budget. Vanceai relies on AI to keep photo quality while sharpening. Lunapic provides more photo editing features. Raw pics supports plentiful file formats. If you have other questions about this topic, please feel free to leave a message below this post and we will reply to it quickly.