Nowadays, high quality digital photos can be easily captured with your smartphones, pads, and computers. At the same time, higher quality images will also have larger file sizes. Besides a considerable part of the overall storage space on your device, uploading, sharing, or emailing large images is not that simple. Moreover, many sites limit the file size of uploading and posting images. So in many cases, you need to shrink photo size.

Shrink Photo Size
How to shrink picture size? How to compress image and reduce photo file size?
Considering your need, this post shares 5 free ways to help you change the size of a picture from large to smaller without much image quality loss.
Part 1. How to Shrink Photo Size with Free Online Image Compressor
When you Google how to shrink photo size on the internet, you can see many searching results are linked to free online image resizer. From this part, we like to share 5 free image compressing tools to help you shrink image file size.
Free Online Image Compressor is a popular and easy-to-use picture resizer that can help you shrink file size of photo. It allows you to reduce the file size of images in JPEG, PNG, SVG, and GIF. It is able to shrink up to 40 images in batch. You can use it on any web browser including Chrome, Safari, IE, Firefox and more.
Step 1Open your browser and go to this Free Online Image Compressor site. This online photo compressor requires no program downloading or account sign up/in. You can directly click on Add Images to Compress button to add the photo(s) you want to compress. Here you are allowed to compress one or more image files based on your need.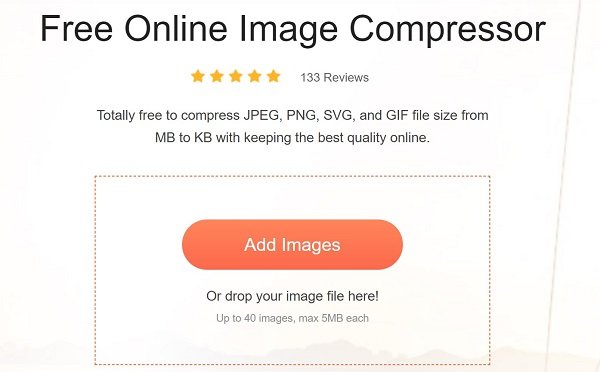 Step 2Free Online Image Compressor is designed with an auto-compress feature. It will automatically start to shrink photo size as soon as the uploading is finished. With the adoption of the advanced lossless algorithm technology, it can easily identify textures, patterns and colors, and remove unnecessary data to reduce photo file size. More importantly, it enables you shrink picture size from MB to KB without losing much image quality.
After the photo shrinking, you can click Download button on each compressed image file to save it on your computer. If you are compressing several pictures at a time, you can click Download All button to store all optimized images as a ZIP file.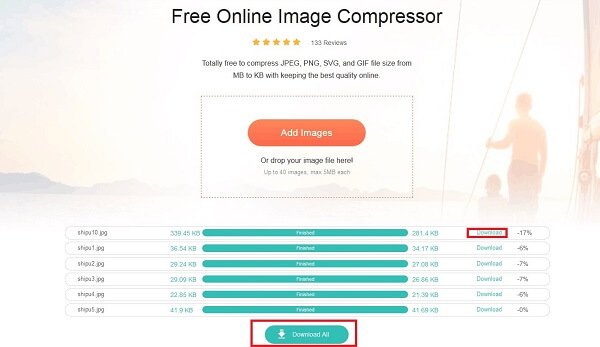 Part 2. How to Shrink Image Size with TinyPNG
TinyPNG is an online photo resizer that offers a smart WEBP, PNG and JPEG compression service. It uses the smart lossy compression techniques to shrink photo size. TinyPNG has the capability to decrease the number of colors in the image to reduce the original file size. The compressed image keeps the source file quality. You can get a smaller picture with the effect nearly invisible. TinyPNG can shrink image size without much quality loss.

Step 1Navigate to the TinyPNG official site, and drag and drop your photo(s) onto this page for uploading. You are allowed to shrink more than 20 files at once and have 5MB size limit removed.
Step 2Similar to the recommended Free Online Image Compressor above, it will do the image compression automatically. You can see clearly about the source and output file size. Also, the specific compression rate will be displayed there. You can click Download to save it on your computer.
Besides downloading compressed image file, you can choose to save it to Dropbox, or share it through Twitter.
Part 3. How to Shrink Picture Size with Adobe Spark
Adobe Spark is a free online photo resizer to change the dimensions of your photos. It is powered by Adobe Photoshop, but its image compressing service is totally free. Adobe Spark can easily adjust the size and dimensions of any image file. All commonly-used image formats are supported.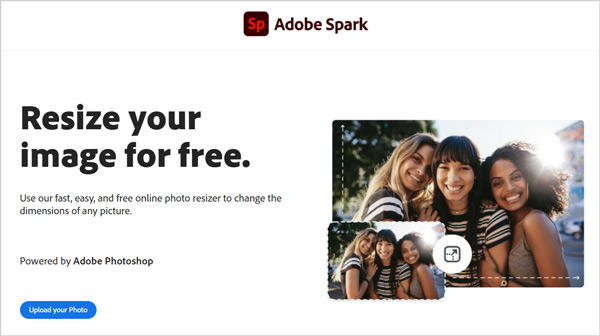 Step 1On your web browser, search for Adobe Spark and then go to its site. Click on the Upload your Photo button to add your image file. After that, you will be taken to a Resize Image page to upload your file. Here you can only add one picture at a time.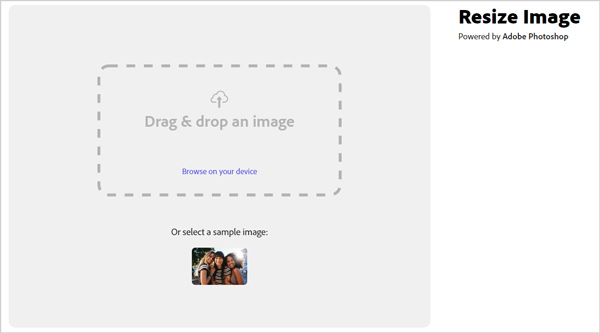 Step 2Now you can select Resize for Facebook, Instagram, Twitter, YouTube, Snapchat, or Custom. Here you can choose the Custom option and then manually set Width and Height based on your need.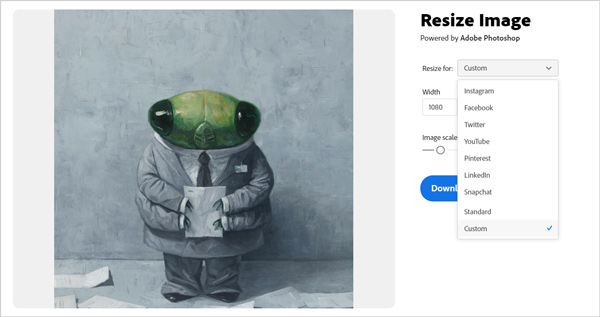 Step 3After you shrink picture file size, click on the Download button. You are required to sign up or sign in your account to confirm the downloading.
Part 4. How to Reduce Photo File Size with Simple Image Resizer
Simple Image Resizer is a free online picture resizing tool that can help you reduce photo file size without installing any additional software on your computer. It can shrink the file size of images in JPEG, JPG, PNG, BMP and GIF. As a free image compressor, you will see some ads in Simple Image Resizer site.
Step 1Open the Simple Image Resizer site on your browser and click Select image button to browse and upload your photo.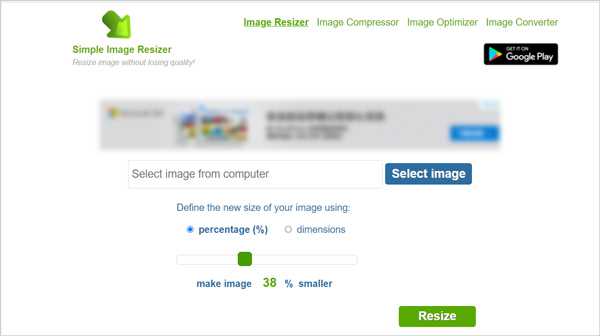 Step 2Now you can set the compressing percentage or use dimensions to custom width and height. Then click on the Resize button to shrink image file size. After that, you can click Download to save it on your computer.
Part 5. How to Shrink Photo File Size Free with IMG2GO
IMG2GO Compress Images Online allows you to reduce the size of an image by adjusting its quality. It is mainly designed for compress photos in JPG and PNG. Besides the local image files, it enables you to shrink photo size through URL, Dropbox and Google Drive. It offers 2 options, Best Quality and Smallest File for you to reduce the file size of pictures. In addition, IMG2GO can resize photos for tablet, desktop, email and mobile device.
Step 1Open your web browser and open IMG2GO official site. Select the Compress image feature.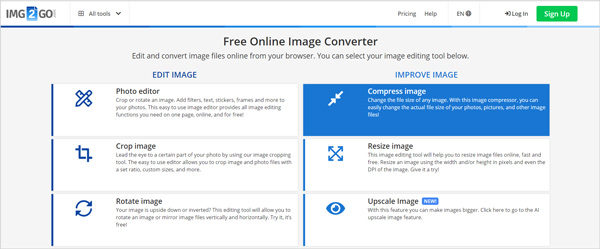 Step 2When you enter Compress Images Online page, you can click on Choose File button to load your photo. Then you can choose Best Quality or Smallest File to shrink your image file size.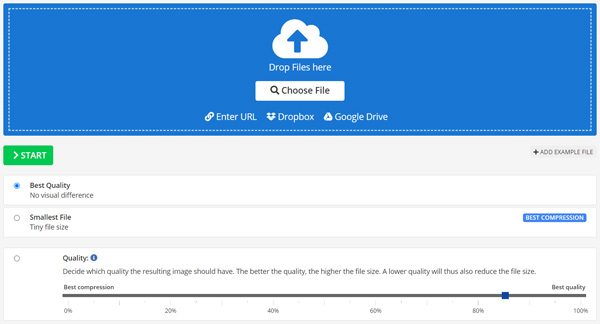 Step 3IMG2GO gives you other options to edit photo. It can also convert your photo to JPG or PNG format. After all these settings, you can click on Start button to compress image. After the photo shrinking, the compressed image will be automatically downloaded to your computer.
Part 6. FAQs of How to Make Image File Size Smaller
Question 1. How to change and shrink the file size of a photo on Mac?
Mac has a built-in picture viewer and resizer called Preview. You can open your photo in Preview, select Tools and then use Adjust Size to shrink photo size on Mac.
Question 2. How to shrink photo size in Windows?
You can shrink photo size in PowerPoint or Word on your Windows PC. Open your photo with it, click Format menu and then select Compress Pictures to resize the image file.
Question 3. Can I shrink picture file size with Photoshop?
Yes. As an all-featured image editor, Adobe Photoshop can help you compress photo with different features. You can crop image in Photoshop to reduce its file size. Also, you can reset width and weight of image, and lower image resolution and do other operations to make an image file smaller.
Conclusion
This post shares 5 free methods to shrink photo size. You can choose your preferred image compressor tool to reduce photo file size. For more question about how to shrink picture file size, you can leave us a message.