This article will talk about one of online image compressor TinyPNG and its best alternative websites. It makes sense that people increasingly prefer to web-based apps. They are available to perform a variety of tasks without installing any software to your hard disk. Although there is security and privacy issue, online apps are usually portable, easy to use and free. Here is a brief review of TinyPNG and alternative sites.

Sites like TinyPNG
Part 1: What Is TinyPNG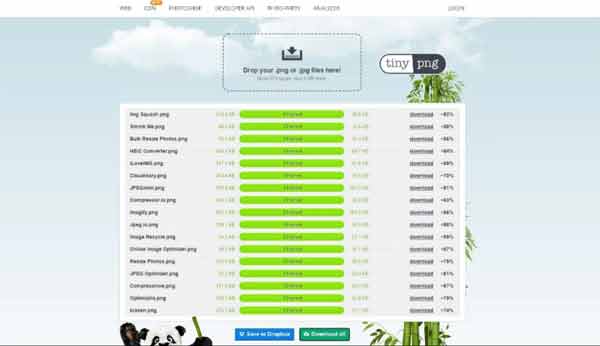 TinyPNG is a website that uses smart lossy compression techniques to reduce the file size of your photos. By selectively reducing the number of colors in the images, fewer bytes are required while not interrupting the quality. In another word, it makes very different in file size, but the effect is nearly invisible.
TinyPNG provides a free version to compress WebP, PNG, and JPG up to 20 images per time. Plus, the maximum file size is 5MB each. If the free version is not enough, you can pay for $25 per year to unlock the limit.
Part 2: Top 5 Sites Similar to TinyPNG
Top 1: Apeaksoft Free Image Compressor
Apeaksoft Free Image Compressor is a free site like TinyPNG. If you intend to compress more images online but not opening wallet, it can meet your need. Plus, it is more efficient on photo compression.
PROS

Compress JPG, PNG, SVG and GIF online.
Reduce photos to KB online.
Process up to 40 images per time.
Keep the best quality while compressing.
Totally free of charge.
CONS

There is maximum photo size limit.
How to Compress Photos with TinyPNG Alternative
Step 1 Visit https://www.apeaksoft.com/free-online-image-compressor/ in a browser when you need to compress photos.
Step 2 Click the Add Images to Compress button to upload the large photos from your drive.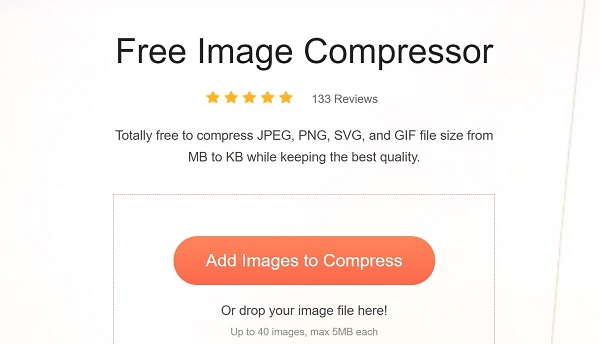 Step 3 After uploading, the web app will begin compress photos online for free. Finally, download the smaller images.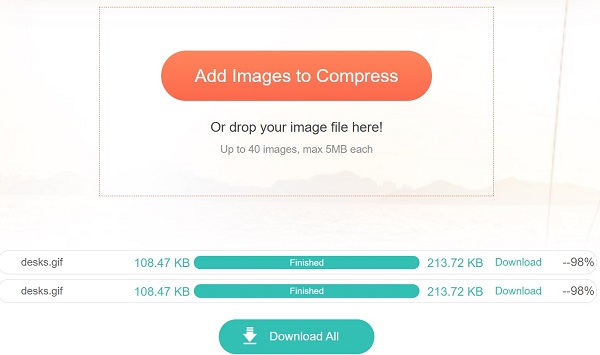 Top 2: JPEG Optimizer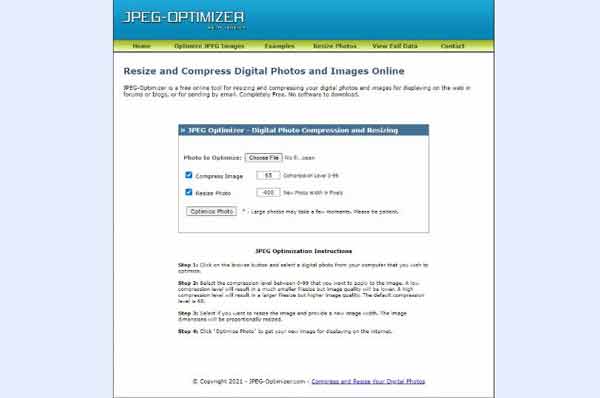 Similar to TinyPNG, JPG Optimizer is a simple way to optimize your JPG images online for free. According to the site, it will delete your photos after compressing. That makes it a good to reduce your photo file size.
PROS

Compress photos while keeping the quality.
Set photo optimization level.
Resize images while compressing.
No payment option.
CONS

The input format limits in JPG.
It does not support batch compressing.
Top 3: Optimizilla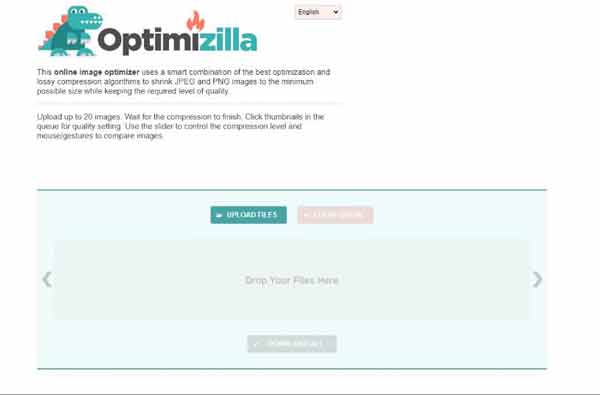 Optimizilla is an online image compressor similar to TinyPNG. It utilizes the algorithm to optimize HD images as much as possible while maintaining the quality. The batch support makes it working quickly.
PROS

Compress JPG and PNG online.
Process photos in bulk.
Let you decide the level of compression.
Download small photos in archive.
CONS

The maximum number of image to submit is 20.
The input formats are limited.
Top 4: Compressnow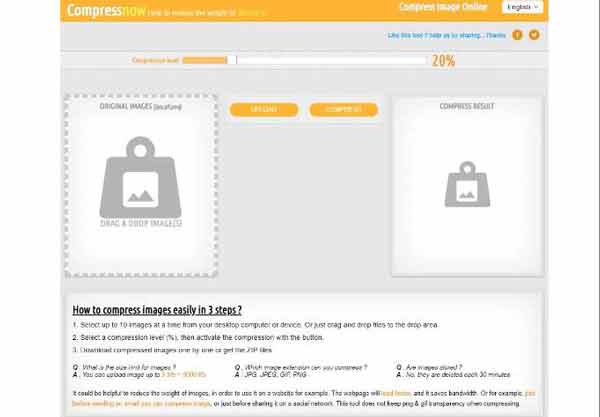 As its name indicated, this TinyPNG alternative site lets you compress photos online once you upload them. It is a simple way to save more images on certain storage and reduce bandwidth consumption.
PROS

Compress JPG, PNG and GIF.
Delete photos in 30 minutes.
Easy to use and no custom options.
Support batch compressing.
CONS

It is only able to compress up to 10 photos per time.
It takes time to process photos.
Top 5: iLoveIMG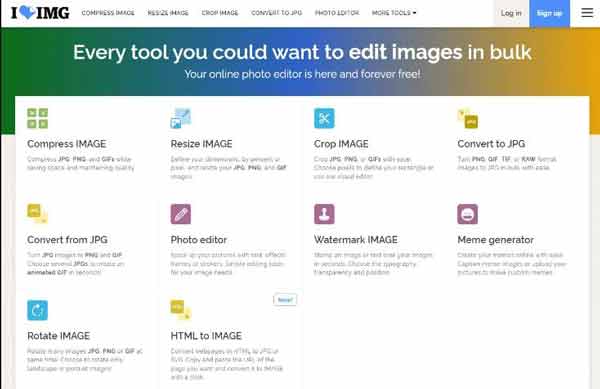 If you prefer to one-stop solutions, iLoveIMG is the best alternative to TinyPNG. In addition to photo compressor, you can get more features, like crop, resize, watermark, convert and more.
PROS

Compress photos online quickly.
Produce as highest quality as possible.
Offer rich security features.
Upload photos using HTTP/SSL.
CONS

There are limitations in free version.
It adds watermark to images.
Part 3: FAQs about TinyPNG
Is TinyPNG really free?
Yes and no. It does provide a free version with some limitations, like file size, maximum number per time and more. The only way to remove the limitations is to pay for the pro version.
Is TinyPNG secure?
According to the developer, TinyPNG will delete your photos after optimization. However, you'd better not upload private photos online in order to protect yourself.
What is the best image compressor?
The answer is determined by your situations. To get stable performance, you can use an image compressor program. However, online apps are more convenient.
Conclusion
This article has shared a review for one of the best photo resizer app online, TinyPNG. If you do not like it, you can try the websites similar, such as Apeaksoft Free Image Compressor. It is not only easy to use, but also completely free. You can easily use it to convert an MB image to KB. More importantly, the output quality is pretty well. More questions? Please write down a message below this post and we will answer it as soon as possible.