As one of the most popular social media, Snapchat is widely spreading among teenagers. The burn-after-reading feature makes Snapchat a special social platform. As users increase, it becomes more and more difficult to attract attention on Snapchat. Fortunately, the geofilters allow you show personality by putting artwork, names and logos over messages. This guide shows you how to compress Snapchat filter with the best size.

Snapchat Filter Size
Part 1: What Is Snapchat Filter Size
Briefly speaking, Snapchat geofilter is a picture that overlays onto a Snapchat photo or video you take, but the Snapchat filter size is a bit complex. The filter must be 1080 by 1920 pixels with transparent background. The recommended image format is PNG. More importantly, Snapchat filter size must be less than 300KB. Plus, Snapchat suggests users to only display the top or bottom 25% of the screen, so that Snapchatters can see the original picture behind your filter. No matter you use sponsored geofilter, on-demand geofilter or community geofilter, the size is consistent.
For Snapchatters, filters become increasingly important, because it puts your message in front of as many people as possible. Snapchat filter is popular among bars, restaurants, small business and other public attractions. It is available to make a staple at weddings, family parties, sport events and more.
Part 2: How to Make and Add a Snapchat GeoFilter
Since the Snapchat app has built in the filter feature, you do not need extra app to achieve it. All you need is a mobile device. Moreover, the geofilter is not free and the cost varies depending on your location.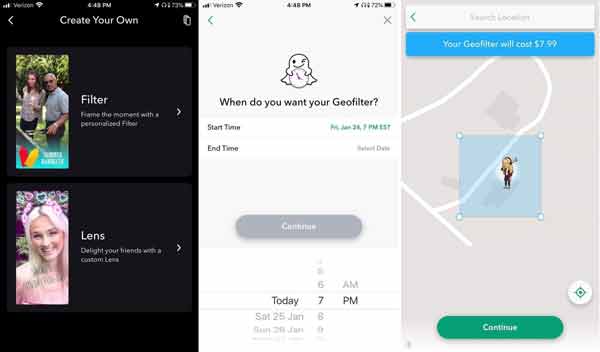 Step 1 Open your Snapchat app, click the Settings option, choose Filter and Lenses and then Filter.
Step 2 Select the filter occasion on the next screen. Then choose a design and customize your filter with text and stickers based on your preference.
Step 3 You also need to enter a start and end time for the Snapchat filter. If you are ready, tap Continue to add the location to the filter. Next, tap Continue and then Purchase to confirm and pay for the filter.
Step 4 When you want to add the Snapchat filter, capture a Snap, and then swipe left and right to choose the target filter.
Part 3: How to Compress Snapchat Filter Size
In addition to the templates, you can also upload your own Snapchat filters. The problem is that you must make your own filter following the size rule. In such case, you'd better use a powerful filter size compressor, such as Apeaksoft Free Image Compressor.
It is able to compress Snapchat filters from MB to KB online. Plus, all features are free of charge without any limit, like watermark, signup and more. If you have a lot of large filters, the batch compressing support helps you process them quickly. All you need is an internet connection.
Step 1 Visit https://www.apeaksoft.com/free-online-image-compressor/ in your browser when you need to compress Snapchat filter size under 300KB.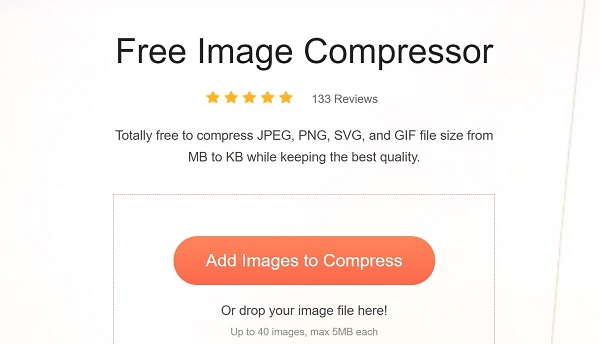 Step 2 Click the Add Images to Compress button, find and select the filters and click the Open button. Alternatively, locate the filter in a file explorer window, and drag and drop them on the home page to upload them. It is able to process up to 40 Snapchat filters at one time.
Step 3 After filter uploading, the compression process will initiate immediately. Wait for a few seconds and when the process finishes, download the filters to your hard drive.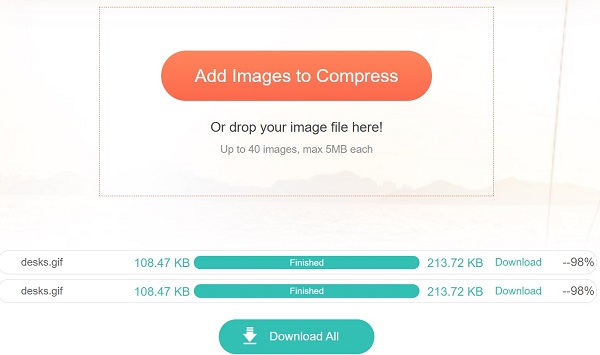 Step 4 Next, access Snapchat website, create a new Snap, press the yellow button says Create Filter and upload the compressed filter.
Don't miss:
Part 4: FAQs about Snapchat Filter Size
Can you make a filter for Snapchat?
There are two ways to use a filter in Snapchat, the template and your own filter. You can upload the filter with the proper size that you make in Photoshop or other photo editors to Snapchat.
Do Snapchat geofilter cost money?
Yes, on average, Snapchat charges around $5 to $20 per day to run a geofilter over a suburban sized home. If you intend to run multiple geofilters over the same place, Snapchat will charge you for each on-demand geofilter.
Are community Snapchat filters free?
Yes, community Snapchat filters are free, but Snapchat has very strict submission guidelines for it. You can only create them using your web browser, and Snapchat doesn't offer any templates. The design needs to be 100% original.
Conclusion
This guide has told you about Snapchat filter size. It is a simple way to attract followers and customers. However, the filter size rule is serious and you must follow it carefully. Considering geofilter is not free, the most cost-effect option is to make filter by your own with a photo editor. More importantly, Apeaksoft Free Image Compressor can help you to compress filters under 300KB easily. More problems? Please leave a message below this post.