SVG stands for Scalable Vector Graphics. A file with the svg file extension is an XML-based text file to describe the display of graphic. Thus, SVG is a graphic format, but very different with other image formats. Since it uses text to describe the graphic, you can scale the file size without quality loss. That is the main advantage. However, most image compressors do not support SVG. Therefore, this article identifies and shares a top list of the best SVG compressors.

SVG Compressors
Part 1: Top 8 SVG Compressors Online
Top 1: Apeaksoft Free Image Compressor
If you are looking for an easy-to-use SVG compressor online, Apeaksoft Free Image Compressor is the best option. It can meet all your need on SVG compression, even if you are beginner.
PROS

Totally free of charge.
Compress up to 40 SVG files per time.
Protect image quality while compressing.
No watermark or other limit.
CONS

It does not have custom options.
How to Compress SVG Files Online for Free
Step 1 Visit https://www.apeaksoft.com/free-online-image-compressor/ in a browser, when you need to compress SVG files.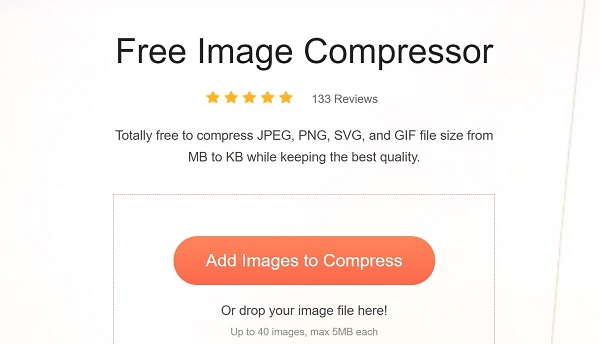 Step 2 Click the Add Images to Compress button, find and select the large SVG files, and hit Open. Or drag and drop the SVG graphics into the home page to upload them.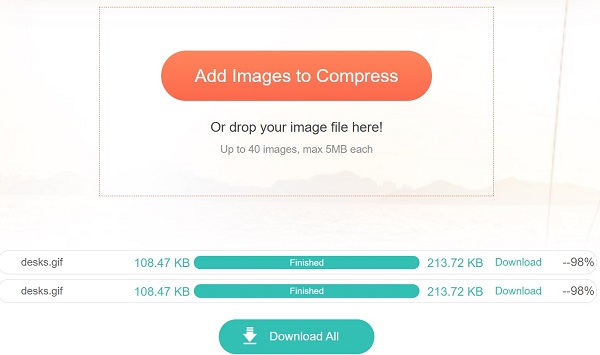 Step 3 Once SVG uploading finishes, the compression will begin. All you need to do is to download the smaller SVG files to your computer.
Top 2: JPEG.io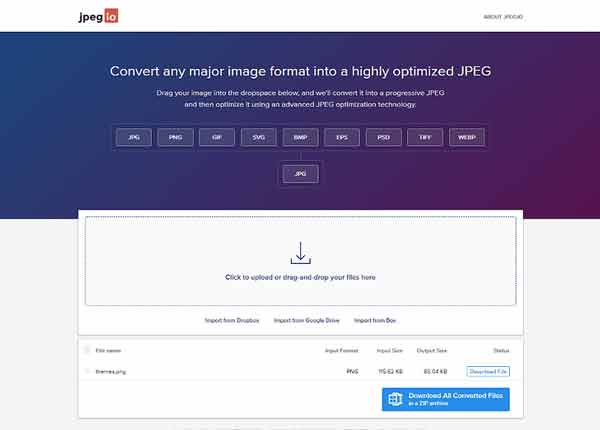 Although it is called JPEG.io, you can compress images in SVG, PNG, GIF, and JPG format. To compress graphics efficiently, it converts your files into JPG before compressing. Moreover, you can upload files from cloud server.
PROS

Compress SVG online for free.
Support a wide range of formats.
Batch compress graphics.
Available to major browsers.
CONS

It takes long time to load.
The SVG compressor will turn your files into JPG format.
Top 3: Compressor.io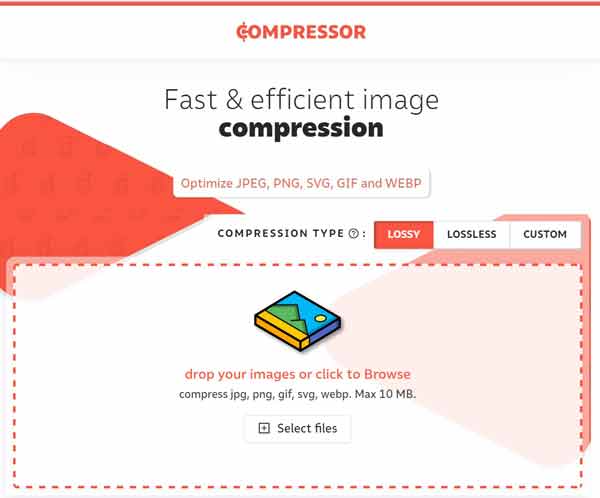 Compressor is an efficient way to compress your SVG graphic files. It helps you reduce drastically the size of your images while maintaining high quality. It offers the pro subscription with custom options and more.
PROS

Compress SVG files up to 10MB per time.
Save more than 50% space.
Support JPEG, PNG, SVG, GIF and WEBP.
Fast and save time.
CONS

Only the pro subscription supports lossless compression.
Top 4: IMG2GO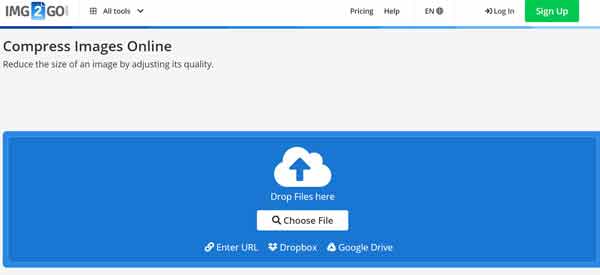 Unlike other SVG compressor, IMG2GO provides plentiful custom options. That makes it a good choice for advanced users. When compressing SVG, you can resize the graphic according the target device.
PROS

Compress SVG and other image files.
Offer both free and premium edition.
Support BMP, GIF, JPG, PNG, TGA, etc.
Resize SVG while compressing.
CONS

There is file size limit.
The SVG compressor can only process one SVG per time.
Top 5: Online Photo Compressor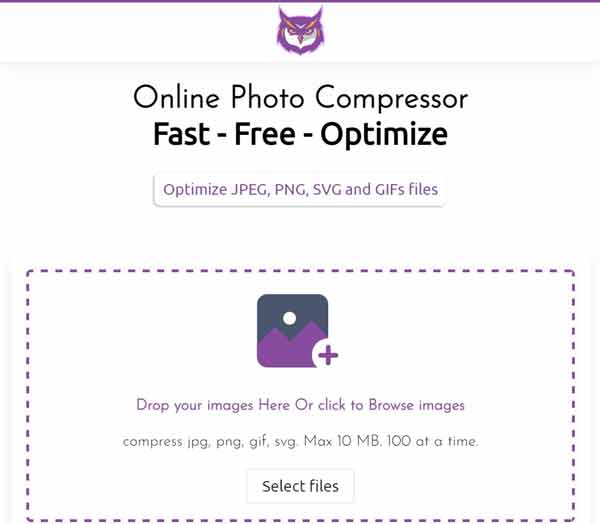 If you prefer to clear interface, Online Photo Compressor is the best SVG compressor for you. The web page is clean and clear. Moreover, there is no ads and you can compress graphics without distracting.
PROS

Compress up to 100 SVG files per time.
Light and work fast.
Completely free to use.
Support batch compressing.
CONS

This SVG compressor is too simple to advanced users.
It is only available in English.
Top 6: COMPRESSORDIE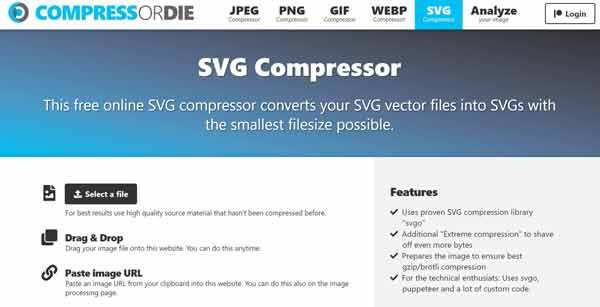 COMPRESSORDIE is another easy-to-use SVG compressor online. It compresses graphics with the proven compression library svgo. You can analyze your graphics before compressing and then make a better decision.
PROS

Upload SVG from computer or URL.
Compress graphics bases on cloud.
Provide custom options.
Preview the graphic before downloading.
CONS

It takes a while to compress SVG online.
The SVG compressor cannot process large graphic files.
Top 7: Vecta.io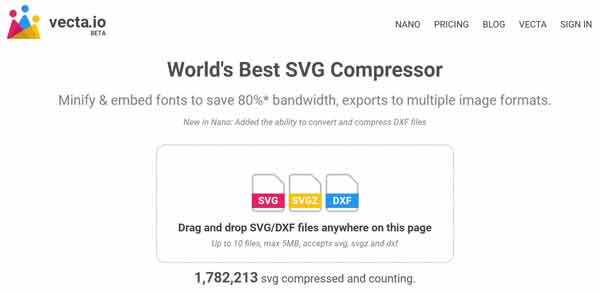 Vecta.io is a dedicated SVG compressor online. It provides both free version and pro subscription to remove watermark and unlock features. If you just want to try SVG compression, it is worth to use.
PROS

Compress up to 10 SVG files per time.
Offer detailed compression options.
Reduce more than 80% in size on average.
Convert SVG to image formats.
CONS

It adds watermark to your SVG graphics.
It only supports limited graphic formats.
Top 8: Compress-Online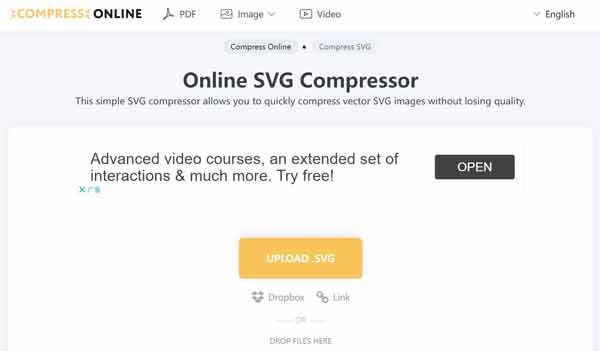 Compress-Online is a database of file compressors online including a SVG compressor. You can upload a SVG file from your computer, cloud server or URL and process online without any payment.
PROS

Upload SVG from computer, Dropbox or link.
Compress SVG without quality loss.
Available in multiple languages.
CONS

It cannot resize or edit SVG file online.
It does not provide any bonus features, like image converting.
Part 2: FAQs about SVG Compressor
Why is my SVG file so big?
The SVG file is bigger than image file because it contains more data in the form of paths and notes in comparison to the data contained in the PNG. SVGs aren't really comparable to PNG images. You can compress your large SVG files with the above tools.
Which one is better SVG or PNG?
It is different to answer and determined by your purpose. SVG is able to store graphic in text, while PNG is normal image file format. They are both available to websites.
Can Adobe Illustrator open SVG files?
Yes, Adobe Illustrator is able to open SVG files. When attempting to bring SVG into Adobe Illustrator, it is best to open a new Illustrator file and choose Place in the File menu to bring in the SVG.
Conclusion
Now, you should learn at least top 8 best free SVG compressor apps online. Most of them are free to use with some limitations. Vecta.io, for example, will add watermark to the output SVG files and you have to pay to remove it. Apeaksoft Free Image Compressor, on the other hand, is completely free and does not have any limit. If you have other questions, please feel free to contact us by leaving a message below this post.