You are more likely to capture blurry pictures using your mobile phone and digital camera. You can directly delete some necessary ones. However, when it comes to some valuable photos, you want to deblur them and bring clarity. Are you searching for an effective way to make a picture clearer?
This post shares five image editors to help you sharpen pictures. Whether you want to deblur images online or make a photo clearer on your iPhone, Android phone, or computer, you can get a helpful image sharpener to unblur an image.

How to Unblur an Image
Part 1. How to Unblur an Image Online for Free
When you Google how to unblur an image on the internet, you can see many search results linked to a free online photo editor. You are suggested to use an online way to make a picture clearer instead of turning to a professional solution like Photoshop. The truth is many online tools can sharpen blurry pictures and get rid of blur with ease. Here in the first part, we like to recommend three worthy-trying ones to unblur an image online.
Unblur an image online using Free Image Upscaler
Free Image Upscaler is an easy-to-use online image sharpener that can deblur a photo and enhance the image quality. It is specially designed to rescue old, low-resolution, and blurry pictures. You can use it on any web browser like Chrome, Safari, Edge, Firefox, or Yahoo to unblur image files.
Step 1Open your browser and go to the official Free Image Upscaler website. You can click the Upload your photo button when you get there to add the blurry picture you want to sharpen. All commonly-used image formats are supported, including JPEG, JPG, PNG, BMP, TIF, and TIFF. It has no file size limit for your uploaded image.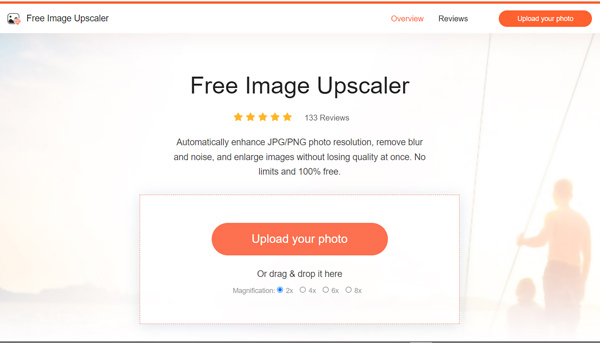 Step 2Free Image Upscaler will automatically unblur the image as soon as it is uploaded. It uses advanced AI image sharpening technology to make a picture clearer, upscale its image resolution, remove background noise, and do other operations to optimize.
You are allowed to view the source and optimized images. You can compare them and check details using its magnifier tool. If you want to enlarge the image file, you can select your preferred size from Magnification.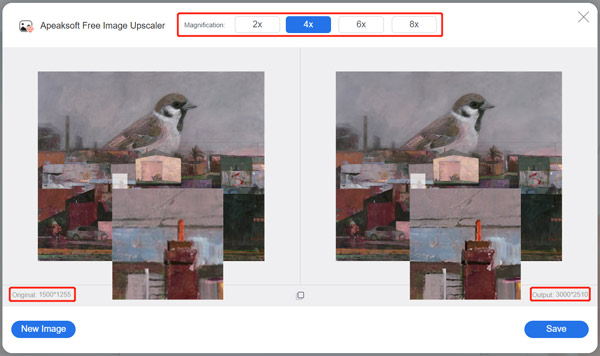 Step 3If you are satisfied with the image deblurring result, you can click the Save button to download the sharpened picture.
Make a picture clearer online with Adobe Express
Adobe Express is a famous online editor that offers free editing for images, videos, and documents. It allows you to create high-quality content, convert formats, apply effects, and more on the web and mobile. For image deblurring, Adobe Express gives you a specific Unblur your image for a free page. You can get there and follow the steps below to reduce blurring.
Step 1When you access the Adobe Express unblur tool, you can click the Unblur your images now button to move on. You need to log in to Adobe Express with a Google, Facebook, Apple, email, or Adobe account.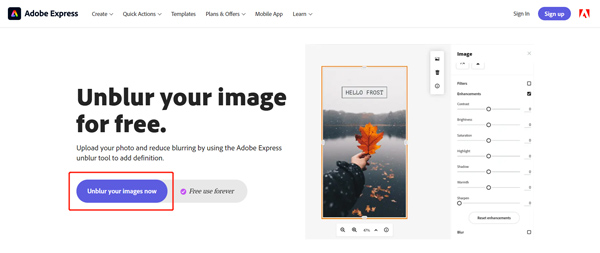 Step 2Adobe Express will guide you to its main photo editing page. When you get there, you can click the Upload photo button to add your image file.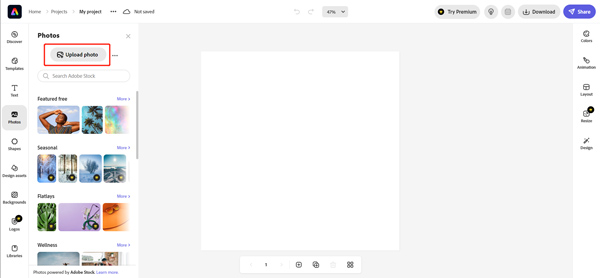 Step 3Click your picture to display more image editing options. You can enable the Enhancements feature and use its Sharpen lever to bring out more details. During this step, you can adjust Contrast, Saturation, Highlight, and others to optimize your picture. You are offered a real-time viewing of the image deblurring result.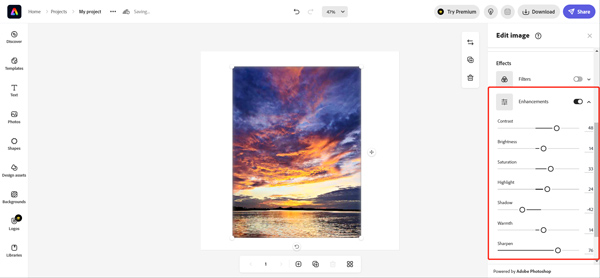 Unblur images online and bring clarity instantly in PicWish Photo Editor
PicWish Photo Editor can help to unblur an image file directly on your web browser. It removes blurry and enhances pixelated, fuzzy, damaged, or out-of-focus pictures. With the adoption of advanced AI face enhancement, it can fix the blurry face and get a more precise photo quickly. Besides an online tool, PicWish also offers a desktop version for you to edit up to 100 images at a time and reduce blurring.
Step 1 When you open the PicWish Unblur Image Portrait page, click the Upload Image button to add your picture. Many frequently-used image formats are supported, such as JPG, JPEG, PNG, TIFF, and more.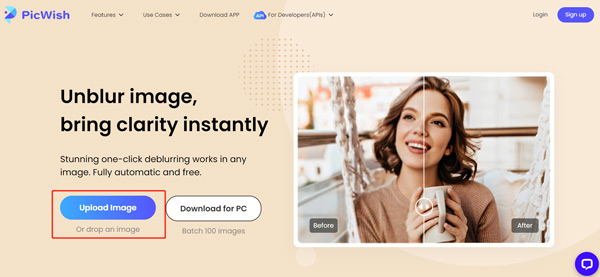 Step 2PicWish will automatically unblur your picture when it is uploaded. You can check the deblurring image effect and click the Download button to save it. You need to log in to your account to proceed with the downloading.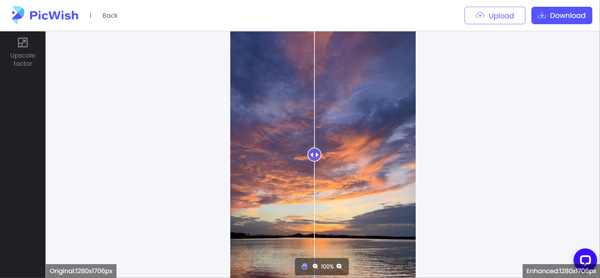 Part 2. How to Make a Picture Clearer Using Adobe Photoshop
Adobe Photoshop is one of the most famous image editors that can help you handle almost all jobs related to image editing. Indeed it has features to help you unblur an image file and improve its quality. Adobe allows you to download Photoshop and free use all its functions for seven days. Using Photoshop, you can follow the steps below to make a pixelated picture clearer.
Using Smart Sharpen to unblur an image
Step 1Open Photoshop and add your blurry picture to it. Before debugging an image, you should right-click on the layer that contains your image on the right side and choose the Convert to Smart Object option. Doing so can make the blurry picture an editable image file.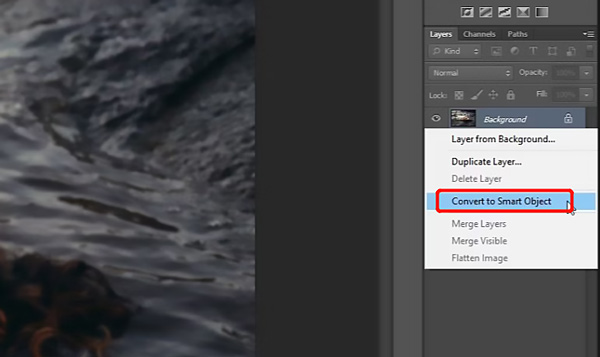 Step 2To access its Smart Sharpen feature, you should click the Filter menu, go to the Sharpen option, and then choose Smart Sharpen. That will display a pop-up window.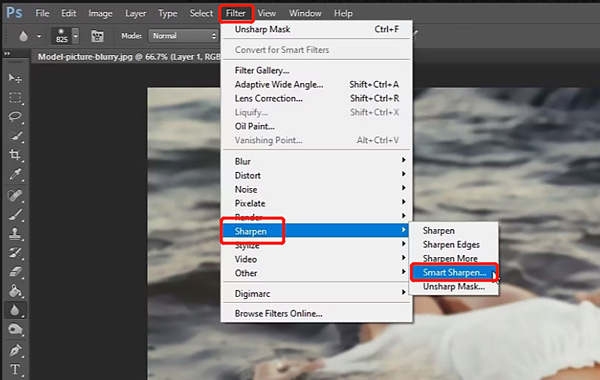 Step 3Click the Sharpen tab to get two options to unblur your picture. You can adjust the Amount and Radius values to control the image-sharpening effect.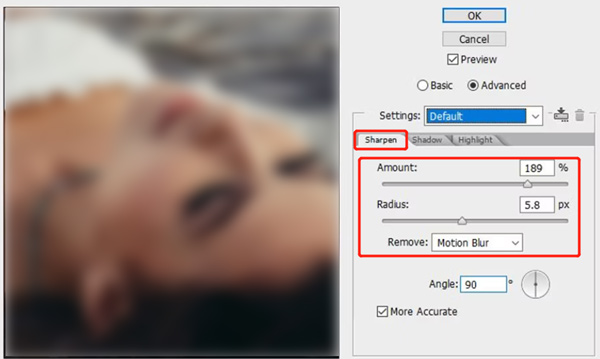 Using Unsharp Mask to make a picture clearer
Step 1Import your blurry or pixelated picture to Photoshop and turn it into a smart object in the same way as above.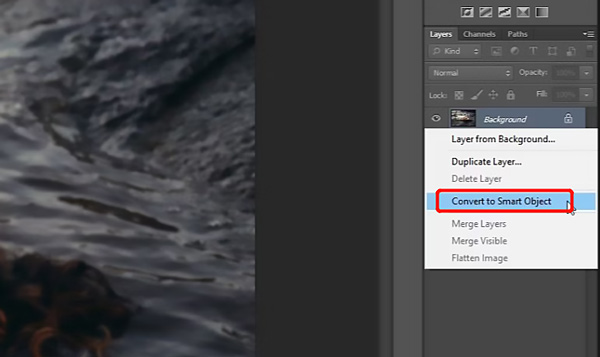 Step 2Click the Filter menu on the top, choose the Sharpen option from its dropdown, and then go to Unsharp Mask. Now you get three options to make your picture clearer in the pop-up window. You can freely drag the Amount, Radius, and Threshold sliders to unblur an image.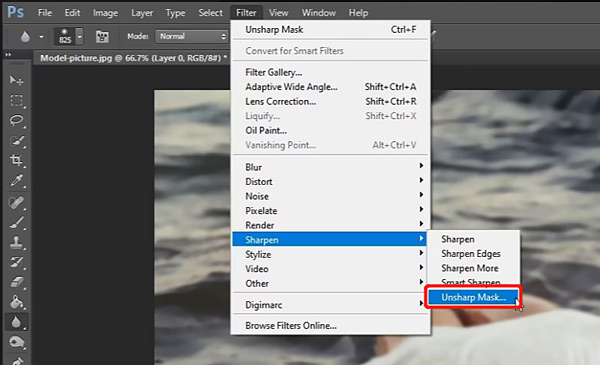 After you sharpen a blurry picture in Photoshop, you can click the top File menu and use its Export function to save it on your computer.
How to Unblur an Image on iPhone and Android Phone
When you want to unblur a photo on your portable iOS or Android device, you can first try using the built-in sharpen feature in the Photos app or Google Photos. If you are not satisfied with the image deblurring result, you can turn to some third-party image editor apps. You can easily find many associated ones from App Store and Google Play Store. Here we take the popular Lightroom Photo & Video Editor app as an example to show you how to make a picture clearer on iPhone and Android.
Step 1 Search for the Lightroom Photo & Video Editor app and free install it on your phone. Open it and sign in with your account. You can access and use all its features if you get an Adobe subscription. You should permit the app to access your blurry picture. After that, you can tap the Add Photos icon to load the image file you want to deblur.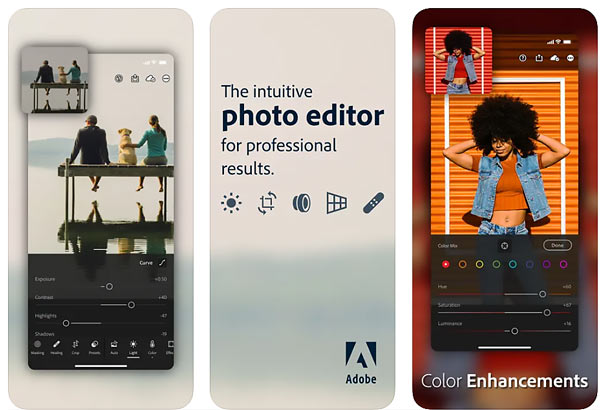 Step 2Tap the Detail panel to display more editing options, such as Sharpening, Radius, Detail, Masking, and more. You can move the Sharpening bar to adjust the sharpening effect and remove blur. During this step, you can customize other options to define your picture more.
Step 3This Lightroom app also offers a Clarity feature in Effects to help you unblur an image file. Besides, it is equipped with other useful features to optimize a picture and enhance its quality.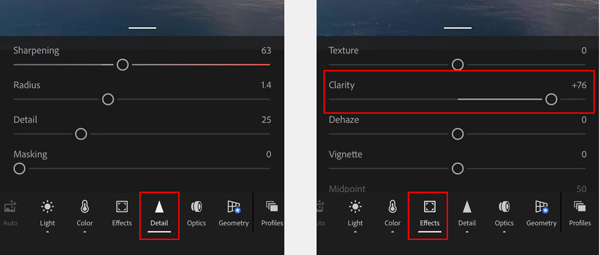 You can use the Lightroom Photo & Video Editor app to unblur images on iPhone, iPad, and Android phones. You can also select another image sharpener app like PhotoDirector or Snapseed to make your photos clearer.
Part 4. FAQs of How to Unblur an Image
Why do my photos come out blurry?
Many common culprits will lead to blurry pictures. For instance, you may easily capture a blurry photo when you need to hold your camera steady enough, and the subject is moving, you are using the wrong settings of your camera, and more. In some cases, the blurry images are due to the poor output quality of your app. Last, you should know that older photos usually have less sharpness than recent ones.
How to quickly deblur a photo on iPhone?
As mentioned above, iPhone has many commonly-used editing features in the Photos app. Among them, you can use its Sharpness option to unblur a picture on your iPhone quickly. You can open the blurry picture in the Photos app, tap Edit, and then drag the Sharpness bar to the right to make it clearer.
How do you fix a corrupted picture?
You can use the recommended Free Image Upscaler and Adobe Photoshop above to fix a corrupted image file. Many factors will cause your photo to be corrupt. You can improve the image resolution, add more details, enhance quality, and do more optimizations to rescue your corrupted picture. An image editor with AI technology can usually give you a better fixing result.
Can I sharpen a blurry photo using Google Photos?
If you store your blurry picture in the Google Photos app, you can use its built-in Sharpen tool to deblur it. You can open the blurry image, tap the Edit button, choose to Adjust to display various adjustment options, and then swipe them left to locate the Sharpen feature. You can use it to sharpen a blurry picture with ease.
Conclusion
There is usually a lot of the image information missing in a blurry picture. So you may feel hard to unblur an image. The good thing is that many image editor and sharpener apps are offered on the market that can help you make a picture clearer. Here in this post, you can learn five methods to remove blur and fix pixelated photos. If you have better methods to deblur an image, please share them in the comment section with other readers.