Due to environmental influences, transmission, and other factors, you may see your well-taken images get pixelated with the image noise. Naturally, you will want to seek a way to remove the noise from images. To spare you the effort of looking around with no clues for an appropriate image denoiser, this post will bring you a workable and excellent denoiser that can best help you solve the image noise issue online quickly. Furthermore, as a beginner, you will also learn the corresponding knowledge related to image denoise before seeing the steps on how to remove it.

What is Image Denoise
Part 1: What is Image Denoise
Before learning what is image denoise, you will first see the concept of image noise, which refers to an unwanted by-product of an image. The image noise can obscure the intended image information and affect the image quality. So, that's why you may need to denoise the image. To further explain this, image denoise or image denoising is simply to remove the noise from an image to retain its true quality and obtain the original image content. Meanwhile, as there are more and more digital images, image denoising plays a significant role in image restoration.
Part 2: Best Way of Image Denoising Online
Image denoising can be a challenging task for many newbies who have not got so many techniques in the image processing field. Luckily, you have Apeaksoft Free Image Upscaler to help, which enables you to quickly restore an image's quality without any extra charge. You can access this tool anytime you want on any device. Meanwhile, there is no need for you to do any complex mathematical algorithm since the online upscaler has AI technology. Moreover, there is no limit to your file numbers, and you can upload as many as you wish to remove the noise from images.

Recommendation
Restore the image quality with AI enhancement.
Upscale your image' resolution up to 3000x3000.
Denoise image with quick processing speed.
Offer you unlimited services for image denoising.
How to remove the noise from an image with Free Image Upscaler
Step 1First, go to the official website of Free Image Upscaler. Then, choose a magnification option as your upscaling level. After that, select an image from your device for denoising by clicking the Upload your photo button in the middle of the main page.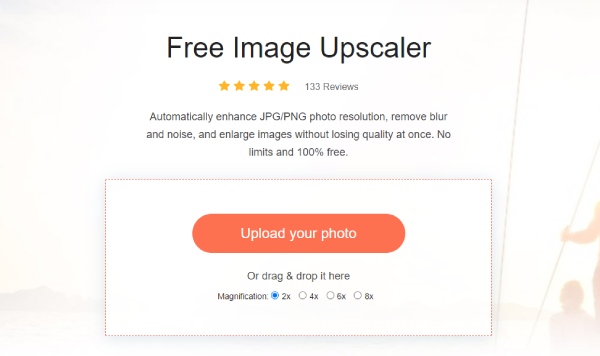 Step 2Select one image at a time for denoising on the website. After selecting, the website will start loading and processing your image, which may take a while. Once the loading process ends, you will see your denoised image right away.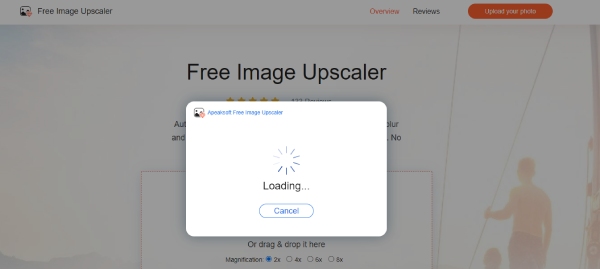 Step 3Finally, you can see the denoised image and the upscaler has also rise the image resolution. If you think the resolution is not high enough, you can click a higher magnification option above your images. Then, click the Save button to download it.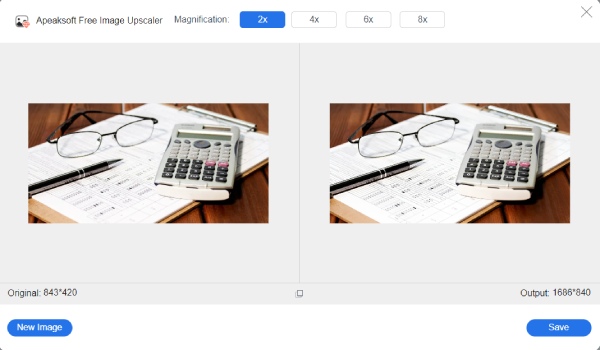 Tip :
Except for removing noise from images on
Free Image Upscaler
website, you can also use this tool as a
photo resizer
and enlarge your photos' size while upscaling the resolution at the same time.
Part 3: FAQs about Image Denoising
Question 1. How to reduce image noise with Adobe Lightroom?
Adobe Lightroom provides you with a professional way to remove the noise from your image. Simply open the program and import your image and click the Edit icon. Then, go to the Detail panel and find the Noise Reduction slider. Move the slider carefully to reduce the noise from your image. In the meantime, you may zoom in or out to scale down or up your image to better check the noise.
Question 2. What is the cause of image noise?
Except for knowing the concept of image denoising, the reason why the image has noise also matters and there are two types of noises. One is internal noise and the other is interference noise. The former can happen because your camera may add noise to the image. The latter normally occurs for transmission and is very rare.
Question 3. Is there an image denoiser on mobile?
Yes, there is. The Snapseed app is such a denoiser for your mobile. You can make images smoother in Snapseed and achieve the result just like image denoising. When you edit the photo in Snapseed, tap the pencil icon and choose the Details option to do so.
Conclusion
To put it in a nutshell, the concept of what is image denoise is not that hard and after seeing the post above, you may have a clearer picture of it and the noise on your image that ruins your image content and quality. What's more, with the help of Free Image Upscaler, you can now remove the noise from any of your images and restore your pictures without hassle.