Due to the pandemic and other reasons, more and more companies choose to work at home. The easiest way to collaborate with colleagues all over the world is screen sharing. By sharing someone's desktop or a single window, all attendees can get real-time information. Moreover, it is a good way to screen share meetings and tutorials for teaching, troubleshooting, presentation and cooperation.
If you haven't shared your computer screen online before, don't worry about that. This article will show you the five best screen-sharing apps and online tools. You can read the detailed tutorial and choose one as your best free screen sharing tool.

How to Share Screen Online
Part 1: How to Share Your PC Screen for Free Online
1. Apeaksoft Free Online Screen Recorder
Undoubtedly, the most convenient and effective way is online screen sharing without any downloading. Though there are screen recording features in some online video-sharing applications, a professional third-party screen recorder is still needed. Apeaksoft Free Online Screen Recorder would be your top 1 choice.
It allows users to screen record on any desktop area with system sound and microphone voice. Your online screen sharing will not lag or slow down during the recording process. And you can record the sharing screen without notifying others. The online video and audio recorder is 100% free and safe to use. You can record not only your voice but also other attendee's conversation. It supports you in adjusting the output video quality and frame rate. Later, you can save your recording video as MP4, WMV and any other preferred format.
Step 1Open the official site of the online free screen recorder. Choose Start Recording to quickly download the launcher.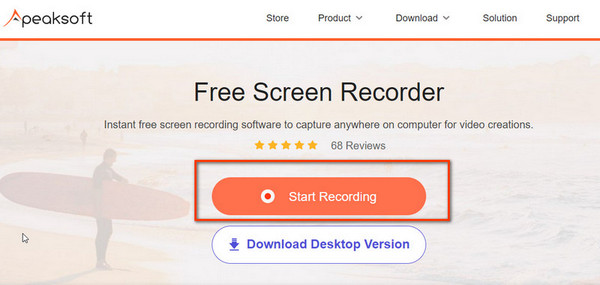 Step 2Launch the instant screen recording tool. You can manage with Recording Area, Camera, Speaker and Microphone options freely. Click the REC button to start recording.

Step 3When you get the wanted part, click the End icon to stop recording. In the next window, you can view all recordings and play, rename, share or delete the recorded screen video with the buttons below.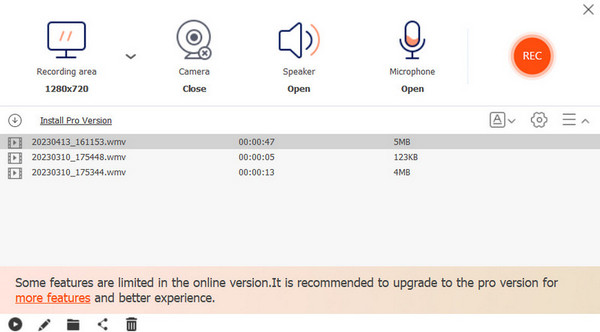 2. Skype
Skype is also a popular online video-conferencing and screen-sharing website. You can make Skype calls and start Skype video meetings online directly. No download or sign-up is required. The remote Skype screen sharing feature is also supported. You can share screens online of the desktop, web, Android, iPhone and iPad with Skype remotely. The Skype free online screen sharing feature is easy. Here is the tutorial you can follow.
Step 1Reach Skype through the official website.
Step 2In the left menu list, move to the Meet Now section and enter Host a Meeting. Then follow the instructions to name the meeting and share the link with others.
Step 3Click the Start Calls button and open Share Screen button at the bottom. Then you will officially begin the screen sharing online. You can invite others, turn on and off the microphone and speaker, open the camera and stop sharing anytime you want.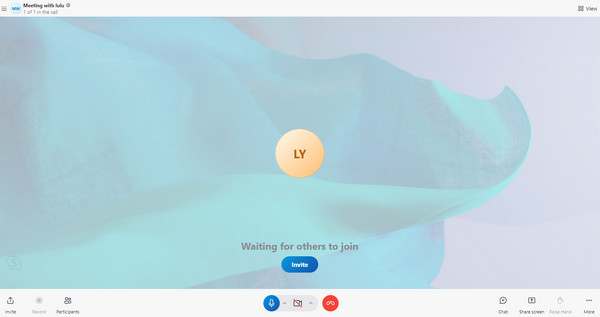 Note: If you want to record the screen-sharing on Skype, you can use Skype recorders if necessary.
Part 2: How to Screen Share Your Desktop with Professional Software
1. TeamViewer
OS: Windows, Mac
TeamViewer is a desktop sharing tool free for personal use. You can share the current display window with multiple devices via the Internet connection. Moreover, you can monitor real-time user interactions with colleagues. So TeamViewer is popular in enhanced communication and collaboration.
Step 1Run TeamViewer on your computer.
Step 2If you want to control the computer temporarily, just provide your TeamViewer ID and password.
Step 3A small blue window pops up on the bottom right, which gives information of people who are connected.
Step 4Now you can get TeamViewer free screen sharing online of video, voice, text, file sharing and whiteboard.
Step 5You can click x on the top right corner of the TeamViewer window to end the session whenever you want.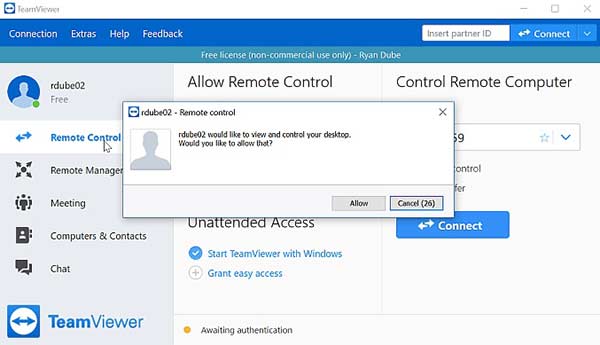 However, if you have better options or want to remove TeamViewer app on your Mac, you can also learn to uninstall TeamViewer on Mac.
2. Microsoft Teams
Microsoft Teams consists of video conferencing, screen sharing, file storage and other capabilities. This chat-based collaboration allows users to work together regardless of the long distance. You can start group screen sharing or one-in-one screen sharing online with Teams easily. You can also capture the screen sharing with Microsoft Screen Recorder.
Step 1Run Microsoft and start an online chat.
Step 2Click the Share icon on the top right corner of the Chat Controls. This icon looks like an up-arrow inside a square.
Step 3Choose which window you want to share the screen online. Or you can select Desktop to share desktop screen online directly.
Step 4When others receive and accept the Teams screen sharing request, you can start the free screen sharing for online meetings.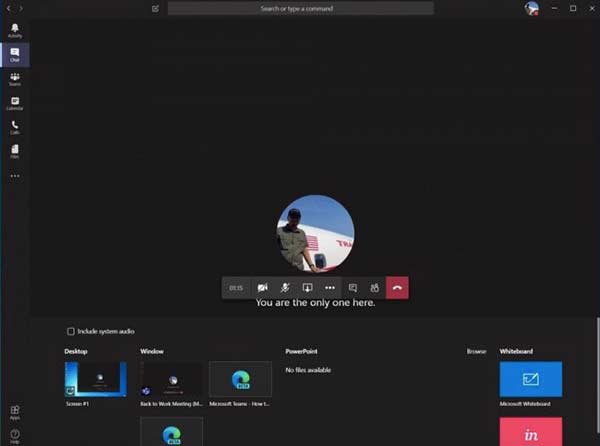 Part 3: FAQs of Remote Sharing Screen
Is screen sharing safe?
Yes. If you use a trustworthy screen sharing service, it is safe to have remote screen sharing. Other unauthorized accessed will be restricted and denied automatically.
How to screen share with audio?
Check if the volume is in an appropriate level. Then you can share screen online with others as above mentioned. You can share not only static images, but also video and audio files via online screen sharing software.
What to do when screen sharing stopped working suddenly?
To fix screen sharing not working, you can go to System Preferences. Choose Security & Privacy. Then select Firewall and Firewall Options. Click the minus button to disable. Head to System Preferences. Choose Sharing and then uncheck Screen Sharing. You can restart your computer to see if the online screen sharing application can work or not.
Conclusion
All in all, you can share your computer screen with another computer or group successfully. The remote screen sharing contents can be recorded as MP4, WMV and more for free. Do you like the above online and offline screen-sharing services? If not, you can feel free to leave messages and describe your demand.