For most music lovers, recording their inspiration of music is very important. But it is difficult to record music anytime and anywhere. To help you record music on iPhone, many companies published different programs, which make it possible for you to get your song ideas or record music on iPhone.
In this article, we list some methods and software for you to teach music lovers how to record music on iPhone. If you have no idea about the best method to record audio on iPhone, you can read on the article to get the detailed information.

Part 1. How to Record Music that is Playing or You Are Singing from iPhone to Computer
How can I record currently playing audio on the iPhone?
How to record the sound that yourself are singing on iPhone?
That is the first way we will recommend to you.
Different from the two apps recommended below, the software is a desktop tool. You can use it to record your iPhone music with computer.
The software you need to use in this method is called Apeaksoft iOS Screen Recorder. It is one of the most professional recorder software which you can use to mirror and record your iOS devices on computer.
It can record the screen and audio files on your iPhone to computer with the same Wi-Fi connection.
The music recording will be saved to your computer for further editing because iPhone is not convenient to manage and edit the music ideas.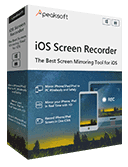 4,000,000+ Downloads
Record music that is currently playing and yourself singing on iPhone.
Record the audio files from iPhone system and microphone to computer.
Capture any screen on your iPhone without lag.
Custom the recording settings before capturing.
To know how to record music on iPhone, just follow the next steps.
Step 1Download iOS Screen Recorder
First of all, download Apeaksoft iOS Screen Recorder from the official website and then install it according to the installation guide it gives to you.
After iOS Screen Recorder is successfully downloaded, you can launch this software on your computer.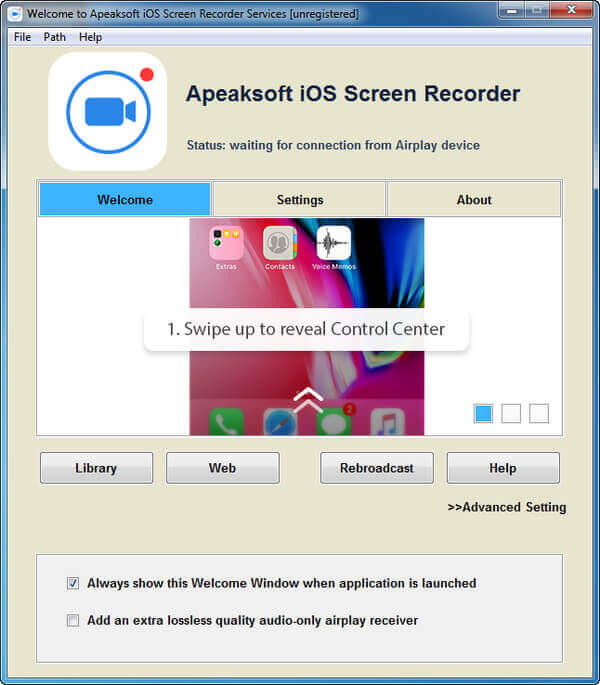 Step 2Set up network connection
Now you need to make sure your iPhone and your computer are connected with the same network. So that your iPhone's AirPlay can recognize your computer and allows you to mirror your iPhone screen on computer.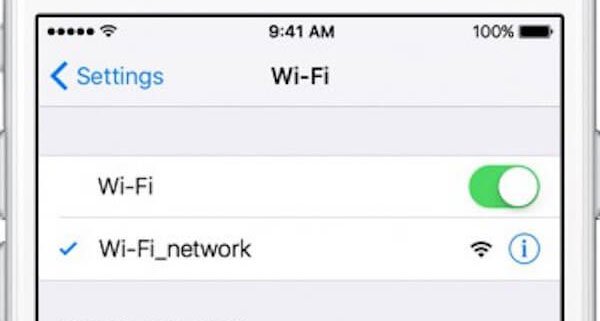 Step 3Mirror iPhone to computer
Now you can mirror your iPhone screen to computer relying on AirPlay. But the way to turn on AirPlay a little different with the different iOS versions. We list three situations for you.
(1) For iOS 7, iOS 8 and iOS 9:
Swipe up from the bottom of your iPhone screen to access Control center. And then find and tap on AirPlay to enable it. Next you need to choose Apeaksoft iOS Screen Recorder when it is showed to you, and next turn on Mirror.
(2) For iOS 10:
If you are using iPhone running in iOS 10, you need to swipe up from the bottom of your iPhone screen, and then tap on AirPlay Mirroring to turn on it. Next, choose Apeaksoft iOS Screen Recorder from the list to enable mirroring.
(3) For iOS 11 and later:
For iOS 11 and later, the way to mirror your iPhone to computer is very similar with the two ways we mentioned above. You need to swipe up from the bottom of your iPhone screen to access control center and then tap on Screen Mirroring. Next, your iPhone will go to search for Apple TV. When Apeaksoft iOS Screen Recorder shows in the list, just select it.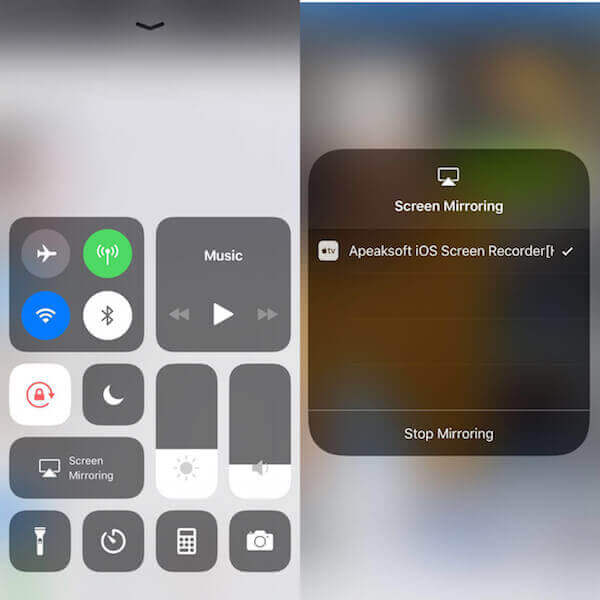 Step 4Record music on iPhone
Now you can see your iPhone screen on computer. You can also customize the recording settings, including the audio, according to your needs. Next, click the circle record button to start recording music on iPhone with this software.
If you want to stop, click this button again. And then this software will pop up a window where the recorded music saved in.
For recording your own sounds from microphone on iPhone, you can use Voice Memos to record.
For recording the music that is currently playing, you need to open the music app and play the music directly.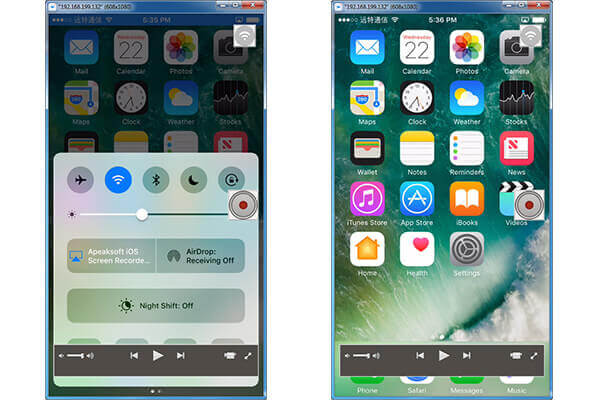 Check this post to get more iPhone screen recorder apps.
Part 2. How to Record Music from Yourself Singing on iPhone with Music Memos
Sometimes the best ideas come when you least expect them. And what you need is an app that can help you record your ideas. Music Memos is such an app developed by Apple which you can use to capture your song ideas, whenever inspiration strikes.
Although it can help you record music on iPhone simply, it is a professional software to create wonderful music. It is a totally free app you can download from App Store easily. The way of how to record music on iPhone is really easy to follow. Just read the next simple steps.
Step 1Download Music Memos
First of all, you can launch App Store and the search for Music Memos. The results will be showed to immediately. Then download Music Memos on your iPhone.
Step 2Record music on iPhone
When Music Memos is installed, you can tap the icon to launch it. And you will see a big blue button in the center of this app's screen. To start to record music on iPhone, just tap on it and then the color of this button will turn red. That means your recording will begin.
Step 3Stop recording music
Now you can play your riff, chorus, solo, or whatever inspiration you have with Music Memos. If you want to stop recording, you can simply tap the big red button to finish it.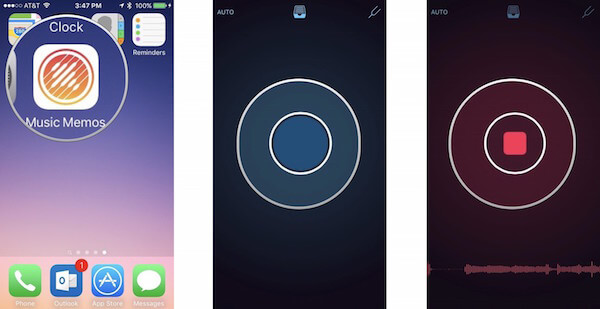 Music Memos also supports you record music on iPhone automatically. This function can help you record music when it is heard some audio, so that you don't need to tap it to start your recording. If you are interested in how to automatically record music on iPhone with Music Memo, you can follow the next steps.
Step 1Tap Auto button
Open Music Memos app on your iPhone. And then find the Auto icon which is in the upper left corner of the screen.
Step 2Start to record
When you play music and your Music Memos heard it, it will begin to record music automatically. And the screen will turn red.
Step 3Stop to record
If you stop playing music, this app will stop recording automatically and create a track. Then wait for you to begin playing again. You can also stop it by tapping the bottom. And the screen will turn blue.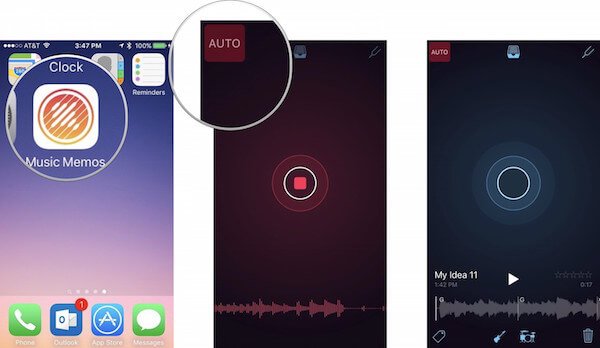 You can use the tuner in Music Memos to record music on iPhone much better. Before you record music, you need to make sure that the guitar, piano or other instruments you want to use is in tune and ready to play. And the tuning feature of Music Memos is very easy to use and helps you create better music.
Step 1Tap Music Memos icon on your iPhone to launch it. When you see the main interface, you need to tap the Tuning Fork icon.
Step 2 Then pluck a string on your guitar, or just play the instrument.
Step 3If the bar shows in the right of the note, it means the audio is too sharp. On the contrary, too flat will show the red bar to the left of the note. And now you can adjust your string's tuning based on the note identification.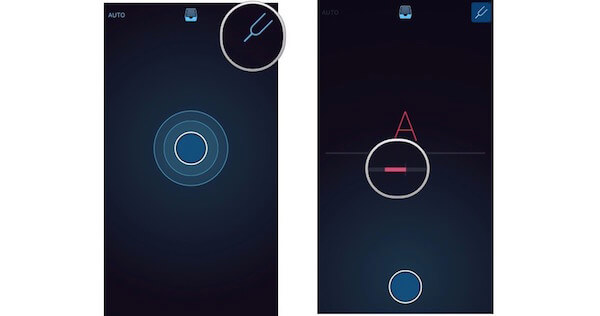 Part 3. How to Record Your Song on iPhone with GarageBand
Just like Music Memos, GarageBand is also a good software which is developed by Apple. You can also get this software easily from App Store. GarageBand is a professional app you can play, record, create and share your music no matter where you are. It has a wide range of instruments from all around the world.
And now it establishes a Sound Library, where you can choose and download much more free instrument and live loops when there are some new sounds are released. With these tools and powerful features, you can create songs in your style in the easiest way with your iPhone, iPad or iPod Touch.
If you want to record external music with your iPhone's microphone, you can use Audio Recorder of GarageBand to record music on iPhone. Just follow the next steps.
Step 1Download and launch GarageBand
Launch App Store on your iPhone and then search for GarageBand. It is free to download, what you need to do is simply download it on your iPhone. Then launch it when it is installed.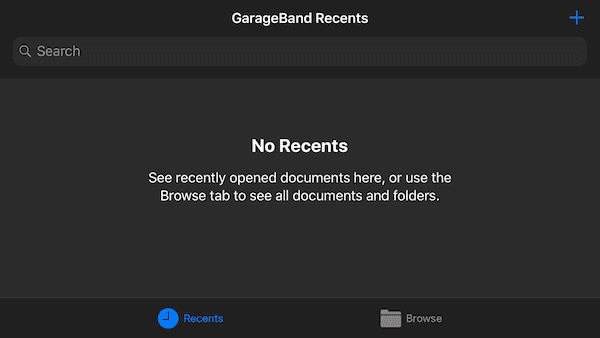 Step 2Choose Audio Recorder
Now you need to tap + Plus icon to create a new song in GarageBand. And then open the instruments browser where you can slide to pick up what you want to record with. Here you need to choose Audio Recorder from these instruments to record music on iPhone.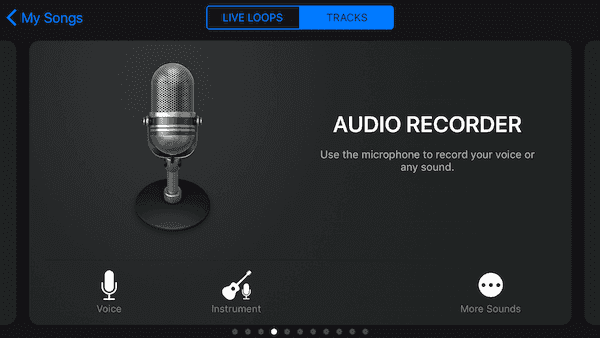 Step 3Record music on iPhone
Now you can touch the Record icon which is at the top control bar. At the same time, what you need to do is playing your music and record it or just record your voice with Audio Recorder.
When you finished, just tap the Play button. And you can also tap the button again to play what you recorded. And you can edit your recorded music as you want.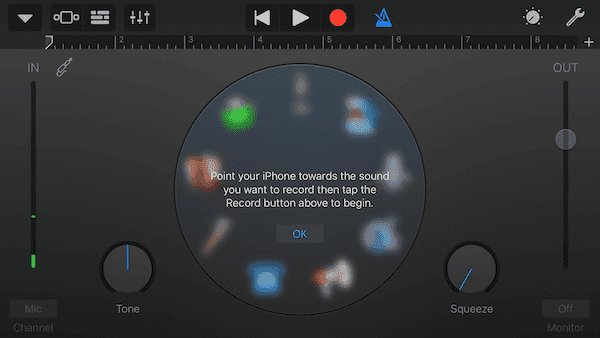 With GarageBand, you can also record music by playing the instruments this software provides to you. To do this, you can tap on + Plus button after you launch this software. Then you can slide to choose which instrument you want to record with in TRACKS.
For example, here we choose Guitar to record music. There are some options you can choose, including Smart Guitar, Notes, Scales, as well as More Sounds. In More Sounds, you can also choose from Acoustic, Classic Clean, Hard Rock and Roots Rock. Choose what you like and tap on Done. Then you can play the guitar as you want. You can also adjust the output settings, such as Track Volume and Track Pan. Plug-ins & EQ and Master Effects also can be adjusted according your needs. If you can't master the rhythm, you can open the metronome to help you.
For the guitar, you can change the AutoPlay as you want, or turn the Chords to Notes easily. In Settings icon, you can restore purchases, as well as set the Metronome and Count-in. What's more, you can also change the Tempo, Time Signature and Key Signature. It also provides you some other features which are very comprehensive and powerful. And with it, you can record a professional song. If you still have trouble, you can tap on Help to ask for help.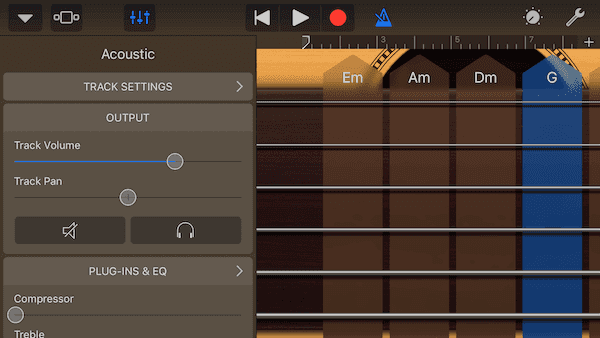 You can also choose Sound Library to get many different instruments. If you want to plug some different sounds, you can choose External, which is a feature you can play and record third-party instruments directly into your GarageBand. If you tap on it, Audio Unit Extensions will pop up to you. It lets you use your favorite compatible third-party instrument and effect plug-ins right in your GarageBand song. You can also choose LIVE LOOPS to select the style you like to create with. With all powerful functions of GarageBand, you can record satisfying music on your iPhone.
People Also Ask:
Part 4: FAQs of Recording Music on iPhone
Will the iPhone stop music when recording?
When recording audio on an iPhone, the music playback will stop automatically. This is done to ensure that background music does not affect or interrupt the recorded audio. However, some third-party apps or settings may allow you to record audio while playing music simultaneously.
How long can an iPhone record audio?
The maximum duration for recording audio on an iPhone can vary depending on the specific model and available storage space. However, in general, most models of iPhone can record audio for several hours without any issues. If you plan to record audio for a long period, ensure you have enough available storage space.
Why is there no sound when I screen-record Apple Music?
When you screen record Apple Music, the audio may not be captured due to copyright restrictions. Apple Music uses digital rights management to protect the music content. Apple took This measure to protect the rights of music artists and rights holders.
How do you tell if an iPhone is secretly recording?
Generally speaking, when your iPhone is recording a video, you will find a green dot in the top-right corner of the iPhone screen. For audio, an orange dot will be visible in the same place.
How do I record high-quality audio?
To record high-quality audio, there are several factors you should consider. There are various types of microphones available. It would help if you chose a microphone that fits your recording environment. Find a quiet location to record, and avoid placing the microphone near noise sources. Consider the distance between the microphone and the sound source, as well as the angle and orientation of the microphone.
Conclusion
In this article, we list three methods for you to teach you how to record music on iPhone. If you are having trouble recording music on iPhone, you can read this article first and then choose one of the most suitable way to accomplish record music on your iPhone device. If you like this article, just share it with your friends.