When you delete some files by accident from Windows or Mac, you can get them back from recycle bin. What should you do when some important files, such as photos, are deleted by mistake on your Android phone? Is there an Android recycle bin to store the deleted files?

The article introduces the Android recycle bin alternative when you delete the files by accident. With this application, you can recover your deleted files immediately, just as easily as getting files back from Recycle Bin on PC. Just find more information about the solution from the article below.
Part 1

: Does Android have a Recycle Bin

As you know, there is a "Recycle Bin" in your personal computer, which is a temporary file location for the files deleted but not permanently erased from the hard disk. In a word, you can recover files, which are deleted by mistake by dragging the file out of the Recycle Bin. Of course you can just delete the files permanently in the Recycle Bin.

However, when you delete some important files by mistake on your Android phone, you may think about this question firstly: is there an "Android Recycle Bin" on your phone? But you might not find an Android Recycle Bin. Android does not have a Recycle Bin like Windows or Mac OS. Why doesn't Android design a Recycle Bin? At first, because the storage on smart phone is much smaller than PC, if there is a Recycle Bin, the limited space will be filled up quickly if you don't clear up frequently, expect for the large storage phone. In addition, most files are deleted by the system automatically, such as the update files or cache files, which are trash files with no longer use.

When it comes to the important files, the system designer has also thought about the problem. Though this is no Recycle Bin, you can back up in cloud storage in case of mistaken deletion. That's one of the reasons that certain manufacturers provide cloud storage, like Dropbox, Google Drive or Apple iCloud. But Recycle Bin might get available in the future no matter for Android or iOS phone when the storage requirements are duly met. But if you want to know "how to recover deleted files from Android Recycle Bin", we provide you the answer in the following part.
Part 2

: Best Android Recycle Bin Alternative – Android Data Recovery

Android Data Recovery is an excellent data recovery tool just like the Recycle Bin on Android. It may be the best Android Data Recovery software to recover deleted file from Android phone/SD card/tablet on Windows and Mac OS. You can recover your lost data from Android phone safely and professionally. Here are some features of this application.
Recover and export deleted or lost data from Android phone and tablets as Android Recycle bin.
Undelete files, including contacts, text messages, call log, history and more other data from Android device or SD card.
Support most of the Android device types, such as Samsung, HTC, LG, Motorola, Huawei, Google, Sharp and more.
Backup and manage Android data on your Windows computer or Mac when connecting Android to computer with USB cable.
Android Recycle bin to recover deleted files on Android, files deleting, system crashing, forgotten password, rooting error, etc.
Part 3

: How to Recover Data from Android

As the Android recycle bin, Android Data Recovery can recover the lost or accidentally deleted contacts, text messages, call log history and files. Just follow the steps below and you will get lost or deleted data back.

Step 1. Download and install the program

Download the PC or Mac version of Android Data Recovery on official website, open Android Data Recovery after installation.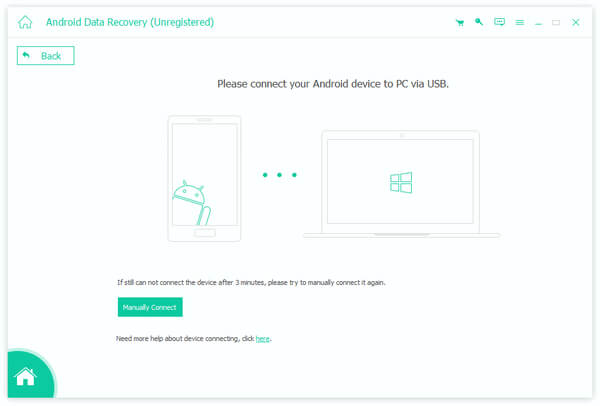 Step 2. Connect Android to computer
Connect your Android device with your computer through the USB cable. Wait for a few seconds, and then the device will be detected. If the device driver has not been installed, install it on your computer.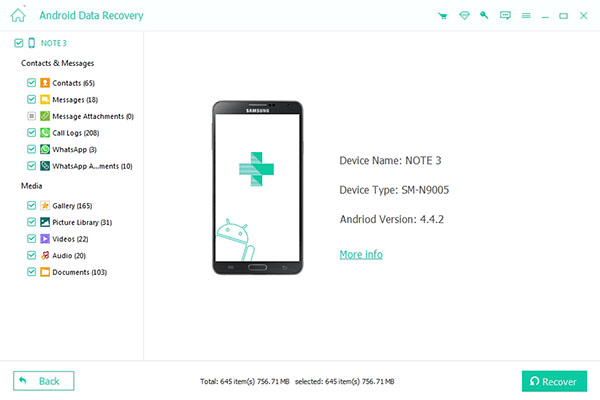 Step 3. Turn on debugging mode
Start scanning and recovering your file, it needs to be authorized which means you need turn on the USB debugging mode on your device. Once Android Data Recovery detects your Android version, just follow the instructions provided by the program.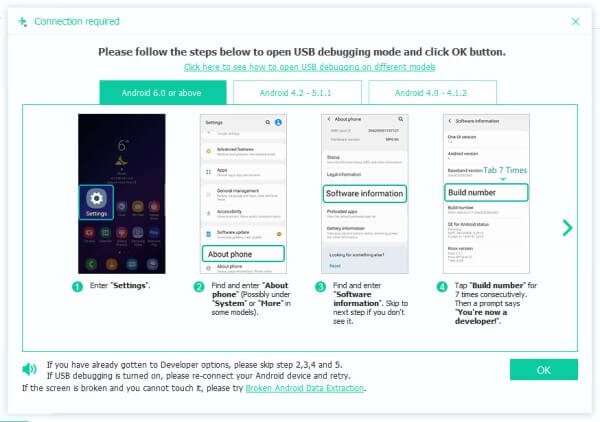 Step 4. Select the file types
After turning on the debugging mode, select the file types you want to recover and click "Next". Then the program will scan the deleted data on your Android device as the Android recycle bin.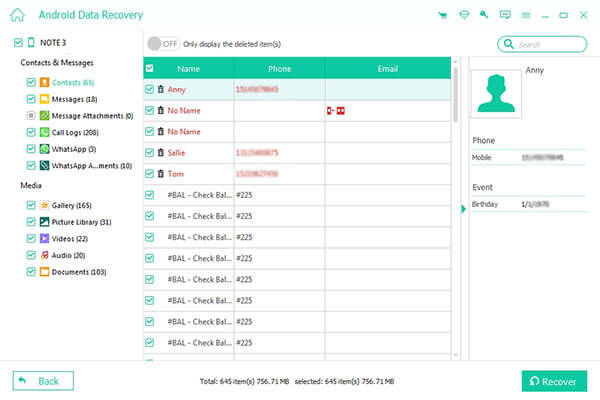 Step 5. Recover data from Android
When the scanning is over, the selected type files will be listed in detail. You can preview each file and check the ones you want to recover. Click the "Recover" button to get data back from Android or SD card.
Once the process is over, the selected file will be recovered and stored on your computer. And the file folder where the recovered files are saved will be pop up to you, you just need to select the recovered files from the folder accordingly.
Conclusion
It is a truth that there is no Android Recycle Bin on your phone. But the professional Android data recovery software can help you to recover deleted files from Android permanently, Android Data Recovery is one of the best and recommended program you should try. Also if you have made a backup copy on Dropbox before for the lost data, no matter for the media files or text files, you can easily get your file back through the official website of Dropbox. With those methods, you will never worry about data loss by mistake; even this is no Android Recycle Bin on your phone.