Summary
Excel temp files give you the potential to recover the deleted or lost Excel files. However, once the temp files are lost, you should take Apeaksoft Data Recover to recover the Excel files on your Windows and Mac computer.
Free Download
Free Download
"I opened an Excel file from my email, and then made some changes, but my computer suddenly powers off, can I get back my edited Excel file? Please help."
Microsoft has realized such demands and introduced temporary files for Excel. It will save your changes in Excel temp files regularly.
In other word, finding the Excel temp files, you can get back your data if the Excel file is not saved in time due to sudden interruptions.
In this tutorial, we are going to tell you where are temporary Excel files stored on Windows 10/8/8.1/7/XP and Mac OS X/11 and how to recover your data through temp files.

Part 1

: Where are temporary Excel files stored

When you create a new Excel file or start editing it, Windows will produce a temp file as well. And the temp file stays on your computer until you click on the Save button.

But it may be stored in different locations depending on where the Excel file saved and which version of Windows you are using.

For example, the Excel temp file is stored in:

Windows 10: C:\Users\AppData\Local\Microsoft\Office\UnsavedFiles.

Windows 7 or XP: The directory is C:\Documents and Settings\ \Application Data\Microsoft. If the Excel file is on a network drive, the temp file is created there.

Bear in mind that the name of the temp file does not look like a normal file, usually containing a squiggly line or other symbols and end with TMP.

You will also like: Recover unsaved Excel file.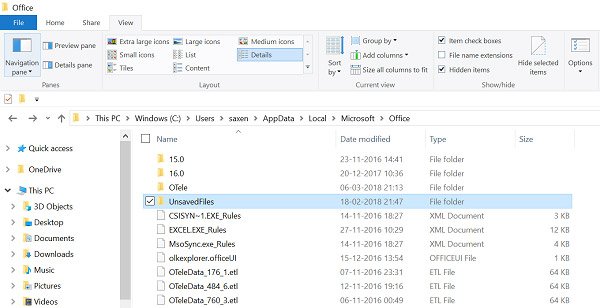 Part 2

: Regular way to recover Excel temp files

When you encountered sudden interruptions, like Excel file corrupted, Excel file not responding, etc. you can get back your Excel Windows 10/8/7/XP through temp files. But you may discover that it is infeasible to open the temp file directly. Follow the methods below to recover Excel temp files quickly.
Method 1: Recover Excel temp files by changing extension
Step 1Go to where temporary Excel files stored according to your situations, highlight it, press "Ctrl + C", navigate to another location, press "Ctrl + V" to paste the temp file there.
Step 2Locate to the top ribbon, go to the View tab and check the box of "File name extensions". After that, you can right-click on the Excel temp file to change the file extension to xlsx or xls.
Step 3Now, you can open Excel temporary file as a real workbook.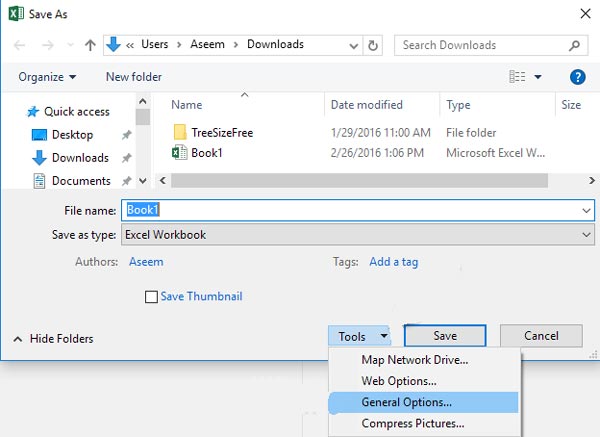 Method 2: Open temp files in Excel
Though you cannot open Excel temp file directly, it does not mean the Excel program is not able to load it.
Step 1Run Excel program from your desktop, go to "File" > "Info".
Step 2Click on the "Manage Versions" and select "Recover Unsaved Workbooks".
Step 3On the popup dialog, navigate to where temp files stored and open it in Excel program. Now, you can save your data as a normal Excel file.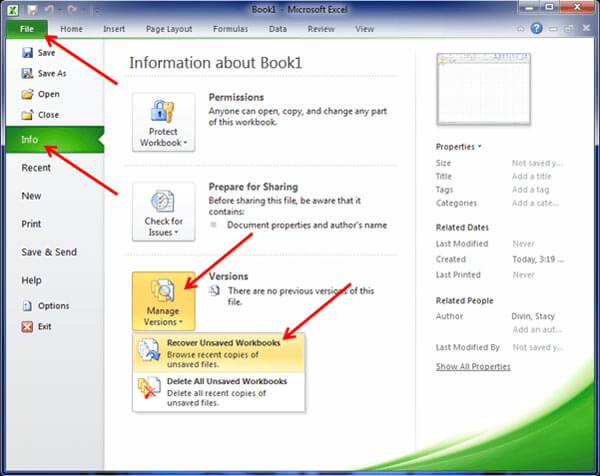 Part 3

: Best method to restore Excel temporary files

If your Excel file is corrupted or damaged, we suggest you try a professional data recovery tool, such as Apeaksoft Data Recovery.

Step 1Scan entire drive to look for data

Download Data Recovery and install it on your PC. If your Excel file stored on an external drive originally, connect it to your computer. Launch the best Excel temp file recovery software.

Go to the data type section on the home interface, and tick the checkbox on the "Document" option. Then go to the location area and select where are temporary Excel files stored. Once you click on the "Scan" button, Data Recovery will work automatically.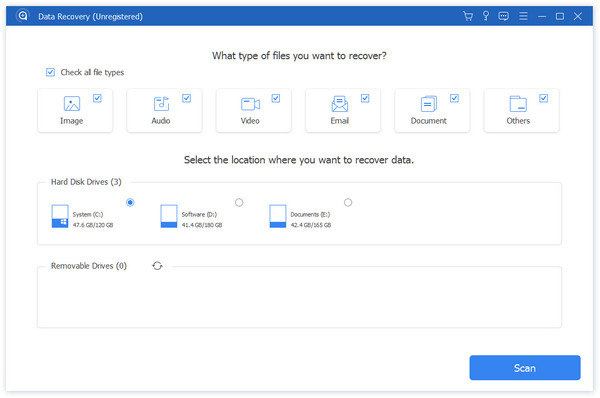 Step 2Preview Excel files before recovery
After quick scanning, you will be brought to the result window. Go to the Document tab from left-hand column, you will be presented several folders titled XLSX, XLS, DOC, PDF, etc.
Click the folders related to Excel file formats, like XLSX and preview files. Plus, the "Filter" feature at the top ribbon could help you to find the Excel file that you want to recover quickly.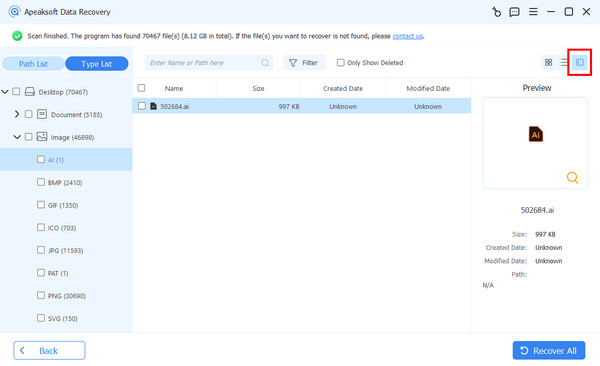 If you cannot find the desired file, click on the "Deep Scan" button at the upper right corner. It will take more time to scan the drive deeply and find more recoverable data.
Step 3Recover Excel temporary files in one click
To restore lost data, you can check the box in front of each desired Excel file or select the entire folder.
Click on the "Recover" button to start restoring Excel files. When it is done, you can browse, copy and paste, or edit your data as usual.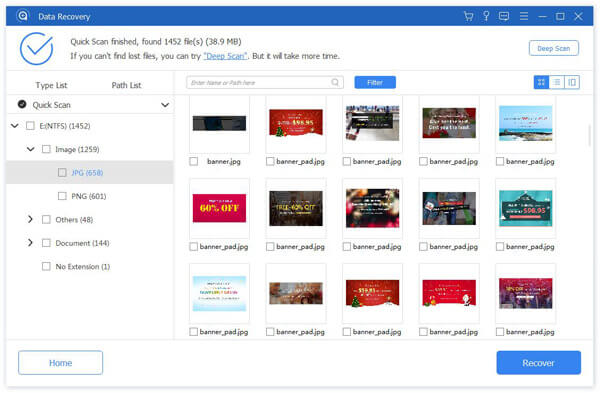 The steps to recover temp Excel files on Windows are slightly different from on Mac. Check here to recover deleted files on Mac.
Data Recovery
Data Recovery is the easiest Excel temp file recovery tool, which can recover .xls, and .xlsx in Excel 2000, 2003, 2007, 2010, 2016, etc. on Windows 10/8/7 and Mac, whether your Excel temp file is lost or deleted due to mistake operation, virus attack, software corrupt, or sudden power off.
Part 4: FAQs of Excel temp files
1. How do I clear temp files in Excel?
You just need to go to the location that stores the Excel temp files, and select the temp files. Drag them into the trash. For deleting them permanently, you should empty your trash.
2. How to stop temp files from creating in Excel?
For stopping the temp files from creating in Excel, you just need to disable the settings. Click Tool at the top-left corner, select Options, go to the Save tab and select the checkbox of Disable Auto recovery. Then it will not create the Excel temp files.
3. Access denied to delete Excel temp file in network share, how to fix?
You can try the following solutions: Firstly, upgrade SEP (End Point protection) to the latest version. Secondly, rename a parent folder. If it still cannot be fixed, just use Troubleshooting in Microsoft Office.
4. Excel cannot open or save a file and the temp folder is full, how to fix?
Right-click on the saved Excel file, click on Properties and uncheck the option Block and then try to open the Excel file and check.
Conclusion
Excel is one of the most useful programs on Windows. People use it to save and visualize oceans of data, from financial to sales. But many users have encountered the problem that closes the workbook without saving. Fortunately, Excel temp files save your data and change waiting for recovery. We have shared how to find and use Excel temp files in this tutorial. In another world, even if you do not enable the automatic save feature, it is possible to recover data from temporary files created by Office and Windows.
We wish that our guides and suggestions are helpful. If you have more questions related to Excel temp files, please leave a message below.