Why did my contacts disappear from my iPhone? How do I get my contacts back on my iPhone without iCloud or iTunes?
Losing important contacts on your iPhone may be a disaster. Whether it's an accidental deletion or an iPhone issue, this can affect your timely communication with important contacts.
Fortunately, there are some ways available to fix the missing contacts problem. This article will guide you to restore contacts on iPhone, whether you have a backup or not. Before restoring contacts, you had better learn why contacts are missing. After that, you can better avoid losing contacts in the future.

Lost Contacts on iPhone
Part 1: Why Contacts Missing From iPhone
There are several reasons why contacts disappeared from iPhones. Knowing these reasons can guide you in the right direction when restoring them.
Accidental Deletion: It's possible that you accidentally delete contacts manually. For example, you might select and delete the contact while trying to edit it.
iOS Update Issue: Updating iPhone to the latest version may cause contacts to disappear. It could be related to an error in the update process or a compatibility issue with the new iOS version.
iCloud Syncing Issue: If there's an issue with your iCloud account or iPhone is not connected to a stable internet, the syncing error can happen. Meanwhile, it will cause your contacts to disappear from your iPhone.
iTunes Restore or Sync Issue: If you're restoring or syncing your iPhone with iTunes, but the process gets interrupted, it can result in missing contacts.
Jailbreak iPhone: Jailbreaking your iPhone to gain more control over the iOS can cause data loss, including your contacts.
Part 2: How to Find Lost Contacts on iPhone with Backup
1. How to Get Contacts Back on iPhone with iCloud
If you backed up your iPhone contacts using iCloud, you can try to recover lost contacts from iCloud. This method will not overwrite or delete any contacts. Instead, it ensures that all the contacts from iCloud and iPhone are available on your iPhone.
Here are the detailed steps to get contacts back on iPhone with iCloud.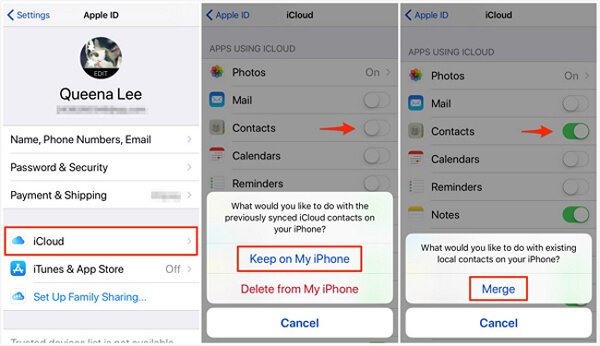 Step 1 Confirm your iPhone is connected to a Wi-Fi network. iCloud restores require an internet connection. Open the Settings app on your iPhone. Tap your name and Apple ID at the top screen.
Step 2 Go to the iCloud screen. Then, find Contacts and tap on it. If Contacts is turned on, tap the switch to turn it off.
Step 3 A pop-up will appear asking what you want to do with your iPhone's previously synced iCloud contacts. Choose Keep on My iPhone. Then, tap the switch again to turn Contacts on.
Step 4 After that, choose Merge to merge the contacts stored locally on your iPhone with those stored in iCloud.
But restoring lost contacts from iCloud needs a stable internet connection. Moreover, iCloud only offers 5GB of free storage. You must purchase more storage if your iCloud storage is insufficient to back up data.
2. How to restore deleted contacts on iPhone with iTunes
If you have backed up contacts to iTunes, you can retrieve the lost contacts on your iPhone via iTunes. Restoring from an iTunes backup can recover all the contacts on your iPhone. Unlike iCloud, iTunes backups are stored on your computer, so you can restore from them without needing an internet connection.
Here are quick steps to recover deleted contacts from iPhone via iTunes.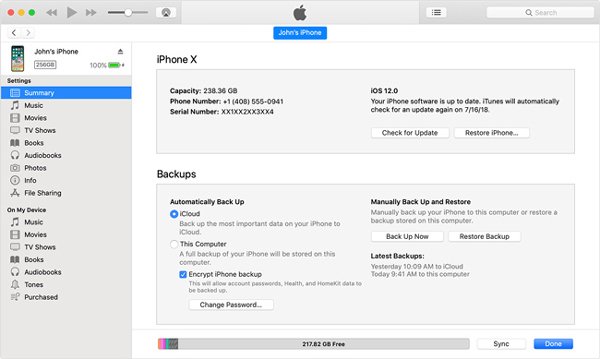 Step 1 Connect iPhone to a computer with the original USB cable. Make sure that iTunes is installed on your computer.
Step 2 Open iTunes on your computer. Select the iPhone by clicking the Device icon at the top left of the window. Then, click the Restore Backup button from the Summary menu.
Step 3 Just check each backup's size and data and choose one that contains your missing contacts. Then, click the Restore button.
Please don't disconnect your iPhone from your computer until the restore process is complete. Once finished, your iPhone will restart.
But restoring from an iTunes backup will overwrite all the existing contacts on your iPhone. ( Here you can learn how to view iTunes backup location) And if you don't regularly sync your iPhone with iTunes, your backup might be outdated and not include recent contacts. Besides, iTunes doesn't support previewing the backup contacts before restoring.
Part 3: How to Retrieve Deleted Contacts on iPhone Without Backup
What should you do to restore missing iPhone contacts, even if you have not backed up the contacts with iTunes or iCloud? Don't worry. You can try professional software to restore contacts in a few clicks. Apeaksoft iPhone Data Recovery is a powerful tool that can restore lost contacts from iPhone directly and not just from iTunes/iCloud. More importantly, it allows you to preview the deleted and existing contacts after scanning. Then, you can restore the lost contacts selectively. Moreover, this contacts recovery tool can also restore other iOS files up to 40 types, including call history, messages, videos, photos, notes, and so on.
Here is about how to retrieve deleted contacts from iPhone.
Step 1Get the iPhone Contact Recovery
Download and install the lost contact recovery program on a Windows 11/10/8/7 or macOS computer. Run it and connect iPhone to a computer with the original USB cable. iPhone Data Recovery will recognize the device automatically.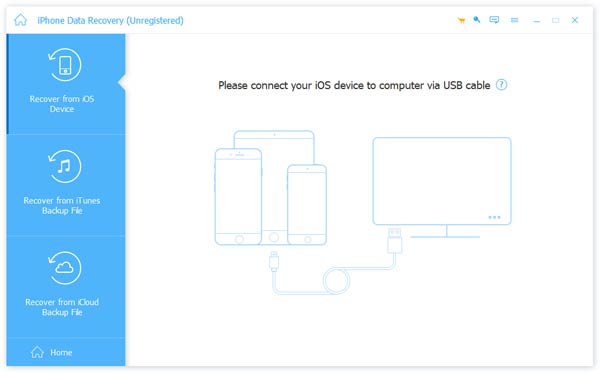 Step 2Start to scan
Select Recover from iOS Device on the left panel. Click Start Scan to scan iPhone to retrieve lost contacts on iPhone. After that, you will be asked to input the screen passcode on iPhone to confirm the connection with computer.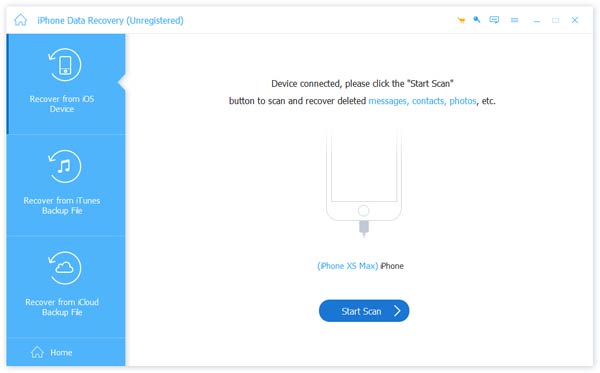 Step 3Preview and retrieve the lost contacts on iPhone
After scanning, all the file types are listed on the interface. Select Contacts and click Recover to get iPhone deleting contacts back.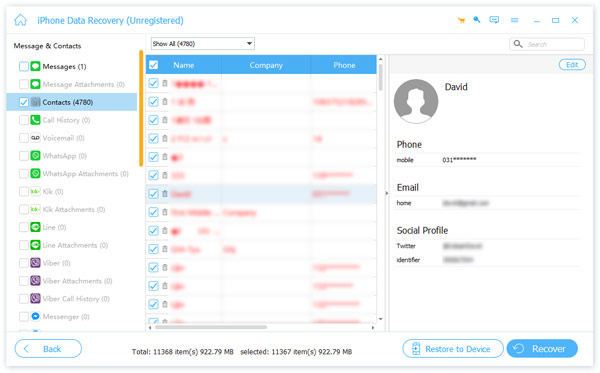 Besides retrieving lost contacts on iPhone, you can also use the program to recover iPhone deleted videos, photos, messages, call history, etc.
Part 4: How to Prevent the Loss of Contacts on iPhone
To prevent the loss of contacts, it's recommended to back up your iPhone regularly. You can use iCloud or iTunes to copy your important data, such as Contacts, Call history, Text Messages, Videos, Photos, etc.
Besides, you should be careful when deleting contacts or performing operations that can potentially lead to data loss. For instance, jailbreaking can cause contact loss.
Part 5: FAQs of Lost Contacts on iPhone
Why do some contacts not show up in iCloud?
You should confirm that you're signing into iCloud with the same Apple ID on iPhone first. Then, check that you turned on Contacts in iCloud settings. If you turn it off, some contacts saved on your iPhone only instead of iCloud.
How to back up contacts from your iPhone?
You can open Setting app, tap your Apple ID, and select iCloud to turn on Contacts. Then, you can view iCloud backup with your contacts. Or you can also add a Gmail account to save contacts on the Settings app.
Why is my iPhone not showing names of Contacts?
It could be due to syncing issues, display settings, sorting or filtering of contacts, or a corrupted contact database. You can check contact syncing settings, adjust display settings, review sorting and filtering options, and restart your iPhone.
Conclusion
In conclusion, losing contacts on your iPhone can cause some trouble. But there are 3 ways to recover contacts: iCloud, iTunes, or third-party software. Whether you have a contact backup or not, this article has provided you with detailed steps to restore your contacts. But the best way is to regularly back up your iPhone, which can prevent data loss. If you have other questions about lost contacts on iPhone, comment below.