For different reasons, you need to recover a WordPad document. You may lose an unsaved WordPad document due to a sudden failure of the program or computer. Or you mistakenly delete a WordPad file. The question is, do you know how to recover a WordPad document?
Microsoft WordPad is a basic word-processing and text-editing program which allows you to create and edit documents. It is one built-in software installed in almost all versions of Microsoft Windows including Windows 7, Windows 8 and Windows 10. Compared with Notepad, WordPad gives you more text effects like italic, bold, underline, and graphics. Moreover, you can adjust the fonts and colors, insert pictures, and add links.

Recover a Microsoft WordPad Document
Have you ever encountered the situation that you lost a WordPad document that was not saved? Here in this post, we like to share 2 simple and effective ways to help you recover WordPad document files, including unsaved WordPad documents and deleted ones.
Part 1. How to Recover a WordPad Document That Was Not Saved
It's very annoying you lose a WordPad documents that unsaved as the WordPad program or computer suddenly crashes. Luckily, the auto-save feature in Windows can help you recover your unsaved WordPad documents through the temporary files. You can take the following guide to recover a WordPad document that was not saved with ease.
Step 1First, you can re-launch the WordPad to check if you can directly access your unsaved WordPad document. If you can't get it there, just open the Start menu on your computer.
Step 2Enter %AppData% in the Search bar and then press Enter to enter the C:\Users\USERNAME\AppData\Roaming.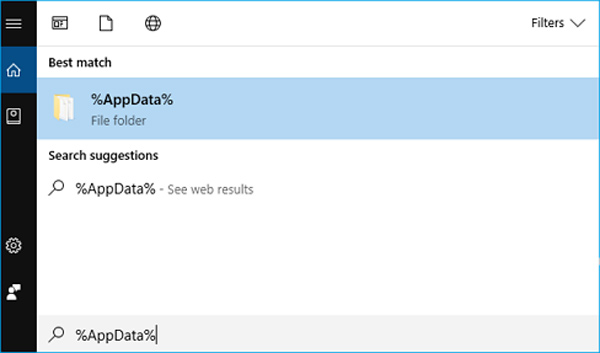 Step 3When you are in the Roaming folder, type .asd or .tmp at search bar in the top-right corner.

Step 4Now you can locate the unsaved WordPad document you want based on the modified date. Copy the document file to your desktop and then change its filename extension from .asd or .tmp to .odt.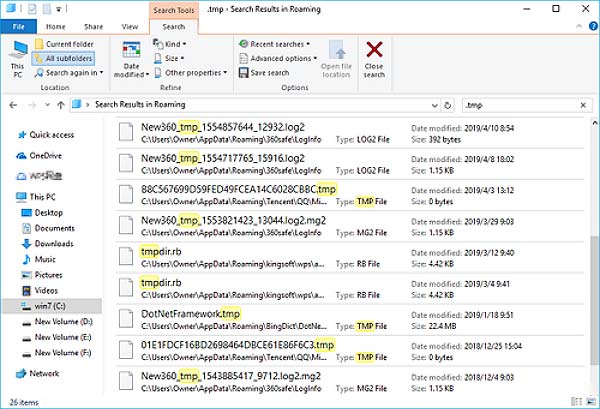 Follow the similar way, and you can recover not saved Word document on computer.
Part 2. How to Recover Deleted or Corrupted WordPad Documents
With the method above, you have a big chance to recover unsaved WordPad documents. What if you want to recover some deleted or corrupted WordPad files? To do that, you can rely on the powerful Data Recovery. It is specially designed to rescue all types of data including various documents, images, videos, audios, emails and more.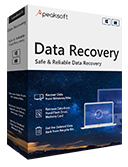 4,000,000+ Downloads
Easily find and recover deleted or corrupted WordPad documents.
Support various data types including documents, photos, videos, and more.
Restore lost documents from PC, Mac, recycle bin, hard drive, flash drive, memory card, etc.
Support any data loss situation like mistakenly deletion, hard drive damage, and virus attack.
Step 1 To recover your deleted or lost WordPad documents, you should free install this Data Recovery on your computer first. It is compatible with any popular Windows versions including Windows 10, Windows 8 and Windows 7.
Step 2 When you get to the main interface of this WordPad document recovering software, choose the Document option. Then select the specific hard drive which may carry your lost WordPad documents.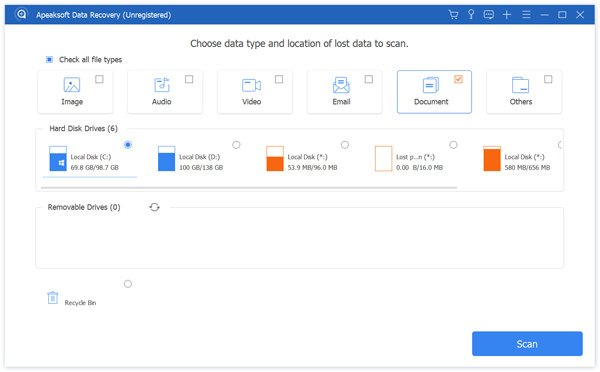 Step 3 Click the Scan button on the bottom-right to start a Quick Scan on selected hard drive. It also provides you with a Deep Scan feature.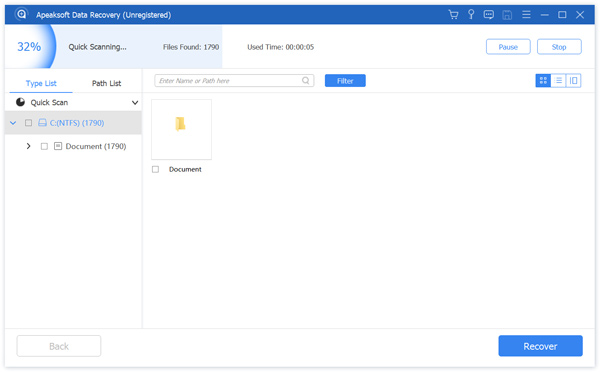 Step 4 After scanning, you can click the Document on the left and then preview all your document files on the right. This WordPad document recovering software is equipped with a Filter feature for you to quickly locate the document file you want.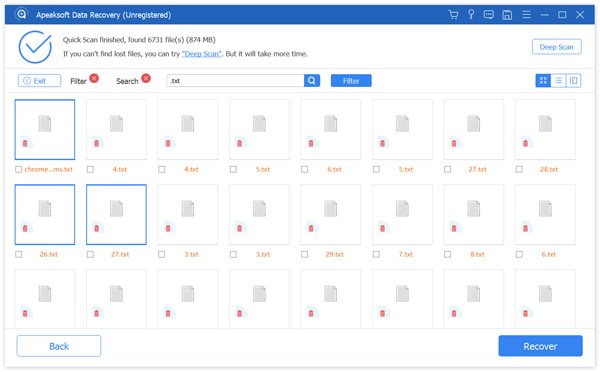 Step 5 Choose all the WordPad documents you want to recover and then click the Recover button to get them back on your computer.
Not only document, but this software can also help you recover other files like Excel, PowerPoint, videos, photos, and more.
Part 3. FAQs of WordPad Document Recovery
Question 1. How do I install WordPad?
To install WordPad, you can go to Start menu. Choose Settings and then Apps, click on Optional features and select Add a feature. Now you can scroll down to find WordPad, and then click Install to install it on your computer.
Question 2. How to find and open WordPad?
You can go to Start menu and then type wordpad in the search bar. You can easily find the WordPad program from the searching results. Just double click on its button, you can directly open WordPad.
Question 3. Is WordPad free with Windows 10?
WordPad is totally free with Windows 10. In fact, this application was introduced in Windows 95 and now is still around in Windows 10.
Conclusion
How to recover a WordPad document that was not saved? After reading this post, you can get 2 easy ways to recover your WordPad documents including unsaved WordPad files and deleted ones.