"I saved all the worksheets I had been working on earlier in the day so that I could shut down my computer and get off work; however, today I opened excel and one of the worksheet was gone, please tell me how to recover an excel file that was saved over."

Generally speaking, we cannot recover an old version of an excel file using the way that we deleted files. The old version file has almost certainly been overwritten by a later version. Fortunately, there may be old versions of that excel file elsewhere. In this tutorial, we are going to share how to restore previous version of excel file simply.
Part 1

: How to recover an excel file that was saved over (Undo the Changes)

When you create or open an Excel file, Office will start a temp file as well, which stores all the changes. And before you close the Excel file, the temp file allows you to undo, redo or repeat worksheet changes at any time. In another word, if your workbook is still open, you can use the Undo feature to remove mistakes and get back your data.

Step 1: When you discovered that your worksheet disappeared, keep the workbook open and locate to the very top ribbon.

Step 2: Click on the "Undo" button with a left arrow icon repeatedly until the file reverts to the previous version.

If you cannot find the Undo button at top of the window, press "Ctrl + Z" to undo changes. This is the easiest way to recover previous version of excel, but the prerequisite is that the file is still open.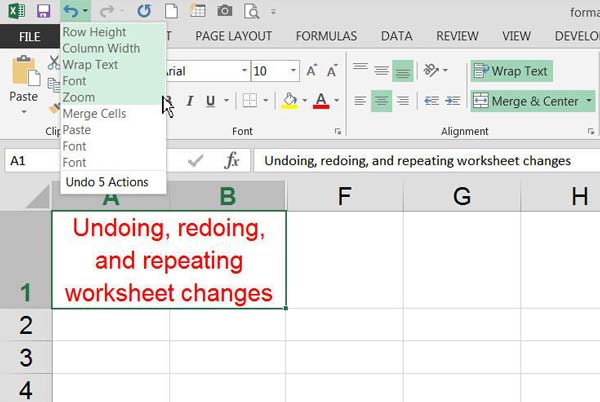 Part 2

: Restore previous version of excel file with AutoRecover feature

AutoRecover and AutoSave are built-in features in Excel. And if you have set it up, you can recover excel file saved over or unsaved. Bear in mind that AutoRecover feature only works on workbooks that have been saved at least once.

Step 1: Make sure you have configured "AutoRecover" and "AutoSave" features in "File" > "Options" > "Save".

Step 2: To restore previous version of excel file without saving, open the "File" tab and go to "Open" from left sidebar. You can click "Recent Workbooks" to display all Excel files that you opened recently.

Step 3: Scroll down and select "Recover Unsaved Workbooks" at the bottom. Then the previous version of workbook will open in Excel and prompted you to save it. Click on the "Save As" button on the yellow alert bar to save the previous workbook to your computer.

Other Microsoft Office products like Word, PowerPoint, etc. are also equipped with this feature. You can easily restore your Word document, PowerPoint presentaitons, etc. in this way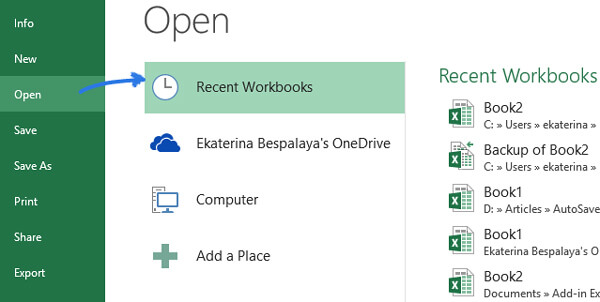 Part 3

: Recover Previous Excel Version to recover Excel file saved over

The AutoSave feature not only saves your workbook automatically, but also allows you to set intervals and more custom options. That makes recovering overwritten excel file possible.

Step 1: Go to "File" > "Info" and locate to the "Manage Versions" section.

Step 2: Then you can look at several previous versions titled with time. Click on the desired version, the file will reopen in Excel.

Step 3: Instead of Save As, you will be prompted to "Restore" the file since it is temporarily stored on your computer.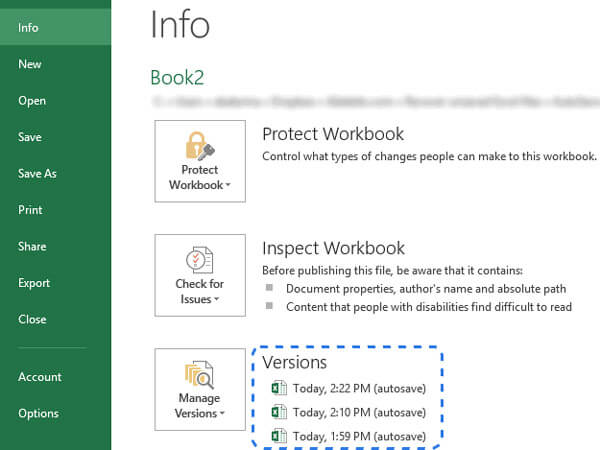 Part 4

: Best way to restore previous version of excel file

According to our testing, the methods above are not always successful to recover old version of excel file. Plus, the AutoRecover and AutoSave features are disabled by default. Is it possible to restore previous version of excel file without built-in features? Apeaksoft Data Recovery may be the answer that you are looking for. Its key features include:
It is able to recover previous version of excel files from internal and external drives in one click.
This Excel recovery tool is available to various situations, like mistake operation, accidental deletion, virus attack, sudden interruptions, or format.
It supports a variety of Excel file formats, including XLSX, XLS, HTML and more.
The best Excel recovery software could recover overwritten excel file in original format and quality.
Users could preview all excel files and decide to recover all of them or specific workbooks.
It is quicker, lightweight and safer.
Data Recovery is compatible with 10/8.1/8/7/Vista/XP.
Download for Win
Download for Mac
How to restore previous version of excel file
Step 1: Scan entire hard drive to look for previous versions of excel files
Download and install Data Recovery on your computer and launch it. If your excel file was stored on an external drive, connect it to your PC too. First of all, head to the data type area and check the box on the "Document" option. Then go to the locations area and choose where you save the excel file. Data Recovery will work as soon as you hit the "Scan" button.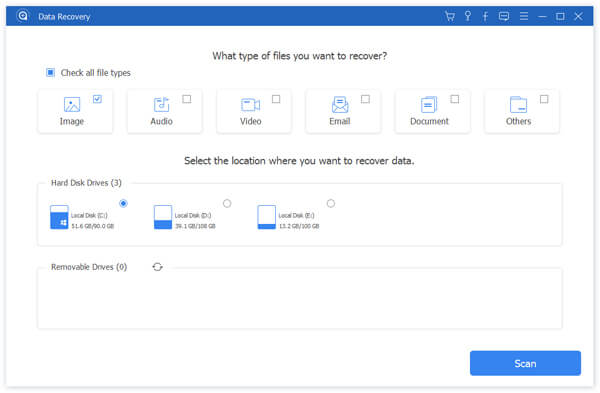 Step 2: Preview excel files before recovery
After standard scanning, you will be taken to the result screen. Click on the "Document" option on left sidebar, and then open the folders titled XLSX, XLS, HTML and more to preview all old versions of excel files. Moreover, the "Filter" feature at top ribbon could locate to an excel files quickly. If the Excel file that you want to get back is not in the quick scanning result, click on the "Deep Scan" button to execute a deep scan.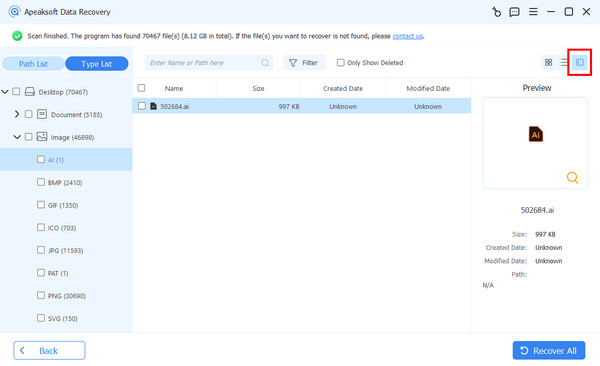 Step 3: Recover previous version of excel file in one click
Select all desired excel files or entire folder after preview and click on the "Recover" button to start recovering previous version of excel file. Then you can access them as usual.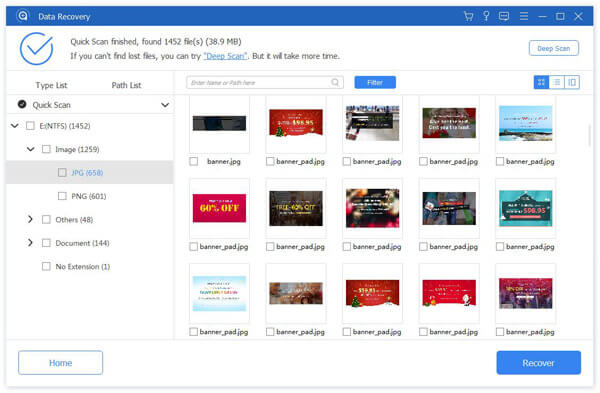 You Can also Read:
How to Fix Excel Not Responding
How to Fix Excel File Corrupted Issue
Conclusion
In this tutorial, we have discussed how to recover an excel file that was saved over. Firstly, Microsoft has introduced several features into Excel program to help users get back old versions easily, such as Undo, AutoRecover and AutoSave. They all have prerequisites, for example Undo is only available when the Excel file is still open. And if you want to use AutoRecover and AutoSave, you have to configure them first. On the other hand, we also shared a professional Excel recovery application, Apeaksoft Data Recovery. It does not require any settings. All you need to do is a single click; then your workbooks and data will restore to your computer. What's more, it can recover unsaved excel file. Don't hesitate and now make a excel file recovery.