When you find some important emails was deleted when you clean up my Gmail account. It contains important business information, is there any way to recover deleted emails from Gmail? According to a recent survey, email is still the primary way to keep in touch with business partners, colleagues, professors, etc. In another word, people are more likely to use email in formal occasions. And people not only open email on mobile devices, but also check them on computer. However, email providers only provide limited storage capacity to each user, for example, Gmail offers 15GB free storage shared with Docs, Google Drive and more. You have to clean up emails regularly; otherwise, cannot receive new emails anymore.

When you discovered Gmail deleted emails by accident, the first thing emerging in your mind is how to retrieve deleted emails from Gmail. Fortunately, there are several approaches to recover deleted emails Gmail. Actually, most email providers have realized such demands and developed multiple channels to help people recover deleted emails. In this tutorial, we are going to tell you how to recover deleted emails from Gmail. Bear in mind that these approaches are available to other email providers, such as Yahoo email, Outlook, etc. Anyway, if you are ready, let's start the awesome journey.
Part 1

: How to find and recover deleted emails Gmail from the Trash

First of all, all the emails that you sent and received are saved on email provider's server. Even though you delete them from your account, your emails stay in your Trash for 30 days. It gives you chances to retrieve deleted Gmail emails within 30 days before they are permanently deleted.
How to retrieve deleted email from Gmail Trash
Step 1: Input gmail.google.com in the address bar of your browser and click on the "Enter" key to open Gmail home page. Sign in your username and password (forgot Gmail password?).
Step 2: Locate to the left hand column, click on the "More" option and then go to the "Trash" tab. Scroll down and click on the scroll bar on upper right corner to find out the lost emails, and check the box in front of each of them.
Step 3: After select all emails that you want to get back, unfold the "More" menu under the search bar, and select "Inbox". Then all selected email will go back to your Inbox. If you want to save these emails separately, choose "Create new" and drop a name for the new folder.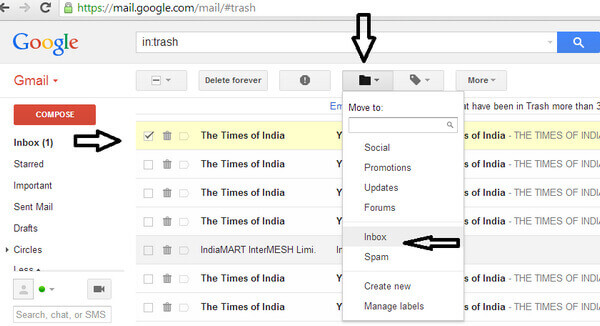 Trash is the easiest way of recovering deleted emails in Gmail, but you have to understand that these emails only stay in your Trash for 30 days. After that, they are permanently deleted from the trash.
How to retrieve deleted Gmail emails
If you have a lot of emails in your Trash or cannot find desired emails in Trash folder, the Advanced Search feature of Gmail is another option to retrieve deleted emails on Gmail.
Step 1: After go into the Trash folder, click on the "downward" icon in the Search bar on top of the window to open the Advanced Search floating window.
Step 2: You will be presented several options related to emails, like it is "From" whom or "To" whom, the "Subject" of the email, the words in the email, and more. Fill out the information as much as possible.
Step 3: Click on the "Search" button with a magnet glass icon at bottom of the floating window. Then Advanced Search will look for the email meets these parameters. If you get nothing on the result, switch to another folder in the dropdown menu on the top of the floating dialog, such as "Spam" or "All Mail", and try again.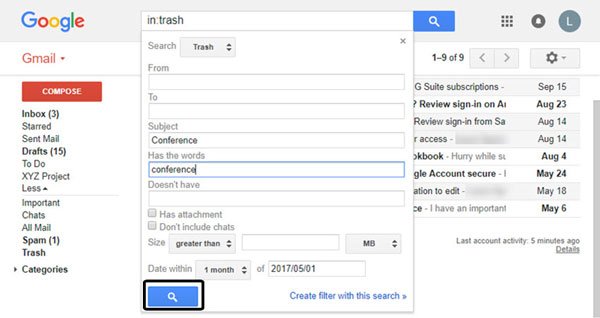 Note: Archive is a useful feature in Gmail. It does not delete your emails after 30 days. And you can restore deleted emails in Gmail from Archive easily. To move emails to Archive, select desired emails and click on the Archive icon on the toolbar. When you want to recover emails from Gmail Archive, go to the All Mail folder from left sidebar, unfold "More" menu and choose "All Mail" to display all emails, now you can search the email to recover normally.
Part 2

: Common ways to Retrieve Deleted Emails from Gmail

If Advanced Search cannot find in your Trash folder or the deleted emails, you can find the reasons as below:

1. You have emptied your Trash folder along with all deleted emails.

2. The emails have been deleted from your Inbox and stayed in Trash after 30 days. In another word, they are cleared from your account automatically.

3. You have clicked the "Delete Forever" button on the emails in your Trash folder.

Can I recover deleted emails from Gmail after 30 days or deleted permanently? At this time, you can try to send a request to Gmail Support Team. There are chances to recover your lost emails in your Gmail account before they are removed from Gmail server. And the steps below could help you enhance the chances to find deleted emails on Gmail.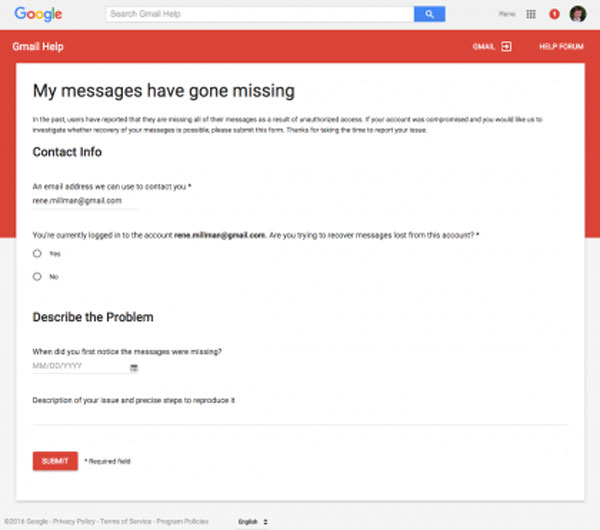 How to retrieve deleted emails from Gmail by Gmail Support
Step 1: Access your Gmail account in your browser, and go to the My messages have gone missing page (https://support.google.com/mail/contact/missingemails).
Step 2: Gmail will show you a format. Locate to the Contact Info section. Type your email address that Gmail Support Team could use to contact in the first box. If current Gmail account contains your lost emails, select "Yes"; otherwise, select "No" and drop corresponding Gmail account.
Step 3: Navigate to the Describe the Problem area, click on the "calendar" icon and select the date when you first noticed the emails were missing. And write down what did you do to lead to the emails disappear. Finally, click on the "SUBMIT" button.
Note:
Remember that the more accurate the information you entered, the higher probability that your email back. Gmail Support Team will send you a reply within half an hour usually. Access the email account you left, open the email from mail-support@google.com. It will tell you whether Gmail is able to recover your emails or not. If you get the affirmative reply, visit your Gmail account and check the Inbox and Trash folders. Your emails should be restored. If not, skip to the next part.
Part 3

: Professional way to recover deleted emails Gmail

Though recovering permanently deleted emails from Gmail may be not as difficult as you thought before, the common ways cannot help you to get back deleted emails under all situations. That is why we recommend you to try Apeaksoft Data Recovery, which is a professional email recovery application with many useful features, such as:
Easy to use. This email recovery application is able to get back lost email messages in one click, so even novices could grasp it in a few seconds.
Recover emails in various situations. No matter your emails were lost due to mistake operation, accidental deletion, virus attack, or system crash, it could recover them.
Support a variety of email providers. It works for all email accounts, including Gmail, Yahoo email, Outlook, Hotmail, etc.
Loss recovery. With the best email recovery application, you can restore deleted emails in original conditions, including the messages and attachments.
Preview for selectively recovery. After quick scanning, you can look at all lost emails organized by categories and decide to recover all of them or specific ones.
Download for Win
Download for Mac
In short, the best email recovery application almost equipped all features you are looking for about recovering deleted emails on PCs.
Important notes for recovering deleted emails in Gmail
Though Apeaksoft Data Recovery is pretty simple to use, we still want to show you the procedure. And before that, there are some tips to enhance the possibility of email recovery.
1. If you delete the Gmail emails by mistake, go to the Trash and check whether erased emails stay there. And we have discussed how to get back lost emails from Trash in the first part.
2. Remember that all your actions will be saved in buffer area on your hard drives, including the emails you deleted from your Gmail account. That is why you can get them back with right tool, such as Data Recovery.
3. When the emails are deleted, they are not gone from your hard drive. Instead, the space saved these emails will be marked as empty until they are overwritten by new data. Stop what you are doing as soon as you discover your emails disappeared from Gmail account. That could prevent from deleted emails are overwritten.
How to restore deleted emails in Gmail with Data Recovery
Step 1: Scan entire hard drive to look for lost emails
Download and install the latest version of Apeaksoft Data Recovery on your computer. Open the best email recovery app when you found important emails disappeared. On the home interface, there are two sections contain several custom options, data types and locations. First of all, check the box in front of the "Email" option under file types section. Then select the location where you want to recover data. After set up, click on the "Scan" button to extract recoverable emails from your hard drives.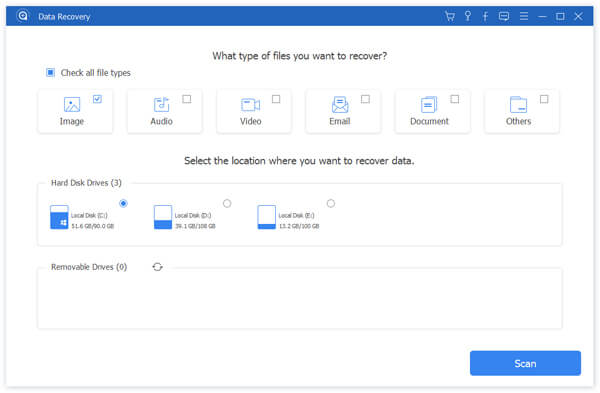 Step 2: Preview before recovering emails
When scanning is complete, you will be taken to the result window. And the recoverable emails will be organized by formats, such as PST, DBX, EMLX, etc. Click on the Email option on left hand column of the window; you will get several folders titled with email file formats. If you are not sure, go to every folder and preview the thumbnails of recoverable emails. The "Filter" feature at top ribbon could help you to find the email that you want to recover quickly by inputting keywords, like subject.
If you cannot find the deleted emails, click on the "Deep Scan" button at upper right corner. It will take more time than the quick scan feature to look at the data in deep system.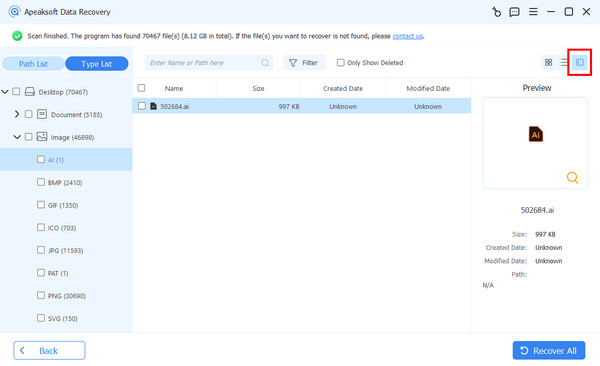 Step 3: Retrieve deleted emails in one click
To recover deleted emails from Gmail, you can check the box in front of the title of each email or select entire folder contains the desired emails. Data Recovery will start working as soon as you click on the "Recover" button at bottom right side of the window. When it is done, click the "Open Folder" button on Recovery Finished window to redirect to the location stored your deleted emails. Then you can browse, copy and paste, or edit your Gmail emails as usual.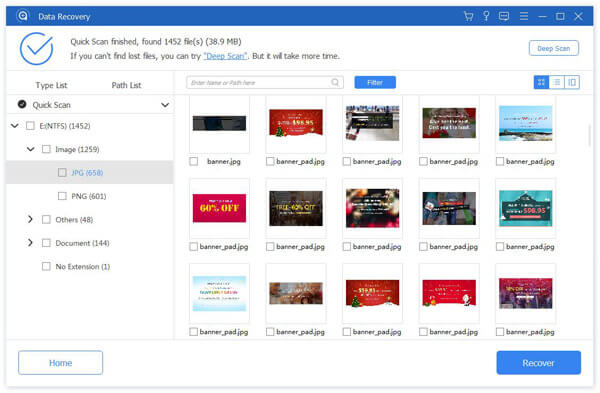 Data Recovery does not have any limitations on the amount of emails recovery. And you can get back all attachments along with the deleted email messages, including photos, videos, documents, and more.
Conclusion
Email is still an important communication way. It makes sense that people prefer to email, when you consider that it has many benefits, such as non-intrusive. Many people use emails for business purpose, and deleting emails may cause important information loss. In this tutorial, we have shared multiple solutions on how to restore deleted emails in Gmail. First of all, when you find your email is gone from Gmail account, the first place you can get them back is the Trash folder. Almost all email providers will save deleted emails on their servers for a few days to several months. When it comes to Gmail, deleted emails stay in Trash for 30 days, and then they will be removed from your account permanently. If you cannot find your emails in Trash, try to contact Gmail Support Team. They could help you if the emails are still in Gmail server. On the other hand, we also shared a professional email recovery tool, Apeaksoft Data Recovery. It is not only easy to use, but also able to restore most deleted emails.