Ransomware has been a prominent threat to humanity since the mid-2000s. Despite a recent decline, ransomware is still a great menace. When your computer is attacked by ransomware, you will not be able to access your system or personal files unless you pay a fee to get the decryption key. The costs can range from a few hundred dollars to thousands.
Fortunately, there are several feasible ways to help you restore your data after an attack without spending a huge amount of money. So if you are stuck with ransomware and do not know how to recover from the ransomware virus, then you have come to the right place. Here are a couple of ways to recover the encrypted or deleted files from ransomware attack and the following shows how.

Recover Files from Ransomware Attack
Solution 1. Restore the Encrypted/Deleted Ransomware Data from Backup
If you have backups available, remediating the encrypted ransomware files is as simple as wiping and reimaging infected systems. You just need to find your backups and the encrypted files can be easily recovered by restoring original files from the external backup device. This can be done only in case if you have backed up your data on the computer at intervals in an external Hard drive, SSD, SD card, Pen drive, cloud storage or any other storage device.
Solution 2. Recover the Encrypted/Deleted Files from Ransomware Attack
If there is no backup available, then you can use data recovery software to recover encrypted files from Hard Drive, SD card, Pen Drive and any other storage device. Apeaksoft Data Recovery software is a professional file recovery tool that can recover files from a ransomware attack and retrieve any data deleted or infected by the virus. With it, you are able to restore deleted PDF files, photos, audio, music, emails, and any other data from any storage like the recycle bin, hard drive, flash drive, memory card, digital camera, etc.
Now, let's take a look at how to use Data Recovery software to retrieve the encrypted or deleted files attacked by ransomware.
Step 1
Free download, install and then open Apeaksoft Data Recovery on your computer.
Step 2
Choose the file type and the hard drive from which you want to retrieve the file in the main interface. After that, hit on Scan to begin the procedure.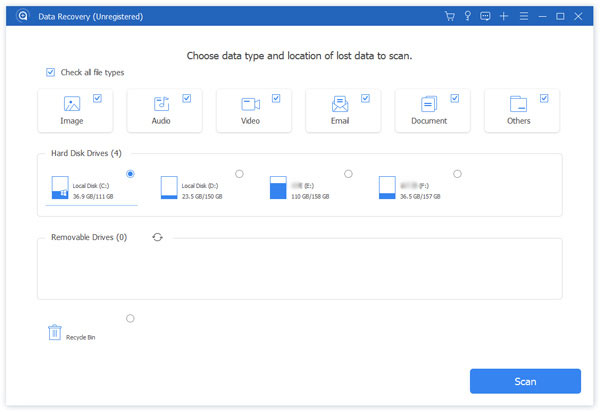 Step 3
When the scanning is completed, you can check the scanning results and find the file you want to restore. Before recovering, you are allowed to preview the file. If you can't find the deleted or encrypted ransomware files, you can click the Deep Scan button in the upper-right corner to scan your computer thoroughly.
Step 4
Next, check files you wish to recover and press the Recover button.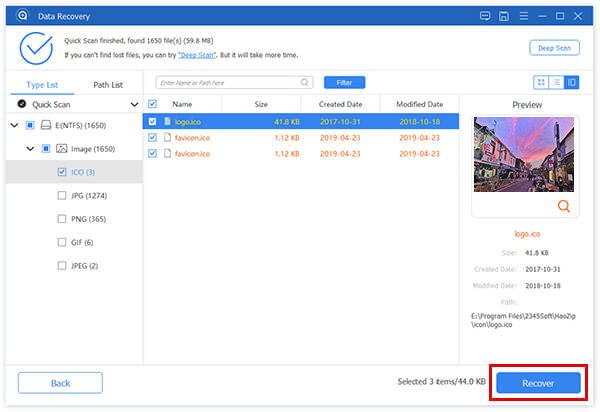 Then, a window will appear from which you need to select the location to save the recovered files.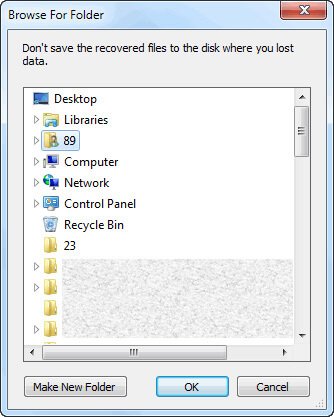 Related: How to Get Back Deleted Files on IDM
FAQs of Recovering Files from Ransomware
What is the ransomware virus?
Ransomware is malicious software intended to encrypt the data, and/or block your device and force you to pay a ransom to the attacker in-lieu of decrypting the data or unlocking the device. The device could be a PC, an Internet of Things (IoT) device, or a mobile device.
How long does it take to recover from ransomware?
It might take 33 hours according to a recent survey.
How many types of ransomware?
Ransomware can be classified into the following categories: Locker ransomware, crypto ransomware, scareware ransomware, Android mobile device ransomware, and IoT ransomware.
Conclusion
Ransomware will continue to be an issue for businesses as long as criminals have something to gain from dispensing the virulent software. To prevent ransomware, you should keep your operating system patched and up-to-date to ensure you have less vulnerability to exploit. And you'd better install antivirus software to help you detect malicious programs like ransomware as they arrive, and whitelisting software to prevent unauthorized applications from executing in the first place.
More importantly, it's better to back up your data at regular intervals so that you can restore the data from the backup in a ransomware attack situation. Even if you fail to recover your files from the backup, Apeaksoft Data Recovery will always come in handy for solving this issue.