Have you ever faced the situation that you lost the Word document you were working on due to some unexpected issues? Should you redo the work for Word document again after restart or computer crash?
It should be a frustrating experience if you have been working on the Word file for a long period of time. How to recover unsaved word document?
The article explains the frequently used method to get the unsaved word document back with ease. Just check out the solution from the article to choose the best method to recover unsaved word document for both Windows and Mac accordingly.

Part 1. How to Find and Recover Unsaved Word Documents Manually
Actually there are many occasions that the word document inadvertently shut down, or the computer has some problem that restart or crash without saving the word document. There are many ways to recover the unsaved word document, and find the temporary files is a normal and practical way. There are two main methods for finding temporary files manually to recover unsaved document.
Method 1: Access and recover unsaved word document from temporary files
Step 1. Enter C:\Documents and Settings\Administrator\Application Data\Microsoft\Word to find the temporary files where you can recover the unsaved word document.
Step 2. And then check the temporary file begin with squiggly line "~". It is worth mentioning that you should put the name of the folder of "administration" depend on your specific circumstance.

Method 2: Search and recover unsaved word document from temporary files
Step 1. Search for the .tmpextension or "~" files for temporary files in the "Start Search" box from "Start" menu. And then you can get a list of temporary files, which you have to identify the correct files to recover unsaved word document.
Step 2. If you find any file whose name is the name of the missing file, you can launch Microsoft Word to click the "file", and then click "open". You should choose all kinds of document in the box of document type.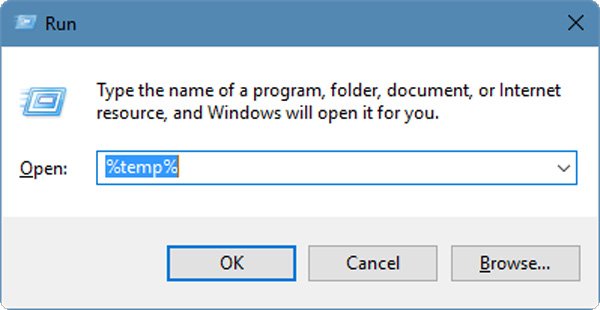 Part 2. Recover Unsaved Word Document Using AutoRecover Feature
It may be troublesome for the people work with Microsoft Word for most of the time. Actually Word has its own automatically unsaved word document recovery to avoid restarting or computer crashing. Just take full advantage with the AutoRecover files to get back the information.
Method 1: Recover unsaved word document from Word automatically
By default, the AutoRecover files start every time you launch the Word file. Just follow the steps to recover word document from Word program automatically.
Step 1. On the Start screen, you can right click the Word program, and then tap or click "More" and choose "Pin to taskbar" to launch the taskbar. After that select the "Task Manager".
Step 2. And then on the "Processes" tab, you should click "End Process" for all the Winword.exe or Microsoft Word processes. Make sure you have ended all the word related process before close the "Windows Task Manager".
Step 3. Check the Document Recovery task pane to open on the left side, which you can recover unsaved word document with the "* Original" or "* Recovered". Double click the unsaved word document and save to your computer.
In this way, you are able to retrieve unsaved Excel file.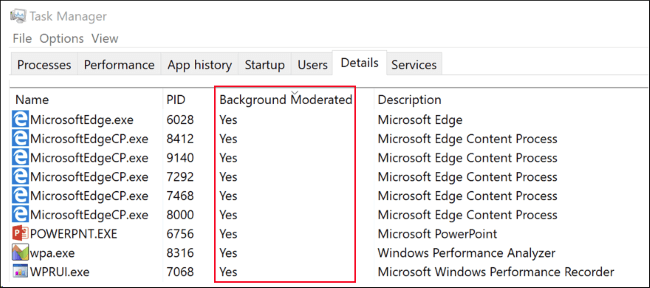 Method 2: Recover unsaved word document from Word manually
How to recover unsaved word document of Word 2010
Actually it is the easiest method to get back the unsaved files from Word 2010, you only need to click the "File" menu, and then click "Recent". Choose the "Recover Unsaved Documents".
How to recover unsaved word document of Word 2007
Click the Microsoft Office button, and then choose "Word" option. In the Navigate pane, you can choose "Save". And then you can access to the AutoRecover file location, take down the location to look for ASD files.
If you are using Word 2002 or Word 2003, you can access to AutoRecover file location from "Tools" > "Options" > "File Locations" to recover unsaved word documents.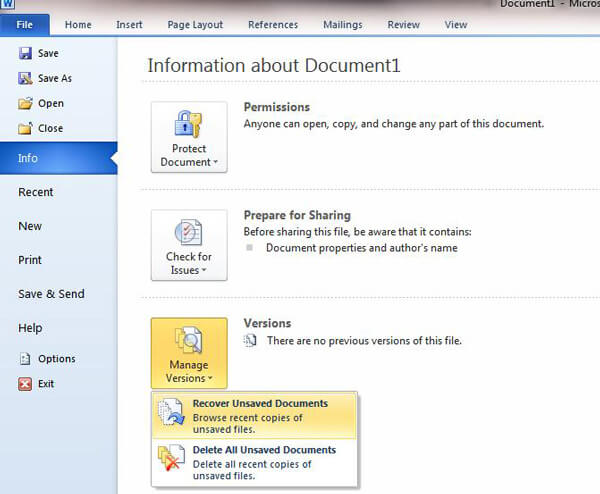 Part 3. Best Word Recovery Tool to Recover Unsaved Word Document (Recommended)
What should you do if you still cannot recover the unsaved word documents with the above solutions? What is more, the process might be complicated for green hand and people who are not familiar with the setting of software. What's worth, the methods previously mentioned still have some rate of failure and both of them cannot recover the document you deleted thoroughly by accident. In order to successful recovering the unsaved word documents, Disk Drill and Apeaksoft Data Recovery are the highly recommended methods to extract and recover the lost documents.
Recover unsaved Word with Data Recovery
Data Recovery is the Word recovery tool for Windows users. It enables you to easily restore many frequently-used files from your computer.
It recovers unsaved Word file in doc and docx.
It retrieves the video files in the formats of AVI, MOV, MP4, M4V, 3GP, 3G2, WMV, ASF, FLV, SWF, MPG, RM/RMVB, etc.
Audio files like AIF/AIFF, M4A, MP3, WAV, WMA, MID/MIDI, etc. can be found back.
It recovers all types of data from computer, recycle bin, hard/flash drive, memory card, etc. with ease.
It recovers images in JPG, TIFF/TIF, PNG, BMP, GIF, PSD, CRW, CR2, NEF, ORF, RAF, SR2, MRW, DCR, WMF, DNG, ERF, RAW, etc.
You can get the unsaved Excel recovery, corrupted PPT/PPTX retrieval, PDF, CWK, HTML/HTM, INDD, EPS, etc.
Email and other data like ZIP, RAR, SIT, and more are supported to get back.
Compatible with Windows 10/8.1/8/7/Vista/XP (SP2 or later).
Download for Win
Download for Mac
Step 1. Free download, install and run this software on your computer.
In the main interface, you need to check the data types from Image, Audio, Video, Email, Document and others. Here, you should tick "Document".
In the hard disk drive, you also need to check it. Then click Scan to start the scanning process.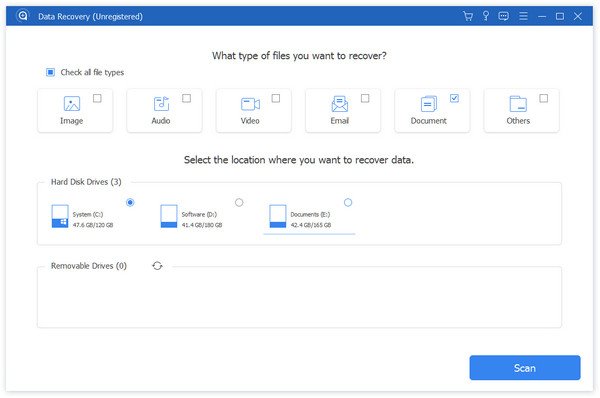 Step 2. After the scanning result is complete, you need to click the data type folder for further details.
After viewing the deleted Word files in details, you could checkmark the exact Word files that you want to restore, and click Recover to save the deleted data to your computer. With the same solution, you can also get the unsaved Excel recovery with ease.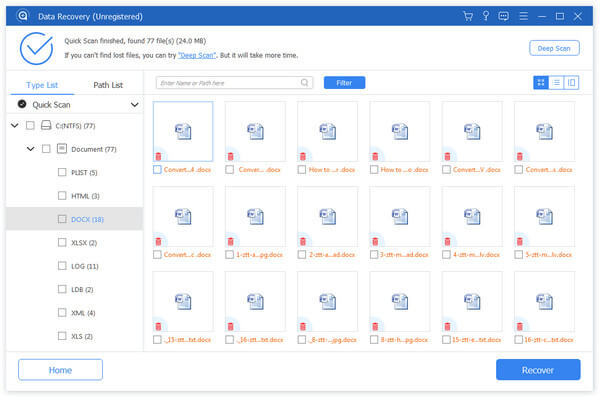 You can also learn from the video tutorial to recover the unsaved Word file: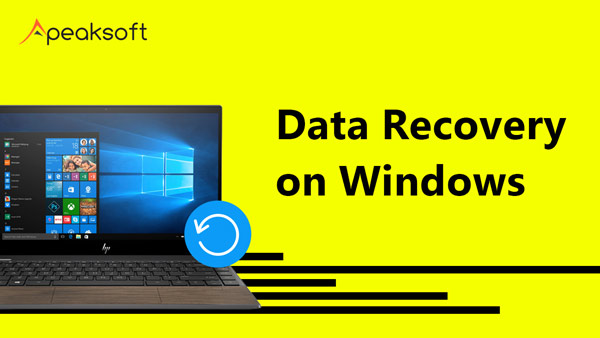 Restore unsaved Word with Disk Drill
Disk Drill has many wonderful functions. What's more, it is a recovery tool as well as a disk tool. As a disk tool, it has hard disk health check, disk memory clean up, duplicate finder, recovery drive, data protect/backup and other functions, and they are in free.
Besides recovering the unsaved word documents in the memory of the computer hard disk, it can also recover them from storage device. Besides, it is friendly for normal people because of no expert skills needing. Even if a person who isn't familiar to recovery tool at all, there isn't any block for scanning and recovering the disk.
Step 1. Download and install the software
You can download Disk Drill from its official website. Then install the software on your personal computer, you can click the icon twice to launch it or wait for it launch automatically right after the install-process completing.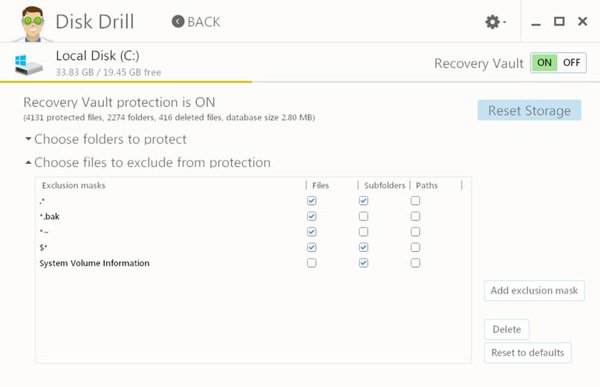 Step 2. Choose the disk you want to scan
After launching this software, you can see "protect" and "recover" in the interface. Because of your purpose of recovering lost Microsoft Word document, we can choose recover to continue. Then you can choose the disk that includes your document and wait within one minute.
Step 3. Filter files by file formats
You can see the button of "recover data" on the top of the interface, click it and you can filter files by different file formats. You can choose unsaved word documents to recover. Generally speaking, you can find the document you lost in this moment.
Step 4. Recover the unsaved word documents
You can select the document and choose the place that the recovered document stored. After clicking it for a moment, you can see your lost document. You can check this post to learn how to restore previous version of Word document.
Summary
This article is about how to recover the unsaved Microsoft Word documents, thus it lists the ways to get the files back without doing the work again. There are some default solutions to recover the unsaved Word documents with temp files or AutoRecover from Word. In order to find and recover the unsaved word document of different versions with ease, you can take the recover feature of Disk Drill and Data Recovery into consideration.