Summary
If your Word document files disappeared when you work, accidentally lost or deleted due to Microsoft Word crash, Apeaksoft Data Recovery provides the most efficient way for you to retrieve Word documents with ease.
Free Download
Free Download
Just imagine that you have a report in Office Word for hours, which you closed it without saving the file.
How to recover the Word document? It cannot be imagined that you have to do the work again.
Most people feel panic and then spend a whole night to recreate a document when they forgot to save the document or overwrote other file.
Actually, you do not need to do that.
In this tutorial, we are going to talk about 4 ways to recover Word documents that are not saved, corrupted or overwritten, etc.

Way 1

: Can you recover previous version of word document

Though it cannot ensure success, this method is worth to try when you accidentally saved over a word document from a previous version backup.

Previous versions are either copies of files and folders created by Windows Backup or copies of files and folders that Windows automatically saves as part of a restore point. Surely, the precondition is that you have enabled the auto backup on your computer system.

Check the following steps to see if you have a previous backup of Word for restoring.

Step 1: Right-click on the document that you want to recover and choose "Properties" on the menu bar.

Step 2: Go to the "Previous Versions" tab on the Properties dialog. Then old versions of this document will show up if there is one. And you can go to the location and restore it.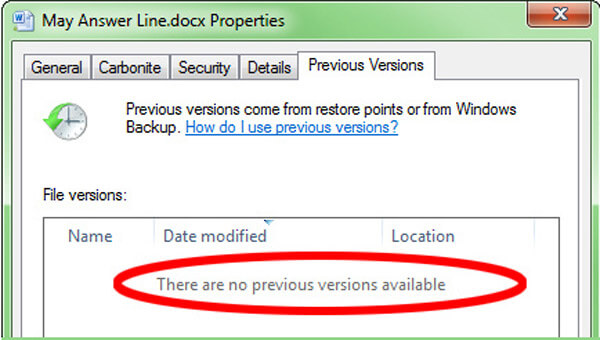 Way 2. Recover Word document via OneDrive backup
Now, Office allows users to sign in OneDrive account in Word and sync documents to cloud. It is also an option to restore previous version of word document.
Step 1: Visit OneDrive website and sign in your account, find the document you want to restore, right-click on it and select "Version history".
Step 2: Then the document will open in a viewer. You can select proper old version and click on "Restore" to get it back.
If you use work or school account with Office 365 business, you can find "Version history" option in the "Details Pane".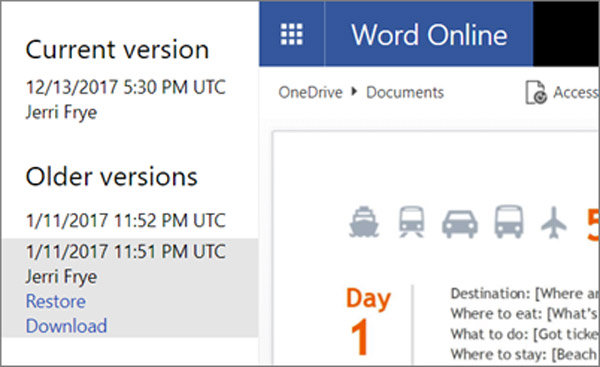 Way 3. Recover Word document from Temp file
Even if you do not have a OneDrive account, it is possible to recover previous version of word document with temp files.
Step 1: Go to the Temp Folder on your computer.
Windows 10/8: C:\Users\\AppData\Local\Microsoft\Office\UnsavedFiles\
Windows 7: C:\Users\name\AppData\Roaming\Microsoft\Word\
Step 2: Look at the file that has the similar title with your document but ended with .tmp. Copy and paste it to another folder, right-click on the temp file, select "Rename" and change the extension to .DOC or .DOCX. Now, you can open it normally.
In this way, you can also restore an unsaved Excel file on your computer from Temp files..
If you cannot see the file extension, locate to "View" tab on top of Explorer and check the box of "File name extensions".
Way 4. Best way to recover Word document
The above ways let you recover Word document in a certain situations. If you cannot meet the above needs, you will get no opportunity to recover Word. For breaking those limits, we suggest Apeaksoft Data Recovery. It is the professional Word documents recovery software for Windows and Mac users. Moreover, it is highly compatible with all Word version like 2003, 2007, 2010, 2013, 2016, etc.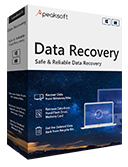 4,000,000+ Downloads
Recover Word document from internal and external hard drive on PC/Mac.
Recover Word in .doc, .docx, .dot, .dotm, .docm, .dotx, etc.
Recover Word document unsaved, corrupted, deleted, formatted, etc.
Deep scan and quick scan to help you restore data efficiently.
Step 1: Scan entire hard drive to look for documents
Download Data Recovery and install it on your computer. Launch the best document recovery software when you found important document is overwritten or not saved.
Firstly, check the box of "Document" under the data type section. Then head to the location section and select where the document stays originally. If you want to recover unsaved Word document, select Local Disk C:. Once click on the "Scan" button, Data Recovery will work automatically.
If your document is stored on an external hard drive, plug it into your computer and select the hard drive in "Removable Devices" area.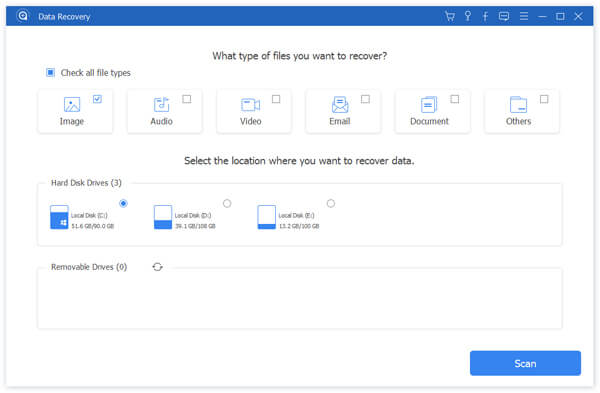 Step 2: Preview before document recovery.
The result window will show up after standard scanning, and all recoverable documents will be organized by formats. Go to the "Document" tab from left hand bar, you will see several folders titled DOC, DOT, DOCX, etc. Open each folder supported by Word and search for the document that you want to get back.
If there are too many documents, enter key words related to the desired document into the top search bar and hit Filter button to find it quickly. If the standard scanning does not contain your desired document, click on the "Deep Scan" button to check the hard disk deeply and find more data.
Moreover, from the scan result, you will find other document files like Excel, PowerPoint, TXT, etc.
Learn here to get PowerPoint Recovery here.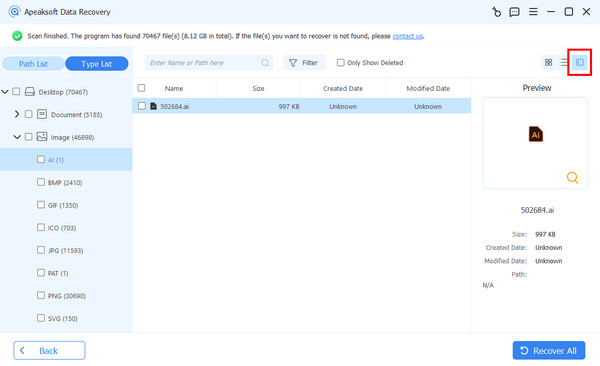 Step 3: Recover overwritten Word document in one click
Select all Word documents to recover or the whole folder, and click on the "Recover" button at bottom right corner to initiate recovering overwritten Word document. Wait for the process to finish, and then you can open and edit your document as usual.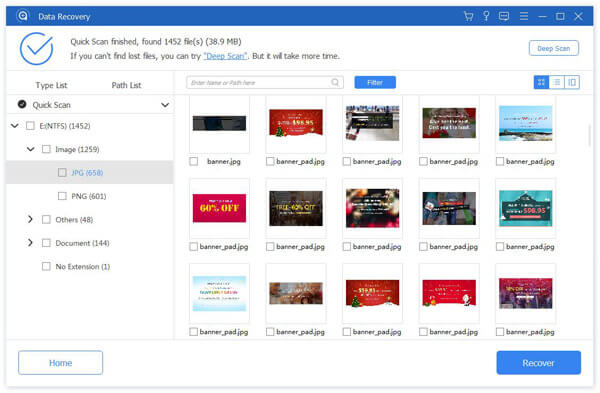 Do not miss this video tutorial to start a quick Word document recovery here: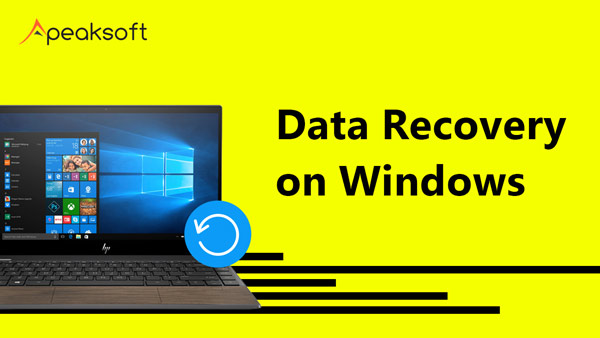 FAQs of Recovering Word Document
1. Can I find the lost Word document in Recycle Bin?
The word files we deleted will move to Recycle Bin immediately. You can find and recover a deleted document easily if you don't use "Shift+Del" for a permanently delete.
2. Is there a way to recover an unsaved Word document?
Using Word's Recover Unsaved Documents Feature Start Word. Go to the File tab and select Manage Document. Select the Manage Document button. Choose Recover Unsaved Documents from the drop-down list. Select the Word document you want to recover, then select Open.
3. How do I find a Word document that has been accidently deleted?
Open the Recycle Bin to have a check. Search for your file by document name, file type, or date deleted. If you find your missing file, note the Original Location. When you recover deleted Word documents, they automatically are restored to that location. Restore the deleted document and either find it in its original location or click Quick Access to find it in the Recent Files list.
Conclusion
Based on the introduction above, you might understand how to recover Word document. Microsoft offers several ways to back up and recover your document when something unfortunate happens. Moreover, the professional document recovery tool, Apeaksoft Data Recovery, is an all-in-one solution to get back your Word documents in various situations.