- "How to restore music I purchased and downloaded from iTunes, I just delete all previous iTunes purchases by mistake to make more space."
- "I tried to restore iTunes purchases using "Download previous purchases", but the "Download" button in dimmed and reads as "Downloaded"."
People lost iTunes purchases due to app re-installing, restore from the backup recently or other strange reasons.
Sometimes the iTunes purchases just disappeared suddenly without knowing why. Missing iTunes purchased media is the sad thing for everybody. But it does not mean you are ripped off.
Actually, you can try following methods to unhide and restore iTunes purchases easily.

If you want to restore data from iTunes, not only the purchased, iPhone Data Recovery will be helpful exactly for you.
To prevent iTunes purchases lost again, you should restore data from iTunes.
iPhone Data Recovery is your reliable tool that can backup and restore data from iTunes backup in a snap.
Whether your iPhone has been crashed, broken, wiped, upgraded, jailbroken or even got stolen, you can restore purchases from iTunes without previous data erasing.
Step 1. Download iPhone Data Recovery
Download and install iPhone Data Recovery app on your computer. Do not run iTunes to make sure the process of restoring iTunes backup. Or you may fail to restore iTunes purchases and other iOS data if you have not use iTunes on this computer before.
Step 2. Scan iTunes backup
Tap "Recover from iTunes Backup File" in the second place. Hit "Start Scan" to detect all your iTunes backup. You need to enter the password to encrypt iTunes backup.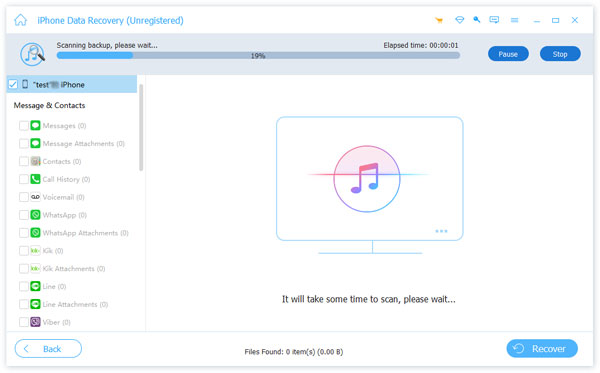 Step 3. Restore data from iTunes
All your iTunes backup files will display in categories. You can choose the certain file type to get both deleted files and existing items. Select iTunes purchases and other iOS data, press "Recover" to restore data from iTunes without data loss.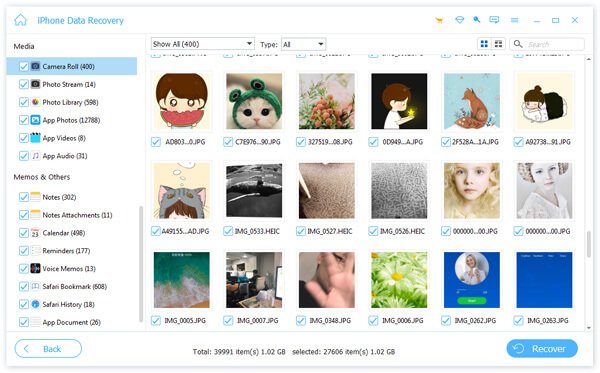 Yes, you can restore music, apps, movies and TV shows from the iTunes Store. Whether you need to restore iTunes purchases on new computer or restore deleted iTunes purchases on iPhone, the following solutions can solve your problem.
For people who have been the member of Apple Music, purchased music downloaded offline will not display in Purchased section.
How to restore deleted purchases from iTunes on iPhone/iPad/iPod
Step 1. Select the type of your iTunes purchase
Open iTunes Store app on your iDevice. Log in iTunes Store with Apple ID and password. (iTunes password forgot? Reset iTunes password.)
Find "More" option in the lower right corner. (If you are using iPad to restore iTunes purchases, skip this button.) Tap it to enter "Purchased" page. Choose the certain iTunes purchase category. For instance, select "Music" if you want to restore purchases of iTunes songs to iPhone or iPad.
Step 2. Restore purchased iTunes media files on iDevice
Choose "Not on This [device]" button to access deleted, lost or hidden iTunes purchases. Select the iTunes purchase and tap the "Download" button besides to re-download.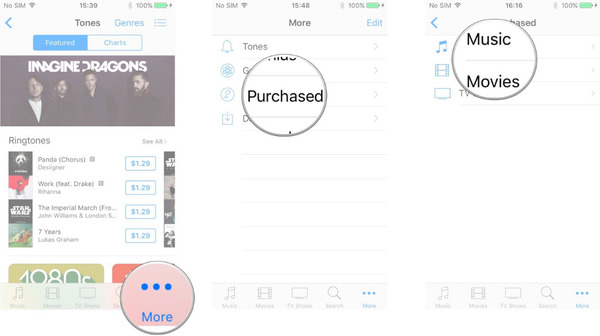 People also read:
How to redownload purchases from iTunes on computer
Step 1. Select purchased music or other media in iTunes
Launch iTunes on your Mac or PC. Make sure you have updated iTunes to the newest version and sign in with your Apple ID. Click "Account" and select "Purchased" to get all your purchases from iTunes.
Step 2. Restore previously deleted iTunes purchases
Tap "Not in My Library" button to see deleted iTunes purchases. Now click certain iTunes purchase and tap "Download" icon in the right side to restore deleted iTunes purchases.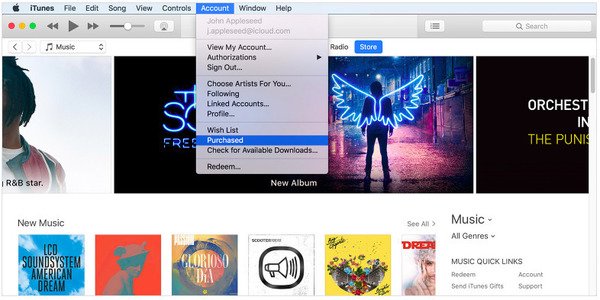 Sometimes, you may find iTunes purchased music, movies, or othe data just disappear from Store, and you think they go forever.
Actually not.
The purchased items may just be hidden by yourself without intention. What you need to do is to unhide them one by one.
Unhide apps on iPhone
Step 1. Open iTunes Store and select "View Account".
Step 2. Scroll down to find "Hidden Purchases".
Step 3. Tap "Manage" button to see all your hidden iTunes purchases. Choose the item you want to restore, and then hit "Unhide" besides.
Now you can restore hidden iTunes purchases directly.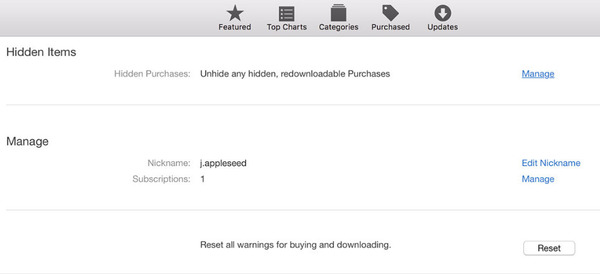 Find back hidden apps on Mac
Step 1. On your Mac, open the App Store. Click your name at the bottom of the left sidebar, and then click "View Information".
Step 2. Scroll to "Hidden Items", then click "Manage".
Step 3. Find the app that you want to unhide, and click "Unhide" > "Done" to show hidden apps on Mac.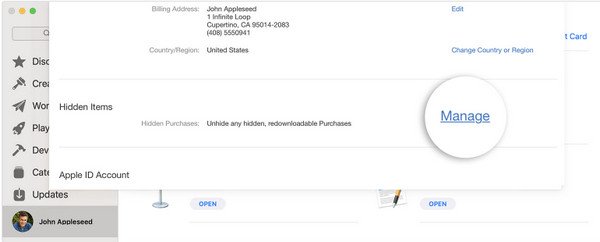 If you open iTunes and fail to find previous purchases you downloaded, you can check whether you have deleted those iTunes purchases by mistake. Tap "Not in My Library" to see hidden purchases from iTunes.
Or you can turn to "All" and restore your iTunes purchases. But if your iTunes purchases are still missing, you can operate following solutions to restore previous iTunes purchases.
1. Check whether you are using the correct Apple ID
For Mac users, open iTunes, choose "Store" and "View Account". Check whether you have signed in with the email matched with purchased music. (Apple ID forgot? Reset Apple ID now.)
Or you can re-sign in to get previous iTunes purchases.
For iOS users, open "Settings" to find "iTunes & App Store". Check your Apple ID, too. Or just enter the correct Apple ID.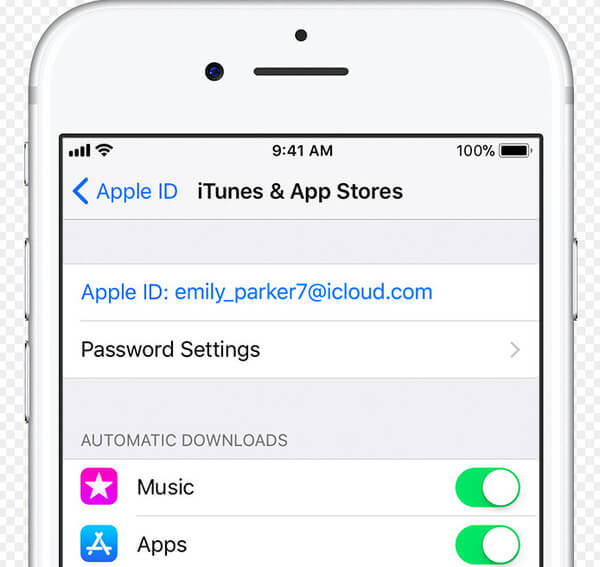 2. Check iTunes Store location
Different country has different iTunes Store because of license agreements. For instance, you cannot download music from iTunes US Store if you purchased in iTunes UK Store. So change the country or region page in the corner for Mac users. Or iOS users can sign out and sign in to restore your iTunes purchases.