Have you ever been frustrated/crazy by those situations below:
Accidentally deleted text messages which are very important
The texts were overwritten by iOS upgrade, space release, etc.
Lost the text messages due to your iPhone 6 got stolen
Cannot access the SMS because your iPhone 5s got stuck with a system broken problem
We just need those precious messages come back to us, but have no idea about how to do that – this always upset us.

No matter what situation you have been stuck in, should one of the methods below be appropriate for you.
It would be better if you have backed up your text messages with iCloud or iTunes before you deleted them.
We'll show you how to do the SMS recovery both in free ways and paid ways.
Part 1. Recover deleted text messages in free ways
1. Recover deleted text messages from an iTunes backup
Just note that it will overwrite all data on your iPhone, if you do not want to lose your exist data, you can back up your iPhone first, then follow us with the below steps:
1) Connect your iPhone to the computer, iTunes will open automatically. If not, just open it manually.
2) Click the iPhone icon in the top left corner.
3) Select the "Restore Backup" on the right window.
4) Now all data you backed up before would overwrite the data on your phone. After a few minutes, there will be the deleted texts exist on your phone, just go to the Messages app to check.
2. Recover deleted text messages from an iCloud backup
As this method needs to factory reset your phone, it will also cause the overwrite problem, remember to back up your iPhone first if you do not want to lose your exist data.
1) Go to Settings > [your name] > iCloud > Storage > Manage Storage (or Settings > iCloud > Storage > Manage Storage). At this page, you will see all of your backups. Make sure the date you have deleted the text messages, then select the appropriate one to recover (you can tap on the backup to see the back up date)
2) Go to Settings > General > Reset, then tap "Erase all content and settings."
3) On the Apps & Data screen, tap Restore from iCloud Backup, then sign in to iCloud.
4) Proceed to "Choose backup" then choose from a list of available backups in iCloud.
After using an iCloud backup to restore your iPhone, your settings and accounts are restored from the iCloud backup you chose, the deleted text messages also list on your iPhone if you have choose the right backup to restore.
If you do not want to replace the data on your iPhone, here is also another method for you: log in https://icloud.com to recover your text messages. But we need to remind that there is a limit for using this method – iCloud doesn't back up texts in all territories, and for all phone operators.
1) Log in https://icloud.com with your Apple ID and password
2) Find out the texts you have lost and click on them – if there is none of the deleted messages, it means you haven't backed up them before, then you can skip this method.
3) If you can find your deleted text messages, now just pick up your iPhone and go to Settings > iCloud.
4) Turn off Text Messages (or make sure it's already turned off). I know this sounds counterintuitive but just do it.
5) Select "Keep on My iPhone" on the pop-up window.
6) Now turn on the Text Messages.
7) Tap "Merge", and wait for a few minutes, then the deleted texts will appear on your iPhone.
Part 2. Recover deleted texts from your iPhone directly
Maybe you guys have done the previous free methods like me even we actually know we have no backups – sometimes it's worth trying until we realize something is impossible.
We really want to recover those deleted messages, then google "how to recover the deleted text messages", there are so many pages with the topic come out. You are so lucky that you have found us.
We now recommend Apeaksoft iPhone Data Recovery . It is professional data recovery software for iPhone like iPhone 5s/6/6s/7/8/X, iPad and iPod. It is capable of recovering deleted text messages, photos, contacts and other data from your iOS devices, whether you have backup or not.
Actually, when we delete or remove SMS from iPhone 5s/6/6s/7/8/X, the "deleted" messages are not really deleted. They are just technically set hidden in iPhone, and we need to find them, then mark them back to visible. That is the iPhone Data Recovery can do.
If you haven't operated your iPhone like send a message or make a phone call after deleting the SMS, there is a great probability of recovering them. If you operate your phone as usual, it doesn't mean the recovery is impossible, we can try to see the result – do not miss any possibility.
Let's go to the nuclear.
Apeaksoft iPhone Data Recovery has three parts, they are iPhone Data Recovery, iOS Data Backup & Restore, and iOS System Recovery. I know it may confuse you once you read their name. But don't worry and continue to read our article, we'll explain every function of these parts.
1) iOS System Recovery can help you to fix your iPhone which is stuck in a system problem like stuck in Apple logo, DFU mode, etc.
2) iOS Data Backup & Restore is a function which can replace iTunes or iCloud if you just need to back up or restore your phone's data, you can use it to back up your data to your computer like iTunes usually do, but it is more easy to use.
3) iPhone Data Recovery enables to safely and easily recover lost data (including Text Messages, iMessages, Photos, Contacts, WhatsApp, Notes, Call History, etc.) from iPhone, iTunes and iCloud. So you can use it to recover the deleted text messages – it is the function you need.
With this iPhone Data Recovery, all you need to do is connecting your iPhone to iPhone Data Recovery on your computer (make sure you have downloaded it on your computer, if not, install it firstly).
Below are steps of recovering text messages for you:
Step 1. Connect your iPhone with computer via USB cable. Our iPhone Data Recovery can automatically detect your iPhone.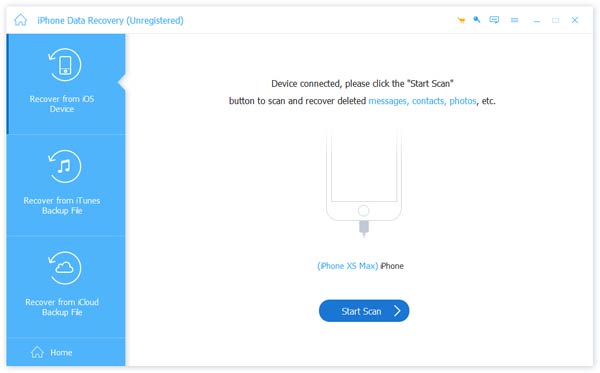 Step 2. Select the iPhone Data Recovery in the main interface, then click Start Scan to process data scanning.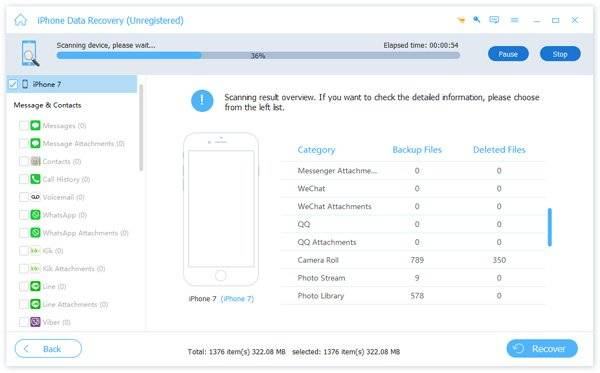 Step 3. After scanning, all the files will be listed under categories in the left window. You can preview your deleted data in the categories before recovering.
Step 4. Choose the lost text messages you want to recover and click "Recover" button to restore them from your iPhone to computer. This method also enables you to recover deleted photos from iPad with ease.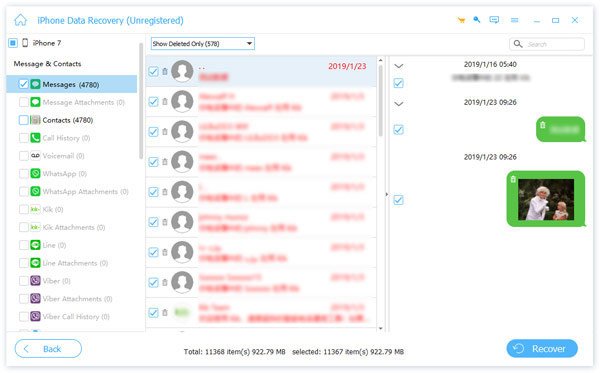 You may also want to know: How to recover Google Hangout history
After the recovery completed, you will find the deleted text messages on your computer. They will be saved in CSV or HTML format.
Part 3. FAQs of recovering deleted text messages on iPhone
1. Is it possible to completely succeed in restoring deleted text messages with Apeaksoft iPhone Data Recovery?
All data recovery software is not guaranteed to achieve the data recovery successfully, and the success rate of recovery is affected by many conditions. However, it is possible to improve the success rate of recovery, if you stop using your iPhone and turn to data recovery software as soon as possible when you find the data is lost. This data recovery software supports to preview the deleted data, and you can use the free version to find the deleted data before you pay.
2. Why can't I find deleted text messages with recovery software?
Instead of being completely deleted, the messages are actually stored on the phone's disk for a period of time after you delete text messages .But if your text message has been deleted for a long time and your phone is used all the time, or if the phone doesn't have enough space to store more data, some of the data will be completely deleted and the recovery software won't be able to help.
3. Where are iTunes backups stored on your computer?
The folder where your backup data is stored depends on your computer's operating system. For Mac: ~/Library/Application Support/MobileSync/Backup/. For Windows XP: /Documents and Settings/(username)/Application Data/Apple Computer/MobileSync/Backup/. For Windows Vista, Windows 7, and Windows 8: /Users/(username)/AppData/Roaming/Apple Computer/MobileSync/Backup/.
Moreover, iPhone Data Recovery also provide other two modes for you – Recover from iTunes Backup File, Recover from iCloud Backup file, these two modes can help you recover your data from iTunes or iCloud backup, the same as the previous 2 methods we mentioned, but they are much easier to use.
We're so glad if this article could help you to get the text messages back.