In the ever-evolving landscape of digital interconnectivity, the desire to effortlessly reflect our iPhone screens onto other canvases remains an intriguing quest. Some people want to know if they can mirror iPhones via Bluetooth, while AirPlay and Wi-Fi may not work sometimes. Embark with this post on this journey, as this post will unravel the incantations that enable this enchanting fusion of technology, offering users an alternative spell to mirror their iPhones via Bluetooth onto receptive devices.

Mirror iPhone via Bluetooth
Part 1. Can I Mirror iPhone via Bluetooth Only
It depends on the device you want to mirror. Most devices are compatible with AirPlay instead of mirroring iPhones via Bluetooth. Bluetooth itself is not the primary method for screen mirroring on iPhones. But there are still some ways to mirror iPhone to a PC or TV via Bluetooth only. You can learn more information from the sections below.
Part 2. How to Mirror iPhone with or without Bluetooth
Whether your iPhone Bluetooth works or not, you can use Apeaksoft Phone Mirror to mirror your iPhone. This software supports all iOS devices. You can cast iPhone and mirror iPad via Bluetooth with the help of Apeaksoft Phone Mirror. Moreover, this software even allows you to record your screen while mirroring it.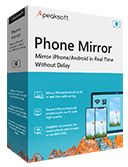 4,000,000+ Downloads
Mirror iPhone and iPad to the PC's bigger screen.
Offer Wi-Fi, USB, and QR code to mirror screen.
Record your iPhone screen while mirroring it.
Compatible with all iOS devices and versions.
Step 1 When launching Apeaksoft Phone Mirror, choose iOS Mirror on the main page first.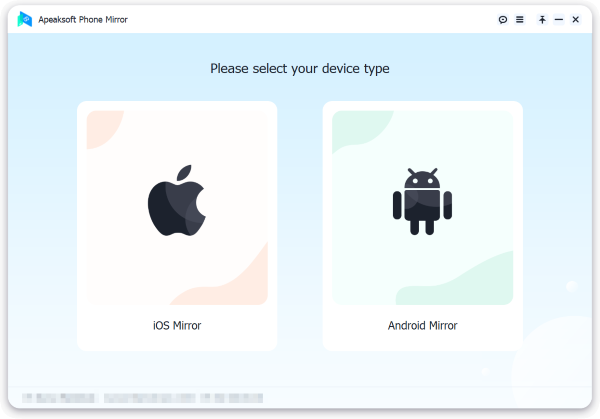 Step 2 When you connect your iPhone and PC to the same Wi-Fi, you can directly mirror your iPhone screen to your PC.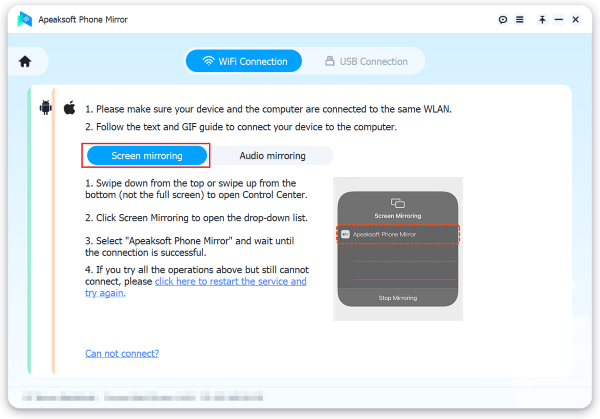 Part 3. How to Mirror iPhone to PC via Bluetooth
If you want to mirror your iPhone via Bluetooth to PC, there is also a way you can use to mirror iPhone wirelessly. But you must turn on your hotspot first and ensure your PC supports Bluetooth.
Step 1 Before turning on the Bluetooth on your iPhone and PC, you should turn on the Personal Hotspot on your iPhone.
Step 2 You can click the Bluetooth & other devices and Add Bluetooth or other device buttons on the Settings to pair your PC with the iPhone.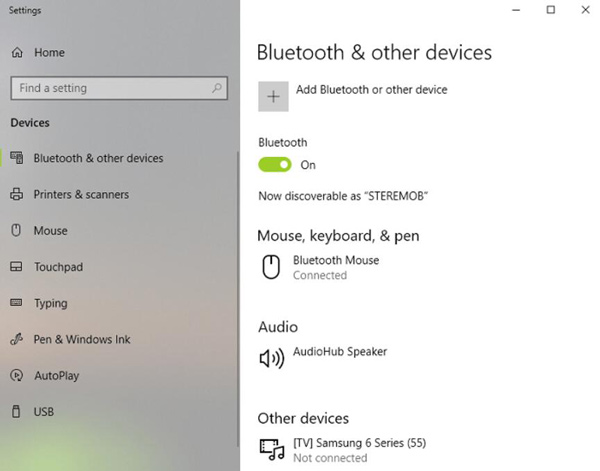 Step 3 When both devices connect to the Bluetooth, change adapter options to connect your PC to the internet using the Bluetooth-tethered iPhone.
Step 4 Go to the Bluetooth Network Connection to check the connection of iPhone and PC. If so, your iPhone will be mirrored on your PC automatically.

Part 4. How to Mirror iPhone to Smart TV via Bluetooth
There is another type of device that you can mirror iPhone to via Bluetooth. That is the smart TV, including Apple TV. But before you do that, you must ensure your TV has Bluetooth feature because some TV types only support Wi-Fi. As long as you ensure there is a Bluetooth feature, you can screen mirror iPhone to TV without Wi-Fi.
Step 1 Open the Bluetooth on your iPhone and Smart TV to pair with each other.
Step 2 After that, you can tap Screen Mirror on your iPhone to search for the smart TV and enter the airplay code if needed.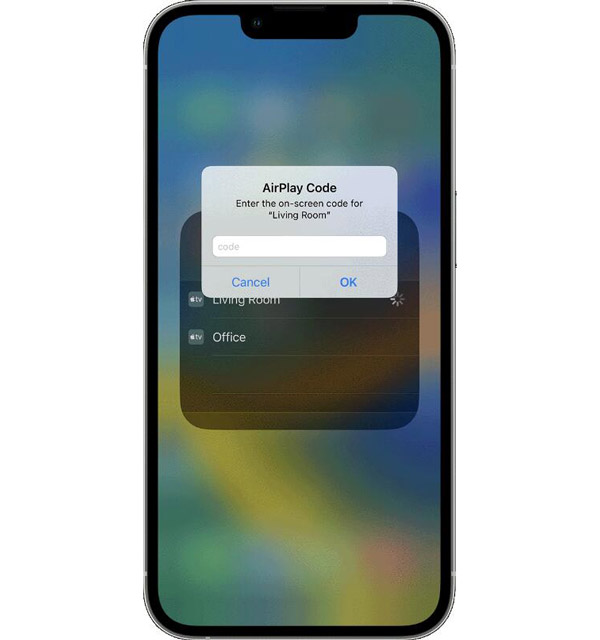 Step 3 If no device is found, your Smart TV does not support mirroring iPhone via Bluetooth.
Part 5. FAQs about Mirroring iPhone via Bluetooth
Can I mirror my iPhone screen using Bluetooth?
Yes, it's possible to mirror your iPhone screen using Bluetooth, but it's important to note that this method might have limitations compared to other options like Wi-Fi or AirPlay.
What devices can I mirror my iPhone screen to via Bluetooth?
Bluetooth mirroring is typically compatible with devices supporting Bluetooth display profiles, such as smart TVs, monitors, and car infotainment systems. However, compatibility can vary, so checking the device specifications you want to mirror is recommended.
What are the limitations of Bluetooth mirroring?
Bluetooth mirroring might have limitations in terms of video quality, frame rate, and responsiveness. It might not be suitable for activities that require smooth motion, such as gaming or streaming high-definition videos.
Is Bluetooth mirroring supported on all iPhone models?
Yes. All iPhone models support mirroring iPhones via Bluetooth. But the success of mirroring depends on whether the other device supports Bluetooth casting.
How does Bluetooth mirroring differ from other methods like AirPlay?
Bluetooth mirroring uses a wireless Bluetooth connection to transmit the screen content. This can have limited video quality and responsiveness compared to methods like AirPlay, which utilizes Wi-Fi for higher data transfer rates and better performance.
Conclusion
In conclusion, while mirroring iPhone via Bluetooth offers a convenient wireless option, it's important to note its limitations compared to more established methods like AirPlay. For now, users can experiment with this technique and find scenarios where it fits their needs best. But the most convenient way to mirror iPhone is using Apeaksoft Phone Mirror, whether sharing photos, presenting content, or enjoying videos, exploring various screen mirroring options on Apeaksoft Phone Mirror.