When your iPhone is lost or disappearing, the first solution you can do is to turn off Lost Mode. Then you wait for the calling from someone who found your iPhone and giving back to your lost iPhone.
It is fortunate when the person is a kind person. However, once the person is not willing to return your iPhone, you will feel bad. What's worse, he can unlock Lost Mode and use your iPhone as his/hers.
The fact is what you have to admit in life. Others who picked up your iPhone in Lost Mode can still unlock it.
Here, we will uncover how others bypass iPhone in Lost Mode, and you should learn from it to protect your iPhone against it.

Part 1. Bypass iPhone in Lost Mode via Passcode
The first solution sounds ridiculous, right?
Actually, it does work for some people.
The following picture takes a sample size of 30686 from iPhone users, and shows the most 10 passcode for iPhone.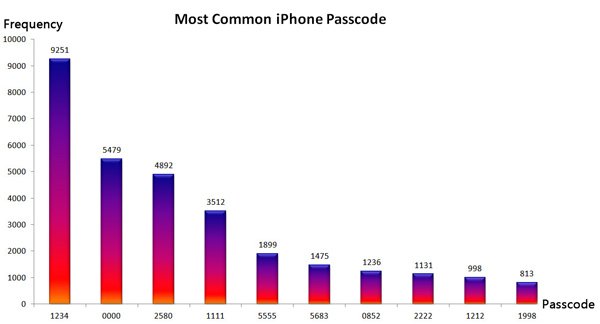 Like ubiquitous 1234, 1111 or 0000, 2580 is from the middle column of digits on the keypad, 5683 is from the spelling out of LOVE, etc. The majority of iPhone users take the easiest 1234 as the iPhone number.
Merely attempting these 10 passcodes create a pretty high chance of getting into your lost iPhone. There are 6 tries to bypass iPhone Lost Mode before getting the "disabled" warning.
So for preventing your lost iPhone from removing, you need to set a complicated password for your iPhone, and the six digit will be better.
Moreover, to protect your iPhone data from being disclosed, you need to erase iPhone remotely through Find My iPhone.
Part 2. Remove iPhone in Lost Mode thorough Removal Software without Passcode
Certainly, most of people cannot unlock iPhone in Lost Mode by guessing the password.
Without password, they will turn to some third-party software to remove the Lost Mode on iPhone whether the iPhone is lost or stolen.
The most common way is to factory reset iPhone, and the related settings, Find My iPhone, will also be disabled.
Bypass iPhone Lost Mode via iPhone Eraser
Apeaksoft iPhone Eraser
Apeaksoft iPhone Eraser, as its name replies, is the iPhone data and settings wiping tool. Apart from removing Lost Mode on iPhone 14/13/12/11/XS/XR/X/8/7/6/6s/5s/5c/5, it also erase all contents on iPhone and stop data from being recovered, which can be the ideal tool to erase an iPhone permanently for sale.
Step 1Connect iPhone to computer
Free download this software to your computer, install and run it immediately.
Connect the lost iPhone to computer, and this software will detect iPhone automatically. Even if it cannot be detected, just follow the on-screen instructions to make it.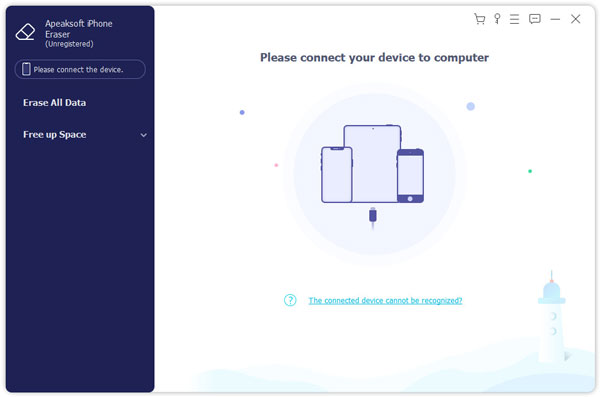 Step 2Erase lost iPhone
There are three erasing levels available, and you can select one erasing level from "Low", "Middle" or "High". Click "Start" to wipe out all content and settings. Then you are required to enter "0000" to confirm erasing, and click "Erase" button to erase all data on your iPhone.
After that, the lost iPhone will restart and all go back to its factory settings.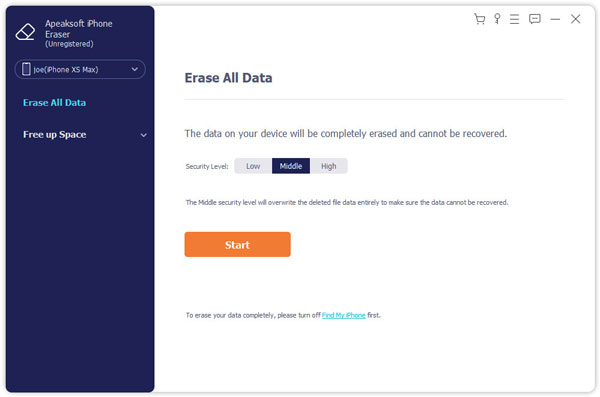 Bypass iPhone Lost Mode via iOS System Recovery
Apeaksoft iOS System Recovery is another iPhone Lost Mode removal software. To be more specific, it is the iOS system repair tool.
It has two repair modes, Standard and Advanced mode.
The only difference is the Advanced mode will restore iPhone to factory settings, while the Standard mode will upgrade/downgrade iOS, re-lock the unlocked iPhone, unjailbreak iPhone that was jailbroken, and repair various iOS system errors like Apple log, loop restart, death of screen, etc.
Step 1Connect Lost-Mode iPhone to computer
Free download this software and run it on your computer.
Connect iPhone that is in Lost Mode to computer with the USB cable. In the main interface, click "iOS System Recovery".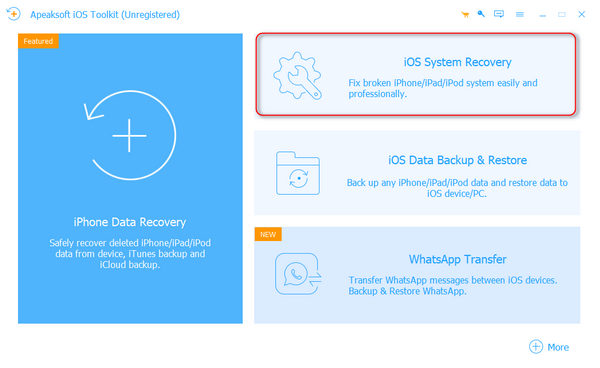 Step 2Diagnose iPhone abnormal state
In the interface, select "Device issues" > Click the abnormal state that your iPhone is in. Here you could select nothing and only "Start" to proceed.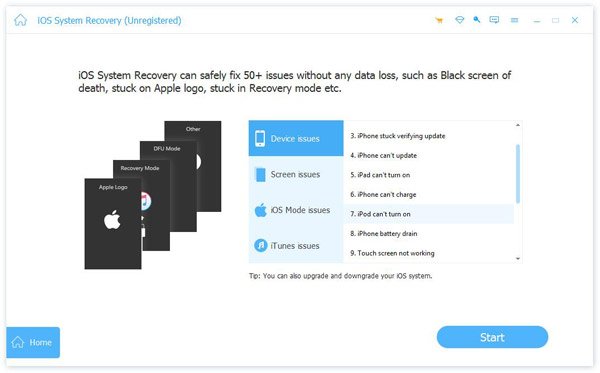 Step 3Put iPhone into DFU or Recovery mode
In the pop-up window, select "Advanced Mode" and "Confirm" and follow the onscreen instructions to put your iPhone into DFU or Recovery mode.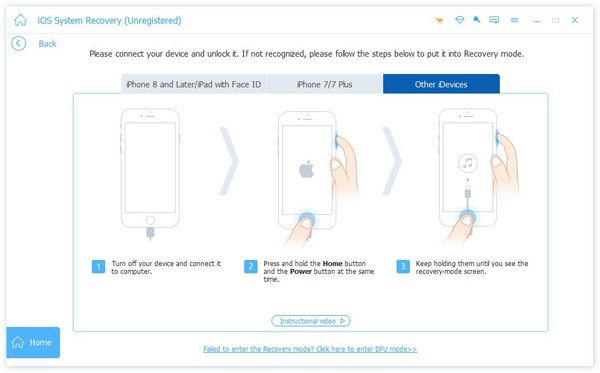 Step 4Erase all content and settings on iPhone
Then you just need to correct your iPhone information like iPhone type, model, iOS version, etc., and click Repair to start downloading iOS firmware to restore iPhone to factory settings, including bypassing iPhone Lost Mode.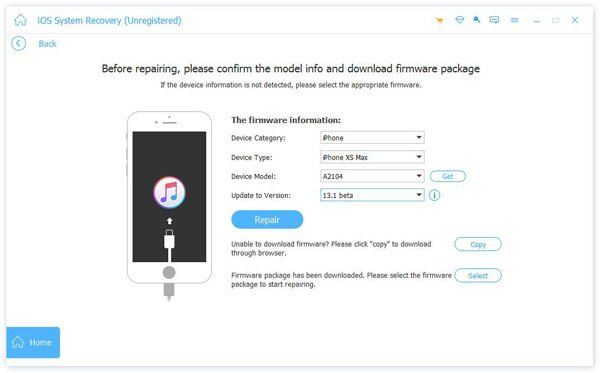 The above two software can unlock iPhone Lost Mode, but the person who gets your lost iPhone require an Apple ID and password to sign in it. You can turn to Apple for help. Anyone who contacts Apple about your iPhone Apple ID, you could track the clues.
Part 3. Unlock iPhone in Lost Mode without Apple ID or Password with Online Service
The last method of unlocking iPhone Lost mode is using online services. doulCi, is one of the websites that provide iCloud activation bypass service, even without iCloud account and password.
Only an iPhone is enough. The tool changes the DNS for the connection to iCloud so their server can intercept the Activation Lock request, and then responds with the proper message to unlock the lost iPhone.
However, the service is not supporting the latest iOS version.
So keeping your iPhone up-to-date is also the way of protecting it. (iPhone gets stuck in update?)

Conclusion
Here, we mainly uncover the secrets that how others bypass your iPhone Lost Mode. Lost Mode on Find My iPhone is not 100% safe when it comes to those who are "smart" enough to break into iCloud Lost Mode. We cannot stop those who found our lost iPhone, but we can do some measures to decrease the possibility of data disclosure from a lost or stolen iPhone.
Have you experienced the same problem?
Let me know by leaving your comments below.