CCleaner is a popular system utility that has multi-purpose toolkits designed for average users. Many questions are raised about CCleaner Duplicate Finder, such as: how to use CCleaner Duplicate Finder to clean up unwanted files? Is it safe to wipe out the files using CCleaner?
We have written a detailed review on CCleaner Duplicate Finder to answer these frequently asked questions concerning its advantages and disadvantages. If you wish to dive into the details of CCleaner before making a choice, this article is tailor-designed for you.

Part 1. CCleaner Duplicate Review
One of the major disadvantages of CCleaner is the limitation it puts on the free version. CCleaner Duplicate Finder is not included in every version of CCleaner. It is only available for the Pro version CCleaner.
To Use CCleaner Duplicate Finder on PC, you need to download and register the Professional version of CCleaner. It has an intelligent duplicate file search tool to locate duplicate files with a low error rate easily. Users can search repeating files that match by name, size, modified date, or content. Furthermore, you could choose to exclude certain files from the scanning results, such as zero-byte files, system files, read-only files, hidden files, and so on.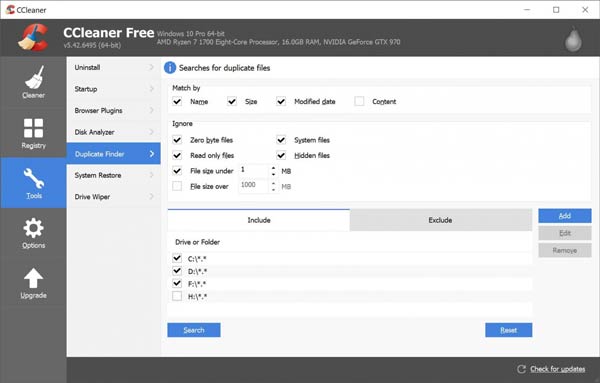 After completing the scanning, you could use the CCleaner tools to delete and remove the files easily. If you regret it, there is also a Restore Results option to recover the deleted files without affecting the system. Thus, we could conclude that CCleaner Duplicate Finder is one of the most powerful duplicate tools available on the market. However, it is slightly complicated for everyday users.
Part 2. Best CCleaner Alternative for Mac
Despite the popularity of CCleaner Duplicate Finder, it has many disadvantages, including a complicated user interface, the limitation for free users, and confusing default optimization settings. Thus, we would suggest considering an alternative duplicate cleaner software named Aspeaksoft Mac Cleaner. It is even better than CCleaner Duplicate Finder at scanning, finding junk/large/old/unnecessary files, trash files on your Mac with the intuitive and straightforward user interface. Other major features include:
Quickly scan, locate and identify junk/large/old/unnecessary files and unneeded clutter on your Mac in one click.
Remove and clean the junk files, system logs, caches, mail attachments, iTunes backups, etc., with a rocket-fast speed.
Easy to control and monitor system performance without any hassle.
Speed up your Mac easily to make it as if a new device.
Download for Mac
Guide on How to Use Aspeaksoft Mac Cleaner to remove duplicated photos:
Step 1Install the product
Download the software from the official source. Then mount the .dmg file by double-clicking on the downloaded file. Drag the program icon to the Applications folder.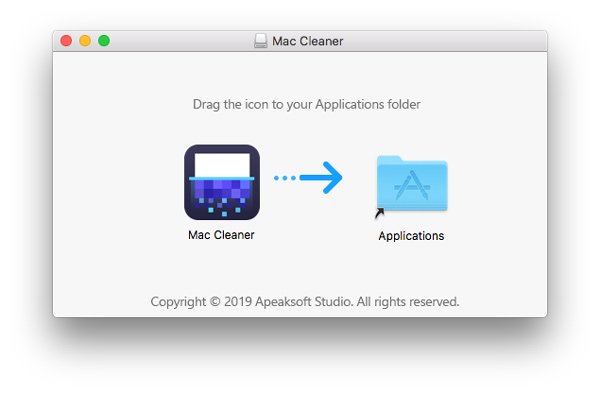 In some cases, you might need administrator privilege to complete this process. Enter the username and password to elevate your user privilege to admin.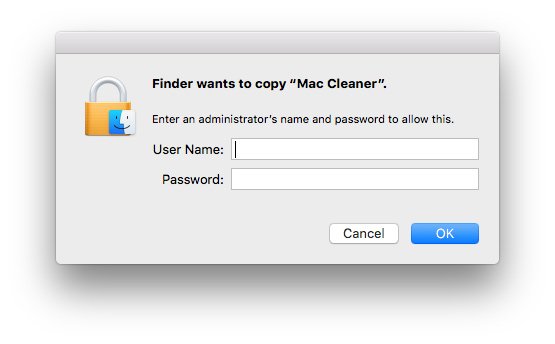 Extra Bonus: How to clean up Clean Large & Old Files with Aspeaksoft Mac Cleaner
Step 1Open up the Mac Cleaner program. On the main screen of the interface, click Large & Old Files and click Scan to locate large files and folders on your Mac.
Step 2Click the View option to preview the large and old files. Select the files you want to clean, and click on the Clean button to complete the process. Finally, you can delete duplicated files like photos on your Mac computer.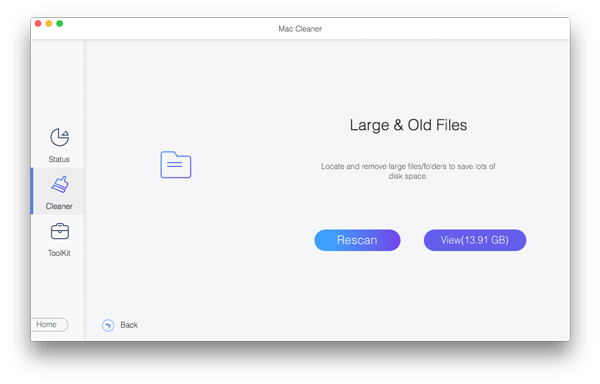 Part 3. FAQs about CCleaner Duplicate Finder
1. Can CCleaner damage my computer?
It depends. For users who are using CCleaner all the time, such as running the program daily with the default settings on without any tweaking, it might slow your computer down as time passes by due to browser cache cleaning options.
2. Is CCleaner safe?
Yes, without a doubt. CCleaner is one of the safest products on the market to remove junk files without touching any system files to affect PC functions. While registry cleaners could wipe out the orphan registry entries, which aren't associated with anything else.
Conclusion
Many people have chosen the CCleaner Duplicate Finder for brand recognition. However, after we have thoroughly reviewed the pros and cons of CCleaner Duplicate Finder, it potentially might not be the best choice to remove unwanted duplicates compared to other professional duplicate remover software. Thus, we suggest the best solution to get rid of the duplicated files is using a verified remover with reliable performance, high accuracy, high speed, and great customization.