"I have encrypted my SD card in my Samsung Galaxy S7, but now I forget the password and cannot access the files on it, is there any way to recover data from encrypted SD card? Please help."
Encryption is a significant technology in this digital world. To catch up such demands, many manufacturers introduced encryption feature into their storage products, such as SD cards. However, every coin has two sides, so does encryption. Data access becomes more complicated, especially when you forget your password. Does that mean you cannot use your files on an encrypted SD card forever? The answer is no. And in this tutorial, we are going to show you how to decrypt SD card and access your data.

Part 1

: What does encrypt SD card mean

First of all, what does encrypt SD card mean? It is the most effective way to make your data security. Once encrypt SD card, everyone want to access your data has to enter the secret key or password to decrypt it.

In another word, people without your permission cannot access your files on the encrypted SD card. And you can follow the steps below to encrypt your SD card and protect your data. We use a Samsung Galaxy S7 as the example. The workflow is similar on other phones.

Step 1. Insert a SD card into your phone and move the data you want to encrypt on it. Go to your App Tray and open the Settings app.

Step 2. Scroll down to find the "Lock screen and security" option, tap on it and then click "Encrypt SD card".

Step 3. Next, tap on "Encrypt SD card" at the bottom of your screen again, you will be prompted to "draw the patter" or enter password/PIN to encrypt SD card.

Tip: You'd better use the password that you are familiar with and write it down on a notebook.

You also like reading: Recover Data from SD Card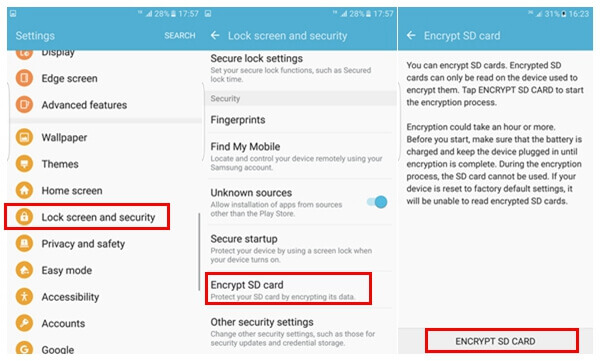 Part 2

: How to decrypt SD card

After encrypting SD card, every time when you access the data on SD card, you will be asked to enter your password. If you are tired about it, decrypt SD card could simplify the data access. It is the reverse process of encrypt SD card.

Step 1. Unlock your Smartphone, head to "Settings" > "Lock screen and security" > "Encrypt SD card".

Step 2. Tap on the "Decrypt" button at bottom and then drop your password or pattern to get rid of the encryption. Now, you can open your SD card and look at, edit or delete your files normally.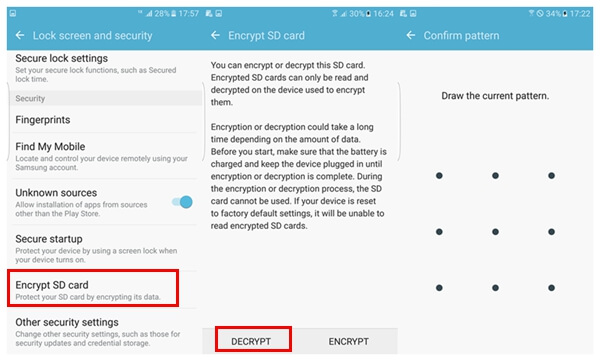 Part 3

: How to recover data from encrypt SD card

If you have data lost or deleted from an encrypted SD card, you still have chance to get back your data. All you need is a professional data recovery program, such as Apeaksoft Data Recovery.

1. Easy to use. Data Recovery is able to extract data from encrypted SD card, flash drive, memory card and other storage media in one click.

2. Available in a variety of situations. No matter your files lost due to delete by accident, attacked by virus, system crash, etc., this data recovery tool could get your files back.

3. Support a wider range of data types. It works for all image, document, audio, video formats, and email, etc.

4. Recover deleted and lost data. The best encrypted SD card recovery software could get back your files in original format and quality.

5. Preview for selectively recovery. After scanning, you can preview the recoverable files and select specific ones to restore.

6. Quicker and lighter. This data recovery tool is lightweight and could restore lost files quickly and safely.

7. Moreover, Data Recovery is compatible with Windows 10/8.1/8/7/Vista/XP.

In short, it is the best solution on how to recover data from encrypted SD card.

Note :

Please kindly note that Apeaksoft Data Recovery is able to recover deleted/lost data from encrypted SD card, but it cannot be 100% guaranteed that the recovered files can be opened successfully due to the reasons below:

• Apeaksoft Data Recovery cannot decrypt data recovered from encrypted SD card.

• There is possibility that the lost data in the encrypted SD card has already been damaged or overwritten, which leads to the failure to open the recovered files.
Follow the steps below to recover data from encrypt SD card
Step 1. Scan entire encrypt SD card to look for lost files
Download and install Data Recovery on your PC. Launch the best SD card recovery software and insert the encrypt SD card into your computer, when you forget the password. On the main interface, you will be presented two parts, data types and locations. Go to the first section and select the desired data types, like Image, Video, Audio, etc. Then head to the second section and select your SD card in "Removable Devices" area. After setting, you can click on the "Scan" button to initiate looking for data on SD card.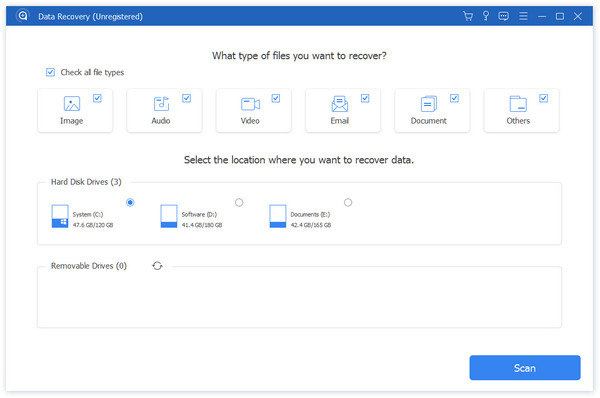 Step 2. Preview files before SD card recovery
After quick scanning, you will be taken to the result window. And the recoverable files will be arranged by categories and formats. For example, click on the Image option on left side bar, you will get several folders titled PNG, JPG, ICO, GIF, etc. If not sure, go to each folder and preview the recoverable files. Moreover, the "Filter" feature at top ribbon could help you to find the files quickly by inputting the key words into the search bar.
Tip: If you cannot find the desired files, click on the "Deep Scan" button at upper right corner to perform a deep scan.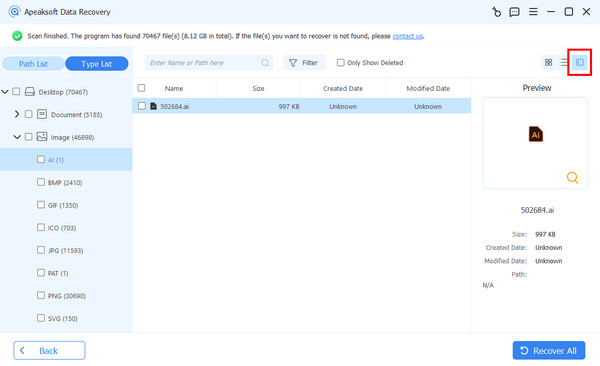 Step 3. Recover encrypt SD card in one click
To get back your videos, images, audios and other files from the encrypt SD card, check the box in front of each desired file. Click on the "Recover" button to start extracting files from encrypt SD card to your computer. When it is done, hit the Open Folder button on Recovery Finished window to open the folder stored your files. Then you can browse, copy and paste, or edit them as usual.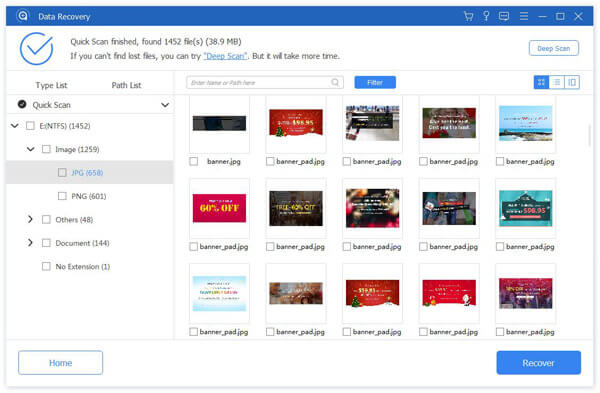 Part 4

: FAQs of decrypting SD card

1. How to format SD card?

To format SD card, you need to insert SD card into your Android phone. Open your phone and go to Settings. Then, find the Storage option and then choose Format SD card option to erase all data on it.

2. How to recover deleted data from SD card on Mac?

You can use Apeaksoft Data Recovery, which is designed for people who want to recover data from encrypted SD card, flash drive, memory card and other storage media on Mac. Compared with other SD card recovery Mac tools, it is more professional and reliable.

3. Why is my SD card locked or write-protected?

When you toggle the lock switch purposely or by accident, your SD card lock is turned on and you cannot edit and delete current data on it.

4. How to fix damaged SD card?

The easiest way is to turn to a data recovery tool like Apeaksoft Data Recovery to get the data back from damaged SD card. Just download and install the data recovery software on your Windows PC or Mac. Then launch it to scan the damaged SD card. When the scanning is over, you can select the data to recover.
Conclusion:
In this post, we have talked about encrypt SD card and how to prevent from data loss on encrypted SD card when you forget the password. Apparently, people do not prefer others to access their data. It is a good idea to move private data to SD card and encrypt it. In addition to decrypt SD card, you can get back you data from an encrypted SD card using professional data recovery programs, like Apeaksoft Data Recovery. It is not only easy to use, but also not require password. We wish that our guides and recommendations are helpful to you.