- "How can I delete Facebook messages I've sent to other Facebook users from their inbox?"
- "How do I delete a message I sent on messenger?"
- "My friend sent a photo of mine to group chat. After a few people saw it I told him to delete that photo. But I can still see it after he had deleted that photo …"
- "How to delete a message on Facebook before someone reads it?"

All those questions can be concluded into one sentence, which is "Can you delete a message on messenger". It is quite common that you sent a wrong message to your Facebook friend, or you want to delete multiple messages from your side of the conversation. Being used by millions of users, Facebook Messenger app has been one of the most popular communicate tools. In some degree, there are also a large number of people who want to delete messages on Facebook messenger. To solve these problems, this article collects top solutions about Facebook messages deletions. So just read and follow.
Part 1

: Can You Delete a Message from Facebook

Actually, you can delete messages, conversations and photos from your inbox completely. And you can also delete unwanted messages from ones you sent or that have been sent to you. Though you cannot delete a sent or received message in your friend's inbox yet. So you are able to erase the awkward moment from your side at present.

Some people raise the question that is it possible to delete unread Facebook messages. Well, absolutely yes. You can delete unread messages on Facebook directly. Just do not open this message. Otherwise, Facebook will mark it as read, and the sender will know that you have opened it. In a word, you can delete messages from messenger on Facebook of your side successfully.
Part 2

: How Do You Delete Messages from Facebook Messenger

Considering different requirements about deleting Facebook messages, you can get the detail guide from the following paragraphs. Well, all those operations can be finished on your mobile phone. It means you can delete Facebook messages on iPhone or Android phone directly.
Method 1. How Do You Delete Facebook Conversations
You can delete a conversation on Facebook messenger per time. So if you have lots of conversations need to be deleted, then you should repeat Facebook conversation deletions over and over again.
Step 1. Open Facebook Messenger app on your smart phone
Step 2. Find and select a conversation you want to delete
Step 3. Hold and press it until a popping-up window appears
Step 4. Choose "Deletion Conversation" on iPhone or click "Delete" on Android
Step 5. Click "Delete Conversation" to confirm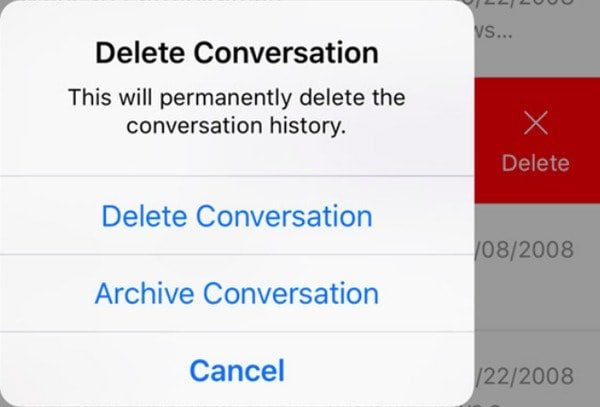 Thus, you can delete all conversation in messenger on your mobile phone by above steps manually.
Method 2. How Do I Delete All Messages on Facebook
During this section, you can delete a message from Facebook or remove multiple Facebook messages on iPhone or Android completely.
Step 1. Head to your Facebook Messenger app
Step 2. Find and hold down the target message
Step 3. Choose "Delete" when the new window pops up
Step 4. Repeat to delete multiple message on Messenger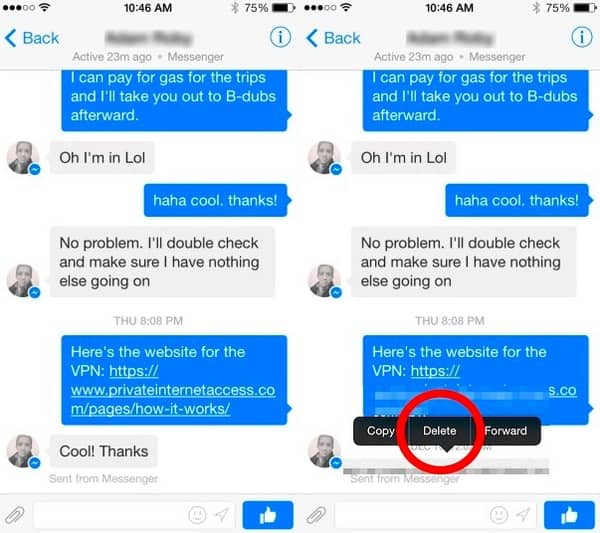 Therefore, you are able to delete messages on Facebook Messenger on Android or iPhone freely. Though it is a time-wasting method for some people.
Method 3. How to Delete Facebook Messages from Both Sides
Just as above mentioned, there is no such way to delete Facebook messages from the recipient's way. But you can use some small tricks to distract others from viewing the message.
Step 1. Mark the message you sent as "Spam" or "Abuse"
Step 2. Delete a message on Facebook from your side manually
Step 3. Deactivate your Facebook account through general settings
Step 4. Reactivate the account after few hours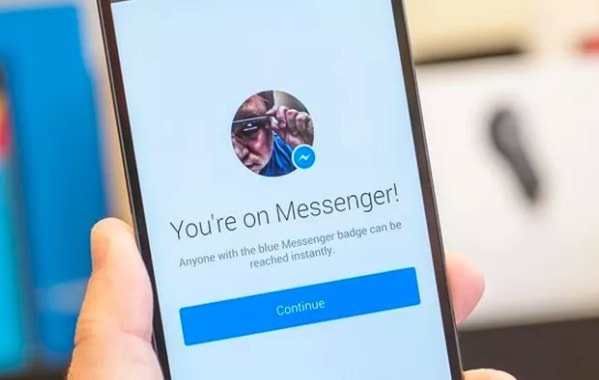 Well, you can also send a bunch of Emoji faces or other symbols until that message get out of the sight. Then apologize and give any reason to your friend for what you have done.
Method 4. How to Permanently Delete FB Messages on iPhone
Apeaksoft iPhone Eraser is your ultimate tool that can delete Facebook messages all at once. Thus, if you do not want the third person view those messages, then you can turn to iPhone Eraser for help. It can delete all content and settings permanently and completely.
Erase all iOS data and settings on iPhone, iPad and iPod permanently.
Safeguard your private information with anti-virus in one click.
Offer low, medium and high erasing levels to overwrite data for different times.
Work with all iOS devices including the latest iPhone X/8 Plus/8.
Download for Win
Step 1. Connect iPhone to iPhone Eraser
Free download and install iPhone Eraser on Windows or Mac PC. Launch this program and plug iPhone into your computer. Actually, you can connect several iOS devices with your computer at the same time.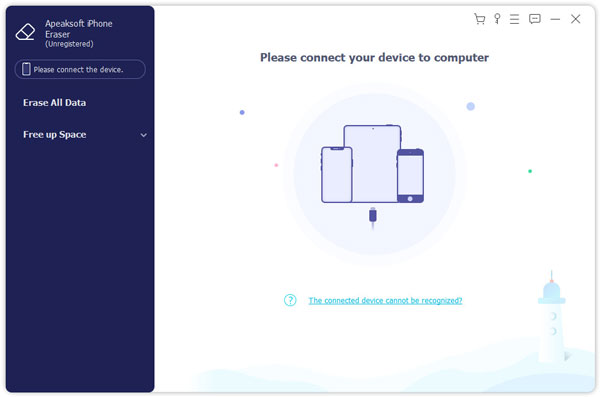 Step 2. Choose the erasing level to overwrite your iPhone
The default erasing level is "Low" level. You can change another two options by clicking "Menu" on the top right corner. Later, click "OK" to save your change.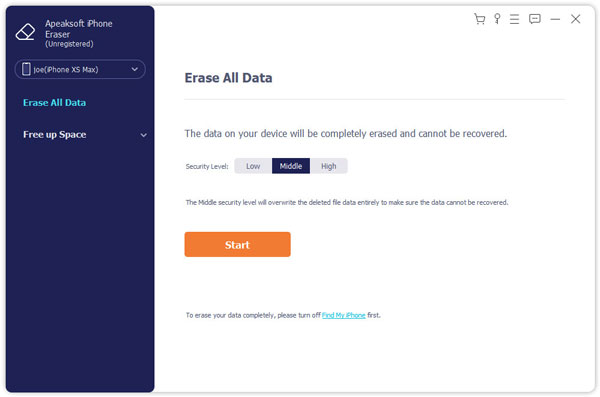 Step 3. Delete Facebook messages on iPhone
Then click "Start" button to start to delete messages on Messenger iPhone 7 and other iOS models. It takes several minutes to complete the process.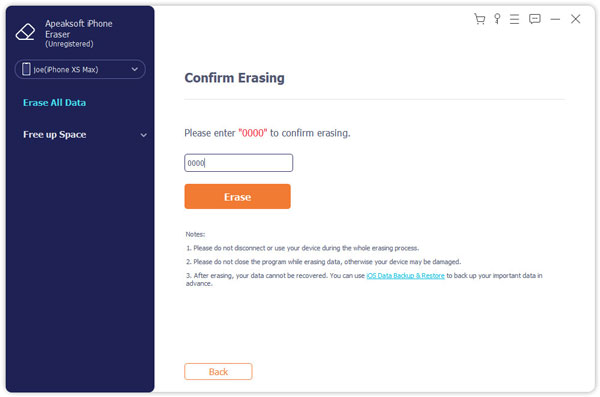 After that, your iPhone will be as empty as a new one. And no iOS data recovery software can recover those deleted Facebook messages forever.
Part 3

: How to Delete FB Messages Online

Undeniably, you can delete multiple messages from Messenger on computer with the similar operations as well. In addition, it is also supported to delete multiple Facebook messages in Chrome through Facebook Fast Delete Messages (Facebook Delete All Messages) plugin.

Step 1. Search and install Facebook Fast Delete Messages extension in Chrome

Step 2. Sign into your Facebook account and locate the messages page

Step 3. Choose "X" icon to delete an entire thread of Facebook messages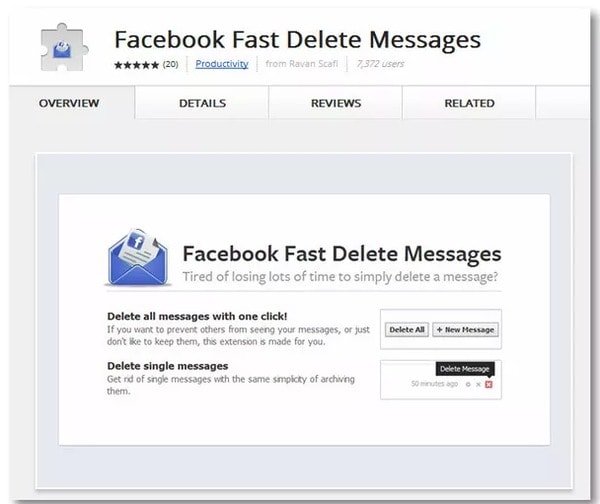 As a result, you can delete messages from Messenger on computer quickly and easily. Well, that's all for how to delete messages on Facebook Messenger. If you have any good solution to delete messages on Messenger, hope you can share the experience in the comments. And you can also email us with any difficulty you met. All in all, just delete messages or conversations from Facebook Messenger whenever and whatever you like.