- "How can I delete Facebook messages I've sent to other Facebook users from their inbox?"
- "How do I delete a message I sent on messenger?"
- "My friend sent a photo of mine to group chat. After a few people saw it I told him to delete that photo. But I can still see it after he had deleted that photo …"
- "How to delete a message on Facebook before someone reads it?"

All those questions can be concluded into one sentence, which is "How to delete a message on Messenger".
It is quite common that you sent a wrong message to your Facebook friend, or you want to delete multiple messages from your side or both sides of the conversation.
Being used by millions of users, Facebook Messenger app has been one of the most popular communicate tools. Still it also stored many secrets or unwanted messages, which you may want to delete.
To solve these problems, this article collects the full guide to delete Facebook single/multiple/all messages, even from both sides
Part 1

. Can you delete a message from Facebookk

Yes.

Actually, you can delete messages, conversations and photos from your inbox completely.

Moreover, you can also delete unwanted messages from ones you sent or that have been sent to you.

Besides, you can delete unread messages on Facebook directly. Just do not open this message. Otherwise, Facebook will mark it as read, and the sender will know that you have opened it.
Part 2. How to delete Facebook conversations
You can delete a conversation on Facebook messenger per time. So if you have lots of conversations need to be deleted, then you should repeat Facebook conversation deletions over and over again.
Step 1. Open Facebook Messenger app on your smart phone. (Facebook not loading?)
Step 2. Find and select a conversation you want to delete.
Step 3. Hold and press it until a popping-up window appears.
Step 4. Choose "Deletion Conversation" on iPhone or click "Delete" on Android.
Step 5. Click "Delete Conversation" to confirm.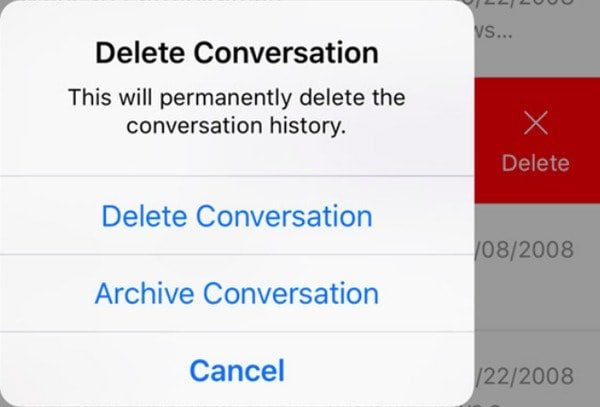 Thus, you can delete all conversation in messenger on your mobile phone by above steps manually.
Part 3. How to delete single/multiple/all Facebook messages
During this section, you can delete a message from Facebook or remove a single/multiple/all Facebook messages on Messenger app completely.
Step 1. Head to your Facebook Messenger app.
Step 2. Find and hold down the target message.
Step 3. Choose "Delete" when the new window pops up.
Step 4. Repeat to delete multiple message on Messenger.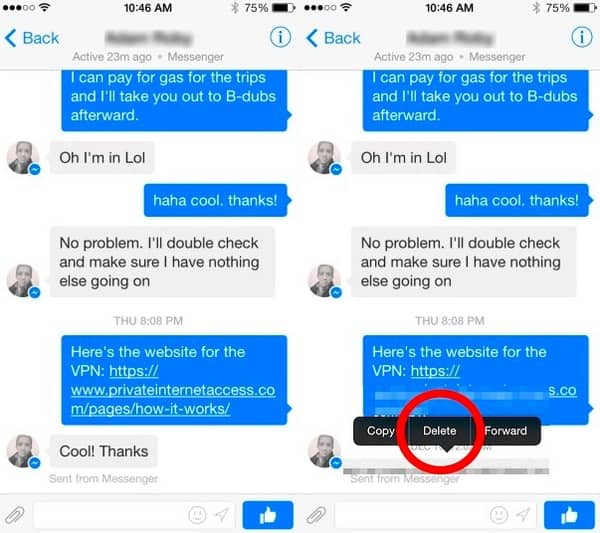 Therefore, you are able to delete messages on Facebook Messenger on Android or iPhone freely. Though it is a time-wasting method for some people.
Part 4. How to delete Facebook messages from both sides
Currently there is no such way to delete Facebook messages from the recipient's way. But you can use some small tricks to distract others from viewing the message.
Step 1. Mark the message you sent as "Spam" or "Abuse".
Step 2. Delete a message on Facebook from your side manually.
Step 3. Deactivate your Facebook account through general settings.
Step 4. Reactivate the account after few hours.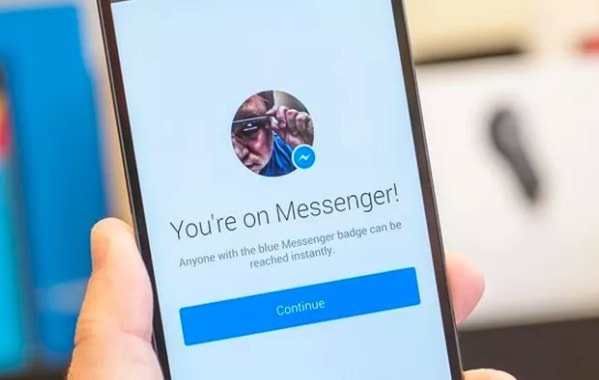 Well, you can also send a bunch of Emoji faces or other symbols until that message get out of the sight. Then apologize and give any reason to your friend for what you have done.
Part 5. How to permanently delete Facebook messages
Apeaksoft iPhone Eraser is your ultimate tool that can delete Facebook messages all at once. Thus, if you do not want the third person view those messages, then you can turn to iPhone Eraser for help. It can delete all content and settings permanently and completely.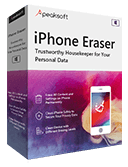 4,000,000+ Downloads
Permanently clean iPhone storage in one click to free up space.
Clear cache data, junk files, history, apps, settings and other data.
Support three levels to you for clearing iPhone as you wish.
Work for iPhone 14/13/12/11/XS/XR/X, iPad, iPod, etc.
Step 1. Connect iPhone to iPhone Eraser
Free download and install iPhone Eraser on Windows or Mac PC. Launch this program and plug iPhone into your computer. Actually, you can connect several iOS devices with your computer at the same time.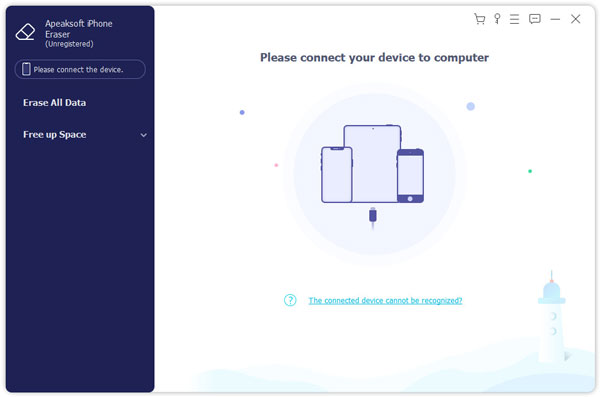 Step 2. Choose the erasing level to overwrite your iPhone
The default erasing level is "Middle" level. It also provides you other two options, Low and High. The Low security level enables you to quickly erase all data on iPhone, the Middle level will overwrite the erased data entirely, and the High level can erase your private data like password and bank records. You can select one erasing level according to your requirements.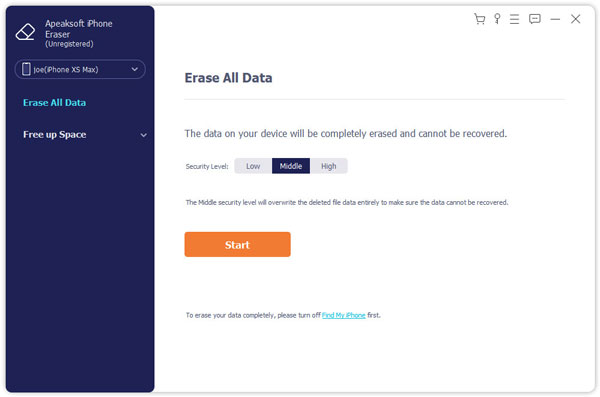 Step 3. Delete Facebook messages on iPhone
Then click "Start" button to start to delete messages on Messenger iPhone 7 and other iOS models. Then enter "0000" to confirm the erasing, and click "Erase" button to clear Facebook messages on iPhone. It takes several minutes to complete the process.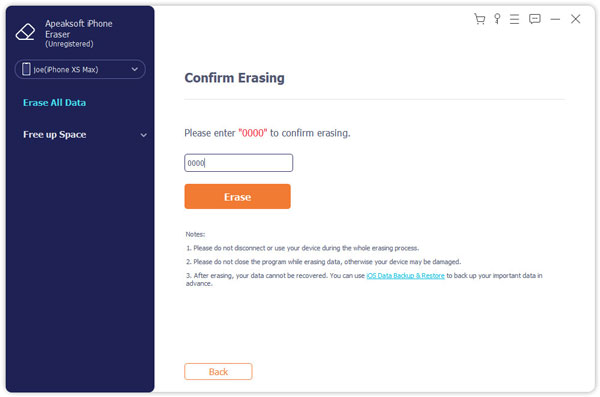 After that, your iPhone will be as empty as a new one. For regretting your option, you just read here to recover those deleted Facebook messages.
Part 6. FAQs of Deleting Messages on Facebook
Can I recover deleted messages on Facebook?
Yes. When you delete messages on Facebook, you cannot recover them through the platform directly. But you can use third-party software to help you.
How to retrieve deleted Facebook messages on your iPhone?
You should get the data recovery software that can recover the app data. For example, you can free download Apeaksoft iPhone Data Recovery. This tool can retrieve all your iOS data, including Facebook messages.
Can I delete all messages at once on Facebook?
No. Facebook does not provide the option to delete all messages at once. You need to delete messages individually or select multiple messages and delete them together.
Are deleted Facebook messages permanently deleted?
No. After deleting a message on Facebook, it is removed from your account, and you cannot view it. But the message still be visible to the person involved in the conversation.
Can someone see if I delete a message on Facebook?
Yes. If you delete a message you send to a friend, he or she can still view it. But you cannot view the message again.
Conclusion
As a result, you can delete messages from Messenger on computer quickly and easily. Well, that's all for how to delete messages on Facebook Messenger. If you have any good solution to delete messages on Messenger, hope you can share the experience in the comments.