- "I have an iPhone XR with the latest iOS 12. And I can't delete individual links from my frequently-visited sites as I used to. Can anybody show me how to delete frequently visited on iPhone XR?"
- "I got an icon in Safari that shows frequently visited sites and would like to remove …"

Every time you open the web browser like Safari, Google Chrome and others, your browser will record most visited sites automatically. As time goes by, it will provide a list of "frequently visited sites" on the new browser window. Thus, there is no need to search and open that website. All you need to do is to click an icon from your collection of frequently visited sites. However, it is not a good feature in certain cases.
What if someone borrows your phone or computer but find something you do not want to show? And you may not want to browse that site any more. With these or those reasons, this article collects powerful solutions of how to delete frequently visited sites on iPhone and computer. Therefore, you can delete most recent sites visited individually and easily.
Part 1

: How Do You Delete Frequently Visited Sites on Safari

If you can't delete frequently visited sites, then the following paragraphs can be your complete guide. No matter which digital device you use, you can always find the best way to delete and edit frequently visited sites in Safari here.
Delete Most Visited Sites on iPhone/iPad through Safari
Most people report that it is hard to delete frequently visited sites on iPhone XR and other iOS devices. If you have the same problem, then you can protect your privacy with easy steps. Now, let's start the trial to remove most visited sites through Safari on portable Apple devices.
Step 1. Locate Safari on iPhone/iPad/iPod
Open Safari app on your Apple device. Later, double click the square icon at the bottom of your screen. You can see a new window pops up with a list of your frequently visited sites.
Step 2. Delete most visited sites from new tab
Long press any place of this list to see all items. Then find and hold the site you want to remove. Do not release it until the "Delete" option shows. At last, you can choose "Delete" to delete frequently visited sites on iOS 12 and other iOS versions.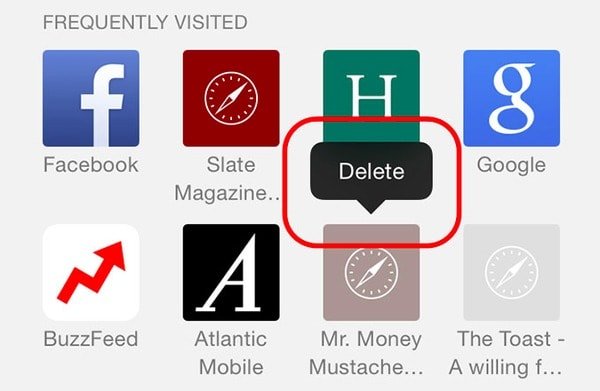 In addition, you can clear Safari history and its browsing data regularly as well. Just head to Settings > Safari > Clear History and Website Data. Well, the recommended way is to enable private mode. As a result, you will not be tracked. And Safari will not save websites links of your frequently visited sites automatically.
Erase Frequently Visited Sites on My Mac
So how do you delete the websites you visited on Mac? Is there any way to prevent others from viewing most visited sites on your profile? During this time, you can try the following steps within few clicks.
Step 1. Access most visited sites of Safari on Mac
Open your Safari browser on Mac. Then choose "Settings" or "Preferences" from the drop-down Safari menu. Choose "Favorite" besides "New tabs open with" option. Later, you are able to see all frequently visited sites on your Mac computer.
Step 2. Delete frequently visited sites on Mac
Then open a new Safari window. Right click on its background. You can see an option of "Show Frequently Visited Sites". Uncheck this option to disable most visited sites on Safari. Moreover, you can right click that icon and select "Delete" to delete a frequently visited site on Mac individually.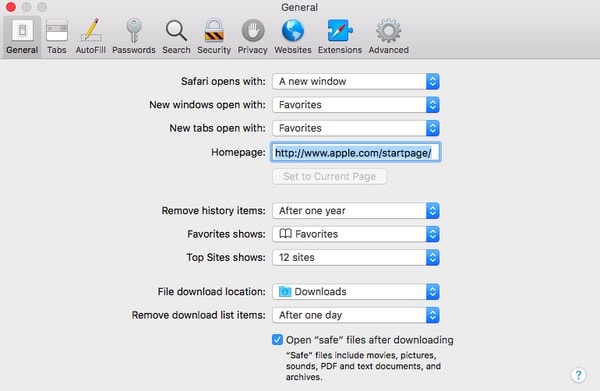 Actually, you can also hide purchased apps on Mac through iTunes. Just locate the purchased page on iTunes. Later, click "x" on the top left corner of that app icon. Choose "Hide" to confirm and hide any purchased app on Mac manually. Well, you can follow the same operation to manage hidden purchases on iPhone, iPad and iPod as well.
Don't Miss:
How to Fix Safari not Working Issue
How to Fix Safari Keeps Crashing Issue
Part 2

: How Do I Turn Off Frequently Visited in Safari

For people who do not want to see any suggestion of most visited sites, it is a good choice to disable Safari Frequently Visited Sites. The whole process is quite easy, and you can turn on this feature whenever you need.

Step 1. Navigate Safari on your iOS device

Turn on your iPhone or iPad. Choose "Settings" app with the gear icon. Then scroll down and select "Safari".

Step 2. Turn off and delete most visited sites in Safari

Locate "General" section to find "Frequently Visited Sites". Then trigger the on-off option besides to the "Off" state. After that, restart your Safari browser to have a check.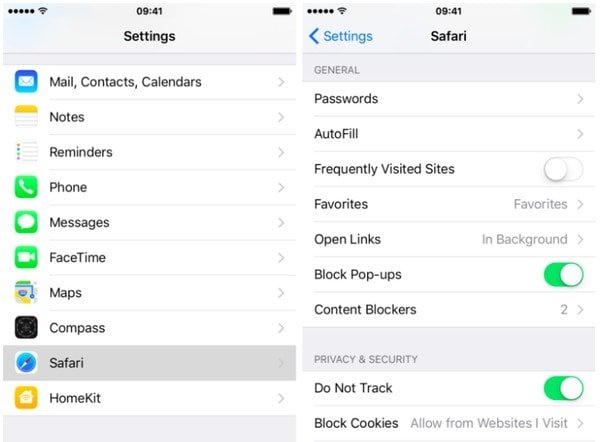 Next time you want to turn on frequently visited sites in Safari, you can follow the similar operations as above mentioned.
Tips and Tricks about Deleting Frequently Visited Sites
So how to delete visited websites on Google Chrome? To be honest, you can delete any part of your Chrome browsing history manually. In another word, Google Chrome allows users to delete frequently visited sites on all devices. Just open your Chrome web browser and choose "More" option on the top right corner. Later, select "History" to access all your previous visited sites on Chrome. Of course, you can also click "Clear browsing data" to clean up Google Chrome completely.
In conclusion, you are able to delete frequently visited sites on iPhone and computer easily with above solutions. And you can clear browsing data manually as well. Moreover, feel free to contact us if you have any difficulty when you delete most visited sites in Safari or Chrome.